Nike Team Nationals


Dec 2, 2006 at Portland OR


a DyeStat

featured meet
Donna on the Side - before the races
by Donna Dye
All decked out with Nike Team Nationals banners,
the Embassy Suites in Tigard gave a big welcome to NTN III.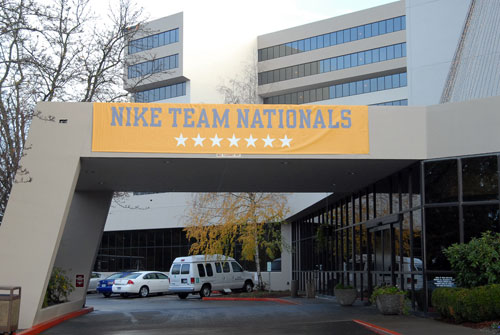 Deck the Halls.....team banners brighten the Embassy Suites atrium.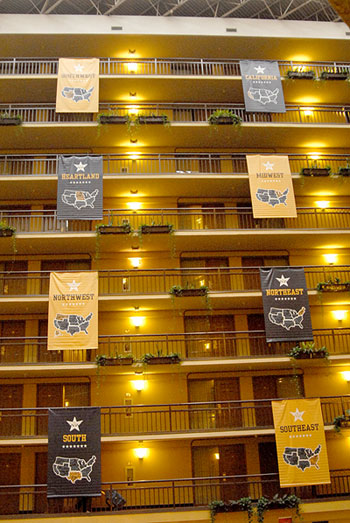 The Nike campus was the center of all but the race. Athletes ran the campus, picked up some cool gear and shoes and had the run of the gym in the Bo Jackson center for the hospitality scene.
The scramble to getting a shoe to fit just right.
Teams got around in vans they decorated like the one here.
Hospitality Scene
NTN Fun Time

Jordan Baker (l) and Kelly Lynch from Mead

Willmar MN guys

From Kenya: Jackson Macharinyang (l) and Paul Lonyangata

Table Tennis Dynamos from Cheyenne WY:
Devon Hernandez (l) and Matt Carey

More from Cheyenne WY: Josh Franke and Eric Tollis

Michael Cybulski, Simi CA

From Saugus CA:
Annie Randall, Katie Dunn, Shannon Murakami

Briana Jackucewicz, Briana 09 Colts XC Club
Billings XC Club (Billings Senior)

MT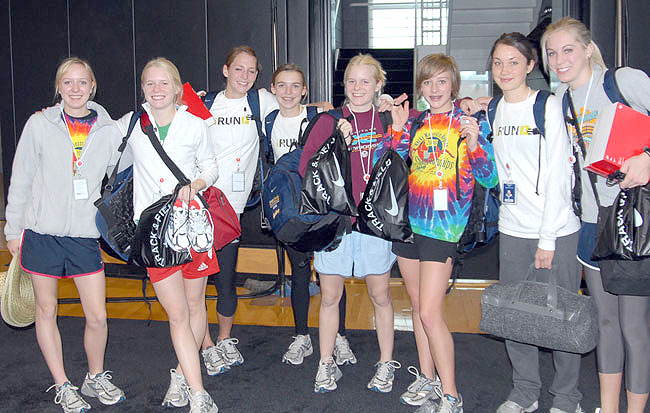 Midlothian XC Club (Midlothian) nibble on some munchies.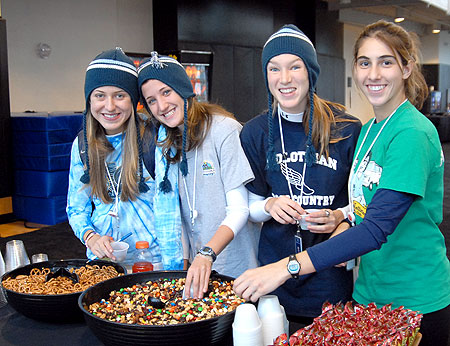 Eastbay and Nike join in the hospitality scene: Keith Petty (l) from Nike with Jeff Penn and Jamie Morey from Eastbay.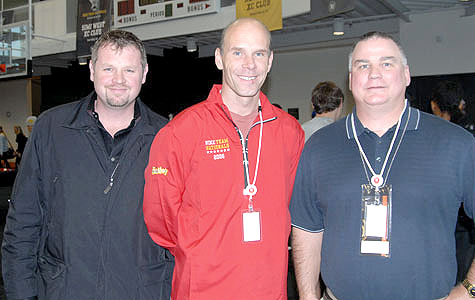 The gals from Greenbelt MD: (top row, from left) Jennifer Redman, Tashima Stephens, Brittany View, Dominique Lockhart, Teshika Rivers (bottom row from left) Tyreka Arrington, Christian Hickson, Marika Walker
Athletes will tell you over and over how great the NTN experience is. But for a few from Woodbridge, Ohio, the NTN experience is a lifetime experience documented by a tattoo. These guys got real tatoos of the NTN logo on their ankle or back. See for yourself.
The Woodridge (Peninsula) Ohio Guys: (top from left) Coach Ryan Himelright, Joe McCoy, Matt Weiss, Coach Morgan (bottom from left) Tony Marette, Scott Hilditch, Mike Rhodes, Dan Petrak. The guys with the tattoos are Ryan, Joe, Tony, Scott and Mike.
Phoenix XC Club, AZ : (from left) Coach Lauch, Lindsay Prescott, Shannon Walsh, Camille Olson, Brian Dempsey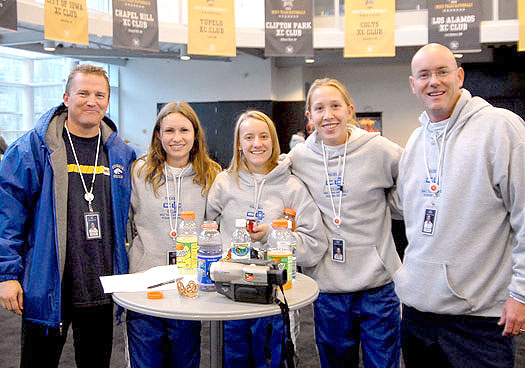 More from Phoenix XC Club AZ:
(from left) Kelsey Brownsberger, Jade Riley, Renee Peck, Kailey Rumbl, Aleina Eisenhauer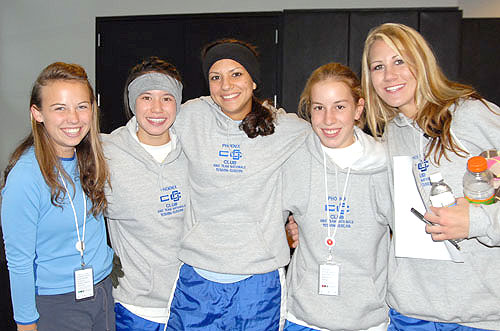 Midlothian VA: (from left) MC Miller, Coach Stan Morgan, Paige Johnston, Kenny Carroll with Nike, Erin Stehle, Kathleen Lautzenheiser and Leia Lautzenheiser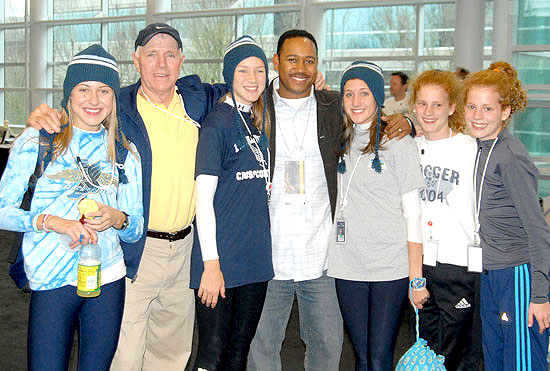 Tactical descision being made on the side. (from left) Buddy Terrell (assistant to Stan Morgan), Ian Brooks, (famous CC & track announcer) Stan Morgan (Midlothian Coach) and Kick Overton (Midlothian Athletic Director).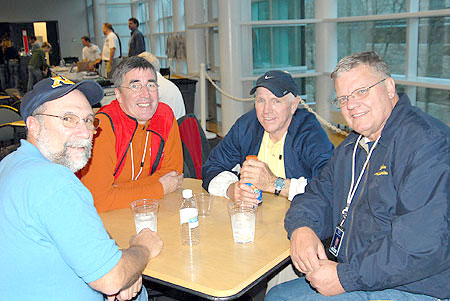 Sioux City IA: (from left) Laura Bauer, Krista Eckert, Allison Eckert, Caitlyn Crowley, Seanna Kautz, Brittany Anderson, Bailey Brennan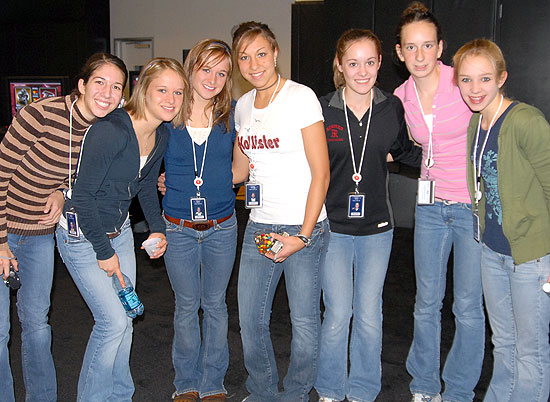 Concord CA gals try their hand at pool: (from left) Katy Himsl, Sara Aiotti, Coach Mary Ann Grubb and Nicole Hood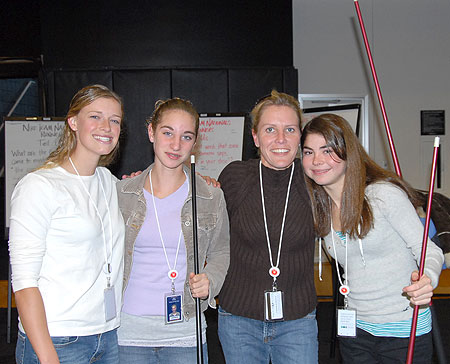 The dynamic gals from Yankton SD: (from left) Ethelin cammock, Betsy Bies, Kristin Sternhagen, Emily Smith, Meghan Hilson, Mariah Hofer, Jade Steinberg and Tiffinay Leader (in front)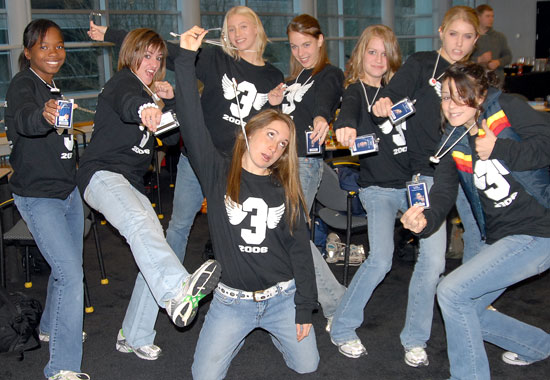 3rd time at NTN, Yankton SD shares their recipe for success.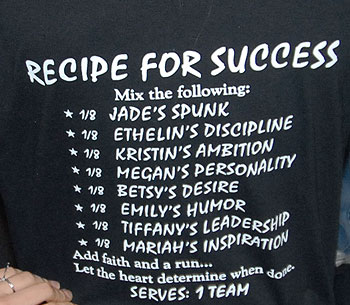 Souix City IA and Kenya teams enjoy the Nike hospitality.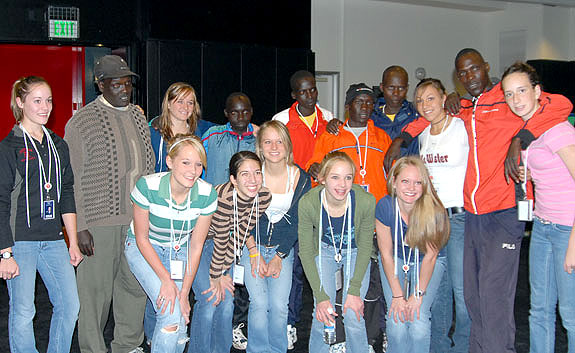 From York IL: (top row) Mark Sulkin and Mike Rizzo; (middle row) Steve sulkin, tom Achtien, Tim Jung,
Allen D'Ambrogio, Mike Fry and (in front) Nick Kuczwara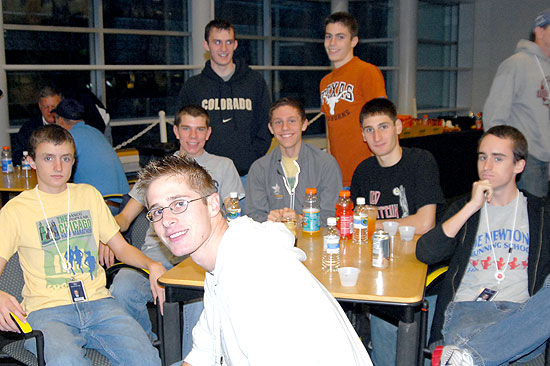 The Woodlands TX guys: (top from left) Dominic Zucconi, Quinn Valentine, Alex Neff, Drew Butler, Reed Connor (bottom from left) Evan Blair, Bryan Downey Will Fairhurst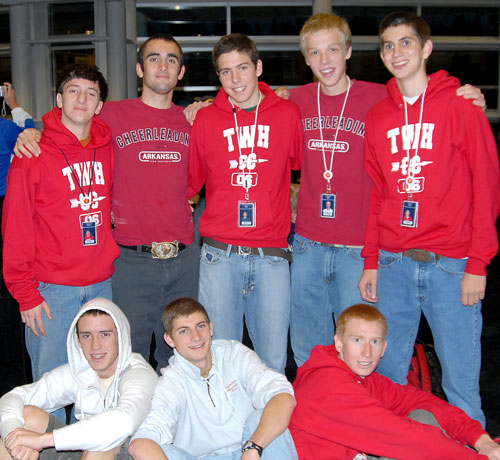 Carroll TX gals: (top from left) Emily Denny, Taylor Stephens, Christian Ferver, Jessica Ferver
(bottom from left) Hannah Brown, Kirsten Brown, Tara Upshaw Kaitlin Gilbert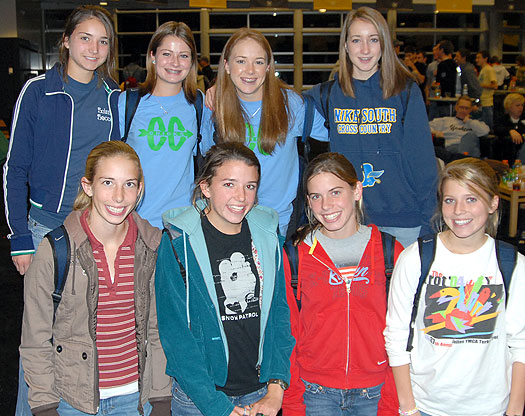 Newport XC Club (Corona del Mar) CA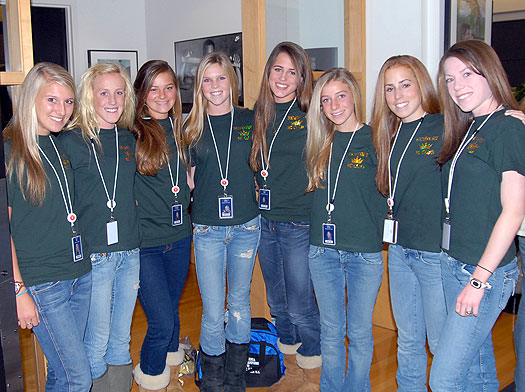 Manlius XC Club (Fayetteville-Manlius) NY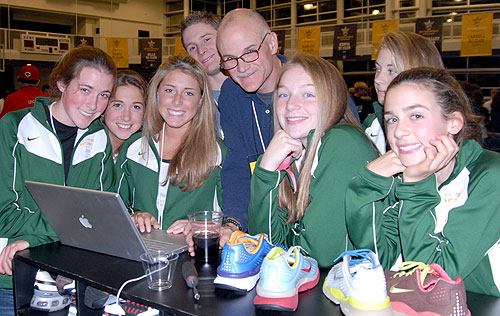 Dinner Treats
Carmichael XC Club (Jesuit) all smiles about dinner with Nike athlete, Lauren Fleshman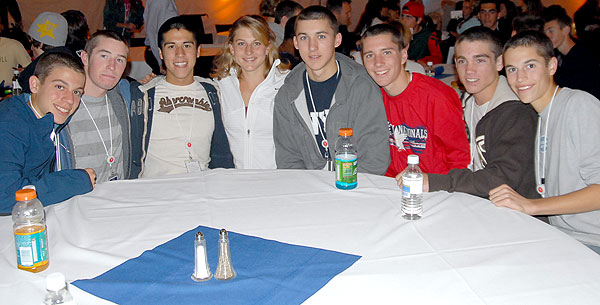 Tupelo XC Club (Tupelo)

MS loves Oregon.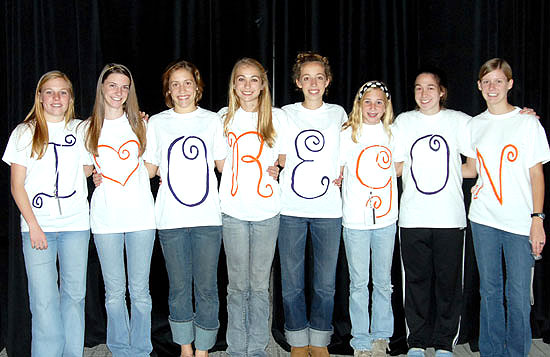 Newport XC Club (Corona del Mar) show off their cool shirts: (from top left) Christie St. Geme, Alison Gushue, Shelby Buckley, Allison Damon, Sarah Cumming (bottom from left) Nichole Slykhous, Hilary May, Laura Bilden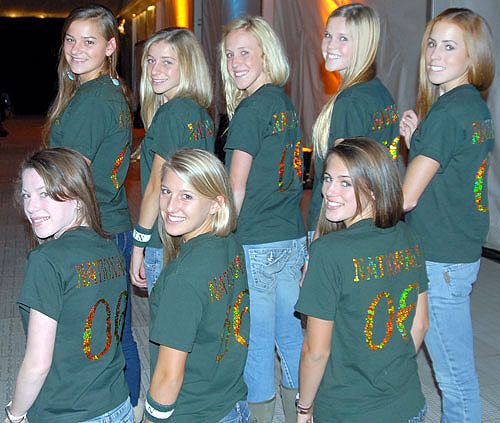 Potosi MO Guys: (top from left) Evan kelly, Josh Mathis, Danel Forbes, Joe Skeltons, Josh Thebeau
(bottom from left) Nick Niggemann and Jacob Swearingen
Hats Off to the NTN from Billings XC Club (Billings Senior)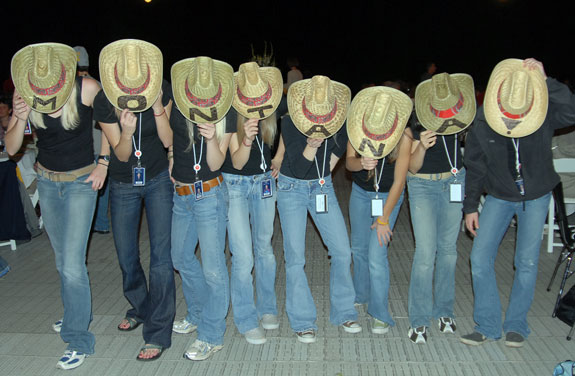 The faces behind the Billings MT hats.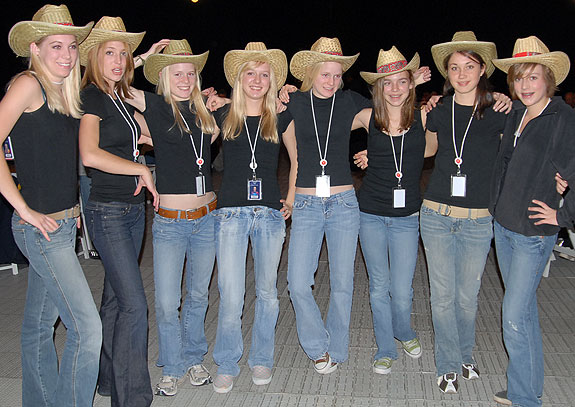 Sideline fun at Parent's Corner
Hinsdale XC Club (Hinsdale Central)

IL parents: Mark and Lisa Zumbach (l) Mary Hines and Laurie Cleary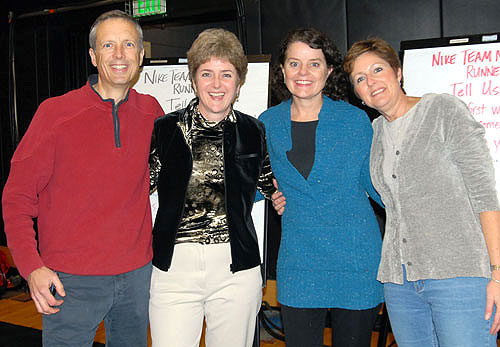 Yankton XC Club (Yankton)
SD cheerleaders: (top) Larry and Laurie Leader and Dave and Rhonda Hofer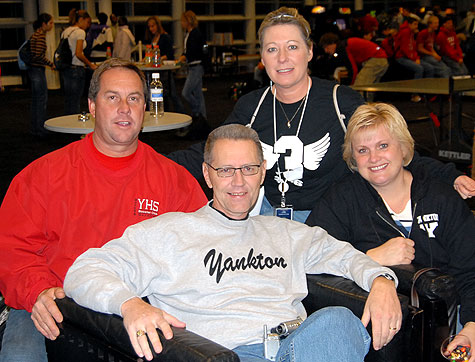 Concord XC Club (Carondelet) CA cheerleaders:
(from left) Keith Hauser, Peter and Robin Aliotti, Diana Chavez and Peggy Trainor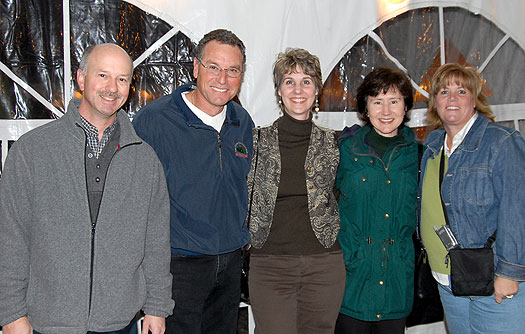 Manlius XC Club (Fayette Manlius) NY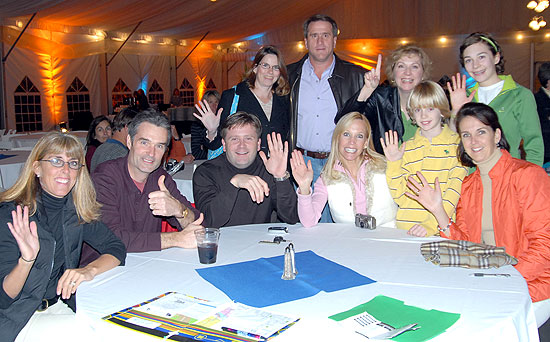 Iowa City XC Club (Iowa City)

IA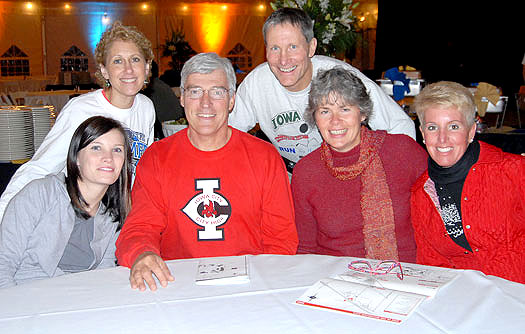 Tupelo XC Club (Tupelo)

MS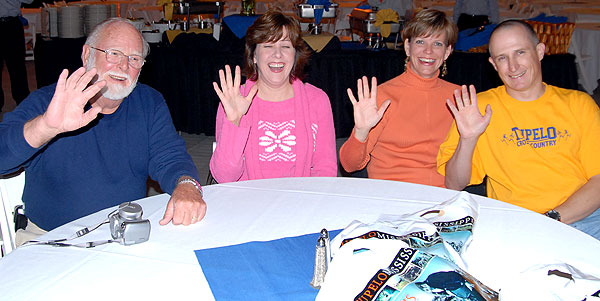 LaSalle XC Club (LaSalle) OH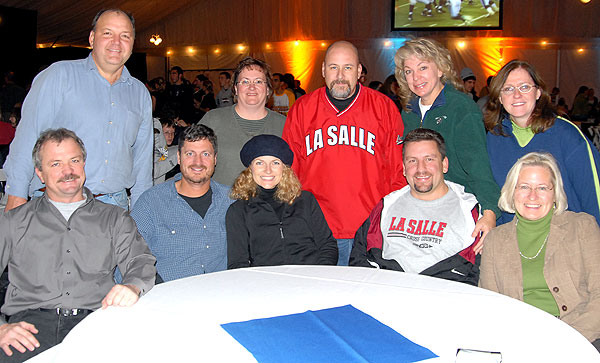 Potosi XC Club (Potosi) MO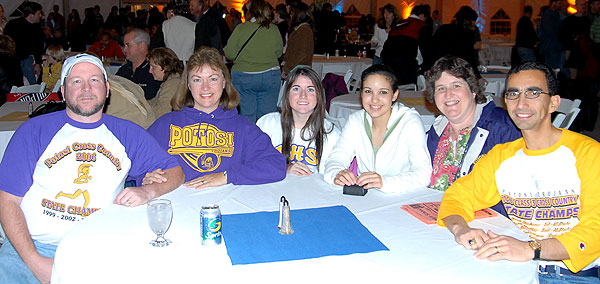 Team Skits

Through skits, dance and song, each team told a little about who they are and where they came from.
DyeStat Team
DyeStat 2006 NTN Regional Editor's team:
(top from the left) Northwest Editor, Dave Devine; Tom Cuffe, Northeast Editor; Scott Bush, Midwest Editor; Brandon Miles, Southeast Editor; Mark Bloom, NTN selection committee
(bottom from the left) DyeStat's Justina (Tina J) Jassen; THE John Dye; Sal Gonzales, Southwest Editor and
South Editor John Sullivan. Missing from this photo were Tony Bozarth (Heartlands regional editor), Rich Gonzalez (California boys editor), and Mike Kennedy (California girls editor)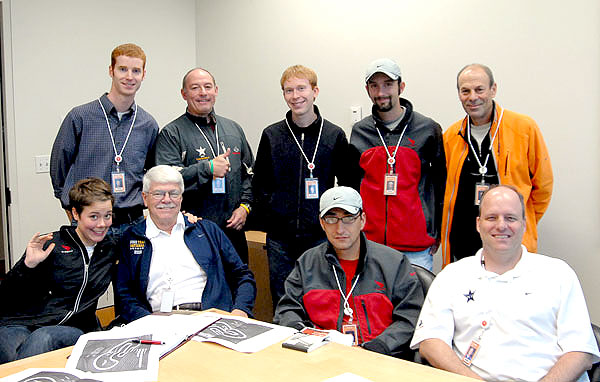 Out on the Course ETC.
teams were out getting used to the course and mud......
Tatnall XC Club (Tatnall) DE

Carmichael XC Club (Jesuit) CA

Midlothian XC Club (Midlothian) VA

Los Alamos XC Club (Los Alamos) NM

Chapel Hill XC Club (Chapel Hill) NC

Brandon Miles, DyeStat's NTN Southeast Editor gets the Chapel Hill perspective.

Montana Gals get a laugh at the sight of their muddy legs.

Texas Fans check out the course and plan their cheering strategy (from left) David & Blair Connor (l) Danny Green NTN staffer and coach of the Woodlands and Karla & Tom Connor.