Happiness is being in Oregon but being in San Diego is where it's at during Foot Locker weekend. Sporting Oregon colors and gear, former DyeStat elites return to the Foot Locker scene. Here they stop to say hello to DyeStat's Rich Gonzalez and Steve Underwood: (from left) Rich Gonzalez, Diego Mercado, Steve Underwood, Danny Mercado, and last year's winner A.J. Acosta.
The only thing missing from this pix is Marie Lawrence sr NV. The gang below was on hand to cheer Marie in her fourth straight Foot Locker final.. Marie's parents (Jack and Lee) are on the lower left with Marie's brother Jack in between them. Naturally, we will miss Marie next year. But I will really miss seeing Lee.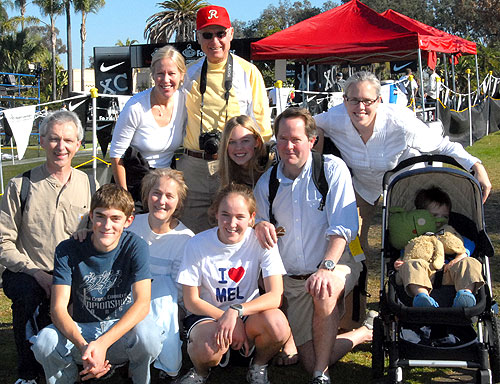 The Northeast Coordinating Team: (from left) Phil Zodda, Kathleen Haywood, Hilda Charles and Alix Bien-Aime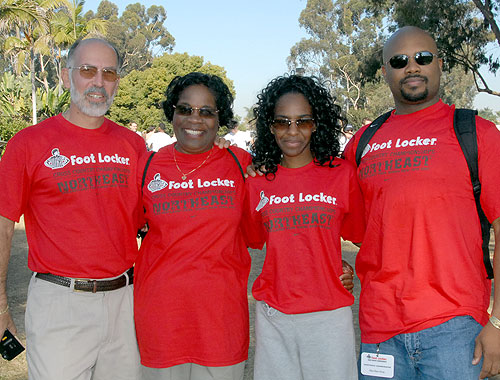 Enjoying the afterglow of the race: Virginia Hine TN and Rita Jorgensen TN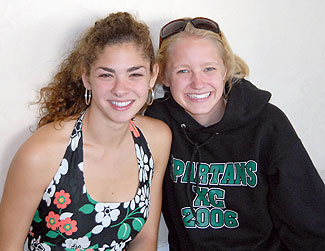 Alison Rhodes-Devey NY (mother of Brian Rhodes-Devey), Donna Dye-DyeStat and May Lovelace SC (son Luke)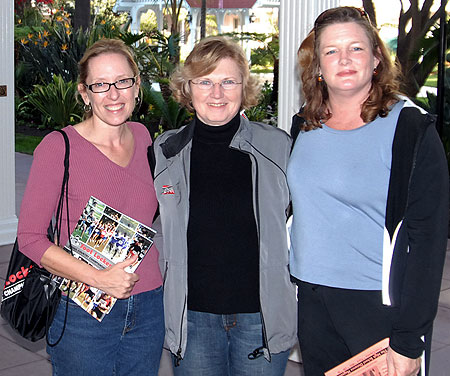 The NSSF (National Scholastic Sports Foundation) gang.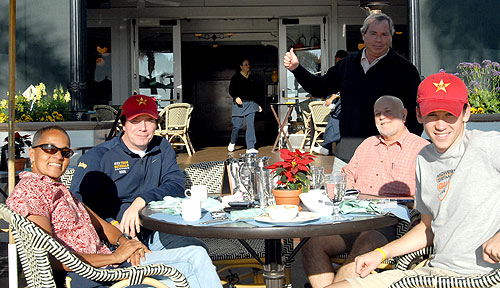 Emily Jones's so MA's parents Susan and Dean and sister, Brittany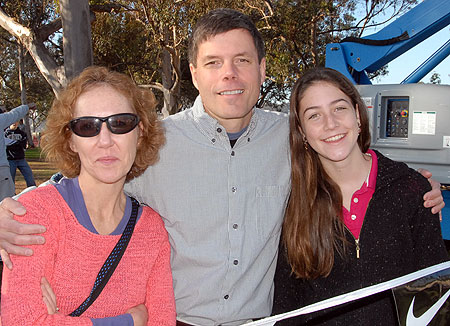 Strolling along the beach we found some DyeStat folks -- Justina (TinaJ) Jassen, John Sullivan, John Dye, Brad Walker and Betsy Jones. Miranda Walker ran in FootLocker last year. Brad and Betsy came this year just for the fun of watching the kids.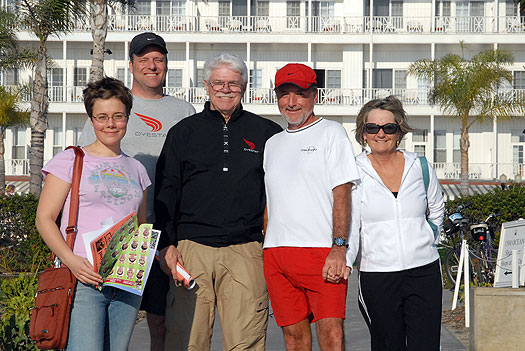 Relaxing before the meet, from VA: Kenneth Giles-Norfolk State U; Aurora Scott's parents Ozella and Spencer and VA cc parent who moonlights as a cc photographer John Herzog;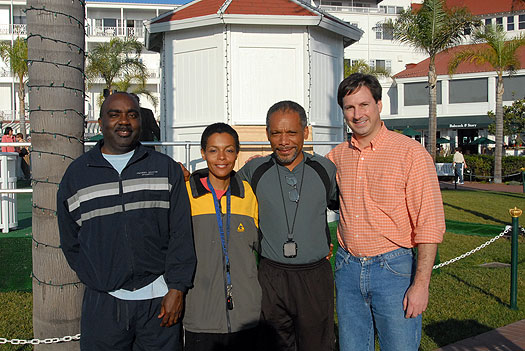 The gang from Holy Trinity FL: (from left) Kyle Butler, Adam Cooke, Brett Butler, Kyle Cooke, Bob and Daphne Cooke cheering for Kayla Hale.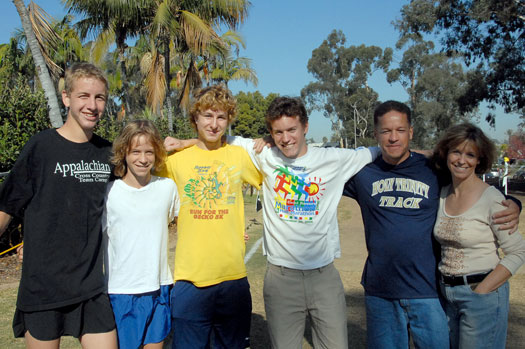 From St. Benedict's Prep NJ: Coach Marty Hannon, with Brandon Jarrett's parents Alice and Pete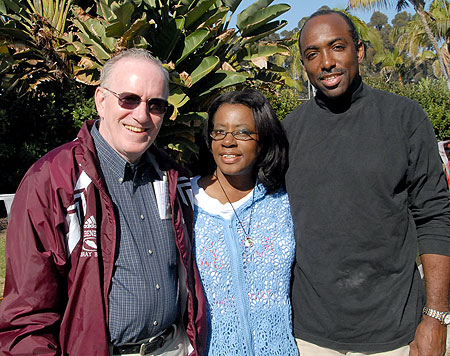 Lauren Saylor's sr CA fan club: (from left) grandmom, Johnye Reule; Betty Foster; brother Christian; Julie and Jim Saylor (mom and dad) grandparents Jerry and Gail Saylor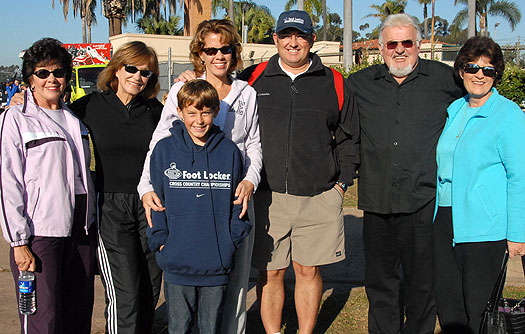 CC journalist, Penny Sparks, John Dye, and Penny's sister and cc Coach Robbie Grant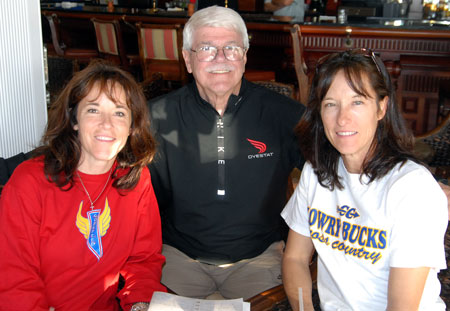 The Brian Rhodes-Devey sr NY fan club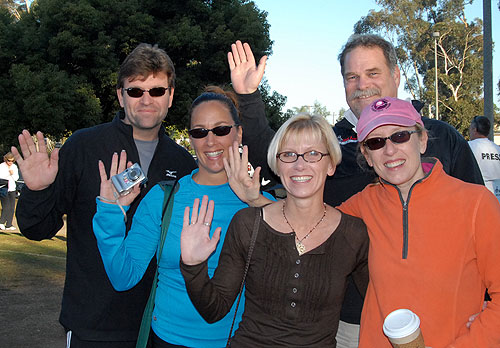 Nike has a flyaway--giveaway......shirts, shorts go flying into the crowd..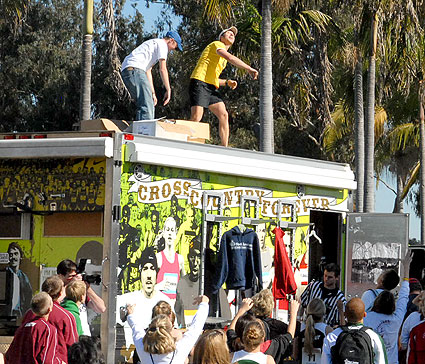 and there were lots of hands aloft for catching.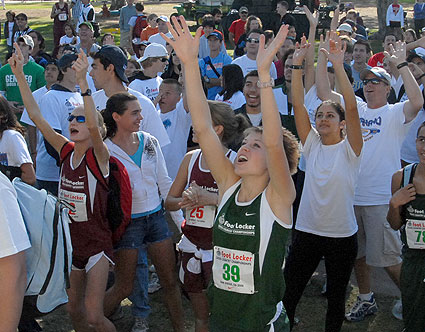 Steve Murdock and Nicole Blood (class of 2005, now at U of Oregon) show some personality.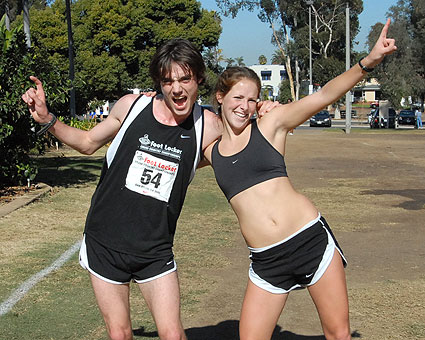 Luke Lovelace TN finishes on a sweet note!