Preview
State champions abound -
20 teams and 18 individuals
by John Dye
Top Teams - Top Individuals - Favorites and the course
POCATELLO ID 11/02/06 -- An impressive collection of runners from Utah, Colorado, Montana, Wyoming and Idaho will compete here Saturday at Highland Golf Course in the first Rocky Mountain Region XC Championships.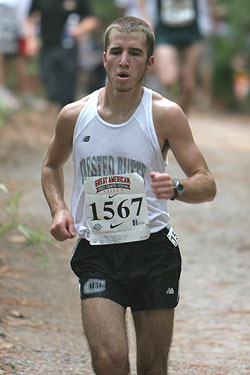 Entries include 20 state champions, 14 NTN regionally ranked teams and 3 nationally ranked teams, with the favorites being Wyoming 4A boys champ Cheyenne Central (NTN Southwest #3 and US#25), Colorado 5A boys champ Dakota Ridge (SW#4 and US#22) and Montana AA girls champ Billings Senior (NW#2 and US#16). Individually, there are 18 state champions, plus Crested Butte CO sr Adam Lenz, perhaps the best runner in Colorado but not allowed to compete in the state meet. Lenz (right, photo by John Nepolitan at Great American) and Idaho 5A champ Taylor Farnsworth are considered the boys favorites. The girls individual race is wide open.
Meet directors Aron and David Taylor organized the meet to showcase teams from the Rocky Mountain states. They favor a Rocky Mountain region for Nike Team Nationals, whereas the five states are now divided into two NTN regions - Southwest and Northwest - along with other states in each case.
"We feel this region possesses, as a whole, top teams equal to those anywhere else in the nation," Aron Taylor said. ." I am excited. I have never seen this many great teams in one race so this will be more fun for me to watch than probably anyone."
Taylor said coaches are excited too. "About 95% feel something like this should have been implemented years ago. I think there has been an underlying consensus by coaches within this area of the country that they are unique in location, and if there was a way to send a message to the powers that be, this would be the best way to do it."
Taylor hopes the meet will help Rocky Mountain teams' chances of selection for NTN by bringing top teams together face to face after their state meets. "I think with the new NTN system teams realize that avoiding other top teams will hurt them in the long run. Teams want the experience of NTN and the purpose of this meet is to help the NTN selection committee."
The 5000 meter course is one loop, with a variety of topography including 300-400 meter inclines. Taylor expects the boys winner to run between 14:50 and 15:10, and the girls between 17:50 and 18:20.
NTN rankings for Week 8 Nov 2 and Harrier Super 25 US rankings Oct. 31 in parentheses.
BOYS
36 teams
10 state champs
UT Timpview 4A (SW#8)
UT Davis 5A (SW#7)
UT Cedar 3A
WY Cheyenne Central 4A (SW#3 and US#25)
MT Bozeman AA (NW#5)
ID Mountain View 5A (NW#7)
ID Bear Lake 3A
ID Hillcrest 4A
CO Dakota Ridge 5A (SW#4 and US#22)
CO Classical Academy 3A
3 other NTN ranked teams:
SW#9 Mountain Crest UT (2nd, Utah 4A)
SW#10 Campbell County WY (2nd, WY 4A)
NW#8 Borah ID (2nd, Idaho 5A)
GIRLS
27 teams
10 state champs:
UT Park City 3A (NTN SW#4)
UT Mountain Crest 4A
WY Campbell County 4A (NTN SW#6)
MT Billings Senior AA (NTN NW#2 and US#16)
ID Boise 5A (NTN NW#5)
ID Bishop Kelly 4A
ID Bear Lake 3A
ID Soda Springs 2A/1A
CO Thompson Valley 4A
CO Classical Academy 3A
1 other NTN ranked team:
SW#9 Dakota Ridge CO (3rd, Colorado 5A)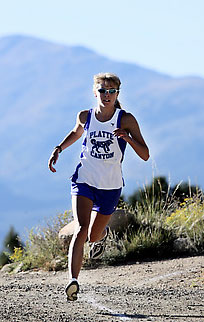 Montana:
HUNTER NELSON Missoula Big Sky - AA
KATIE GILBOY Helena Capital - AA
Idaho:
Karleigh Gempler Borah HS - 5A
Taylor Farnsworth Highland HS - 5A
Bethany McInturff Century HS - 4A
Chio Lopez Century HS - 4A
Cydney Jacobsen Bear Lake HS - 3A
Skyler Stotts Soda Springs HS - 2A/1A
Utah:
Krystal Harper Orem - 4A
Justin Hedin Mountain Crest - 4A
Stephen Clark Skyline - 5A
Luke Puskedra Judge Memorial - 3A
Samantha Macmillian Judge Memorial - 3A
Ana Moser Rowland Hall St. Mark's - 2A
Colorado:
Kristen McGlynn - 3A (right)
Colorado's leading boy, Adam Lenz Crested Butte Academy, was not allowed to compete in the state meet.
Wyoming:
Paul Burke Campbell County - 4A
Levia Abraham Cheyenne Central - 4A
Ellie Rice Jackson Hole - 3A
In addition, USATF midget phenom Danielle Menlove will be competing.
analysis of favorites and the course
by Aron Taylor
Boys Teams
The favorite boys team has to be Cheyenne Central WY because of their current dominance in the SW Region. Their 3,4,5 finished within 4 seconds at the state meet. They have defeated every team in Colorado so far this season.
Campbell County WY is the current SW#2, they have tied Cheyenne Central, they have defeated every Colorado school and possess a dominant front 3 with Paul Burke, Dominik Robinson and Taylor Kelting. Wyoming has the possibility of going 1-2 at this meet.
Bozeman, Montana is ranked in the NW and has been undefeated for the 2nd half of the season. Bozeman posted dominant victories over Flathead and has 7 runners under 16:30 for 3-miles.
Borah, Idaho has came close to defeating Trubaco Hills at the Firman and placed well at Danner. The greatest team since Highland, Idaho's 1985 squad, Borah has a front 3 under 16 minutes for 5K and a dominant pack of five runners. They are within the top 3 at every race.
Mountain Crest leads four dominant Utah teams into the meet. Led by state champion Justin Hedin the Mustangs were 10 meters from winning the whole meet. They will walk into the meet with State overall champions Timpview, Davis, and Mountain View. Mountain View, who finished 2nd to Davis in the 5A division without #1 Coulson Goodwin placing looks to show the region they are still #1. As for who the favorite is out of these (4) teams? Who knows, any one of them could win.
Wheat Ridge, Colorado is the David among these goliath's Wheat Ridge has a front 5 within 28 seconds for 5K. They are the #1 team in the state of Colorado. They will return all 5 for 2007, but their sights are set on proving that even a small school can earn a birth to NTN. Wheat Ridge is the real deal.
Other favorites include Mountain View, ID who ran Borah to the wire with (5) under 16:45 for 5K, Big Sky, MT who has two dominant front men, and the Classical Academy out of Colorado who have been a 3A powerhosue for the past decade.
Girls Teams
The showdown is definitely between 10 teams -- Boise ID, Billings Senior MT, Campbell County WY, Mountain Crest UT, Davis UT, Park City UT, Sandpoint ID, Bozeman MT, Thompson Valley CO, and Billings West MT. This is arguably the deepest girls race in the history of the Region. All have talking points:
Billings Senior is coming off a historic 5 girls under 19 minutes at the state meet!
Boise and their continue dominance,
Park City making claim as the greatest Utah team ever
There are also some outsiders seeking an opportunity to shine including the small school powerhouses of Firth and Bear Lake, Idaho.
INDIVIDUAL FAVORITES
Boys:
Patrick Casey of Laurel, MT is the #1 runner for the state of Montana. He went undefeated this year winning the prestigious Mountain West Classic in 15:03, but made a tactical error at state for his only loss. He is a 15 minute 5K runner, and he is only a junior.
Taylor Farnsworth of Highland, Idaho is a Footlocker favorite winning every meet by huge margins and course records, winner of firman in 15:12. Looking like he will be Idaho's first sub 9 minute two-miler this spring. He is Idaho's #1 ranked runner.
Luke Puskedra of Judge Memorial, UT is the only runner to defeat Farnsworth this year, he is Utah's #1 runner, and looks for revenge for a loss at Firman.
Adam Lenz, where do we begin? 3rd at Great American, 4th at Manhattan. The best runner in Colorado. He has to be the individual favorite, he will be pushed to the line.
Paul Burke of Campbell County WY, is the states #1 ranked runner. He started the season slowly as he recovered from injury but has regained top form.
Other Boys:
Chio Lopex-Century; Daniel Jackson-Bozeman (MT); Seth Grossman-Flathead (MT); Nick Bolinder-Boise (ID); Sean Huey-Borah (ID);
Sawyer Bosch-Borah (ID); Justin Hedin-Mountain Crest (UT); Spencer Gardiner-Springville (UT); Hunter Nelson-Big Sky (MT); Stephen Clark-Skyline (UT); Scooter Foley-Cheyenne Central (WY) and many others.
Girls
Judges Samantha McMillian, Hailey Knettles are two favorites and Utah's #1 & #2.
Levia Abraham is WY #1
Montana's Katie Gilboy ran in the high 17's at state is the state #1,
Idaho's #1 Megan Bartlett of Sandpoint
Candace Eddy from Davis UT
Carly Selleck of Billings West
Bridgette Hoenke Billings Senior
Megan Gebhart Campbell County
Mackinze Overy of Mountain Crest
Krystal Harper or Orem
Elli Reed of Park City
Rosie Brennan of Park City.
Colorado 3A champ Kristen McGlynn
USATF midget champion Danielle Menlove
the course
There have been no meets run on this course this year. The site was the home to the US National Championships in the early 80's and a favorite of Idaho legend Bob Conley. It lies next to Highland High, adjacent to a track stadium and is huge. I mean where else can you go to find a one-lap 5000 meter course that is spectator friendly, runner friendly, and offers a true NCAA style experience for high school kids? Highland Coach Chris Belcher and I wanted to design a course with the runner in mind, and we think we have done this, and are confident that this course will provide the best opportunity for the best Team and Individuals to win.
The course is not easy, but it is not overwhelming. The course is 1-lap, it contains rolling grass, gentle uphills, and downhills, the hills can be decieving though they are not 8% grades they are 3-400 meters long of a steady climb. The footing is excellent however so this should be a true test of strength versus speed, the athlete's and teams able to perfectly guage and compensate for these challenges will be the one who prevails. The course is very wide, and there are no narrow turns, dog legs, etc. I think with athletes like Adam Lenz, Katie Gilboy, the Judge Girls, Luke Puskedra the boys winner could be between 14:50 and 15:10, and the
girls between 17:50-18:20.

The course is on a golf course in Big Sky country at 4,500 feet altitude. Long downhills are offset by long uphills, with enough sharp turns, dips and sidehill lies to keep the runners honest.