Rocky Mountain Region

XC Championships

November 4, 2006 - Highland Golf Course, Pocatello, ID
a DyeStat featured meet with John and Donna Dye on-site
Donna on the Side at RMXC

Part 1 - intro, big sky and Friday at the course
Part 2 - the wave
Part 3 - on the side
Part 4 - races
Part 5 - awards

Pocatello ID hosted the first Rocky Mountain regional championship, an event the meet organizers see as a way to show off the talent in the Rocky Mountain states while stimulating an interest and commitment to raise performances to an even higher level.

Pocatello is in Big Sky country--a natural for cross country with it's crisp climate, mountains, hills and dales.

The Scene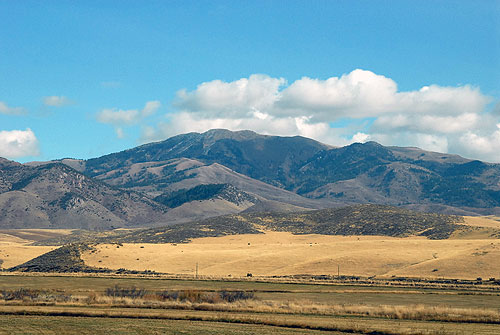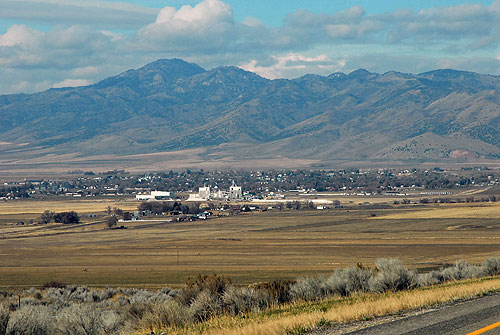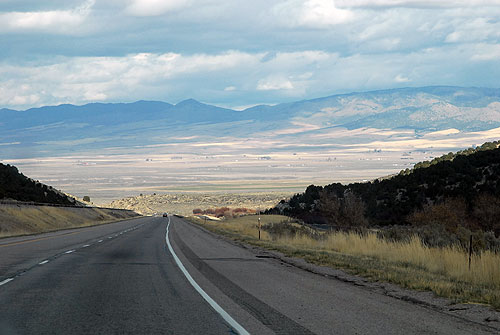 This is also Idaho potato country. We like a good idaho baked potato. So we went off to the Idaho Potato Expo in Blackfoot ID, about 24 miles from Pocatello. We found what must be the biggest baked Idaho potatoe in the country, complete with a topping of sour cream and cheese. Unfortunately, the Expo was closed when we got there. But they tell me that the museum contains a host of information on the history, use and growing of the potato. This would be a nice off the road visit if you're coming to Idaho for the Simplot Games or next year for the 2nd Rocky Mountain Regional Championship. For more info see: www.potatoexpo.com.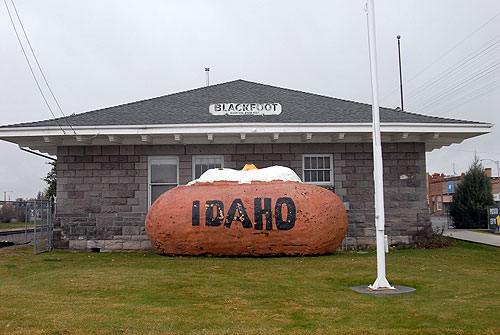 On the way to Blackfoot, you'll also find the Fort Hall Casino run by the Shoshone-Bannock Tribes. The buffalo at the front door make impessive greeters.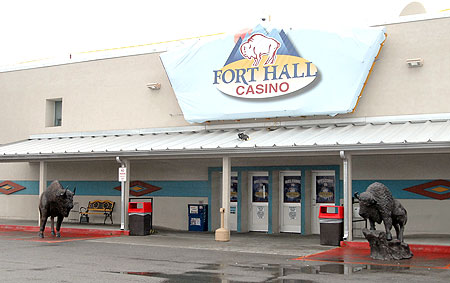 Pocatello is a city of about 52,000. It was named after a Chief of the Shoshone-Bannock Tribes whogranted the railroad a right-of-way through the Fort Hall Indian Reservation. The Pocatello of today is still tied to transportation and the reason it was founded. It sits at the intersection of two interstates. But it's economy has expanded to include to higher education, research, food processing, phosphate reduction, and semiconductor design .
The Red Lion Hotel, scene of a runners take over, welcomes athletes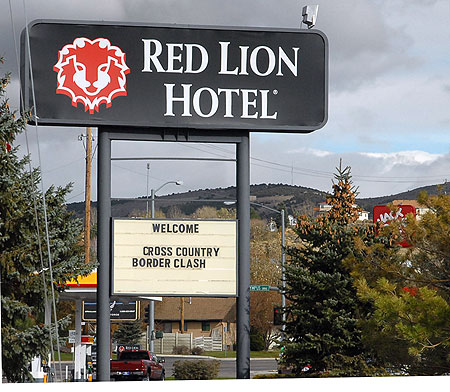 Day 1 Getting acquainted with the course
At first look, the course looked flat and not difficult. But it didn't take long to realize that the many hills, downward trails, turns and slopes make it a challenging course.
The meet was at the Higland Race Course just behind meet sponsor Highland High School.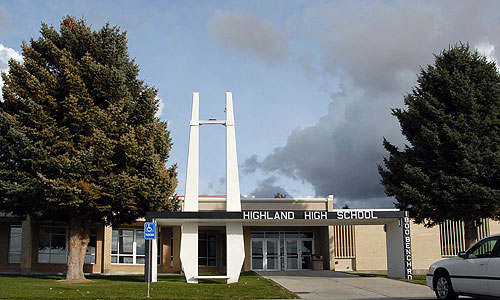 Runners try out the course.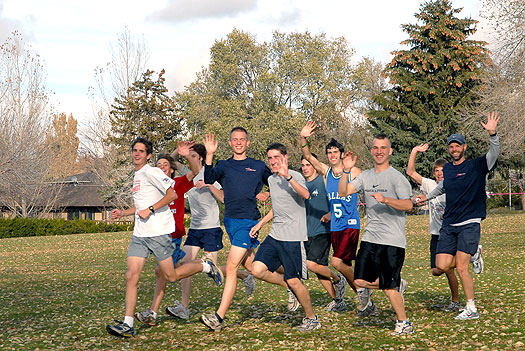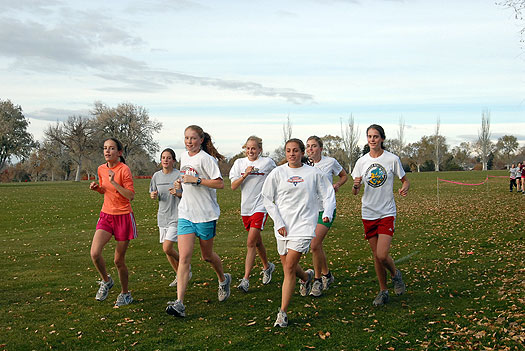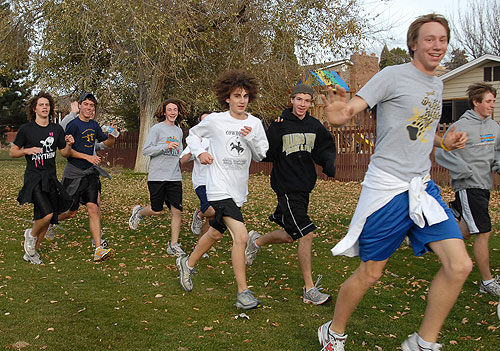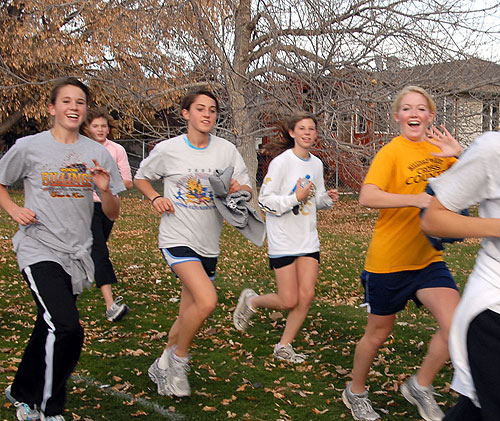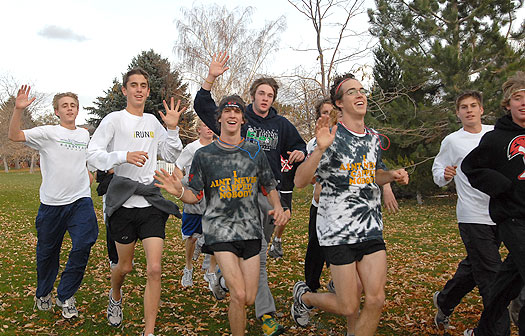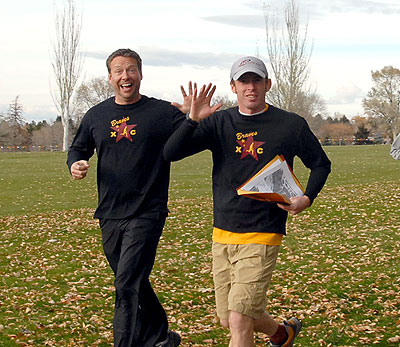 The gang from Timpiew UT. The boys were 2006 Utah 4A Champions and
also ranked 8th in week 8 of the NTN Team rankings.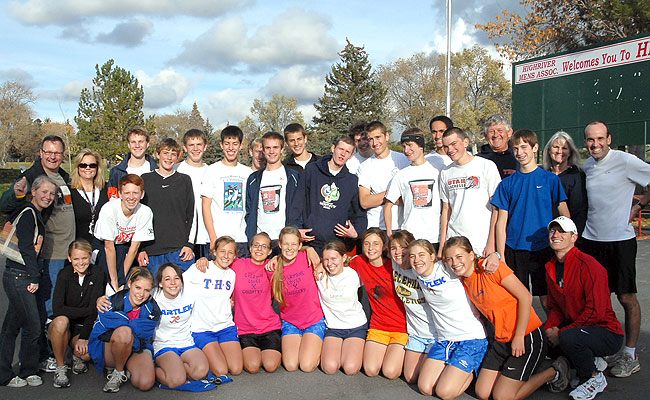 Missoula MT guys line up for smiles and a pic.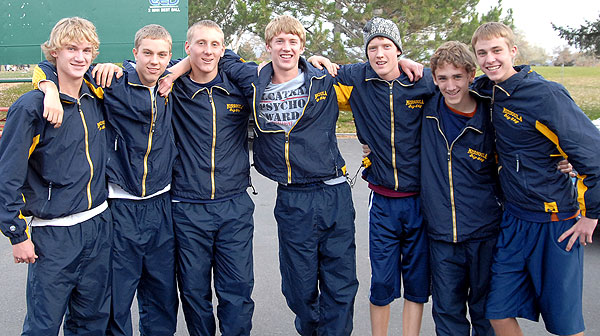 On The Side
Kristen McGlynn CO with her dad, George. Kristen is one of the country's top runners.
Timpview UT DyeStat Track Talk junkies--Nathan Fletcher (l) (Fanthom on Track Talk) and Krys Gardner (Fartlek'er on Track Talk).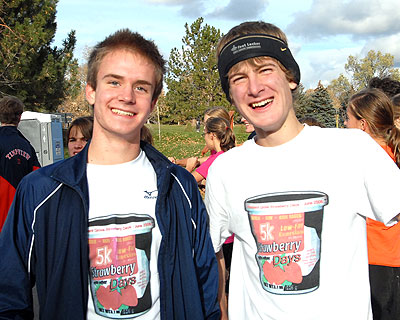 Nathan Fletcher with his parents Trent and Vicky.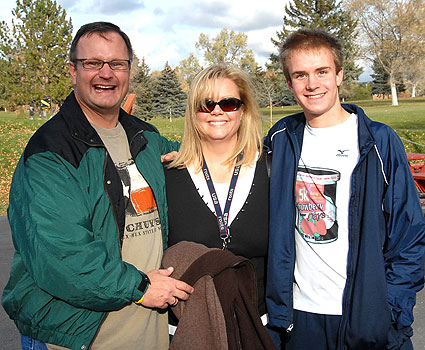 Daniel Scott UT, an 8th grade Middle School runner with his Dad, Danny.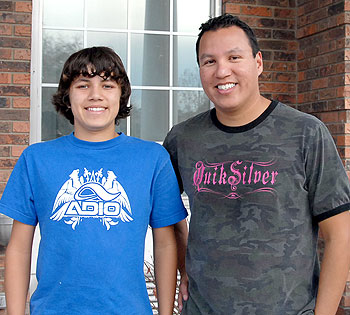 Inspired by a passion for the sport, the Taylor brothers, David (l) and Aron conceived, organized, promoted and directed the meet.
Race Day

Runners faced a cloudy, cool and sometimes misting rain. But not to worry, there were plenty of smiles, waves and good spirits.

Donna on the Side at RMXC

Part 1 - intro, big sky and Friday at the course
Part 2 - the wave
Part 3 - on the side
Part 4 - races
Part 5 - awards