The Eastern States at Manhattan: "A Perfect 10"
By Rich Gonzalez
DyeStat.com
We've already heard the talk. More than once it has been stated this year's Manhattan Invitational could play host to "the greatest girls field ever".

The criteria for such is vague. Are we talking the best few teams? Or the deepest field? Or?

We won't go as far as to pre-rate Manhattan's Eastern States Championship (Saturday, 2:38pm) as the greatest girls field ever, but we will rate it a "Perfect 10". That's because there are 10 NTN-ranked teams scheduled to meet, including the marquee programs from two separate NTN regions! The biggest question here is how will the Southeast Region's "Fab Four" fare against the Northeast's very powerful collection of top-end talent? The Northeast dominated the girls scene last year with a 1-2-9 team finish at NTN, but this year could be just as strong. The Southeast was a very respectable 11th and 14th with its two NTN berths last year, but appears on a definite upswing and far stronger in 2006.

How will it all shake out? Time (and the times) will tell on Saturday, but here's a first look at some of the main team players in the Girls Eastern States Championship:


Time To Fly Again?: Hilton of New York (right) rose to the occasion to defeat Saratoga Springs runners in club competition at the 2005 Nike Team Nationals. Two close calls already in 2006, but Hilton remains #1 so far. (photo by Kirby Lee)
Hilton (NY) (right) leads the decorated cast of teams by possessing the most gleaming credential in the field: Defending NTN champion. Five return from last year's historic lineup, including four scorers headlined by Allison Sawyer and Caroline Schulz. They are ranked #1 in the Northeast (and in the nation) and unbeaten thus far in 2006, but have been hardly unchallenged. Recently, there was a tough 9-point win over #2-ranked Radnor of PA at the Warwick Mania Invitational. Before that, there was a hard fought 10-point triumph over #3 Greenwich at the Baldwinsville Invitational, a race in which Hilton was trailing heading into the final mile.

Greenwich, a small school in New York, inherited a lineup of runners that includes former Saratoga Springs standout Caitlin Lane, her freshman sister Brittany, and the Fung siblings, Emily and Ashley. Much like Hilton, they are comprised of a pair of frontrunners, a solid third scorer, and the gaps to their final two scorers. Each team can easily have a scoring gap of 2 minutes on a given day.

2004 NTN winner Saratoga Springs (NY) has taught the skeptics a lesson or two heading into this year, overcoming some key graduation and transfer losses to quickly "remodel" itself into a juggernaut running machine yet again. The Blue Streaks trounced a talented Colts Neck (NJ) lineup by triple digits earlier this fall and find themselves as the #3 team in the region as of "press" time. Since then, Colts Neck (Northeast #5) has rebounded to defeat NTN-ranked teams at its own meet two weekends ago and hopes to have star runner Briana Jackucewicz returned from injury in time for this weekend's action.

Eleanor Roosevelt HS (MD) was a big surprise on the national scene a year ago, culminating that Cinderella episode with an 11th-place finish at NTN. Everyone from that squad returns, with the group now top ranked in the Southeast Region and fresh from a win over Southeast #4 Tatnall (DE) at the big Maymont Invitational in Virginia.
The additional impressive facet about the Southeast Region this year is its top four girls teams are clear of their local rivals and nearly interchangeable on most race days. Florida's Episcopal HS (Southeast #2) and Virginia's Midlothian (Southeast #3) went 1-2, respectively, at the Great American Cross-Country Festival in Alabama, with the teams separated by a mere 15 points in a 23-team field. Episcopal relies on superb frontrunning to excel (with Katie Traylor and Laura Steel leading the way) while Midlothian is also fairly strong up front but has sensational depth. "Midlo" is led by heralded frosh twins Kathleen and Leia Lautzenheiser.

Other regionally ranked squads in the 30-team field include Northeast #6 Fayetteville-Manlius (NY), paced by super 9th-grader Mackenzie Carter, and Northeast #7 Bromfield (MA), recent winners of the Boston Invitational. Bronxville (NY) and South Lake Tahoe (located on the California border, but competing in the NTN Southwest Region) have also been previously ranked in their NTN regions this fall, with Central California power Clovis also in the mix.

The individual battle should be a dandy as well, with four FootLocker finalists entered, although Jackucewicz's status is questionable. Greenwich's Caitlin Lane (31st at FootLocker in 2005) and Saratoga Springs' Hannah Davidson (36th), who were both teammates a year ago before the former transferred out, are joined by Jackucewicz (37th) and Suffern's Shelby Greany (38th) as those with nationals experience.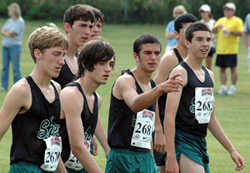 For Shen, it's time to make a point: With six Northeast Region ranked teams converging at Van Cortlandt Park, here's an ideal opportunity for #3-ranked Shenendehowa to make a definitive statement as the postseason quickly approaches. Shen took 2nd to #1 Collegiate (NY) at Great American. Neither Collegiate nor #2 Coatesville (PA) are in attendance this weekend. (photo by Rich Gonzalez)

BOYS OVERVIEW:

The Northeast Region's two heavy hitters to date - Coatesville of Pennsylvania and Collegiate of New York - are sitting on the bench for this one, with such teams as Shendehowa, Fayetteville-Manlius and Warwick Valley of New York joining Danbury of Connecticut and others in stepping up to the plate and aiming for a home run. Only six of the region's Top 10 teams are participating here this weekend (as of this preview's writing), a mild surprise considering the size and prestige of this mid-season invitational. Teams competing here put themselves in advantageous position of facing other quality teams/runners head-on along a well chronicled course in seeking to improve their NTN standing.

As is customary here, meet management has decided to spread the talent across the seven varsity heats, depriving spectators and supporters alike of some great matchups. Regardless, the meet still offers plenty of solid action with talent aplenty. Here's our race-by-race take on the seven varsity sessions:
BOYS VARSITY "A" - 1:16pm
The first varsity boys race of the afternoon features the defending Nike Team Nationals champion, but with a vastly different look. Saratoga Springs (NY) is ranked neither nationally, regionally, nor even locally in 2006 as a massive rebuilding task follows that improbable fulfilled dream in Portland in December of 2005.

A new chapter of the venerable meet opens on the famed "Vanny" layout, with a trio of fine squads helping carry this 40-team heat drawing representation from six states -- Massachusetts, Rhode Island, New York, New Jersey, Delaware and New Hampshire. Chaminade (NY) is considered the race favorite over Shaker (NY) here, being fresh off a dominant 17-point trumph in its race at the Grout Run last weekend. Ryan McDermott led the way for Chaminade, gunning it from the start en route to a wire-to-wire win in a meet-leading 13:15 for 2.75 miles. Shaker lost by eight points to in-state foe Queensbury in its race at Grout. Chaminade averaged 13 seconds faster per man at the Grout Run than Shaker did, and it wasn't just because of Dermott. The 'Nade run quicker at most of the team positions at Grout.

Bishop Hendricken, the defending Rhode Island state champion and atop the state polls once again, is another formidable entry here, with its fine frontrunning duo of Andrew Palumbo and Steve Wood setting the table. BH will be competing in New York for the second consecutive weekend after being fourth by just six points to eventual winner Arlington (NY) in a jogjam team finish at last week's showdown at Sunken Meadow for the St. Anthony's Invitational.
BOYS VARSITY "B" - 1:28pm
St. Anthony's (NY) heads up this 41-team assortment hailing from eight states, including leading teams from New Jersey and Florida. St. Anthony's, ranked 11th in the new state Class AA poll, was sharp last weekend at its own invitational, taking third overall but only four points behind race winner Arlington (ranked eighth in Class AA), a team on the NTN regional radar.

Winter Park (FL), a program some may recall advanced to the inaugural NTN championships two years ago, is making the journey up the East Coast for this one. Senior Peter Posada leads the unit, which is ranked third in the state 4A poll. Perennial New Jersey power Don Bosco was involved in an ambush at the Stanford Invitational in California two weekends ago, finishing 21st among 23 teams in a monster field of teams. Seniors Conor Sullivan and Coliun McCullough are among the leaders for their proud tradition in 2006 as the squad aims to right the ship at Van Cortlandt Park on its paths to a hoped-for state podium finish.
BOYS VARSITY "C" - 1:40pm
A fine duel between NY powers Smithtown and Queensbury is projected to emerge from this 39-team clash, which also includes one of America's finest traditions in Christian Brothers Academy. Smithtown rocked the house at the St. Anthony's meet last weekend, with its top three touring the 2.5-mile Sunken Meadow layout in a sparkling 13-minute average to go 2-3-4 in that race, roughly a half minute behind speedburner Charles White of Garden City. Smithtown is projected to climb into the NTN Northeast Region rankings this week based on that showing.
Queensbury upset Shaker at last weekend's Grout Run, with race winner Matt Flint (13:28 for 2.75 miles) igniting a 45-second scoring gap for the Q-men, a group that has been at or on the fringe of the NTN regional rankings for each of the last three years.

CBA is patiently rounding into form, with some growing pains along the way. The team took third in its flight of the Shore Coaches meet last weekend, 19 points behind 2006 state pacesetter Jackson Memorial and within 11 points of runenr-up Old Bridge. The good news for Christian Brothers is that it packs well in races, with a nice 33-second scoring cushion in its last outing. Just a little improvement for that pack goes a long way in the scoring column.
2005 FootLocker finalist Brian Rhodes-Devey, who just very recently committed to the University of Texas, is the Manhattan Invitational's top returnee from a year ago off his 12:44 race-winning effort in flight "B". Alex Willis of Colonial HS in Florida figures to be among the harriers positioned in the lead pack.
BOYS VARSITY "D" - 1:52pm
Where's the love for Xavier?? For a Connecticut team wishing to prove its worth and crash the Northeast Region rankings, the seeding committee did this group no favors. This race appears to be the lightest of the seven heats, meaning Xavier team members must dig down and run against themselves and the clock in seeking to boost its stock. The X-factor is among a good group of Connecticut teams compared to recent years, with two squads recognized in the top 10 in last week's regional rankings! Senior Adam Vess, seventh at his single-division state meet last year, is the team's frontrunner. Germantown (PA) and Pope John XIII (NJ) are among a string of state-ranked teams also in the mix.
BOYS VARSITY "E" - 2:04pm
If you're looking for the race of the day, this should be it. With the region's top two teams sitting this meet out, Shenendehowa (NY) is the meet's highest-ranked team (#3 in the NTN Northeast Region) and Danbury (CT) is the meet's third-highest (#5 in NTN NE). They'll get plenty of aid while striving to run fast for the sake of post-meet team-time comparisons as Colts Neck's (NJ) Craig Forys, Clovis' (CA) Mikel Thomas and Crested Butte Academy's (CO) Adam Lenz are all national-class performers among those undoubtedly setting a torrid pace.

"Shen" is seeking a breakthrough showing here to vault past the region's top two ranked teams -- Collegiate of New York and Coatesville of Pennsylvania, neither of which are in attendance this weekend.. A big key will be how close the Shen pack is to its frontrunner, senior Stephen Murdock, who will battle the aforementioned trio for lead individual honors.

Murdock and Lenz chased down a fast-starting New Yorker Rhodes-Devey at last month's Great American Cross-Country Festival, finishing 2nd and 3rd, respectively, on the moderately challenging 5k layout at Alabama's Spain Park. Thomas finished seven seconds behind two-time defending California state 3200m champion Michael Cybulski on the state meet cross-country course at the Clovis Invitational last weekend, signaling his very fine fitness for this outing. Forys, the defending state cross-country champion and a sub-9:00 eight lapper in track, is another expected to carry the race pace to superb levels. Shenendehowa indeed has the opportunity to boost its stock here, but that's the benefit for choosing to attend the region's most prominent invitational of the season. The payout could be grand!
BOYS VARSITY "F" - 2:16pm
Yes, Fay-Man still can! There were plenty of skeptics choosing to discount Fayetteville-Manlius' returnees on both the varsity and lower levels entering this year, but the program's faithful were rewarded with good times in a convincing 31-point triumph over regionally ranked Liverpool at the recent McQuaid Invitational. F-M has an outstanding frontrunner in Tommy Gruenewald while Luke Fitzgibbons provides quality back-up. It was F-M, as many of you may recall, that threw down a historic showing here in 2005, scoring a perfect 15 points and averaing 14:48 for its top five. This team seemingly is not that good, but it is better than most of you probably think.

Ridgewood (NJ) is one of the better New Jersey teams this year although it lost a great deal of talent to graduation this past summer. Although F-M is the clear favorite in this one, the runner-up spot is wide open.
BOYS VARSITY "G" - 2:28pm
The final varsity joust of the day could be a very competitive one, with a pair of current NTN-ranked teams and a third vying to crack into the next Top 10 poll, which is released the day before the big Manhattan meet. Warwick Valley has enjoyed multiple strong performances thus far this fall, includind dominating wins at the Edgewater Invitational in Florida and at its own meet two weekends back. In between was a steady - but not stunning - during a bit of an off team showing at the Great American Cross-Country Festival. Individually, Terrence Prial and Zack Price are part of a very potent attack!

Liverpool (NY), still smarting from a head-on setback to Fay-Man at McQuaid, seeks a dose of redemption in this one and will be afforded that chance against Warwick's "Purple Wave." Although it has been an uncharacteristic down-year for New Jersey so far, Jackson Memorial has picked up the flag, so to speak, to emerge as that state's top team. La Salle College, the #6 team from PA, also checks in here. The race up front could be between Warwick Valley's Prial and Mark Amirault, the reigning Massachusetts state champion from Xaverian High.