Photo Albums
Girls Eastern States -
Vic's Pix
What's with the crazy fast times at VCP?
Read Rich Gonzalez's analysis -
New: Walt Murphy - "A Perfect Storm ... record times"
Results (linked from winners table) - Marc Davis Video!
Vanny Stars: T. Gruenewald, C. Forys,
Midlothian VA girls, Shenendehowa NY boys
By Rich Gonzalez
DyeStat.com

(BRONX, NY) -- During a thrilling afternoon of cross-country action highlighted by record levels in both quality and depth, Colts Neck High senior Craig Forys snared the spotlight by blazing to a smash a course record that had stood for 23 years.

A full 23 years of everyone chasing it; less than 23 minutes for Forys to savor it. .....
CLICK HERE FOR REST OF STORY - Winners Table/Results -
Fayetteville-Manlius sr Tommy Gruenewald (left) heads for the tape minutes after Colts Neck sr Craig Forys (right) broke the 23-year-old Vanny record in the "E" Varsity race. Forys ran 12:10.7, but saw his record beaten by Tommy G's 12:10.6. Open Photo.

| | |
| --- | --- |
| | |
FULL START LIST - updated as of October 9th -
RICH GONZALEZ PREVIEW - "The Eastern States At Manhattan -The Perfect Ten"
ALL ABOUT VANNY - Excert from Marc Bloom's book "Cross Country Running"; including a look at the historic course map at Van Cortlandt Park
Winners Table, PHOTOS and Results (click on race name for results page)
| | | |
| --- | --- | --- |
| Race | Team Leaders | Individual leaders |
| | Shaker NY 61 in a mild upset over Chaminade NY, 77 | .Ryan McDermott, Chaminade, 12:33.0 |
| | Don Bosco NJ 89 to St. Anthony's NY 106 | Dan Hibbs, Hatboro Horsham, 12:52.8 |
| | Smithtown nY 70 over Queensbury NY 84 | Brian Rhodes-Devey, Guilderland, 12:27.2 |
| | Pope John Paul NJ 74 over Xavier CT 98 | Adam Vess, Xavier, 12:47.6 |
| | Shenendehowa NY 65 over Danbury CT 85 | Craig Forys, Colts Neck NY meet and course record 12:10.7; Steve Murdock, Shen, 12:15.5;, Mikel Thomas, Clovis 12:21.4; Adam Lenz CO 12:26.2 |
| | Fayetteville-Manlius NY 55 over Ridgewood NJ 96 | Tommy Gruenewald, F-M NY, beats Forys' mark! 12:10.6 |
| | Warwick Valley NY 67 over Liverpool 83 | Paul Springer, Unionville PA, 12:28.6 |
| | Midlothian VA 148, Eleanor Roosevelt MD 172, Saratoga Springs NY 190, Hilton NY 203 | Hannah Davidson, Saratoga Springs NY, 14:14.7 |
| | Ward Melville NY 66, Horace Greeley NY 106 | Suejin Ahn, Ward Melville, 15:10.2 |
| | Voorhees NY 65, Cicero N. Syracuse NY 78 | Melanie Thompson, Voorhees, 14:43.0 |
| | Colonie NY 48, Guilderland NY 119 | Emily McTaque, Niskayuna, 15:16.8 |
| | New Rochelle NY 107, LaSalle Academy NY 112 | Jeanne Mack, LaSalle Acad., 14:56.9 |
| | Cornwall NY 70, Rush-Henrietta NY 75 | Maggie May, Walt Whitman MD, 15:02.7 |
| | Bay Shore NY 81, Cranston West NY 124 | Callie Hogan, Bay Shore, 15:00.5 |
-

2005 "A-Race" winners Aislinn Ryan and Justin Harbor are off to college this fall, so that leaves the door open for a new king and queen of Vanny. With Warick Valley boys reloading and Fayetteville Manlius losing 4 of it's top 7 this year, look for NY to be represented well by Liverpool and Shenendehowa. Girls Eastern States will showcase New York schools Hilton and Bronxville. Though Colts Neck (NJ) will have something to say about that. Hannah Davidson, now the clear leader of powerhouse Saratoga Springs (NE#5), looks to take home individual honors.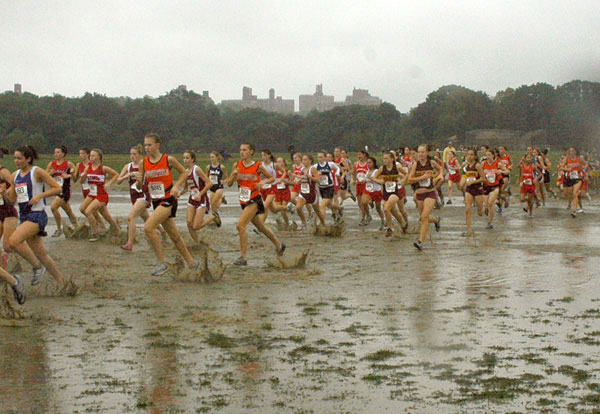 No folks, this is not Woodstock. It's the Eastern States girls start from 2005. Photo by Donna Dye
SCHEDULE OF RACES - This is a tentative schedule. Please stayed tuned for any further updates
9:15 -- Sophomore Boys "A"
9:27 -- Sophomore Boys "B"
9:39 -- Freshman Boys "C"
9:55 -- Freshman Boys "A"
10:03 -- Freshman Boys "B"
10:11 -- Freshman Boys "C"
10:19 -- Freshman Boys "D"
10:27 -- Freshman Boys "E"
10:36 -- Intermediate Boys "Grades 7-8"
10:43 -- Intermediate Girls "Grades 7-8"
10:52 -- Freshman Girls "A"
11:01 -- Freshman Girls "B"
11:10 -- Freshman Girls "C"
11:19 -- Freshman Girls "D"
11:28 -- Junior Varsity Boys "A"
11:40 -- Junior Varsity Girls "A"
11:52 -- Junior Varsity Boys "B"
12:04 -- Junior Varsity Girls "B"
12:16 -- Junior Varsity Boys "C"
12:28 -- Junior Varsity Girls "C"
12:40 -- Junior Varsity Boys "D"
12:52 -- Sophomore Girls "A"
1:03 -- Sophomore Girls "B"
1:15 -- Peter L Waters Varsity Boys "A"
1:27 -- George T Eastment Varsity Boys "B"
1:39 -- Dr Francis J Sweeny Varsity Boys "C"
1:51 -- Joseph P Kearny Varsity Boys "D"
2:03 -- Edward D O'Toole Varsity Boys "E"
2:15 -- Lindy J Remigino Varsity Boys "F"
2:27 -- John N Johnson Varsity Boys "G"
2:37 -- Edward J Bowes/Girls Eastern States Championship Race
2:49 -- Warren Right Varsity Girls "A"
3:01 -- BR. Gregory Hunt FSC Varsity Girls "B"
3:13 -- Mike Cohen Varsity Girls "C"
3:25 -- Fred Dwyer Varsity Girls "D"
3:37 -- Irv Kintisch Varsity Girls "E"
3:49 -- Sr. Geraldine Bowes Varsity Girls "F"

*Races will will be added or deleted depending upon final entries.
*All races are equal championships within each division, except the Eastern States Championship Race. Therefore, an attempt will be made to seed all races equally.
-----------------------------------------------------------------------------------------------------------------------------------------------------
2005 - Saratoga girls win a close one. Fayetteville-Manlius boys win decisively. Aislinn Ryan dominates. While Justin Harbour is fastest boy. It rained and rained, and just when you thought the wind couldn't get any worse - it got a lot worse. It was a day that most NY coaches say was one of the worst days ever for a meet and the worst Manhattan has seen since the mid 1970's. And while the Yankees game was canceled, the races went on all day - on schedule. The boys races had a little more diversity, but Fayettville-Manlius, NY was the best team again on this day, putting 4 under 13:00 and a 5th at 13:16 to beat CBA and Morris Hills, both of NJ.

Girls Eastern States - Defending Foot Locker national champion Aislinn Ryan crushes the Girls Eastern States field in 14:04, third fastest girls time ever on Van Cortlandt Park's 2.5-mile course (13:57 Nicole Blood in 2004, Erin Keough 14:02 in 1986). Ryan finished 39 seconds in front of Saratoga's first two -- Hannah Davidson 14:43 and Lindsey Ferguson 14:46. Considering the driving rain conditions, it may have been the greatest girls performance ever at Van Cortlandt Park.

Before the race, there was speculation that US#1 NE#1 Saratoga, winner of this meet 5 straight years, might be vulnerable. The results proved this is true, but the mighty Toga squad prevailed over NE#2 Hilton NY 133-147, with six more teams scoring within 100 points (Suffern NY 193, Warwick Valley NY 205, Eleanor Roosevelt MD 205,, Colts Neck NJ 212, Bronxville NY 213, and Fayetteville-Manlius NY 232.) Saratoga's spread of 1:38 (2-3-26-48-54) was the widest in years and Hilton's fifth girl finished ahead of Saratoga's fourth, but Saratoga's top end duo was enough to carry the day for the defending champs. Hilton (4-17-38-41-47) was led by Amanda Griggs 14:47 in fourth place.
2004 - A record day at a cross country mecca, as two team average records are crushed, an individual course record goes down as well, and the other stays on the books by less than a second. The talk leading up to the Manhattan Invitational was about Saratoga Springs and speculation about their place in cross country history. The chatter will only increase. But now you've got to add the boys from Fayetteville-Manlius NY to the mix as one of the great teams ever. Nicole Blood used the back woods to gap Warwick Valley's Aislinn Ryan, and pulled away over the final straightaway to finish in 13:57 and break the 18-year-old mark of 14:01.9 set by of Langley Virginia's Erin Keogh in 1986. And her team wasn't far behind, finishing in 3rd, 7th, 13th and 15th for 39 points with an estimated team average of 14:34. The mark smashes their own record of 14:57.54 set last year.

The individual matchup of the day for the boys was in Varsity Race G, as Newton North's Chris Barnicle missed the meet record of Victor Gras by less than a second, going 12:18 to beat Northport's Kevin Tschirhart by 21 seconds. Fayettetteville-Manlius followed up their record day at McQuaid to break Shenendehowa NY's 2003 record by nearly ten seconds, averaging 12:48.82. Oh, and 23 boys broke 13. That's a record, too, by one.
2003 - One of the most brilliant of the many Manhattans. Victor Gras - 12:17.1 breaks John Trautman's 18-year-old meet record. Nicole Blood 14:17.8 leads Saratoga girls to first sub-15:00 average team time. Saratoga scored 56 points to beat Argyle 87 and Bay Shore 120. Shenendehowa NY boys 12:58.7 team average is a meet record.
2002 - The mud was the story of the day, but it didn't stop Nicole Blood and Brendan Fennell from turning in stellar performances. Blood leads Saratoga girls 24 to 89-point margin in Eastern States Girls Championship. Shenendehowa NY boys 13:15.8 had fastest average boys time. (top boys teams are spread across seven varsity races, so there is no head to head team winner).
2001 - Meet is an emotional affirmation of New York and American spirit, just one month after the September 11 World Trade Center attack. Brian Dalpiaz and Tracy Brauksiek are the fastest runners of the day. Saratoga NY girls win Eastern States. Old Bridge NJ is a split second winner of fastest boys team time over Bishop Hendricken RI and St. John's MA.
2000 - Julia Pudlin's "one last burst" catches Erin Donohue at the finish (below). Saratoga's deep squad wins varsity girls by 88 points and scores perfect 15 in both JV races. Charles Million NY and Austin Smith VA share fastest boys time of the day, 12:35. Danbury CT boys 13:19.3 have fastest team average.
1999 - Colonie NY edges Saratoga NY 59-61. Third was Peninsula CA 101 (#1 in Rich Gonzalez' California Southern Section) rankings. Laurel Burdick of Fayetteville-Manlius, Syracuse NY, unbeaten in her sophomore season, won the individual race in 14:34.6, best girls time of the day, 5 seconds ahead of Lisa Capello of Starpoint NY and 16 seconds ahead of Danielle Coon of Saratoga. Colonie is still without their top runner, Jen Kramer, who has missed the season due to a stress fracture.