Boys Preview:

It appears that powerhouse Cincinnati LaSalle will be heavily favored to win this week's Race of Champions based on their first two meets of the season. They had a perfect score of 15 in their first invitational at Wilmington and then dominated the field of 25 teams this past weekend at the Treaty City Invitational in Greenville. Seniors Jake Nusekabel (15:55), Kyle Lang (15:55) and Corey Spriggs (15:59) led LaSalle to a 51-160 victory!
There are 5 or 6 teams that will do battle for the other top spots on Saturday. Host schools Hilliard Darby and Hilliard Davidson have started the season well. Darby has looked good in an invitational win the first weekend of the season and a solid 2nd place showing to LaSalle this past weekend as Joseph Jackson II (15:58, 15:50) won both races. Davidson looked strong in their season debut with Nathan Tavenor (16:04) leading the way.
The pack from Massillon Perry scored just 40 points in an 18-team field at Avon Lake this weekend and should do very well. Chardon, led by Emil Heineking (15:55) and Luke Grau (16:25) easily won a small invitational a few days ago. Scott Hildritch (16:28) led Peninsula Woodridge to a blowout victory at the Dave Clegg Invitational. Woodridge scored just 21 points to defeat 11 other teams handily.
The individual race should be outstanding! Heineking will be the favorite but Jackson, Tavenor, Hildritch and the LaSalle boys will be in hot pursuit which could lead to some blistering times on Saturday.
Girls Preview:

We are anticipating a great team battle on the girls side at the MMOC! Indianapolis Cathedral, led by Katy Achtien (18:53), looked great in their dominating win at an invitational in Toledo this weekend. Their pack (2nd thru 7th) was separated by just 24 seconds. Bowling Green looks to be the best D1 team in Ohio again as they have taken 2 titles in the early season. Led by Christy Titus (18:37) and Barbara Powers (19:12), the Bobcats have a 1-2 punch and a solid supporting cast.
Cincinnati St. Ursula crushed their competition at the Hillsboro Invitational (taking the top 4 spots in a field of 27 teams) with a tight pack (top 7 gap of 48 seconds) on Saturday. Michigan powerhouse Clarkston (3-time defending D1 state champs) should be right near the top as well. Cincinnati Colerain, led by Erin Ragouzis (18:42) should be strong once again. They place a strong 3rd (out of 25 teams) at Greenville. Defending D2 state champs Salem are led by Liz and Lauren Shivers (both at 19:30) and will be in contention as well.
Bekah Smeltzer from Monroe Jefferson will be the top individual to watch, along with Christy Titus of BG, Katy Achtien of Cathedral and Erin Ragouzis of Colerain. The competition looks excellent. The course should be flat and fast and the weather forecast looks very good for the 5th running of the Midwest Meet of Champions this Saturday morning.
----------------------------------------------------------------------------------------------------------------
Meet Preview #1 - by Scott Alpeter
The top Boys teams vying for the 2006 title:

Cincinnati LaSalle is loaded this year! They are the defending Division 1 State Champions in Ohio. The Big Red Express returns 5 of their top 6 runners and should be favored to repeat in Columbus in November. They were ranked 16th in the nation in the final poll of 2005. LaSalle will be a hungry team, having finished 3rd in the Nike Team National Midwest rankings and just missing a trip to Portland. Coach Frank Russo's squad will be considered the team to beat at the MMOC.
Peninsula Woodridge finished 3rd in Ohio in D2 last year and return their top 8 runners this fall! The Bulldogs are heavy favorites to win the D2 crown this year and will provide big time competition to LaSalle on September 9th. While the strong packs of LaSalle and Woodridge make them elite teams, by contrast, Chardon has some very talented senior front runners, returning their top 4 from a strong team in 2005. With a smaller field, Chardon is a real threat to pull the upset in Hilliard.
Massillon Perry returns 6 of 7 from their D1 7th place finish of a year ago. The Panthers are a solid, veteran group and cannot be overlooked as one of the top teams at the MMOC this year.

Other top boys teams to watch:

Oak Hill was 10th at the Indiana State Meet last year and has 4 of 7 runners returning this year. Host school, Hilliard Davidson returns 6 of 7 from their 12th place team in Ohio D1 in 2005. Coach Pat Schlecht should have his squad ready to show well at the meet he started in 2001. The other host school, Hilliard Darby finished 8th in the state of Ohio last year and returns several key runners from that squad. Traditionally strong, Hudson finished 10th last year in Ohio and returns a solid core in 2006. Worthington Kilbourne returns 4 of 7 from a team that finished 15th in D1 in '05.

Top Girls teams to watch:

Clarkston won the MMOC in 2004 and returns 3 of their top 7 runners from their powerhouse program that has won 3 straight state Cross Country titles in Michigan. They ended up ranked 10th in the nation in 2005. Rumors have been swirling that #1 runner Stephanie Morgan's family may have moved back to Ohio. This will weaken their chances of repeating substantially.
Bowling Green has been the best team in Ohio for 3 straight years and they return the nucleus of their team this year. BG was a close 2nd to Clarkston in 2004 at this meet and will be one of the favorites to win the title this year. Indianapolis Cathedral returns 5 of 6 from the 6th place team in Indiana last season. We are expecting big things from the Irish this year! Traverse City Central returns 5 of 7 from a squad that finished 5th in Michigan in '05. They were 2nd in 2004.

Other top contending teams in the girls race:

Saline finished 7th in the Michigan state meet last fall and return 3 of 7 this season. They are traditionally very strong. Cincinnati St. Ursula finished 9th in Ohio in 2005 and always has great depth. Monroe Jefferson was 12th in the Michigan D2 meet last year and returns all 7 from that squad. Hilliard Darby returns 6 of 7 from a team that was 13th in Ohio last year. Hilliard Davidson returns all 7 from a team that was 15th in Ohio in '05. Peninsula Woodridge returns all 7 from a team that placed well in the D3 state meet in Ohio last year.


Top individuals to watch in the Boys Race of Champions: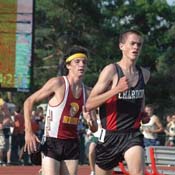 The course record stand at 16:18 and we anticipate that the record will be shattered on September 9th. The individuals to keep an eye on are Emil Heineking (leading left) of Chardon. He is the top returning D1 runner from last year's state meet in Ohio (5th in 15:44) and will be favored to win the individual title at the MMOC. Emil logged a 24:49 5-mile road race this summer after finishing runner-up (9:22 in the 3200) to Chad Balyo (8:52 and 5th at NON) at the state track meet!
Scott Hildritch of Peninsula Woodridge was runner-up in the 1600 (4:17) this spring and ran 16:01 at the D2 state CC meet. He will be in the top group at the MMOC. Kyle Lang (10th last year in 15:59) and Jake Neuskabel (18th in 16:10) of LaSalle lead a solid pack. Also, JD Horton (16:12 in 2005) of Massillon Perry, Luke Grau of Chardon who was 4th at the state track meet (9:27 in the 3200), Nathan Tavenor of Davidson who ran 16:03 at the Ohio State CC meet last year, Joseph Jackson of Darby (16:25 in '05), Ryan Kiracofe of Cincinnati Turpin (16:28 in 2005) and John Batchelder of Worthington Kilbourne (4th place 4:20 in the 1600 and anchor of the champion 4 x 800 relay in track) should be strong contenders as well.


The top girls to watch in the Girls Race of Champions: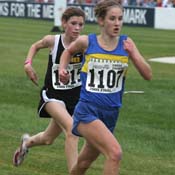 The record for the girls course is 18:58. It will likely be the course record for just a few more days. Bekah Smeltzer (right) of Monroe Jefferson is the two time defending D2 champ (17:44 in '05) from Michigan and will be favored to win here. Bekah added 2 state track titles (10:42 in the 3200, and 4:57 in the 1600) to her resume this past spring!
Christy Titus of Bowling Green has been 9th, 2nd (18:23) and 7th (18:43) at the Ohio state meet in her previous 3 seasons and finished 3rd in the 3200 (11:02) this past spring. Katy Achtien of Indianapolis Cathedral was undefeated until regionals as a freshman last year finishing 6th in the state of Indiana, Erika Alpeter of Hilliard Darby was 6th (18:37) in Ohio last season.
Taylor Mattarella of Traverse City Central had a great freshman season (18:49 at the Michigan state meet in '05) as did teammates Emily Sabo (19:49 in D3) and Erin Mercer (5:06 in the 1600) of Peninsula Woodridge.