New: More Coverage:
The Individual champs and the out of state visitors- click here
Chapel Hill GA boys, Minster OH girls
win Classic Titles
Decatur-Austin AL's Jennifer Dunn (left, leading) and McEachern GA sr Ben Hubers (right) were the fastest of the day. Photos by Steve Bedsole

| | |
| --- | --- |
| | |
By Arthur L. Mack
Saturday, October 7--Chapel Hill's boys of Douglasville GA and the Minster OH girls certainly look forward to road trips.
This road trip, in particular, really paid off.
Both squads took the elite team titles in the eighth annual Jesse Owens Cross Country Invitational held at the Oakville Indian Mounds Park in Oakville AL.
Chapel Hill - which has only been in existence since 1999 - placed three runners in the top 15 to defeat defending champion Hoover AL, 86-88, while Smiths Station of Smiths AL was third with 108. Rounding out the top five were Lassister GA with 135 and another Alabama team, Auburn, with 162.
Minster, which had an average time of 19:02.72, defeated Lake Braddock VA, 68-95. Three Alabama teams - Scottsboro, Mountain Brook, and Huntsville - scored 117, 118, and 164 points, respectively, to round out the top five. It was indeed a very competitive girls' race indeed, as 13 runners were under 19 minutes.
While the highlight of the elite boys' race was McEachern GA sr Ben Hubers smashing the course record with a time of 14:58, it was apparent among die-hard cross-country fans that it would be a tight battle team-wise.
It proved to be just that, as Chapel Hill used a second-place finish by sophomore Taylor Lord (15:41.95) and a fifth by senior Chase Eldredge (15:59.36) to edge Hoover, whose top two finishers - Pat McGregor and Tim Landry - were sixth and seventh, respectively, with times of 16:01.56 and 16:01.90.
Strong runs by Travis Voyles and Alex Truitt, along with Jake Fulton, Blair O'Bryant, and James Lee - Chapel Hill's fifth, sixth, and seventh runners - also played a big role in the narrow win. It proved to be needed, as the normal number four runner - Ryan Hudson - was out with a severe stress fracture.
"Our strength has always been hill work, and speed has been a weak area, but we focused on that weak area and that helped us tremendously," said Chapel Hill coach Kelly Williams. "It was up to our fifth, sixth, and seventh runners to step up."
Although Jennifer Dunn of Decatur Austin AL was the overall elite girls' winner with a course-record time of 17:54.33, Minster's team balance paid off as soph Bernadette Burke was sixth overall with a time of 18:28.42. Katie Dalinghaus and Brigitte Sherman were 11th and 12th, respectively, with times of 18:56.27 and 18:59.15.
All seven of Minster's runners were under 19:40, and that made coach Jessie Magoto very proud.
"We knew there was going to be a lot of good competition here," she said. "We're pretty naive and we only know to go after it all. We were hoping to be on top, and we definitely had our eye on trying to win it and we didn't know if it would be realistic or not. In a race where 13 girls are under 19 minutes, that kind of competition is awesome indeed."


The winning boys team from the elite race: Chapel Hill from Douglasville GA.
Photo by Steve Bedsole
Here is a rundown of the other high school divisons:
SILVER - Clara Densmore's victory was the key to Lassiter's 85-113 victory over Saltillo in the Silver girls' division.
Densmore's time of 19:33.52 was four seconds better than Lauren Lemieux of Grissom, who ran 19:36.96. Densmore's teammate, Lauren Zinnershine, was eighth overal in 20:19.99 to ensure that Lassister - one of several Georgia teams in the meet - won the team title.
Rounding out the top five were Bradley Central (121), Oxford (136), and Pelham (160).
If one thought that the Elite Division boys' battle was tight, it was even tighter in the Silver Division boys. Both McGill-Toolen Catholic of Mobile AL and Mountain Brook scored 98 points, and Mountain Brook sophomore Bill Matthews won the race with an impressive time of 16:08.04.
McGill-Toolen Catholic, however, was awarded the team title because of the tie-breaker - the Yellow Jackets had a number six runner, while the Spartans did not. McGill-Toolen's top finisher was Joe Aguirre, who was third in 16:31.72.
BRONZE - Score one for the home team.
Lawrence County High School - located not far from the site of the meet - defeated Randolph 136-147 to take the Bronze Division boys' title. Cold Springs was third with 154, followed by Pontotoc MS and Shades Mountain Christian with 186 and 224 points, respectively.
Jacksonville AL's Ian Nelson was the overall winner with a time of 16:31.55, but Lawrence County, despite its top runner Logan Underwood finshing only 14th overall, had enough runners packed in to take the first place trophy.
It was a different story in the Bronze girls division, as Pontotoc ran away with the title with a 60-106 win over Cold Springs.
Chattanooga Christian's Jessica Duble was the overall winner in 19:39.79, but Pontotoc had six girls - led by Hannah Harrell's sixth place finish in 20:56.48 - to score in the top 20.
In B Team competition, Lake Braddock and Hoover, Alabama had strong performances as well.
Lake Braddock had all seven of its scorers in the top 10 as it defeated Mountain Brook 17-85 to win the B Team girls' competition. Lauren Fleming, LyndsayMcKeever, and Michaela Sands ran 20:25.32, 20:20.86, and 20:51.65 to complete a 1-2-3 sweep for Lake Braddock.
Hoover had a 1-2-3-4 finish to defeat Lassiter 18-102 to win the boys' B Team competition. Nicholas Hayes won the race in 17:25.50, while teammates Philip Harvey (17:42.53), Jeffrey Wallington (17:44.17), and Matthew Bryant (17:50.51) rounded out the top four.
============================================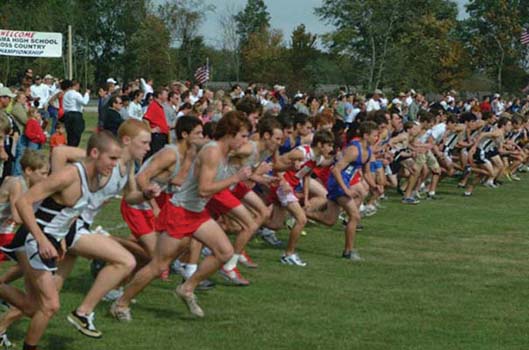 The Oakville Cross Country Course is located at the Oakville Indian Mounds Park and Museum. The park is located approximately 22 miles northwest of Cullman, and approximately 8 miles south of Moulton on AL HWY #157. Simply follow the Oakville Indian Mounds sign from HWY 157 in the Speake High School community. Also, there is a map on this website to assist you in finding the park. The Oakville Indian Mounds Park is located 1/2 mile from the Jesse Owens Memorial Park.
The course is very scenic and fast with some short hills. The starting area is very wide! There are some grass trails through the wooded area.
Each mile mark will have an overhead marker.
The course is open year round with the exception of school holidays. Please call before using the park to verify the opening hours. The posted hours are from 8:00 a.m. until 4:00 p.m., Monday - Friday. The park is open on Saturday and Sunday from 1:00 p.m. until 4:00 p.m. If the gate is locked, park outside the gate and you have permission to walk around the gate.
Camping is permitted in the park. Showers are available. Please call 256-905-2494 and make a reservation if you plan to camp. There is no camping fee.
There is a course map at the starting area.
For additional information, contact Stan Johnson at 256-974-1529, 256-566-4410, 256-905-2440 or by email at [email protected] You can also contact Dewayne Key (State Meet Director) at 256-974-0176 or by email at [email protected]