The National Scholastic Sports Foundation, the presenters of the The Great American Cross Country Festival, is pleased to announce its new location, Hoover, Alabama. Hoover is a suburb of Birmingham, Alabama. The 2006 event will be held at the Spain Park Sports Complex on a cross-country course designed by knowledgeable coaches.
The Festival will again be a one day event, with all events taking place on Saturday, September 23, 2006. The Great American meet includes 23 cross-country races, and features Nike's Great Races of America for high schools and college, a wildly successful Saturday night Harrier Ball, and celebrity athletes.
Teams that would like to compete in 2006 must complete the Automated School and Team Registration form on our web site, available on April 1 (registration is online only).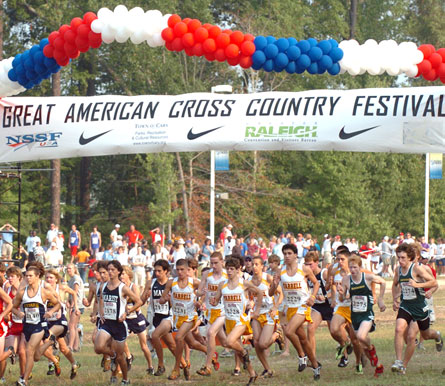 Photo by John Dye