Girls 800 - Price Takes US Leader Under 2:08
Results - Story - Marc Davis Video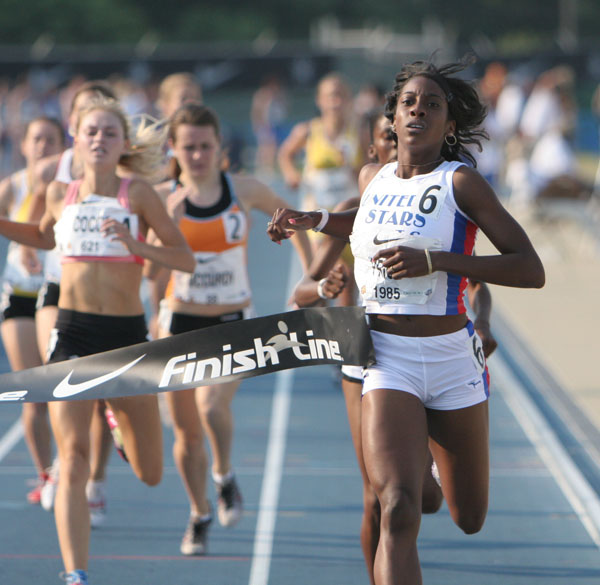 Open Photo
By SteveU
Depth, not ultra top-end quality, was the theme for the NON girls 800 this year. Coming into the meet, no one in the country had broken 2:08, but there were 3 heats of girls seeded between 2:08-2:12. As it turned out this weekend, 24 girls would break 2:14 over 7 heats.
But there was finally a sub-2:08, too, as Easton PA soph Chanelle Price ran a smart, solid race. Fairview CO jr Sarah Cocco, who revealed her hard front-running style to the nation in winning at Golden West the previous week, made sure the pace was fast by hitting 28.9 for the first 200. If there were any worries among those doing the seeding that the fast heat would really prove to be the fastest, they were just about dispelled right there.
There was no way Cocco was going to bury this field, though, and she was joined by Price and Sayville NY jr Kristy Longman before 400. The completed the first circle nearly abreast in 62.4. Around the next curve, though, Price picked up the pace slightly and began to pull gradually ahead. Cocco, in turn, began to edge ahead of Longman.
The leaders were almost gassed, but Price maintained her margin to the finish in 2:07.71. Fairfield CA jr Dominique Jackson and Bayshore soph Sarah McCurdy had the best finishes, rallying to 2nd and 4th in 2:08.25 and 2:08.99, respectively, while Cocco practically duplicated her GWI time in 3rd with 2:08.50. Longman faded to 7th in 2:11.21.
"I don't like to go out and push it from the front," said Price, explaining why she waited. "I kind of accelerate to the 600, then take off." She missed a number of dual meets earlier in the spring with a hamstring injury, but came back and did well at state has been progressing on relatively fresh legs since. "I hope to run 2:04 or 2:05 soon."
There were plenty of fast times in the other heats, but only West Catholic (Philadephia ) PA sr Latavia Thomas broke 2:10 with her 2:09.40. Thomas ran 2:06 last year, but with times above 2:10 this year did not earn a spot in the fastest heat. Only six runners in the fastest three heats, including none in the final, were seniors.
by Elliott Denman
The late Kim Gallagher's 1982 National record of 2:00.07 may endure for eons. It's not even under
discussion these days. Tameika Grizzle's NON mark of 2:04.55 in 1996 is pretty impressive, too.
Chanelle Price, running for the United Stars, is only a sophomore at Easton
Area High School, Pa. but maybe there's hope of her moving to national record
territory, too, before graduation in 2008.
Price was a most impressive winner, of the seventh heat and all of NON.
crossing the line in 2:07.71. with Fairfield, California's Dominique Jackson
(2:08.25) snaring second and Boulder, Colorado's Sarah Cocco (2:08.50) third.
This was a youngster's event race - not a senior making top five.
"It was so competitive," said Price. "I like to feel the competition on the
first lap and then accelerate about 600. It was hot but I like it this way. This was my first year running in this
meet and I'm very glad I came."
Leading 2006 NON senior happened to be celebrated LSU-bound Latavia Thomas of
Philadelphia's West Catholic. Thomas took the sixth section in 2:09.40, only
to see five others run faster in the next race.
Halfway


Open Photo
Licensed to C.F.P.I. Timing & Data                        Hy-Tek's Meet Manager

                Nike Outdoor Nationals - 6/15/2006 to 6/17/2006                

                 North Carolina A+T University, Greensboro, NC                 

                                    Results                                    

 

Girls 800 Meter Run

================================================================

 Sections 1-2-3-4 at 2:35pm    sections 5-6-7 at 6:05pm

    National: $ 2:00.07  7/24/1982   Kim Gallagher, Upper Dublin, Ft. WashPA   

        Meet: # 2:04.55  6/15/1996   Tameika Grizzle, Washington, NYC, NY      

    Freshman:   2:02.40  1974        Robin Campbell, Eastern, Washington, DC   

   Sophomore:   2:02.29  1974        Mary Decker, Orange, CA                   

      Junior:   2:01.82  1981        Kim Gallagher, Upper Dublin, FtWash. PA   

      Senior:   2:00.07  7/24/1982   Kim Gallagher, Upper Dublin, Ft.Wash PA   

    Name                    Year School                  Finals 

================================================================

Section  1  

  1 Shelby Buckley            08 Corona Del Mar H,Ne    2:11.71  

  2 Jamie Olson               07 Glastonbury HS,Glas    2:13.35  

  3 Santresa Jamison          08 Spartanburg HS,Spar    2:19.25  

  4 Nodia Robinson            08 West Ashley HS,Char    2:19.39  

  5 Lindsay Broyhill          06 Page HS,Greensboro,    2:20.51  

  6 Deanna Schmitt            06 Bayport Blue Poi,Ba    2:21.58  

Section  2  

  1 Makalia Griffith          06 Hillcrest HS,South     2:12.99  

  2 Christi Harsha            06 Douglas S,  Free,Gl    2:15.15  

  3 Jessica Nichols           06 Berkeley HS,Moncks     2:15.43  

  4 Shelley Forbes            06 Sheridan HS,Sherida    2:15.93  

  5 Kenya Jones               06 Western Branch H,Ch    2:16.65  

  6 Samantha Lee              07 Summit HS,New Provi    2:17.74  

  7 Brittnee Bynoe            07 Willingboro HS,Will    2:22.25  

  8 Asia Cunningham           07 Northwestern Hs-,Mi    2:28.11  

Section  3  

  1 Adrenee Sterrett          06 Boys and Girls H,Br    2:14.56  

  2 Emily Carrollo            09 Unat-NJ-Sussex,Suss    2:16.03  

  3 Jamia Hutto               08 Oak Ridge HS,Orland    2:18.90  

  4 Allison Letourneau        07 Berkshire School,Sh    2:19.17  

  5 Patrecia Daniley          07 Oak Ridge HS,Orland    2:24.21  

  6 Brittany View             08 Blazin' Raiders,Gre    2:24.82  

Section  4  

  1 Ariel Burbey              06 Blacksburg,Blacksbu    2:13.19  

  2 Seri Grodon               07 Shaker T+F Club-,Ni    2:13.86  

  3 Catherine Ressijac        08 Bishop Guertin H,Ay    2:14.15  

  4 Andrea Menhennet          08 Mountain Ridge H,Pe    2:16.32  

  5 Virginia Hine             08 White Station,Memph    2:16.40  

  6 Emily Moore               08 Pine Bush HS,Walden    2:17.13  

  7 Tunisia Milner            06 Blazin' Raiders,Gre    2:19.94  

Section  5  

  1 Alison Smith              07 Mach Los TC,Columbi    2:11.12  

  2 Siobhan Breagy            07 North Kingstown,Exe    2:11.58  

  3 Libby Bliss               07 Princeton HS,Prince    2:12.98  

  4 Sheryl Page               06 Sandy HS,Sandy, OR     2:13.31  

  5 Liz Costello              06 Irish Road TC,Wayne    2:14.99  

  6 Century Williams          08 St. John's Prep,Hem    2:17.86  

Section  6  

  1 Latavia Thomas            06 West Catholic HS,Ph    2:09.40  

  2 Katie Doswell             06 St. Catherine's,Ric    2:11.82  

  3 Christal Washington       08 South Broward HS,Fo    2:12.01  

  4 Tasha Stanley             08 Blazin' Raiders,Gre    2:12.32  

  5 Tameka Jameson            07 Blazin' Raiders,Gre    2:12.60  

  6 Sarah Mosser              06 East Aurora HS,East    2:13.30  

  7 Amelia Bannister          09 Albion HS,Albion, M    2:13.65  

  8 Maegan Krifchin           06 John F. Kennedy,Bel    2:18.80  

Section  7  

  1 Chanelle Price            08 United Stars TC,Eas    2:07.71  

  2 Dominique Jackson         07 Fairfield HS,Fairfi    2:08.25  

  3 Sarah Cocco               07 Fairview HS,Boulder    2:08.50  

  4 Sarah McCurdy             08 Bay Shore TC,Bright    2:08.99  

  5 Emily Dunn                07 Esperanza HS,Yorba     2:09.32  

  6 Emily Infeld              08 Beaumont,University    2:09.73  

  7 Kristy Longman            07 Sayville RC,Sayvill    2:11.21  

  8 Lauren Borduin            08 Rock Bridge HS,Colu    2:12.20