Girls 400 - Jessica Beard 52.04 US#11 all time
Jessica Beard (right) slips past Brandi Cross on last turn.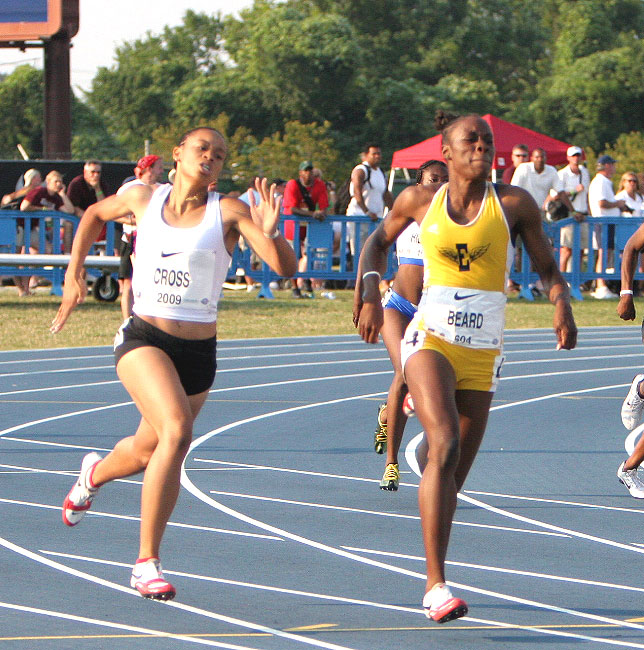 Open Photo
Cross-Country Double for Beard
By SteveU
The NON girls 400 offered an outstanding rematch between Golden West champ Jessica Beard and the runner-up in that race, Brittany Cross. GWI was actually promoted as a 3-way battle between Beard, Cross, and Californian and previous national-leader Sa'de Williams. But Williams, who was 3rd in that battle, had become injured and wasn't in Greensboro.
Beard, a jr from Euclid OH, took that battle last weekend, running a US#1 52.16 in the process, and beating Cross (52.83). Here they lined up with Beard in lane 4, and Cross in 5. There were others seeded in the high 53s and 54s, but no one really thought the top two could be broken up.
Ft. Bend Marshall sr Cross went out hard and tried to take the race from the start, just like she did at GWI. And, also as in GWI, Beard had the superior finish. She powered through the final 200 to stop the clock at 52.04, a new US-leader and the honor of becoming one of three athletes to win both meets.
Cross again wore the runner-up wreath with her PR 52.65, while Eleanor Roosevelt soph Elan Hilaire was 3rd in 54.40.
So how was it, crossing the country to win two national meets for this Ohio girl? "It was difficult," she said. "I'm not used to going out of state."
Regarding her race strategy, she added, "I don't like getting out too fast, but I also don't like to get behind too much. So I've been practicing getting out the first 100, but striding past the 200, then going all out the last 150. Sometimes, I used to sprint the first 300 and I'd be dead."
by Elliott Denman
Jessica Beard, the Euclid, Ohio junior, will soon be ready
for her sport's biggest time. Her golden 52.04 400-meter NON performance
already has a lot of track and field's most knowledgeable fans predicting a
glory-filled future.
Beard, third at NON 2005, did a lot more than move to the top of the USA 2006
year list with that 52.04. It was a meet record, demolishing Brittany Jones'
52.44 of 2005, and gained an equal share of 11th place on the USA all-time
list.
With 120 meters to go, this was anybody's race. But, as Missouri's Brandi
Cross weakened, Beard gathered new strength and sped home a two-stride winner.
Cross clocked a 52.65 while Greenbelt, Md/Blazin' Raider Club's Elan Hilaire
(54.40) was edging NJ State Meet of Champions winner Tiffany Grant of Ocean
Township (54.68) for third.
"I like going against the best," said Beard. "It's a challenge to run against
all of them. I don't get that opportunity at home, I knew I'd had to kick
early the way she (Cross) was running."
Girls 400 Meter Run

===================================================================

    National: $ 50.69  6/22/2002   Sanya Richards, Aquinas, Ft Laudrdl,FL      

        Meet: # 52.44  6/18/2005   Brittany Jones, Deerfield Beach, FL         

    Freshman:   52.49  2000        Jerrika Chapple, Lancaster, TX              

   Sophomore:   51.70  1980        Denean Howard, Kennedy Granada Hills CA     

      Junior:   50.74  6/3/2000    Monique Henderson, Morse, San Diego, CA     

      Senior:   50.69  6/22/2002   Sanya Richards, Aquinas, Ft Laudrdl, FL     

    Name                    Year School                  Finals  H#

===================================================================

  1 Jessica Beard             07 Euclid HS,Euclid, O      52.04#  6 

  2 Brandi Cross              06 Visions TC,Missouri      52.65   6 

  3 Elan Hilaire              08 Blazin' Raiders,Gre      54.40   6 

  4 Tiffany Grant             06 Ocean Township H,Oc      54.68   6 

  5 Ebony Cunningham          07 Track Eastern Ca,Ra      55.20   6 

  6 Jasmine Still             06 Woodrow Wilson H,Ca      55.34   5 

  7 Makalia Griffith          06 Hillcrest HS,South       55.57   5 

  8 Shanta Johnson            06 Airport HS,Gaston,       55.71   3 

  9 Yvonne Amegashie          09 Potomac HS,woodbrid      55.83   5 

 10 Joanna Atkins             07 Stephenson HS,Litho      55.91   6 

 11 Odeika Bent               07 Oak Ridge HS,Orland      55.92   5 

 12 Tara Prier                08 Alief TC,Houston, T      56.05   5 

 13 Darcy Rhoden              07 Forest Hills Nor,Gr      56.08   2 

 14 Shalyn McMichael          07 Spring Valley,Colum      56.11   3 

 15 Brenna Hoffman            07 Sandy HS,Sandy, OR       56.14   4 

 16 Jazmyn Shorter            07 Lakewood Hs-Fl,St.       56.28   6 

 17 Ashlea McLaughlin         07 Uniondale,Long Beac      56.30   4 

 18 Christy Johnson           07 Athens Drive HS,Car      56.62   3 

 19 Joy Henry                 06 Benjamin Cardozo,St      56.84   3 

 20 Brandi Taylor             06 Collinwood HS,Cleve      56.85   5 

 21 Melissa Turowski          07 Linganore HS,Mount       57.01   2 

 22 Melissa Bellin            09 Rumson-Fair Have,Ru      57.07   1 

 23 Laura Meadors             08 Harvard-Westlake,Ma      57.24   2 

 24 Shae Wilbon               08 Colonial Heights,Co      57.60   4 

 25 Aisha-Maree Frazier       08 Marietta,Marietta,       57.80   5 

 26 Tashima Stephens          07 Blazin' Raiders,Gre      57.89   2 

 27 Yesenia Boynton           07 South Brunswick,Day      57.91   4 

 28 Hannah Bowers             08 Science Hill HS,Jon      58.05   1 

 29 Dayonne Rollins           08 Rickards,Tallahasse      58.36   4 

 30 Breanne Romeo             07 Boardman HS,Boardma      58.47   1 

 31 Britney Clarke            08 North Rockland H,Th      58.93   1 

 32 Monica Mason              09 Bishop McNamara,Was    1:00.07   2 

 33 Chandale Williams         06 Northwestern Hs-,Mi    1:00.22   4 

 34 Lynda Hiller              06 Apex HS,Apex, NC       1:00.87   1 

 35 Aly Goldfarb              06 Mountain Brook,Birm    1:01.29   2