Girls 200 - Bianca Knight 23.06 returns favor on Mayo
Results - Marc Davis Video - SteveU's Story - Elliott Denman's Story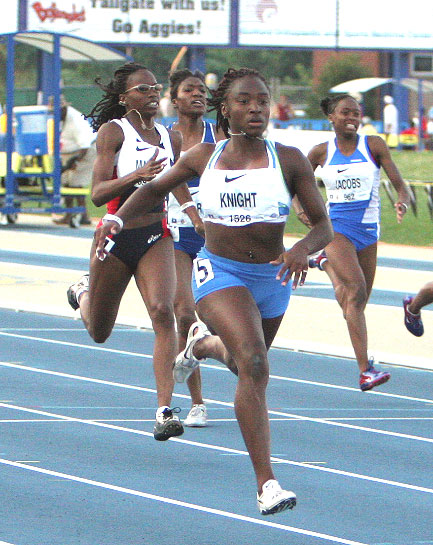 Open Photo
By SteveU
The 100 meters hasn't been good to Bianca Knight lately, even when she's won. But in the 200, she remains as good as gold.
The Ridgeland MS jr came to Greensboro past the half-way mark of a month-long odyssey to sweep both dashes at four consecutive post-season meets. At Great Southwest two weeks ago, she ruled both the 100 and 200, but was not happy with her start and overall performance in the century. She ran better at that event at Golden West, however, en route to another sweep.
But here, another bad start in Friday's 100 had spelled defeat, as home-state girl Gabby Mayo had a monster start and never even gave Bianca a chance. The resounding defeat ate at the proud sprinter, even as she claimed to be focused on USATF juniors the next week. To be sure, making that team with the trip to China has been her focus all year, but Ms. Knight detests losing as much as any great athlete.
Saturday, the Bianca that sprint fans know and love returned. Executing every part of her race plan well and no doubt deeply motivated and focused, she ripped the blue oval to the tune of a 23.06 clocking. The performance boosted her US#1 ranking and dominated the field, as Louisville (Canoga Park) CA sr Elizabeth Olear was a distant second in 23.54, with Mayo (who had just run the 100H) next in 23.55.
The time also finally matched the 23.06 Knight ran two years ago, when she stunned the track nation by becoming #14 all-time with a freshman class record. Her reaction to that indicated she felt she should have done that a long time ago, but still, it is a milestone she can move on from and it was into a 0.7 wind.
"Well, it was pretty good," she said almost reluctantly. "I guess I handled it pretty well. I didn't let (the 100 loss) get me down too much and I came back and brought out, as you say, the real Bianca Knight.
"Gabby was real good last night," she added. "She's a great athlete with a lot of talent."
Busy-busy-busy, Gabby Mayo had already won the 100 Friday and picked herself off the track after failing to finish the 100 hurdles final.
But the Raleigh racer couldn't add a second gold, settling for bronze in a race won by Bianca Knight, the sensational Ridgeland, Mississippi junior and already a World Youth champion, in a clearcut 23.06.
Canoga Park, California senior Elizabeth Olear netted the silver (23.54) with Mayo grabbing third (23.55) precisely one-one hundredth back.
At 23.46, Mayo had led the way in the 32-runner prelims Saturday morning. Knight qualified in 23.77, Evanston, Illinois' Shalina Clarke in 23.89 and Olear 23.93 in other sections. It took a 24.35 or better to advance.
Licensed to C.F.P.I. Timing & Data                        Hy-Tek's Meet Manager

                Nike Outdoor Nationals - 6/15/2006 to 6/17/2006                

                 North Carolina A+T University, Greensboro, NC                 

                                    Results                                    

 

Girls 200 Meter Dash

================================================================

    National: $ 22.11  5/3/2003    Allyson Felix, LA Baptist,Sepulveda,CA      

        Meet: # 23.03  6/15/2002   Sanya Richards, Aquinas, Ft Lauderdl, FL    

    Freshman:   23.06  7/31/2004   Bianca Knight, Ridgeland, MS                

   Sophomore:   22.76  1991        Marion Jones, Rio Mesa, Oxnard, CA          

      Junior:   22.58  1992        Marion Jones, Thousand Oaks, CA             

      Senior:   22.11  5/3/2003    Allyson Felix, LA Baptist,Sepulveda,CA      

    Name                    Year School                  Finals 

================================================================

Section  1 Finals   Wind: -0.7

  1 Bianca Knight             07 Ridgeland HS,Ridgel      23.06  

  2 Elizabeth Olear           06 Louisville,Canoga P      23.54  

  3 Gabby Mayo                07 Track Eastern Ca,Ra      23.55  

  4 Kenyanna Wilson           07 Peoria  HS,Glendale      23.80  

  5 Shalina Clarke            06 Evanston Townshi,Ro      23.95  

  6 Breehana Jacobs           07 Laurel Highlands,Un      24.13  

  7 Ogechi Nwaneri            08 Chatham HS,Chatham,      24.16  

  8 Elizabeth Adeoti          06 Alief TC,Houston, T      24.44  
Preliminary Results
Licensed to C.F.P.I. Timing & Data                        Hy-Tek's Meet Manager

                Nike Outdoor Nationals - 6/15/2006 to 6/17/2006                

                 North Carolina A+T University, Greensboro, NC                 

                                    Results                                    

 

Girls 200 Meter Dash

================================================================

8 Advance:  Top 1 Each Heat plus Next 2 Best Times

    National: $ 22.11  5/3/2003    Allyson Felix, LA Baptist,Sepulveda,CA      

        Meet: # 23.03  6/15/2002   Sanya Richards, Aquinas, Ft Lauderdl, FL    

    Freshman:   23.06  7/31/2004   Bianca Knight, Ridgeland, MS                

   Sophomore:   22.76  1991        Marion Jones, Rio Mesa, Oxnard, CA          

      Junior:   22.58  1992        Marion Jones, Thousand Oaks, CA             

      Senior:   22.11  5/3/2003    Allyson Felix, LA Baptist,Sepulveda,CA      

    Name                    Year School                 Prelims 

================================================================

Heat  1 Preliminaries   Wind: -0.6

  1 Shalina Clarke            06 Evanston Townshi,Ro      23.89Q 

  2 Tatianna' Fisher          09 Oak Ridge HS,Winder      24.71  

  3 Jenae Anderson            07 Knoxville TC,Knoxvi      25.04  

  4 RahSheeta Hundley         07 West Point HS,West       25.37  

  5 Jasmine Grayson           07 Spartanburg HS,Spar      25.72  

Heat  2 Preliminaries   Wind: -3.5

  1 Kenyanna Wilson           07 Peoria  HS,Glendale      24.24Q 

  2 Georgina Nembhard         07 Ocean Township H,Oc      24.75  

  3 Jacquelyn Coward          08 Track Knoxville,Kno      25.03  

  4 Kelsey McKorkle           08 Track Eastern Ca,Wi      25.25  

Heat  3 Preliminaries   Wind: -0.6

  1 Gabby Mayo                07 Track Eastern Ca,Ra      23.46Q 

  2 Elizabeth Adeoti          06 Alief TC,Houston, T      24.35q 

  3 Aareon Payne              08 Unat-OH-Akron,Akron      24.40  

  4 Danielle Sampley          07 Knoxville TC,Knoxvi      24.91  

  5 Kristine Scott            06 Florida Elite TC,Or      25.09  

  6 Mary Dell                 06 Boiling Springs,Boi      25.34  

Heat  4 Preliminaries   Wind: 0.2 

  1 Breehana Jacobs           07 Laurel Highlands,Un      24.04Q 

  2 Ogechi Nwaneri            08 Chatham HS,Chatham,      24.18q 

  3 Saryna Ferguson           06 Withrow HS,Cincinna      24.57  

  4 Pavielle Vega             06 Central FL Sprin,Or      25.40  

  5 Christy Johnson           07 Athens Drive HS,Car      25.45  

  6 Monica Mason              09 Bishop McNamara,Was      26.70  

Heat  5 Preliminaries   Wind: -2.3

  1 Elizabeth Olear           06 Louisville,Canoga P      23.93Q 

  2 Lynne Layne               06 New Rochelle-Grl,Ne      24.54  

  3 Stacey-Ann Smith          08 Bloomfield HS,Bloom      24.66  

  4 Alexzandria Jones         07 Florida Elite TC,we      25.45  

  5 Jessica Dorsey            08 United Stars TC,Pal      26.43  

  6 Lindsey Blake             08 Bishop McNamara,Oxx      26.47  

Heat  6 Preliminaries   Wind: -1.7

  1 Bianca Knight             07 Ridgeland HS,Ridgel      23.77Q 

  2 Chalonda Goodman          09 Newnan HS,Newnan, G      24.71  

  3 Joanna Atkins             07 Stephenson HS,Litho      24.72  

  4 Jazmyn Shorter            07 Lakewood Hs-Fl,St.       26.04  

  5 Chinaka Bell              08 Sandhills TC,Fayett      26.16