Girls 100 - Mayo's Great Start Stuns Knight

photo by Greg Armstrong
By SteveU
She had a grin on her face like the cat who ate the canary when she finished the race. And moments later she would be cheering on half-brother Brandon Banks on to the second half of a stunning family sprint double.
In between, Southeast Raleigh NC jr Gabby Mayo talked about what will be one of the biggest stunners of the meet – her 100-meter dash victory over Ridgeland MS jr Bianca Knight and the rest of the field in one of Friday's premiere events.
Maybe it wasn't a stunner; after all, Mayo had the best all-conditions mark in the country this year, a scorching 11.14w at her state meet. She's put up great times all year. Knight has grabbed most of the sprint headlines, however, starting with her dominant indoor performances, and was the favorite for both short dashes here.
But Mayo simply left Knight in the blocks, getting off to a stupendous start that the latter could never recover from. She crossed the beam with a fine 11.42 (-0.7w) and a big 0.21 margin.
"That's the best start I've ever had," she squealed a few minutes later, almost as if she was afraid if she said too much she might wake up from a dream. "Then I started noticing nobody was beside me … But I just came in here to run my own race and do what I was supposed to do. That's why I came in first."
Knight, who was working on a post-season quadruple-double – the 100/200 at Great Southwest, Golden West, NON, and USATF Juniors – lost her focus just a tad after a false start next to her. "I also may have been focused on the 200 today, even though it's tomorrow … I've still got next week (USATF)."
by Elliott Denman
Eight lanes, eight state champions. It was a true
track devotee's vision of what a national final should be.
But there was no holding the Mayo, Gabby Mayo of nearby Raleigh, just 85
miles southeast on Highway 40.
The junior began opening ground on the field 55 meters down the track and
won it by a full stride in 11.42, running into a slight-negative wind of 0.7
meters a second.
Many figured the race would belong to Bianca Knight, the Ridgeland,
Mississippi junior who came in with the nation-leading legal-wind time of 1l.40. But
others dug a little deeper into the stats heap and detected Mayo's wind-aided
credential of 11.14.
Knight settled for second for the silver in 11.63 as the closest decisions
involved separating the 3-4-5-6-7 finishers, who crossed the line within 0.08
seconds. It was Brittany Long of Atlanta (11.71) who emerged to snare third.
Moments before Mayo's triumph, the boys 100 title was claimed by her
half-brother, Brandon Banks, in 10.42.
Mayo actually ran 1/100th faster in the trials, clocking an 11.41, with
Knight advancing in 11:48. Richmond, Texas's Jessica Gregory had posted an
11.156 in her prelim, and that would have been fast enough for second in the
final. But, next time around, she slowed to 11.77 for fifth.
The versatile Mayo is also a top hurdles candidate.
An interviewer asked: "Is there anything you can't do?"
Said Mayo, "yes, the high jump."
Mayo made no mistakes.
"It was the perfect race, it was the best race I've run this year," she
said.
"My start was perfect. I've been working on it every day.
I executed when the time was right.
"I was nervous today, and I know I'm going to be nervous tomorrow, in the
hurdles."
Gabby Mayo (right) had a big smile on her face before the finish line.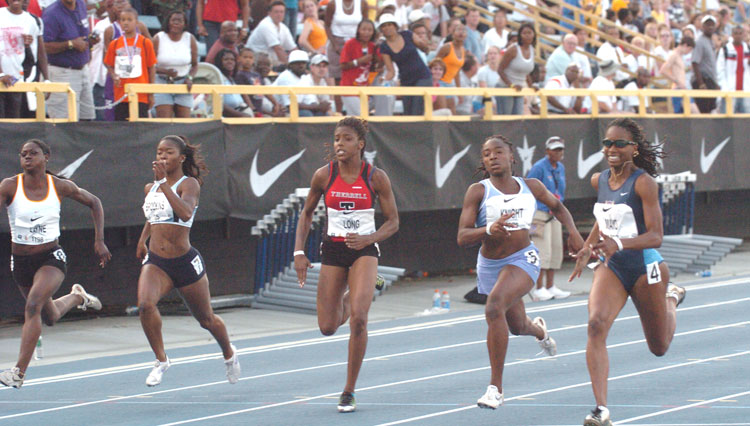 photo by John Dye
Licensed to C.F.P.I. Timing & Data                        Hy-Tek's Meet Manager

                Nike Outdoor Nationals - 6/15/2006 to 6/17/2006                

                 North Carolina A+T University, Greensboro, NC                 

                                    Results                                    

 

Girls 100 Meter Dash

================================================================

    National: $ 11.11  6/26/1998   Angela Williams, Chino, CA                  

        Meet: # 11.39  6/17/2000   Lee, Richards,Anderson, MO, FL, IL          

    Freshman:   11.24  1995        Angela Williams, Chino, CA                  

   Sophomore:   11.17  1991        Marion Jones, Rio Mesa, Oxnard, CA          

      Junior:   11.13  1976        Chandra Cheeseborough, Ribault, Jacksonville

      Senior:   11.11  6/6/1998    Angela Williams, Chino, CA                  

    Name                    Year School                  Finals 

================================================================

Section  1 Finals   Wind: -0.7

  1 Gabby Mayo                07 Track Eastern Ca,Ra      11.42  

  2 Bianca Knight             07 Ridgeland HS,Ridgel      11.63  

  3 Brittany Long             08 Therrell,atlanta, G      11.71  

  4 Kya Brookins              07 Carolina Roadrun,Se      11.76  

  5 Jessica Gregory           06 Visions TC,Richmond      11.77  

  6 Breehana Jacobs           07 Laurel Highlands,Un      11.78  

  7 Lynne Layne               06 New Rochelle-Grl,Ne      11.79  

  8 Ogechi Nwaneri            08 Chatham HS,Chatham,      11.90

   
Licensed to C.F.P.I. Timing & Data                        Hy-Tek's Meet Manager

                Nike Outdoor Nationals - 6/15/2006 to 6/17/2006                

                 North Carolina A+T University, Greensboro, NC                 

                                    Results                                    

 

Girls 100 Meter Dash

================================================================

8 Advance:  Top 1 Each Heat plus Next 3 Best Times

    National: $ 11.11  6/26/1998   Angela Williams, Chino, CA                  

        Meet: # 11.39  6/17/2000   Lee, Richards,Anderson, MO, FL, IL          

    Freshman:   11.24  1995        Angela Williams, Chino, CA                  

   Sophomore:   11.17  1991        Marion Jones, Rio Mesa, Oxnard, CA          

      Junior:   11.13  1976        Chandra Cheeseborough, Ribault, Jacksonville

      Senior:   11.11  6/6/1998    Angela Williams, Chino, CA                  

    Name                    Year School                 Prelims 

================================================================

Heat  1 Preliminaries   Wind: 1.5 

  1 Jessica Gregory           06 Visions TC,Richmond      11.56Q 

  2 Kya Brookins              07 Carolina Roadrun,Se      11.66q 

  3 Saryna Ferguson           06 Withrow HS,Cincinna      12.02  

  4 Kristine Scott            06 Florida Elite TC,Or      12.23  

  5 RahSheeta Hundley         07 West Point HS,West       12.26  

  6 Pavielle Vega             06 Central FL Sprin,Or      12.27  

  6 Chalonda Silver           06 Track Eastern Ca,Ro      12.27  

  8 Chinaka Bell              08 Sandhills TC,Fayett      12.49  

Heat  2 Preliminaries   Wind: 0.4 

  1 Breehana Jacobs           07 Laurel Highlands,Un      11.78Q 

  2 Kenyanna Wilson           07 Peoria  HS,Glendale      11.79  

  3 Jenae Anderson            07 Knoxville TC,Knoxvi      12.06  

  4 Leah Brown                08 Landstown HS,VA Bea      12.12  

  5 Taylor Jackson            07 Gilmour Academy,Ora      12.20  

  6 Jacinda Evans             08 Durham Striders,Dur      12.28  

  7 Kisha Wise                06 Mount Tabor HS,Wins      12.52  

Heat  3 Preliminaries   Wind: 0.3 

  1 Bianca Knight             07 Ridgeland HS,Ridgel      11.48Q 

  2 Ogechi Nwaneri            08 Chatham HS,Chatham,      11.75q 

  3 Chalonda Goodman          09 Newnan HS,Newnan, G      11.90  

  4 Georgina Nembhard         07 Ocean Township H,Oc      11.98  

  5 Aareon Payne              08 Unat-OH-Akron,Akron      12.10  

  6 Erica Mann                07 Furious Flyers,Batt      12.28  

  7 Ashley McKiver            06 TW Andrews HS,High       12.37  

  8 Jessica Dorsey            08 United Stars TC,Pal      12.65  

Heat  4 Preliminaries   Wind: -0.3

  1 Gabby Mayo                07 Track Eastern Ca,Ra      11.41Q 

  2 Lynne Layne               06 New Rochelle-Grl,Ne      11.70q 

  3 Elizabeth Adeoti          06 Alief TC,Houston, T      11.87  

  4 Kelsey McKorkle           08 Track Eastern Ca,Wi      12.08  

  5 Stacey-Ann Smith          08 Bloomfield HS,Bloom      12.09  

  6 Arnetra Frazier           09 Spartanburg HS,Spar      12.23  

  7 Alexzandria Jones         07 Florida Elite TC,we      12.52  

  8 Brittany Martin           06 Central FL Sprin,Sa      12.81  

Heat  5 Preliminaries   Wind: -0.6

  1 Brittany Long             08 Therrell,atlanta, G      11.65Q 

  2 Elizabeth Olear           06 Louisville,Canoga P      11.79  

  3 Shanneka Claiborne        07 Matoaca HS,Ettrick,      12.06  

  4 Tatianna' Fisher          09 Oak Ridge HS,Winder      12.21  

  5 Monique Hawkins           06 Hawks TC,The Colony      12.64  

  6 Lindsey Blake             08 Bishop McNamara,Oxx      12.76