Girls Steeple
Finally: It's Mel's Time
By SteveU
Marie Lawrence takes 2k steeple record from Lindsey Ferguson Reno junior 6:35.63 eclipses Lindsey Ferguson's 6:36.05 set earlier this year, passing Ferguson on a barrier with 230 meter to go. Ferguson was second in 6:45.46.
Lawrence also owns the national record in the 3000 meter steeplechase, 10:27.44, which she ran at Windsor Ontario last summer in the Pan American Junior Games.

photos by Open Photo
Few things are tougher than watching a great champion getting beaten in the final race of her career at her specialty. Few things are sweeter than watching a longtime bridesmaid finally get the gold – and a record.
So it was with a bittersweet feeling that many must have watched Reno NV jr Marie Lawrence race by Saratoga NY sr Lindsey Ferguson on the last lap of the NON girls 2k steeplechase Saturday afternoon. Ferguson has rewritten the record book for the event with seemingly every race, with three new standards in less than 12 months, including her . The event is pretty new for Lawrence, but few know that she holds the high school best of 10:27.44 over the 3k barriers from last year's Pan Am Juniors meet.
But even in that race, Lawrence was second, epitomizing a career-pattern in big meets, including three consecutive Foot Locker CC national meets and last week's Golden West 3200. "My coach told me before the meet 'don't run for second place any more,'" she revealed afterward. "And I didn't."
The intriguing showdown lived up to its potential. Two-time NON champ Ferguson tried to run away from "Mel" by setting a torrid pace well under that needed to match her record. But the hot, windy conditions were unlike anything she has dealt with this year and she'd reportedly been dealing with some tendonitis.
Running with a practiced technique somewhat smoother than Lawrence's, Ferguson built a 30-meter lead. With a lap to go (5:20), though, the lead was beginning to shrink. Mel started a kick not often seen from her and it was soon clear that if Ferguson couldn't kick she was going to be overtaken. She couldn't and she was. At the third-to-last barrier, the duo cleared together, then Lawrence sped away, moving almost 10 seconds away in the final 230 meters.
The announcer counted the seconds off and Mel crossed at 6:35.63, 0.42 ahead of Lindsey's standard and also beating her junior class record. The runner-up's time was 6:45.46 and her teammate, soph Hannah Davidson, came up for 3 rd in 6:58.79.
Mel hadn't raced a steeple yet this year, but has been training over barriers some in the weeks since her state meet. "I didn't have a water jump to work over, but I just pretended. I jumped over hurdles and pushed off.
"I just think 'don't hit the hurdles,'" she added. "Every time it hurts a little less."
Ferguson was gracious in defeat. "I did my best so I can't be too upset," she said. "Marie ran awesome."
For 90 percent of the race, Ferguson led Lawrence.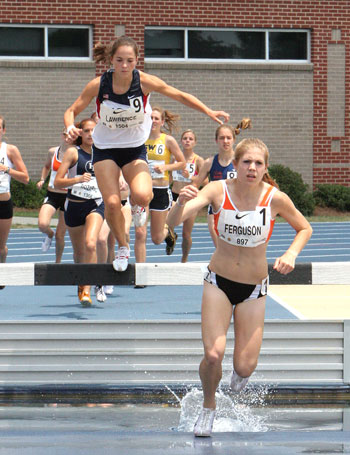 by Elliott Denman
The new steeplechasing shoes go "squish, squish, squish'' - letting the water seep out - so runners don't go "flop, flop,
flop." So NON announcer Ty Smith reminded the crowd.
This one sure was no flop - producing the huge drama of a two-time,
defending NON champion and National record-holder Lindsey Ferguson of Kinetic Track
Club/Saratoga Springs, NY losing both her NON crown and the National and meet
records.
Ferguson was considered a virtual "lock," one of the strongest favorites
at NON 2006. After all, she'd won here as a sophomore (6:45.49) and junior
(6:39.60) and lowered the USA record to 6:36.05 just last Saturday.
But no one was consulting Reno, Nevada junior Marie "Mel" Lawrence,
already a USA XC junior internationalist in any of this analysis - what a mistake.
It was anyone's race with some 250 meters to go. But Lawrence passed the
Notre Dame-bound Ferguson on the last barrier of the backstretch, extended the
lead through the water jump, and won it going away.
Ferguson had no real response after Lawence passed her and settled for
the silver in 6:45.46. Kinetic TC had the third-placer, too, sophomore Hannah
Davidson in 6:58.79, with no one else under 7.
"My coach told me to stop running for second," said Lawrence. "I've been
training pretty hard for this ever since the state meet. I run hard at least
once a week and the rest of the time I do drills.
"I don't have a steeplechase setup at my high school so I try to simulate
the water jump with the way I hop off the hurdle.
"At the 600-meter (remaining) mark, I still had a lot left, so I felt
myself starting to pick up. At about 400 meters, I begin to see her (Ferguson)
starting to fade."
Providing prologue was first-section winner Danielle Karagannis of
Northport, NY in 7:38.55.
Results
Licensed to C.F.P.I. Timing & Data                        Hy-Tek's Meet Manager

                Nike Outdoor Nationals - 6/15/2006 to 6/17/2006                

                 North Carolina A+T University, Greensboro, NC                 

                                    Results                                    

 

Girls 2000 Meter Steeplechase

================================================================

    National: $ 6:36.05  6/10/2006   Lindsay Ferguson, Saratoga, NY            

        Meet: # 6:39.60  6/18/2005   Lindsey Ferguson, Saratoga, NY            

    Freshman:   6:48.64  6/18/2005   Hannah Davidson, Saratoga, NY             

   Sophomore:   6:45.49  6/5/2004    Lindsay Ferguson, Saratoga, NY            

      Junior:   6:39.60  6/18/2005   Lindsay Ferguson, Saratoga, NY            

      Senior:   6:36.05  6/10/2006   Lindsay Ferguson, Saratoga, NY            

    Name                    Year School                  Finals 

================================================================

Section  1  

  1 Danielle Karagannis       06 Asharoken Runnin,No    7:38.55  

  2 Patricia Wardwell         07 Clifton Park TC,Cli    7:39.08  

  3 Amanda Rusilas            06 Burnt Hills-Ball,Ch    7:43.66  

  4 Julia Rooney              07 Fiorello H. Lagu,Ne    7:51.15  

  5 Nefeteri Williams         06 Proviso West HS,Bel    7:51.38  

  6 Brigid Carey              08 Mountain Brook,Birm    7:51.45  

  7 Lindsay Conway            06 Eastridge HS,Roches    7:56.33  

  8 Beth Hoekstra             06 Runnin' Gear,Clarks    8:06.97  

  9 Leslie Boozer             09 Mountain Brook,Birm    8:17.09  

 10 Sondra Tusa               07 John F. Kennedy,Mer    8:56.16  

Section  2  

  1 Marie Lawrence            07 Reno HS,Reno, NV       6:35.63$ 

  2 Lindsey Ferguson          06 Kinetic RC,Greenfie    6:45.46  

  3 Hannah Davidson           08 Kinetic RC,Saratoga    6:58.79  

  4 Leah Andrianos            07 East Syracuse-Mi,Ea    7:14.33  

  5 Ashlyn Sinclair           07 Mach Los TC,Silver     7:20.77  

  6 Mary Nothum               06 Washington Hs-Mo,Wa    7:25.33  

  7 Amanda Walsh              06 New Rochelle-Grl,Ne    7:30.70  

  8 Nicole Rozario            08 Pine Bush HS,Middle    7:33.58  

  9 Karen Roa                 08 St. Francis Prep,Fl    7:37.75  

 10 Courtney Kelly            08 WC Mepham HS,North     7:38.64  

 11 Amber Riley               07 WV Flyers,Morgantow    7:44.80  

 12 Lyndsay Smith             06 Runnin' Gear,Clarks    7:50.51  

 13 Erin Hays                 07 Shoreham-Wading,Wad    8:17.18