Girls Shot Put - Remembering Family Motivates Hayes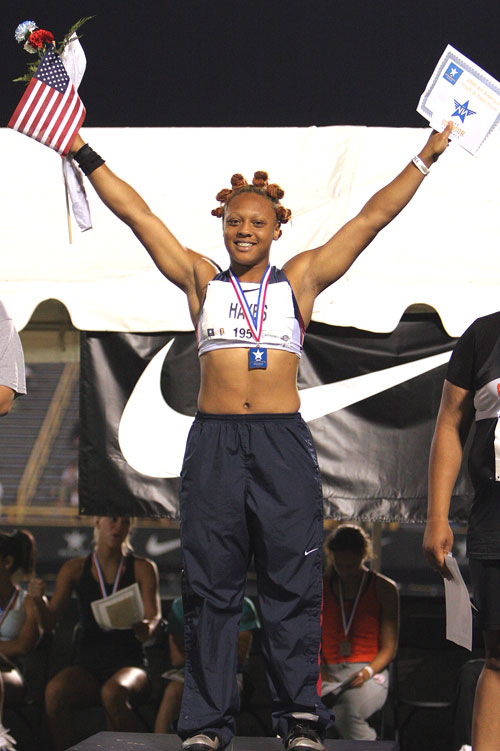 By SteveU
Kamorean Hayes seemed to have a lot of people on her mind besides herself and her rivals during her showdown with Allyn Laughlin and the rest of the NON shot put field. As it turned out, family was a big inspiration for the Harding (Charlotte) NC jr as she defended her title in the event.
In trademark fashion, she stepped in the ring for her second throw and pointed with her arm into the ring, reminding this all-around sports fan of Babe Ruth indicating where his next home run was going to land. Her mother, Hayes says, taught her to point where she wants the shot to go. "It helps me to focus."
The shot obeyed best on that attempt, landing in the dirt 50-10 away, a throw that would hold up to win the competition. Hayes could not improve, but Laughlin or the rest of the field couldn't match it, either.
Laughlin, the Center PA sr, had marked 49-04 on the previous throw herself, as she was one spot ahead of Hayes in the prelim order. She hit 50-04 in the third round, but that was her best. Stamford CT sr Tynisha McMillan was 3rd in 49-03.5.
"What helps me is God, and I was also thinking a lot about my grandfather, who just passed," Hayes said afterward. She would have liked to exceed her PR 52-02, but she has another year. "I'll do better. It'll come in due time."
by Elliott Denman
Kamorean Hayes is a two-time NON champion and she's still just
a junior.
The Harding High of Charlotte home-stater muscled it 51-1 to win in 2005
but wasn't up to that kind of oomph this time/
Still, her 50-10 put, achieved in round two, sufficed for the win, six
inches ahead of silver medalist Allyn Laughlin's 50-4 for Center Area High of
Monaca, Pa.
Third place went to Stamford, Ct's Tynisha McMillian with a49-3 ½ toss but
no one else her bested 46.
Hayes had plenty of motivation.
"My grandfather died last week so I did it for him," she said. "He never
got to see me compete because he was so sick,
"On my best throw, that was a defining moment for me because I had a
purpose."

Licensed to C.F.P.I. Timing & Data                        Hy-Tek's Meet Manager

                Nike Outdoor Nationals - 6/15/2006 to 6/17/2006                

                 North Carolina A+T University, Greensboro, NC                 

                                    Results                                    

 

Girls Shot Put

==========================================================================

    National: $ 54-10.75  5/10/2003   Michelle Carter, Red Oak, TX             

        Meet: # 54-05.25  6/14/2003   Michelle Carter, Red Oak, TX             

    Freshman:      49-04  5/30/2004   Jenny Svoboda, Howells, NE               

   Sophomore:   52-02.25  1981        Natalie Kaaiawahia, Fullerton, CA        

      Junior:   52-02.25  1982        Natalie Kaaiawahia, Fullerton, CA        

      Senior:   54-10.75  5/10/2003   Michelle Carter, Red Oak, TX             

    Name                    Year School                  Finals           

==========================================================================

  1 Taryn O'Connor            07 Hillsborough,Hillsb     12.98m   42-07.00 

      12.98m  12.35m  12.88m            

  2 Emily Pendleton           07 Woodmore,Lindsey, O     12.50m   41-00.25 

      12.41m  11.06m  12.50m            

  3 Diana Kornberg            07 Wilson Memoral T,Hi     12.14m   39-10.00 

      12.14m  11.60m  FOUL            

  4 Taylor Freeman            08 Runwest,Coralville,     12.11m   39-08.75 

      11.95m  FOUL  12.11m            

  5 Eve Machovec              06 Unat-GA-Lawrence,La     11.90m   39-00.50 

      11.43m  FOUL  11.90m            

  6 Tanore Barrow             06 New Haven Fliers,Ne     11.88m   38-11.75 

      10.71m  11.88m  10.75m            

  7 Sue Trzebiatowski         06 Rosholt HS,Rosholt,     11.80m   38-08.75 

      11.21m  11.80m  11.60m            

  8 Patrice Gates             09 Villa Rica HS,Villa     11.70m   38-04.75 

      11.70m  11.63m  11.65m            

  9 Aslynn Halvorson          09 Butler HS,Charlotte     11.62m   38-01.50 

      11.62m  11.36m  10.56m            

 10 Brynn Smith               07 Thornton Academy,Sa     11.43m   37-06.00 

      11.43m  11.28m  11.14m            

 10 Felisha Willaert          07 Lakeville South,Lak     11.43m   37-06.00 

      11.43m  11.43m  11.07m            

 12 Stephanie Scaramella      06 Bishop Eustace P,Pe     10.92m   35-10.00 

      10.18m  10.92m  FOUL            

 13 Jennifer Mack             06 Custer HS,Watertown     10.39m   34-01.25 

      9.98m  10.39m  10.20m            

Flight  2  

  1 Kim Warren                06 Atlantic City HS,At     13.64m   44-09.00 

      12.95m  13.64m  13.29m  FOUL  FOUL  12.98m

  2 Natalie Clickett          06 Union City,Union Ci     13.39m   43-11.25 

      13.39m  13.10m  12.98m  12.54m  12.81m  13.36m

  3 Allison Liske             07 Zeeland East HS,Zee     13.14m   43-01.50 

      13.03m  13.14m  FOUL  PASS  PASS  PASS

  4 Becky O'Brien             08 Greely HS,Cumberlan     13.03m   42-09.00 

      13.03m  12.41m  12.34m            

  5 Mercedes Hicks            06 Atlantic City HS,At     12.95m   42-06.00 

      FOUL  12.95m  12.08m            

  6 Shamira Rothmiller        08 Glassboro HS,Glassb     12.91m   42-04.25 

      12.91m  12.68m  12.91m            

  7 Alexandra Roberts         08 Columbus Elite,Hill     12.77m   41-10.75 

      12.29m  12.77m  12.76m            

  8 Thanithia Billings        06 Carrollton HS,Carro     12.66m   41-06.50 

      12.66m  12.46m  FOUL            

  9 Kristen Crawford          06 Robert E. Lee HS,St     12.45m   40-10.25 

      12.45m  12.04m  11.63m            

 10 Christina Rapheal         07 Northwestern Hs-,Mi     12.43m   40-09.50 

      12.43m  12.40m  11.88m            

 11 Carly Morse               06 Liberty Hs-Va,Sumer     12.16m   39-10.75 

      12.16m  12.07m  11.90m            

 12 Urysla Cotton             06 Apex HS,New Hill, N     11.79m   38-08.25 

      11.79m  11.78m  11.52m            

 13 Iman Johnson              06 Columbia HS,Maplewo     11.58m   38-00.00 

      11.58m  FOUL  10.92m            

Flight  3  

  1 Kamorean Hayes            07 Unat-NC-Charlott,Ch     15.49m   50-10.00 

      14.94m  15.49m  14.84m  13.22m  14.13m  13.90m

  2 Allyn Laughlin            06 Center Area HS,Mona     15.34m   50-04.00 

      15.34m  15.04m  15.27m  15.05m  14.88m  FOUL

  3 Tynisha McMillian         06 Stamford HS,Stamfor     15.02m   49-03.50 

      15.01m  14.58m  15.02m  14.17m  14.94m  14.66m

  4 Danica Haight             07 Runwest,Iowa City,      13.92m   45-08.00 

      12.35m  13.92m  12.94m  13.08m  13.43m  13.07m

  5 Karen Shump               08 Media Striders,Medi     13.47m   44-02.50 

      12.38m  12.62m  13.37m  13.04m  12.68m  13.47m

  6 Norjai Palma              06 Cary HS,Cary, NC        13.33m   43-09.00 

      FOUL  12.69m  13.33m  11.77m  12.50m  12.75m

  7 Samantha Fetter           06 Hempfield HS,Darrag     13.07m   42-10.75 

      13.07m  12.85m  12.90m            

  8 Kristin Smith             06 Throw One Deep,Mari     13.01m   42-08.25 

      13.01m  FOUL  12.40m            

  9 DeAnne Hahn               08 Worlds Longest T,La     13.00m   42-08.00 

      12.97m  13.00m  12.43m            

 10 Rachel Deloney            08 Bloomington HS N,Bl     12.51m   41-00.50 

      FOUL  FOUL  12.51m            

 11 Lauren Chambers           09 Kell HS,Acworth, GA     12.04m   39-06.00 

      11.53m  11.68m  12.04m