Girls Racewalk
Buletti Smashes Meet Record, But Not USR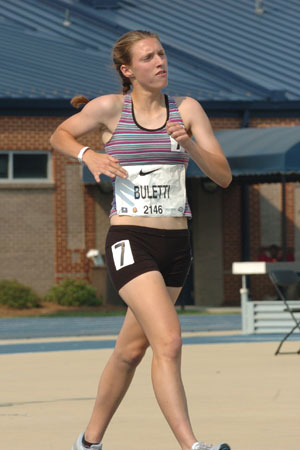 By SteveU
About twenty degrees of heat and two days of rest weren't quite enough for Heather Buletti to replicate her brand-new US record performance, but she dominated her specialty in Friday's first track final anyway.
Buletti, who walked an amazing 6:49.63 at Wednesday's Eastern States meet, gave it a good shot again Friday, going out in 1:37 for her first quarter. The problem was the West Hampton Beach NY sr had less than 48 hours rest and was dealing with Greensboro's near-90-degree heat instead of the 70-degrees and breezy conditions she had in New York. By herself from almost the beginning, she went 1:46 (3:23), 1:48 (5:11), and 1:49 the rest of the way.
Still, she won by more than 32 seconds and destroyed the meet record by 16 seconds.
"I'm kinda bummed," she said afterward. "Maybe I can't PR twice in a week … but I can't complain, I guess. I knew after two laps my pace was off. And since I knew there were more judges here, I just worked on keeping legal and finishing the best I could."
The second and third seeds held form, as Boothbay Regional ME sr Lauren Forgues ME and Sachem East (Holbrook) NY jr Jenna Monahan took those spots in 7:33.27 and 7:51.57, respectively.
photo by John Dye
by Elliott Denman
"It's pretty hard breaking two records in three
days," Heather Buletti knew.
But it wasn't impossible, either, and that's exactly what his Westhampton
Beach, NY senior went out and did.
In the very first NON track Friday final, Buletti blitzed the field in a
start-to-finish, every-step-of-the-way, 7:00.87 victory. Reeling off 1:36,
1:47, 1:48 and 1:49 laps, passing the 1,500-meter mark in 6:32.32, she
demolished the meet record of 7:16.02 set by another Long Islander, Maria Michta, two
years ago.
But it wasn't an improvement on her own National record of 6:49.63 she had
achieved just two days earlier back home in Bellmore, NY.
The heat and lack of anybody remotely close to her precluded any serious
challenge to that 6:49.63.
Lauren Forgues of Boothbay Regional, Maine was over 100 meters back in
7:33.27 for the silver and another Long Islander, 2005 NON champion Jenna Monahan
snared third in 7:51.57, 1.14 seconds speedier than her winning time a year
back.
A young veteran of international competition - she was a top American
finisher in the World Cup of Walking 10K in LaCoruna, Spain - Buletti is already
considered a future Olympic candidate - if not 2008 Beijing, then 2012 London.
She's a winner in the classroom, too, as a perfect 4.0 student and
salutatorian of her senior class.
"My splits weren't really on," she said. "After three laps, I was slowing
down. But that's OK. I still have next year and college (to compete in the
Junior/ 19-under ranks.)
"I'm going to RPI (as a biomedical engineering major) but I know I'll have
to train independently because walking's not on the college program. My big
goal for next year is to make the Pan American Cup down in Rio (de Janeiro,
Brazil.) With more experience and more mileage under my belt, I know I can do a
lot better."
The 17-athlete event went off in two sections and first heat winner
Lindsay Conway of Rochester, NY (8:17.95) wound up seventh over-all.
Results
Licensed to C.F.P.I. Timing & Data                        Hy-Tek's Meet Manager

                Nike Outdoor Nationals - 6/15/2006 to 6/17/2006                

                 North Carolina A+T University, Greensboro, NC                 

                                    Results                                    

 

Girls 1 Mile Race Walk

================================================================

    National: $ 6:49.63  6/13/2006   Heather Buletti, Westhampton Beach,NY     

        Meet: # 7:16.02  6/18/2004   Maria Michta, Sachem, Ronkonkoma, NY      

    Freshman:   7:57.73  6/18/2004   Brittany O'Brien, Bay Shore, NY           

   Sophomore:   7:23.88  6/14/2002   Maria Michta, Sachem,Ronkonkoma, NY       

      Junior:   7:44.73  6/13/2003   Jasmine Brooks, Dirigo, ME                

      Senior:   6:49.63  6/13/2006   Heather Buletti, Westhampton Beach,NY     

    Name                    Year School                  Finals 

================================================================

Section  1  

  1 Lindsay Conway            06 Eastridge HS,Roches    8:17.95  

  2 Chelsea Conway            07 Eastridge HS,Roches    8:40.94  

  3 Kaitlynn Saldanha         07 Scarborough HS,Scar    8:46.82  

  4 Tara O'Rourke             06 Sachem HS East,Farm    8:52.92  

  5 Sara Adams                08 Maine Racewalker,Li    9:04.05  

  6 Kerinna Coffey            06 Sachem HS East,Holb    9:08.53  

  7 Fiona McMahon             06 Hampden Academy,Ham    9:08.97  

  8 Teresa Ranucci            08 Edward Little HS       9:14.55  

  9 Katie Leader              06 Bayport Blue Poi,Ba    9:26.35  

 10 Brittany O'Shea           07 Ward Melville TC,St    9:45.10  

Section  2  

  1 Heather Buletti           06 Westhampton Beac,Ea    7:00.87# 

  2 Lauren Forgues            06 Boothbay Reg HS,Boo    7:33.27  

  3 Jenna Monahan             07 Sachem HS East,Holb    7:51.57  

  4 Shani Brown               06 New Rochelle-Grl,Ne    8:02.87  

  5 Lyvia Gaewsky             07 Maranacook Commu,Re    8:07.33  

  6 Amanda Johnson            06 Union County Hs-,Mo    8:16.76  

  7 Amit Aharon               06 John F. Kennedy,Mer    8:19.61  

  8 Allison Snochowski        08 Fair Lawn HS,Fair L    8:36.32