Girls Pole Vault - Not a Lofty Night, But Veith Gets MR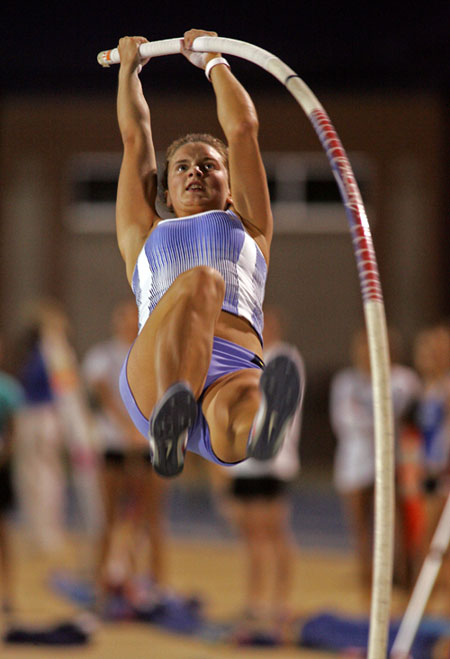 By John Sullivan
With a field of 35 boasting 4 athletes over 13-0, 3 more over 12-9, and numerous current and prior US class and age record holders, this event was highly anticipated. But, as often happens, it can be hard to meet lofty expectations – no pun intended.
Only 11 girls remained after the smoke cleared at 11-10. Next up was 12-4. After each athlete had made two attempts, it was looking grim as only US#1 Homestead IN jr Katie Veith (left, photo by Greg Armstrong) was successful. However, 3 others managed 3rd attempt clearances and it looked like things might heat up. But only Veith made the subsequent 12-10, and just like that, the competition was over.
Veith went on to break the meet record with a 13-2.50 vault before bowing out at 13-6.50.
After the event, Veith said, "I felt kind of flat. We had a 12-hour drive from Indiana and that may have been a factor."
Veith made 14-0 indoors and had cleared 13-9 a few weeks ago. "I moved to a bigger pole at 13-2.50 and missed twice. (Then) I switched back to a smaller pole for my make. The same at 13-6.5 (2 misses with the bigger pole), but then the smaller pole just didn't seem to have enough to get me over that height on my final try."
by Elliott Denman
The Hoosier State's just loaded with PV potential.
Just ask Katie Veith, the new NON champion and record-breaker, a junior
out of Fort Wayne, Indiana's Homestead High.
"We have so many great coaches up there (in the state)," she said.
"Everything seems to be coming together for me, like the training, and everything
else. We just seem to have a lot of talent."
Her name will be in the books, now that she's cleared 13-2 ½ to erase the
13-1 ½ mark shared by three NON predecessors.
This was a triumph of perseverance. She had misses at 12-4 ¾ and 12-10 ¾
on the way up, and two misses before clearing the 13-2 ½ winner. Her day ended
with three unsuccessful cracks at 13-6 ½.
"I didn't even know what the meet record was," said Veith, who'd done 13-9
this spring. "So to go home with a meet record, that's awesome, even though I
was hoping to go higher and maybe break the 14-foot barrier (national record
altitude.).
"I wasn't at my best physically, after a 12-hour car ride. But I love the
people here. The officials are so nice, and the competition is so great."
Sharing second at 12-4 ¾ were Akron, Ohio's Carrie Keyes and New Orleans'
Katelyn Rodriguez.
Super freshman prospect Shade Weygandt of Mansfield, Texas cleared 11-10 ¾
for fifth.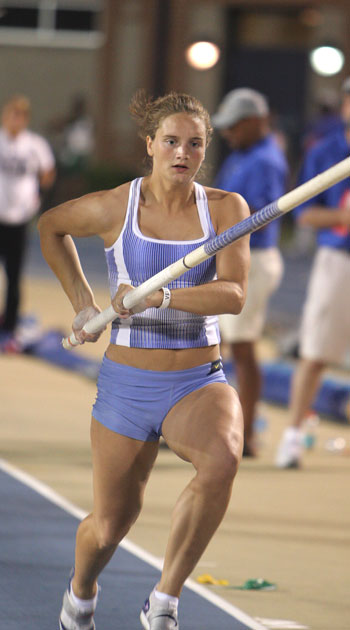 Open Photo
Licensed to C.F.P.I. Timing & Data                        Hy-Tek's Meet Manager

                Nike Outdoor Nationals - 6/15/2006 to 6/17/2006                

                 North Carolina A+T University, Greensboro, NC                 

                                    Results                                    

 

Girls Pole Vault

==========================================================================

 Opening Height:   11-5   Progression:  11-10.75  12-4.75

 12-10.75  13-2.5  13-6.5  13-10.5  14-2.5

    National: $    14-00  8/6/2005    Tiffany Maskulinski, Iroquois, Elma, NY  

        Meet: # 13-01.50  6/15/2001   Janson,Maskulinski,ONeil, FL, NY , NY    

    Freshman:      12-08  6/5/2004    Allison Stokke, Newport Hrbr, NB, CA     

   Sophomore:      13-06  3/5/2005    Allison Stokke, Newport Hr,Npt Bch,CA    

      Junior:   13-06.25  7/3/2005    Brittany Parker, Mc Kinney, TX           

      Senior:      14-00  8/6/2005    Tiffany Maskulinski, Iroquois, Elma, NY  

    Name                    Year School                  Finals           

==========================================================================

  1 Katie Veith               07 Homestead HS,Ft. Wa      4.03m   13-02.50 

     3.48 3.63 3.78 3.93 4.03 4.13 

      PPP  PPP   XO   XO  XXO  XXX 

  2 Katelyn Rodrigue          06 Mardigras TC,Destre      3.78m   12-04.75 

     3.48 3.63 3.78 3.93 

        O    O  XXO  XXX 

  2 Carrie Kayes              06 Green HS,Akron, OH       3.78m   12-04.75 

     3.48 3.63 3.78 3.93 

        O    O  XXO  XXX 

  4 Allison Stokke            07 Higher Flyers,Newpo      3.78m   12-04.75 

     3.48 3.63 3.78 3.93 

      PPP   XO  XXO  XXX 

  5 Rebekah Finn              07 Vertical Assault,Be      3.63m   11-10.75 

     3.48 3.63 3.78 

        O    O  XXX 

  5 Shade Weygandt            09 Club Altius,Mansfie      3.63m   11-10.75 

     3.48 3.63 3.78 

        O    O  XXX 

  7 Caitlin Hewitt            06 Greater Latrobe,Gre      3.63m   11-10.75 

     3.48 3.63 3.78 

       XO    O  XXX 

  8 Taylor Troemel            06 Flying Dragon's,Nor      3.63m   11-10.75 

     3.48 3.63 3.78 

        O   XO  XXX 

  8 Britany Parker            06 McKinney HS,McKinne      3.63m   11-10.75 

     3.48 3.63 3.78 

      PPP   XO  XXX 

  8 Christin Carlile          06 Dfw Elite PV,dallas      3.63m   11-10.75 

     3.48 3.63 3.78 

        O   XO  XXX 

  8 Mauri Peoples             08 Spirit of NE Geo,Ca      3.63m   11-10.75 

     3.48 3.63 3.78 

        O   XO  XXX 

 12 Caitlin Thornley          06 Ragsdale HS,Greensb      3.48m   11-05.00 

     3.48 3.63 

        O  XXX 

 12 Natalie Gengel            06 Hip Athletic,Prince      3.48m   11-05.00 

     3.48 3.63 

        O  XXX 

 12 Daisy Glasser             07 Episcopal HS,Atlant      3.48m   11-05.00 

     3.48 3.63 

        O  XXX 

 12 Sallie Gurganus           06 Watauga HS,Todd, NC      3.48m   11-05.00 

     3.48 3.63 

        O  XXX 

 12 Staci Yahn                08 Arkansas Vault C,Me      3.48m   11-05.00 

     3.48 3.63 

        O  XXX 

 12 Caroline Kennedy          06 Boone HS,Orlando, F      3.48m   11-05.00 

     3.48 3.63 

        O  XXX 

 12 Abby Schaffer             08 Vertical Assault,Ea      3.48m   11-05.00 

     3.48 3.63 

        O  XXX 

 12 Rachel Laurent            08 Vandebilt Cathol,Ho      3.48m   11-05.00 

     3.48 3.63 

        O  XXX 

 20 Caitlin Fairbairn         06 Vertical Assault,Co      3.48m   11-05.00 

     3.48 3.63 

       XO  XXX 

 20 Jessica Doyle             08 Lone Star Pole V,Bu      3.48m   11-05.00 

     3.48 3.63 

       XO  XXX 

 22 Joanna Wright             07 RJ Reynolds HS,Wins      3.48m   11-05.00 

     3.48 3.63 

      XXO  XXX 

 -- Aly Goldfarb              06 Mountain Brook,Birm         NH            

     3.48 

      XXX 

 -- Vera Neuenswander         06 Jefferson City H,Je         NH            

     3.48 

      XXX 

 -- Tory Toso                 07 Vertical Assault,Si         NH            

     3.48 

      XXX 

 -- Stephanie Duffy           07 Washingtonville,Mon         NH            

     3.48 

      XXX 

 -- Molly Batkiewicz          06 Westlake Hs-Oh,West         NH            

     3.48 

      XXX 

 -- Brooke Borso              06 Vertical Assault,Wh         NH            

     3.48 

      XXX 

 -- Susan Nicosia             08 Palmetto T+F,Aiken,         NH            

     3.48 

      XXX 

 -- Elise Birnbaum            06 Pole Vault City,Orl         NH            

     3.48 

      XXX 

 -- Amy Fryt                  07 Aycock HS,Goldsboro         NH            

     3.48 

      XXX 

 -- Stephanie McDougal        07 Vertical Assault,Ha         NH            

     3.48 

      XXX 

 -- Rebecca Frey              07 Vertical Assault,Be         NH            

     3.48 

      XXX 

 -- Lauren Lucas              07 Round Rock HS,Round         NH            

     3.48 

      XXX