Girls Mile - Tauro makes all the right moves
Results - Story - Marc Davis Video
Danielle Tauro NJ continued her string of big meet wins (Millrose Games, Penn Relays), winning a blazing fast 3-girl race in 4:39.25 US #5 all time. Jordan Hasay CA had moved in front at the bell, but Tauro blew past her on the far turn. Anne St. Geme CA got up for second in 4:41.57 to Hasay's 4:42.27.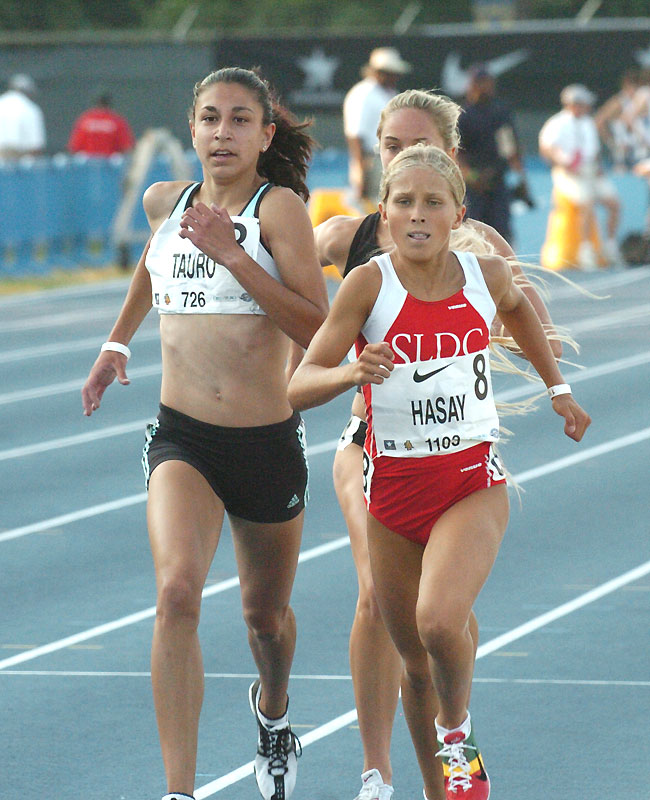 Tauro, Hasay and St. Geme at the bell. - photo by John Dye
By SteveU
The showdown between Danielle Tauro, Jordan Hasay, and Anne St. Geme wound up being the fast, first-class thriller that everyone imagined and, as has been the case all year, Danielle made all the right moves.
After Crestwood Mantua sr Bridget Franek zipped out to lead the first quarter in 69.8, the next 220s lagged to 36.5 and 37.6. But Jordan took over before the half and the pace was clearly due for a big boost. The race was on.
Separation took place and the next two furlongs went in 34.7 and 35.5 for a 70.2. Hasay was pushing, Tauro was hanging seemingly without stress a step back on the outside, and St. Geme was close in tow on the inside.
With the intensity level cranked up to this level, could Tauro unleash the needed devastating finish? She could. Approaching the 220 mark, she surged in a manner to which response would be futile, and produced in any doubters the dawning realization that she is absolutely the best miler in the country.
The last 440 was 65.1 for the Southern Regional NJ junior; the final 220 about 31-mid. With her stupendous 4:39.25, she became history's #5 runner. Corona Del Mar CA sr St. Geme passed Hasay in the last 100 to finish in a PR 4:41.57, #9 all-time, the latter in turn just missing her PR from Golden West and having to settle for the best 3rd-place finish ever in an HS-race with 4:42.27.
"The race went just as my coach told me it would," said Tauro. "We expected the pace to go about 2:22 and Jordan to go with 700 left. I was mentally prepared for it."
Said Hasay, the Mission College Prep CA freshman who again just missed Mary Decker's freshman record: "I really had to pick it up on the third lap and got kind of tired at the end. I tried … but she's a really great runner."
by Elliott Denman
Danielle Tauro had already won the Millrose Games mile, the Penn
Relays mile, and everything she surveyed in New Jersey,
But the Southern Regional/Manahawkin, NJ junior still had a big world to
conquer, specifically the 2006 NON.
Many here were touting the sensational 14-year-old Mission College
Prep,San Luis Obispo, California freshman, Jordan Hasay, already the Footlocker
National XC champion.
Others touted another super Californian, Corona Del Mar senior Anne St.
Geme. A pack of other hot runners, all sub-five-minute caliber, would line up
for the 10-athlete third section event, too.
Sachem, NY's Laura Greene had taken the opening section in 4:59.38.
Catherine White, Roanoke, Va. Northside, claimed race two in 4:53.09.
Now it was time to get it on with one of the most heralded high school
races in years.
Maple Leaf Track Club's Bridget Franek of Ohio led the pack through an opening
1:09.8 lap before giving way. It was Hasay and St. Geme together at 2:23.9 for
800, with Tauro now lurking prominently.
It was 3:34.1 at 1200 and Tauro at Hasay's shoulder.
The NJ star, true to past races, waited until the final backstretch to make
her signature move.
Unleashing the speed that's made her the 55.9 anchor on the Southern
4x400 team, she let it all out around the final turn and into the straightaway.
Now, it was only a matter of the final time.
Soon it was known - 4;39.25, fifth fastest in American
history. Hasay faded just enough to let St. Geme move up to claim second,
4:41.57 to 4:42.27.
Dennis-Yarmouth, Mass.'s Colleen Wetherbee, another great junior, was under
4:50, too, with her 4:49.44 fourth place.
"Awesome, amazing," Southern Regional coach Brian Zatorski called it.
"Danielle was extremely nervous going in.
Her teammates did a great job of calming her down."
"On the last lap, I was looking for another gear…and I found it," said
Tauro. "After all the excitement, and all the build-up,
I just stuck to coach's game plan. Everything went perfectly."
"I know I gave it my best effort," said Hasay. "It was just a great race
and I was happy to be part of it. Danielle, she was just too good for us
today."
Results
Licensed to C.F.P.I. Timing & Data                        Hy-Tek's Meet Manager

                Nike Outdoor Nationals - 6/15/2006 to 6/17/2006                

                 North Carolina A+T University, Greensboro, NC                 

                                    Results                                    

 

Girls 1 Mile Run

================================================================

 Section 1 at 4:15pm    Sections 2 and 3 at 6:45pm

    National: $ 4:35.24  5/16/1982   Polly Plummer, University, Irvine, CA     

        Meet: # 4:36.95  6/16/2005   Sarah Bowman, Fauquier, Warrenton,VA      

    Freshman:   4:42.0h  1973        Mary Decker, Portola Jr, Orange, CA       

   Sophomore:   4:42.40  6/19/2004   Nicole Blood, Saratoga, NY                

      Junior:   4:41.8h  1981        Vicki Cook, Alemany, Mission HillsCA      

      Senior:   4:35.24  5/16/1982   Polly Plummer, University, Irvine, CA     

    Name                    Year School                  Finals 

================================================================

Section  1  

  1 Laura Greene              08 Sachem HS East,Holb    4:59.38  

  2 Marissa Treece            07 Glen Lake Commun,Ma    4:59.72  

  3 Mary Nothum               06 Washington Hs-Mo,Wa    5:06.33  

  4 Kesley Ramsey             07 Ramapo HS,Franklin     5:08.00  

  5 Lindsey Shertzer          07 Lancaster Mennon,La    5:12.24  

  6 Alexandra Banfich         08 Culver Girls Aca,Pl    5:13.13  

  7 Megan Fitzpatrick         07 Hopewell Valley,Pen    5:19.08  

  8 Emily Sherrard            06 Hopewell Valley,Hop    5:20.95  

Section  2  

  1 Catherine White           07 Northside HS,Roanok    4:53.09  

  2 Jillian Rosen             07 Metroplex Stride,Da    4:53.15  

  3 Loren Hodges              06 Metroplex Stride,Pa    4:56.14  

  4 Cassandra Schenck         07 Crestwood HS,Mantua    4:56.72  

  5 Rita Jorgensen            07 White Station,Memph    4:58.27  

  6 Laura Roxberg             08 Blue Valley Nort,Ov    5:02.81  

  7 Christina Nelson          06 Red Bank Reg HS,Lit    5:08.03  

  8 Caroline King             07 Scotia-Glenville,Sc    5:14.26  

  9 MC Miller                 07 Midlothian Tc-Va,Mi    5:17.77  

Section  3  

  1 Danielle Tauro            07 Hammer TC,Beach Hav    4:39.25  

  2 Anne St. Geme             06 Corona Del Mar H,Ne    4:41.57  

  3 Jordan Hasay              09 Mission College,Arr    4:42.27  

  4 Colleen Wetherbee         07 Dennis-Yarmouth,Wes    4:49.44  

  5 Bridget Franek            06 Maple Leaf TC,Hiram    4:51.02  

  6 Jackie Areson             06 Atlantic HS,Welling    4:54.61  

  7 Theresa Rush              06 Valley Stream No,Ma    4:58.56  

  8 Jackie Drouin             07 Collins Hill HS,Law    5:00.39  

  9 Kristine Tobin            07 Chesapeake Edge,Che    5:07.03  

 10 Alana Levy                07 Telos RC,Chappaqua,    5:14.08