Girls Javelin - McQuillen Comes Through at the End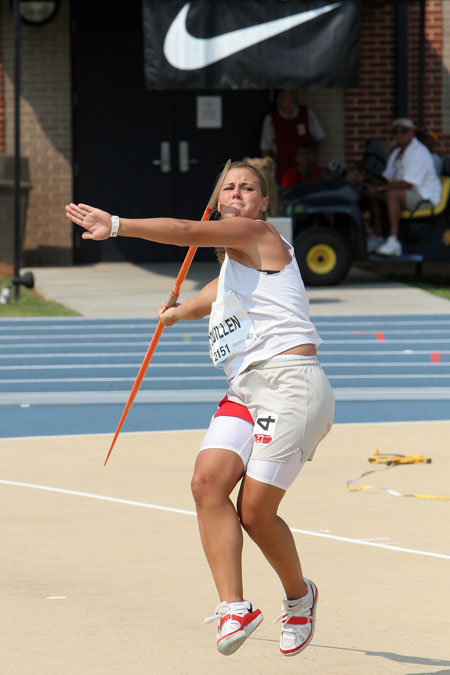 Open Photo
By SteveU
On a day where she faced shaky technique and some unexpected pressure, national javelin leader Karlee McQuillen survived on the last throw of the competition. The Westmont Hilltop (Johnstown) PA jr fired the spear 150-01/45.76 meters to win by 4 cm (1+ inches) over Caravel Academy (Newark) DE soph Brieanna Kennedy.
McQuillen, who was the top seed with her PR 162-04, didn't take the lead in the competition until her 3rd throw, which was just 43.76m, giving her a 1 cm lead over Chambersburg PA's Lorraine Hill. Neither McQuillen or Hill improved on their 4th and 5th throws.
But in the final round, Kennedy – who was seeded at just 130 feet and came through to the final out of the middle flight with a PR 139-2 – exploded to a stunning 150-0. Suddenly the pressure on the final throwers was turned up a notch. Hill couldn't improve and then McQuillen was up for her final throw. She had to pull up short on her first try, but then she finally got to the line, flung it and stuck it an inch further than the surprising sophomore.
"I had footwork problems on my last two throws," she said. "I'm supposed to do six crossover steps before my penultimate step, but I was going too fast."
Kennedy, with two huge PRs in the competition was about as happy as a runner-up can be. "Everything clicked," she said. "It just fell together. I'm really excited because I'm just a sophomore and I still have two more years. I was 13th last year."
by Elliott Denman
Just as predicted, the National (176-5) and meet (168-4) records were never threatened. Nevertheless, Karlee McQuillen, the Westmont
Hilltop/Johnstown, Pa. junior proved the class of the field with her sixth-round 150-1 heave.
There was plenty of drama in it as another Pennsylvanian, Lorraine Hill of
Chambersburg, a senior, took the lead with her opening-round 143-6.
McQuillen bettered that by just one centimeter in round three but didn't take it all until her final toss.
Brieanna Kennedy, a sophomore at Caravel Academy of Newark, Del., had
already impressed with her second-flight leader, 139-2.
So now it boiled to the eight-thrower finals.
Hill did not improve but Kennedy got one out to 150 feet even.
McQuillen's 150-1 took the gold by a single inch.
With McQuillen and Hill, along Palmyra's Meghan Briggs (140-2) and William
Allen of Allentown's Anber Troxell (136-7) occupying the 1-3-5-6 spots, the
event was dominated by Pennsylvanians. Millville, NJ's Jocelyn McRae hit 141-0
in round one and hung in for fourth.
"The announcer kept saying I should be throwing 160," said McQuillen.
"But I'm happy just winning. It was a very good, close competition."
McQuillen's 2006 best is a 162-4 winning the Pennsylvania state title.
Licensed to C.F.P.I. Timing & Data                        Hy-Tek's Meet Manager

                Nike Outdoor Nationals - 6/15/2006 to 6/17/2006                

                 North Carolina A+T University, Greensboro, NC                 

                                    Results                                    

 

Girls Javelin Throw

==========================================================================

    National: $ 176-05  4/30/2005   Rachel Yurkovich, Newberg, OR              

        Meet: # 168-04  6/14/1996   Emily Carlsten, Warwick, RI                

    Freshman:   139-09  5/29/2004   Hope Harris, Hillcrest, Cuba, KS           

   Sophomore:   157-09  2003        Rachel Yurkovich, Newberg, OR              

      Junior:   174-06  8/5/2000    Kendra Wecker, Marysville, KS              

      Senior:   176-05  4/30/2005   Rachel Yurkovich, Newberg, OR              

    Name                    Year School                  Finals           

==========================================================================

Flight  1  

  1 Jocelyn McRae             06 Millville HS,Millvi     42.98m     141-00 

      42.98m  34.06m  FOUL  FOUL  35.23m  34.25m

  2 Allison Pucul             08 Schuylkill Valle,Re     36.91m     121-01 

      32.46m  34.62m  36.91m            

  3 Laura Rycek               07 Northampton Area,No     36.49m     119-09 

      36.49m  35.29m  27.69m            

  4 Abbey Karin               09 Governor Dummer,Byf     35.78m     117-05 

      35.41m  35.78m  33.37m            

  5 Christie Bettle           06 Greensburg Centr,Le     34.46m     113-01 

      34.46m  32.20m  FOUL            

  6 Jessica Kotlowski         07 Wood-Ridge HS,Wood-     34.06m     111-09 

      33.61m  34.06m  31.93m            

  7 Dani Berry                06 Northwestern Hs-,Ro     33.03m     108-04 

      FOUL  FOUL  33.03m            

  8 Christie Leverette        08 Marietta,Dallas, GA     27.69m      90-10 

      26.62m  25.40m  27.69m            

Flight  2  

  1 Brieanna Kennedy          08 Caravel Academy,New     45.72m     150-00 

      39.25m  38.26m  42.42m  42.75m  39.56m  45.72m

  2 Amanda Nappi              07 Windham HS,Williman     39.28m     128-10 

      34.19m  39.28m  33.68m            

  3 Kelly Magennis            06 Wethersfield HS,Wet     39.22m     128-08 

      34.51m  38.86m  39.22m            

  4 Tara Karin                08 Governor Dummer,Byf     38.86m     127-06 

      38.86m  FOUL  37.30m            

  5 Tara Miluszewski          08 Hightstown Hs-Gi,Ea     36.04m     118-03 

      FOUL  35.60m  36.04m            

  6 Brittany Napoli           07 Worlds Longest T,Ho     35.70m     117-01 

      35.27m  32.12m  35.70m            

  7 Jessica Irizarry          06 Throw One Deep,Acwo     35.07m     115-01 

      35.07m  FOUL  32.46m            

Flight  3  

  1 Karlee McQuillen          07 Westmont Hilltop,Jo     45.76m     150-01 

      42.81m  42.97m  43.76m  42.82m  FOUL  45.76m

  2 Lorraine Hill             06 Chambersburg Are,Ch     43.75m     143-06 

      43.75m  36.86m  38.01m  FOUL  37.93m  39.33m

  3 Meghan Briggs             06 Palmyra Hs-Pa,Palmy     42.72m     140-02 

      35.28m  41.02m  42.72m  39.89m  38.83m  40.06m

  4 Anber Troxell             09 William Allen HS,Al     41.63m     136-07 

      40.35m  31.74m  41.63m  35.25m  38.19m  37.87m

  5 Indira Morton             07 South Brunswick,Day     41.42m     135-11 

      35.70m  37.66m  41.42m  36.96m  38.23m  36.13m

  6 Elisha Jones              07 Eisenhower HS,Russe     40.91m     134-03 

      39.39m  39.15m  35.17m  40.03m  39.86m  40.91m

  7 Lindsey Guldin            07 North Schuylkill,Fr     37.19m     122-00 

      37.19m  35.51m  35.44m            

  8 Jaclyn Wypler             07 Ridgewood HS,Ridgew     34.51m     113-03 

      33.50m  34.51m  FOUL