Girls Distance Medley
Corona/St. Geme Lead Greatest DMR Ever
By SteveU
A dropped baton for one elite team and the burning desire for redemption on the part of an anchor of another created the story for the conclusion of the greatest, deepest DMR in national history to wrap up the girls side of NON Saturday night.
With an insanely good field that included Eastern powers Suffern NY, Roxbury NJ, Warwick Valley NY, and Carmel NY, plus Clarkston MI (Running Gear) and Corona Del Mar CA, there was little question that it was going to be the best-ever. The first three legs then set things up for an incredibly star-laden anchor leg.
Clarkston leadoff and freshman Stephanie Morgan paced much of the 1200 segment, going 69-2:23. The elite group included Suffern's Shelby Greany, Roxbury's Lauren Penney, Warwick Valley's Tori Pennings, Bay Shore's Sarah McCurdy, and Saratoga's Hannah Davidson.
But Morgan's acceleration broke up the pack and she headed to the handoff with a 3:30-high. The best finish, however, belonged to Corona super soph Shelby Buckley, who sped by Morgan for 3:30.5. The margin stayed about the same on the 400 leg as fr Claire Schmidt went 59.8 to the 60.0 of sr Melissa Martinez, with the other powers a few seconds back.
On the 800 leg, Clarkston sr Lisa Sickman drew up every ounce of her courage and pushed through the first 400 against faster runners with a 66 first lap. Corona jr Hilary May was in close pursuit, and Bay Shore's Brianna Thompson and Warwick's Kristen Peluso were gaining.
But the monster 800 leg was coming from Roxbury's Ariann Neutts, who sped by everyone on the second lap with a 2:12. May kept up with her the best, finishing in 2:17.4, but close behind.
Then came the critical moment that affected the rest of the race. The baton was dropped in the exchange between Neutts and anchor Jenn Ennis, allowing Corona anchor Anne St. Geme to scamper away and Sickman, Peluso, and Suffern 800 star Caroline Heidt to catch up.
Roxbury's baton drop on anchor exchange. Corona del Mar (13) and Runnin' Gear - Clarkston MI (5) swept past Roxbury and ended up ahead in the final finish. photo by Open Photo.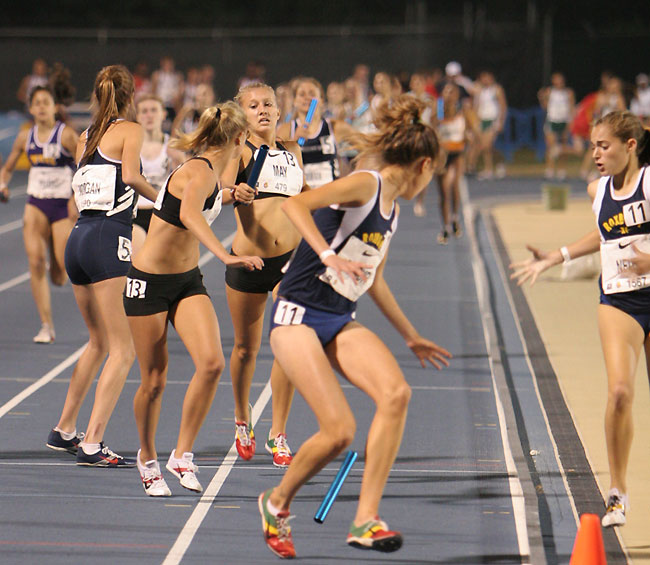 The result and impact was incredible, creating a pack of with distance superstars Ennis, Aislinn Ryan (Warwick), Jenny Morgan (Clarkston), and Kara McKenna (Suffern) all chasing St. Geme – maybe the greatest, deepest anchor leg in girls prep DMR history.
Despite a PR performance in the open mile, St. Geme did not exactly seem like a happy camper afterward, with Danielle Tauro having pulled away with a devastating kick. Here she was in control and ran the smart race. Instead of trying to blow everyone away, she ran a controlled pace that still forced her pursuers to chase her, but left something in the tank.
Ennis pushed early, trying to make up for what was lost, but by the 1200, she was falling back. McKenna and Morgan were holding steady, but Ryan was putting together a big move. She reined St. Geme in, then took the lead on the last lap.
St. Geme was not fazed. She waited until the final 100 and calmly outsprinted Ryan to give her already-US#1 team the victory. Her anchor was 4:46.9, very nice after the hard mile and reminiscent of a similar 1-2 effort at Arcadia back in April.
At the bell (left), Warwick Valley's Aislinn Ryan moved up to take the lead, but CDM's Anne St. Geme maintained contact and kicked for the win in the homestretch (right). -- photos by Open Photo
Overall, the final times were fantastic. Corona moved to #3 all-time with their 11:34.65, while Warwick become #4 with 11:36.41 (Ryan about 4:45). Morgan closed best of the remaining pursuers, her 4:50 closing out an #7 all-time 11:41.67 – a time that would have won last year and is the best-ever mark for 3rd.
In fact, the rest of the top 10 also have to be all-time marks for place, with Roxbury 11:42.96, Suffern 11:45.83, and Carmel 11:47.79 joining the sub-11:50 club.
"I knew my whole leg that the pack was behind me and that someone was going to make a move," said St. Geme. "When (Ryan) came up, I felt like she could pass me and I would still have something left. I didn't waste energy worrying about it and coming off the last curve I was able to kick it in."
by Elliott Denman
Anne St. Geme had settled for second in the
individual mile. The Stanford-bound Corona Del Mar, California senior wasn't going to
settle for second in the DMR.
It took a 4:46.9 concluding four laps to do it, fighting off determined
Warwick Valley, NY senior rival Aislinn Ryan, whose own split was under 4:48.
Corona Del Mar's Shelby Buckley, Claire Schmidt and Sarah Cummings set the
stage for anchor St. Geme.
The team's first three splits: 3:30.5, 59.8 and 2:17.4.
St. Geme's stamina was never in question.
"During the season I've done a lot of triples and I've got a lot of strength like that," she said.
"We really had the National record in mind, but we wanted the title more than anything.
"There were so many great teams out there."
Corona Del Mar's 11:34.65 and Warwick Valley's 11:36.41 go into the books
as the 3-4 marks of all time. Still atop the list: Bayshore, NY's 11:33.42 at
the 2004 NON.
Licensed to C.F.P.I. Timing & Data                        Hy-Tek's Meet Manager

                Nike Outdoor Nationals - 6/15/2006 to 6/17/2006                

                 North Carolina A+T University, Greensboro, NC                 

                                    Results                                    

 

Girls Distance Medley

================================================================

 Sponsor: Section 1 at 9:30am  Section 2 at 8:25pm

    National: $ 11:33.42  6/19/2004   Bay Shore, Bay Shore, NY                 

        Meet: # 11:33.42  6/19/2004   Bay Shore, Bay Shore, NY                 

    School                                               Finals 

================================================================

Section  1  

  1 Voorhees TC  'A'                                   12:12.83  

     1) Kari Shoolbraid 09              2) Valerie Boothby 06             

     3) Melanie Thompson 09             4) Katrina Spratford 08           

  2 The Potomac School  'A'                            12:14.40  

     1) Michaeline Nelson 07            2) Catherine Cook 07              

     3) Natalie Heintz 08               4) Samantha Adelberg 07           

  3 La Salle Academy  'A'                              12:20.64  

     1) Jeanne Mack 08                  2) Christina Marcaccio 08         

     3) Sydney Lopes 07                 4) Jean Christensen 09            

  4 Burnt Hills-Ballston Lake HS  'A'                  12:26.55  

     1) Samantha Roecker 09             2) Brittany Dexter 06             

     3) Larene Cameron 09               4) Meaghan Gregory 09             

  5 Westfield Hs-Va  'A'                               12:30.52  

     1) Tasia Potasinski 08             2) Brittany Sevachko 08           

     3) Eman Bani 08                    4) Deandrea Jenkins 06            

  6 Freehold Township  'A'                             12:31.59  

     1) Megan Matza 07                  2) Allyson Moskal 09              

     3) Charlotte Walsh 07              4) Janel Parker 08                

  7 Ward Melville Tc-Girls  'A'                        12:32.08  

     1) Rachel Ahn 08                   2) Brigid Paddock 08              

     3) Bridget Reilly 07               4) Andrea Tingue 06               

  8 Archbishop Prendergast  'A'                        12:32.95  

     1) Kathleen Boland 07              2) Kelli Fierras 06               

     3) Maureen Benner 06               4) Colleen Boland 07              

  9 Red Tide  'A'                                      12:36.58  

     1) Emily Morgridge 08              2) Brittni Hutton 08              

     3) Katy Westenberg 07              4) Carlie Green 07                

 10 St. Ursula Academy  'A'                            12:42.57  

     1) Liz Coorey 07                   2) Jenna Heaton 08                

     3) Rachel Clark 09                 4) Danielle Meiners 06            

 11 Pearl River HS  'A'                                12:44.06  

     1) Caitrin Demchko 07              2) Ailish Rowley 09               

     3) Julie Hudak 07                  4) Samtha Stadt 06                

 12 Clifton Park TC  'A'                               13:16.83  

     1) Cara Janeczko 10                2) Morgan Roche 08                

     3) Kathleen Rusch 08               4) Christine Sloat 07             

 -- Iona Prep/Ursuline  'A'                                 DNF  

     1) Meghan Brown 08                 2) Rosie Crean 08                 

     3) Elia Francis 08                 4) Erin Joyce 07                  

Section  2  

  1 Corona Del Mar HS  'A'                             11:34.65  

     1) Shelby Buckley 08               2) Claire Schmidt 09               

     3) Hilary May 07                   4) Anne St. Geme 06              

  2 Warwick Valley Tc-Girls  'A'                       11:36.41  

     1) Tori Pennings 08                2) Claire Pettit 08               

     3) Kristen Peluso 07               4) Aislinn Ryan 06                

  3 Runnin' Gear  'A'                                  11:41.67  

     1) Stephie Morgan 09               2) Melissa Martinez 06                

     3) Lisa Sickman 06                 4) Jenny Morgan 06               

  4 Roxbury Hs-Girls  'A'                              11:42.96  

     1) Kristen Stevens 06              2) Lauren Penney 08               

     3) Ariann Neutts 09                4) Jenn Ennis 06                  

  5 Suffern TC  'A'                                    11:45.83  

     1) Kara McKenna 06                 2) Shelby Greany 09               

     3) Caroline Heidt 06               4) Deahna Vinson 06               

  6 Carmel HS  'A'                                     11:47.79  

     1) Lindsay Southard 06             2) Kristie O'Reilly 07            

     3) Caity Tully 07                  4) Kristin Reese 08               

  7 Eureka HS  'A'                                     11:52.35  

     1) Amy Erdbruegger 06              2) Chelsea Chrisman 09            

     3) Kasey Owens 07                  4) Merideth Snow 06               

  8 Bay Shore TC  'A'                                  11:52.80  

     1) Callie Hogan 07                 2) Tenica Roberts 08              

     3) Briana Thompson 08              4) Sarah McCurdy 08               

  9 Ridgefield Hs-Girls  'A'                           11:53.82  

     1) Heather Stephens 08             2) Emily Heaslip 06               

     3) Katie Murdoch 06                4) Leah Rosenfeld 06              

 10 Kinetic RC  'A'                                    11:55.70  

     1) Brianne Bellon 10               2) Hannah Davidson 08             

     3) Alysha McElroy 07               4) Lindsey Ferguson 06            

 11 Spirit of Pre Tc-Girls  'A'                        12:00.78  

     1) Eileen Creutz 06                2) Meagan Creutz 08               

     3) Joanne Gabl 06                  4) Amy Luke 06                    

 12 Pope John Xxiii  'A'                               12:05.53  

     1) Lauren Bariexca 07              2) Rachel Posthumus 06            

     3) Brynn Merritt 06                4) Lara Heigis 07                 

 13 Irish Road TC  'A'                                 12:06.99  

     1) Meghan Shanley 09               2) Kierstin Quinn 06              

     3) Carly Niness 08                 4) Liz Costello 06                

 14 Adrenaline TC  'A'                                 12:13.92  

     1) Joanie Castagno 07              2) Juliet Bottorff 09             

     3) Bree Gregory 09                 4) Jenna McCartan 07              

 15 Runwest  'A'                                       12:46.99  

     1) Claire Hall 06                  2) Kristi Schuette 08             

     3) Jenn Barrick 09                 4) Sarah Wickman 07