Girls 4xMile Relay
Roxbury Just Misses National Record
By SteveU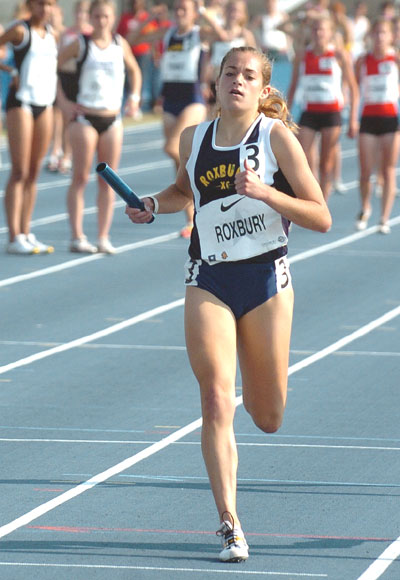 The Roxbury NJ girls came into Saturday's 4x1 Mile race with the expectations of a potential national record making fans of the sport dizzy with anticipation. The difference between their scenario, and that of the Suffern NY girls in the DMR and 4x800, is that the former's is based on a year's of achievement, while the latter's is born of recent dramatic improvement.
By the time the NJ group and Meet of Champions had taken place, Roxbury suddenly had four girls under five minutes for 1600. Earlier this spring, they ran an outstanding 20:18 for 4x1600, but now with soph Lauren Penney becoming the fourth under 5:00, they could shoot for Suffern's new 19:56.75.
Roxbury started with one of their best, as sr Jenn Ennis led off and grabbed a big lead with 74-76 second laps. Her mile was 4:58.6 and the record attempt was on.
The girls didn't quite have their best for this early morning affair, though, and Penney and sr Kristen Stevens hit close-but-not-quite splits of 5:03.8 and 5:00.3. The group was now 15:02.7 for 3 miles with super freshman Ariann Neutts (left, photo by John Dye) up to the plate. Though she has a 4:53 1600 PR and went out in 71, she slowed to 76 and 78 and the record seemed lost.
But Neutts has good speed and, apparently, a reserve of potential energy. With the announcer, crowd, and her teammates egging her on, she started sprinting in the last 200 and suddenly it looked like it could happen. The clock turned from 19:56 to 57 as she was just a couple strides from the finish line and stopped at 19:58.07.
Neutts had closed in 70 and hit 4:55.3. Roxbury had run history's 2nd fastest time, indoors or out.
Afterward, Ennis revealed that their goal of a 4x1 record wasn't a recent development, despite what onlookers might think. "It was a goal of ours, even before Suffern broke it," she said. "Our coach (Sherry Sikora) does a great job of peaking us. But it would have been more exciting if we could have upset Suffern.
"We're happy we won," she added, "but we really wanted to break the record. Individually, our times weren't that great. I just wish we could have each run a half-second faster."
photo by John Dye
by Elliott Denman
Roxbury, NJ freshman Ariann Neutts is already one of the
nation's great young middle distance prospects.
"She needs a 4:53 now," announcer Doug Speck told the early-morning crowd as
Neutts took the stick for her four anchor laps in the 4xmile relay.
Well, Neutts was terrific and delivered a solid 4:55.2 anchor and brought
Roxbury home handsomely with no one else remotely close.
With senior Jenn Ennis (4:58.0) leading off, sophomore Lauren Penney (5:00.3)
second, and senior Kristen Stevens (5:03.8) setting it up, Neutts did the
rest.
"All of us have put in the dedication it takes this year, so anything we
accomplish is not a surprise," said Neutts.
"The race was still close when I started running, but I knew I had an
excellent shot of pulling away."
Roxbury's 19:58.07 will be recorded as the second best time in USA history,
topped only by Suffern, NY's 19:56.80 two weeks ago.
The Runnin' Gear/Fort Washington, Md. team was a distant second in 20:46.69
with Kinetic Track Club/Saratoga Springs, NY third in 21:03.26.
Minnesota's Lakeville North (21:08.99) and Bronxville, NY's 21:09.99 snared
the 4-5 spots, and Colonie, NY's 21:36,73 out of the second section wound up
taking seventh over-all.
Licensed to C.F.P.I. Timing & Data                        Hy-Tek's Meet Manager

                Nike Outdoor Nationals - 6/15/2006 to 6/17/2006                

                 North Carolina A+T University, Greensboro, NC                 

                                    Results                                    

 

Girls 4x1 Mile Relay

================================================================

 Section 1 at 8:30am  Section 2 after Boys' Section 1

    National: $ 19:56.80  6/4/2006    Suffern, Suffern, NY                     

        Meet: # 20:01.70  6/18/2005   Clarkston, Clarkston, MI                 

    School                                               Finals 

================================================================

Section  1  

  1 Roxbury Hs-Girls  'A'                              19:58.07# 

     1) Jenn Ennis 06                   2) Lauren Penney 08               

     3) Kristen Stevens 06              4) Ariann Neutts 09               

  2 Runnin' Gear  'A'                                  20:46.69  

     1) Jenny Morgan 06                 2) Stephie Morgan 09              

     3) Lisa Sickman 06                 4) Lyndsay Smith 06               

  3 Kinetic RC  'A'                                    21:03.26  

     1) Brianne Bellon 10               2) Ashley Campbell 06             

     3) Alysha McElroy 07               4) Hannah Davidson 08             

  4 Lakeville North HS  'A'                            21:08.99  

     1) Laura Roach 06                  2) Marie Ferguson 09              

     3) Elizabeth Ohrt 07               4) Elizabeth Yetzer 06            

  5 Bronxville TC  'A'                                 21:09.99  

     1) Tori Flannery 09                2) Emma Clarke 08                 

     3) Amanda Hudson 06                4) Henrietta Miers 10             

  6 Hopewell Valley HS  'A'                            21:18.33  

     1) Clare Buck 09                   2) Marissa Greco 08               

     3) Megan Fitzpatrick 07            4) Emily Sherrard 06              

  7 Oakton TC  'A'                                     21:38.95  

     1) Hallie Eilerts 08               2) Rebekah Berlin 06              

     3) Meredith Tighe 07               4) Kayley Byrne 06                

  8 Runwest  'A'                                       22:23.28  

     1) Jenn Barrick 09                 2) Christine Skopec 07            

     3) Claire Hall 06                  4) Sarah Wickman 07               

  9 Warwick Valley Tc-Girls  'A'                       22:28.19  

     1) Samantha Grady 06               2) Joanna Stein 06                

     3) Cecelie Braadt 09               4) Kaitlyn Hurley 06              

 -- Clifton Park TC  'A'                                     DQ   OOZ x2

     1) Christine Sloat 07              2) Morgan Roche 08                

     3) Kathleen Rusch 08               4) Cara Janeczko 10               

Section  2  

  1 Colonie HS  'A'                                    21:36.73  

     1) Nicole Soblosky 06              2) Katlin Mock 08                 

     3) Shannon Finnegan 07             4) Megan LaPoint 07               

  2 Kinetic RC  'B'                                    21:45.63  

     1) Cassie Goutos 10                2) Abby Ochse 07                  

     3) Liz Ochse 07                    4) Kipling Hill 06                

  3 Lenape TC  'A'                                     21:57.60  

     1) Erika Griffith 08               2) Brianna Beddall 08             

     3) Courtney Kokser 07              4) Alivia Royds 09                

  4 Monsignor Donovan  'A'                             22:04.28  

     1) Molly Kempton 08                2) Briana Crowe 08                

     3) Amanda Cavallo 08               4) Tara Watson 06                 

  5 Alabama Runners  'A'                               22:29.38  

     1) Hannah Thompson 09              2) Caitlin Chitwood 09            

     3) Emily Thompson 08               4) Lacey Wright 07                

  6 Bridgewater-Raritan  'A'                           22:45.92  

     1) Danica Krivanos 08              2) Rachel Mangean 08              

     3) Margaret Bruno-Metzger 07       4) Kristin Cupido 07              

  7 Pope John Xxiii  'A'                               22:54.68  

     1) Alessandra LaMastro 06          2) Ciara Vanness 09               

     3) Casey Keller 08                 4) Kelsey Murphy 07               

 -- Rebel TC  'A'                                            DQ   OOZ x1

     1) Kellee Hand 06                  2) Lauren Wiemken 07              

     3) Lauren Rome 08                  4) Lindsey Lambert 08