Girls 4x100 Relay -
Harding Charlotte keeps gold medal in NC
Harding (lane 4) edges Hempstead (3) and Therrell (6).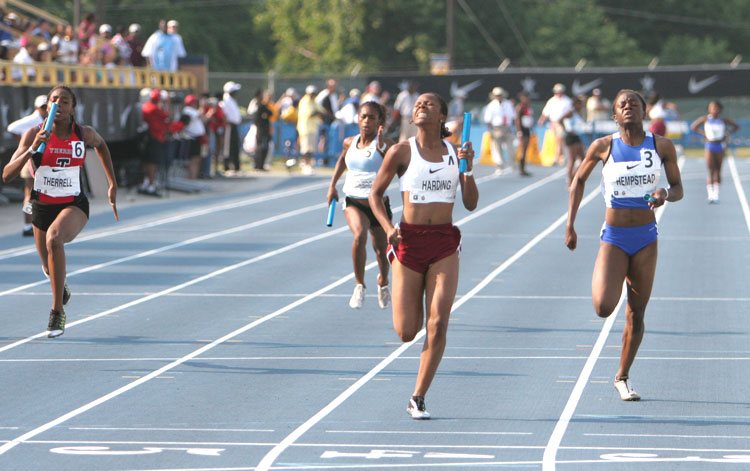 Open Photo
by Elliott Denman
Long Beach Poly's National 2004 record of 44.50 remains safe.
Same for Skyline of Dallas' NON best-ever 45.63, also in '04.
But the eight 2006 finalists still delivered a brilliant competitive,
anybody-can-win-it, one lapper.
Harding University High, running with freshman Ranae Nelson, soph Ashley
Bethune, frosh Nyosha Bryant and junior Felicia Paulding, brought the golds back
to nearby Charlotte in 46.61. Hard on the Harding heels were Hempstead, NY at
46.81, Therell of Atlanta at 47.10 and Uniondale, NY at 47.42. Four more
clubs went under 48.
Nelson saw it as "organized chaos for us.
"We had people all over. Two of us were getting ready for the long jump."
Friday's four heats whittled 28 candidtate teams to the eight finalists, led
by section winners Harding (47.01), Spartanburg, SC (47.24), Hempstead
(47.24) and Therrell (47.36.)
Licensed to C.F.P.I. Timing & Data                        Hy-Tek's Meet Manager

                Nike Outdoor Nationals - 6/15/2006 to 6/17/2006                

                 North Carolina A+T University, Greensboro, NC                 

                                    Results                                    

 

Girls 4x100 Meter Relay

================================================================

    National: $ 44.50  4/23/2004   Poly, Long Beach, CA                        

        Meet: # 45.63  6/19/2004   Skyline, Dallas, TX                         

    School                                               Finals 

================================================================

Section  1 Finals

  1 Harding University HS  'A'                            46.61  

  2 Hempstead HS  'A'                                     46.81  

  3 Therrell  'A'                                         47.10  

  4 Uniondale  'A'                                        47.42  

  5 Ben L. Smith HS  'A'                                  47.59  

  6 Science Hill HS  'A'                                  47.62  

  7 Collinwood HS  'A'                                    47.74  

  8 Spartanburg HS  'A'                                   47.92  
Preliminary Results
by Elliott Denman
Four heats whittled 28 candidtate teams to eight
finalists, led by section winners Harding University High (47.01), Spartanburg,
SC (47.24), Hempstead, NY (47.24) and Therrell of Atlanta (47.36.)
Licensed to C.F.P.I. Timing & Data                        Hy-Tek's Meet Manager

                Nike Outdoor Nationals - 6/15/2006 to 6/17/2006                

                 North Carolina A+T University, Greensboro, NC                 

                                    Results                                    

 

Girls 4x100 Meter Relay

================================================================

8 Advance:  Top 1 Each Heat plus Next 4 Best Times

    National: $ 44.50  4/23/2004   Poly, Long Beach, CA                        

        Meet: # 45.63  6/19/2004   Skyline, Dallas, TX                         

    School                                              Prelims 

================================================================

Heat  1 Preliminaries

  1 Spartanburg HS  'A'                                   47.24Q 

     1) Patria Norman 08                2) Arnetra Frazier 09             

     3) Erica Peake 09                  4) Jasmine Grayson 07             

  2 Science Hill HS  'A'                                  47.51q 

     1) Emma Bowers 08                  2) Jasmine Redford 06             

     3) Hannah Bowers 08                4) Danielle Davis 06              

  3 Weaver HS  'A'                                        48.08  

     1) Amanda Glass 07                 2) Crystal Davis 08               

     3) SaShauna Stewart 06             4) Renee Thompson 06              

  4 BC TC  'A'                                            48.86  

     1) Kourtney Crawford 09            2) Ebony Robinson 07              

     3) Natalie DiSalvo 07              4) Kate Muskat 08                 

  5 Lady Speedos  'A'                                     49.41  

     1) Denise Solomon 06               2) Monique Smith 06               

     3) Carlysha Towns 08               4) Alysha Cook 09                 

  6 St. Peter Chanel HS  'A'                              49.50  

     1) Jena Gura 09                    2) Gabrielle Green 07             

     3) Ashley Spates 06                4) Niesha Kelly 06                

 -- Lewisburg Area  'A'                                     DNF  

     1) Jamie Eggelton 08               2) Cathy Meade 07                 

     3) Heather Spangler 08             4) Kalle James-Wintjen 06         

Heat  2 Preliminaries

  1 Hempstead HS  'A'                                     47.24Q 

     1) Racquel Anderson 06             2) Rene Cousins 07                

     3) Maxine Moodie 07                4) Fallon Wilks 06                

  2 Collinwood HS  'A'                                    47.47q 

     1) Courtney Jones 06               2) Charnee Lumbus 06              

     3) Laurin Slayton 07               4) Christy Horne 07               

  3 Bloomfield HS  'A'                                    48.05  

     1) Jilliane Peters 06              2) Ashley Carbray 06              

     3) Tianna Odney 07                 4) Stacey-Ann Smith 08            

  4 Western Branch HS  'A'                                48.31  

     1) Amber Mitchell 09               2) Brittney Smalls 07             

     3) Rekita Payne 06                 4) Jessie Gaines 08               

  5 South Brunswick HS  'A'                               49.64  

     1) Stephanie McIntyre 07           2) Simone Hill 08                 

     3) Yesenia Boynton 07              4) Eve Mizerak 06                 

  6 New Britain HS  'A'                                   49.67  

     1) Melanie Gonzalez 08             2) Cherelle Allen 07              

     3) Mindi McLeod 07                 4) Symone Roberts 09              

  7 Westfield Hs-Va  'A'                                  51.86  

     1) Brooke Gilbride 06              2) Deandrea Jenkins 06            

     3) Haley Boone 06                  4) Martina Green 09               

Heat  3 Preliminaries

  1 Harding University HS  'A'                            47.01Q 

     1) Ranae Nelson 09                 2) Ashley Bethune 08              

     3) Nyosha Bryant 09                4) Felicia Paulding 07            

  2 Uniondale  'A'                                        47.81q 

     1) Ashley Hendrix 08               2) Heidi Paul 07                  

     3) Vanessa Thompson 07             4) Ashlea McLaughlin 07           

  3 Unat-NC-Fayetteville  'A'                             48.95  

     1) Taneisha Glover 07              2) Crystal Dukes 07               

     3) Tomoria Holmes 09               4) India Gonzalez 07              

  4 Potomac HS  'A'                                       49.10  

     1) Jasmine Haley 07                2) Yvonne Amegashie 09            

     3) Savaughna Mcclary 08            4) Jasmine Williams 08            

  5 Spring Valley  'A'                                    49.32  

     1) Ashley Drayton 06               2) Alexia Hall 06                 

     3) Britney Lane 07                 4) Shalyn McMichael 07            

  6 Deep Run  'A'                                         49.37  

     1) Izumi Suzuki 08                 2) Megan Fuson 06                 

     3) Joanna Hassell 08               4) Ashley Orr 08                  

 -- Armstrong HS  'A'                                        DQ   OOZ x3

     1) Kiara Branch 07                 2) Cecily Young 08                

     3) Clorie Roberts 09               4) Ayana Baylor 07                

Heat  4 Preliminaries

  1 Therrell  'A'                                         47.36Q 

     1) Jazmine Wright 09               2) Quaneshia Cleckley 06          

     3) Santeria Moses 08               4) Brittany Long 08               

  2 Ben L. Smith HS  'A'                                  47.61q 

     1) Amanda Darden 06                2) Sirrell Butler 08              

     3) Cheria Morgan 06                4) Allegra Seegars 07             

  3 Benjamin Cardozo  'A'                                 48.34  

     1) Shanquea Wood 06                2) Dalilah Muhammad 08            

     3) Lindsay Rowe 07                 4) Joy Henry 06                   

  4 New Haven Fliers  'A'                                 49.04  

     1) Shaniqua Burgess 08             2) Ann Marie Clarke 08            

     3) Kelly Libert 06                 4) Tiffany Bromfield 06           

  5 Trenton TC  'A'                                       49.55  

     1) Bisi Okoya 09                   2) Shayon Graffie 07              

     3) Autum Hobbs 07                  4) Edris Dickson 07               

  6 Stevens HS  'A'                                       49.73  

     1) Kayla Gosnell 07                2) Becca Bedard 08                

     3) Haylee Weisgram 09              4) Brittany Garner 06             

  7 Otm Mustang  'A'                                      53.16  

     1) Ladonna White 06                2) Hannah Slaughter 07            

     3) Cynthia Hinton 06               4) Amanda Gibson 06