Girls 2-Mile
Results - Marc Davis Video - Story
Bria Wetsch MN 10:10.50 won a spectacular all-Minnesota stretch drive over defending champion Elizabeth Yetzer 10:12.09. Aislinn Ryan NY made a big move to first on the seventh lap, but the Minnesota duo maintained contact and moved in front at the bell, with Yetzer in first. Wetsch kicked past Yetzer with 60 meters to go. Meredith Snow MO 10:15.49 edged Ryan 10:16.85 for third.
Feeling Minnesota - Wetsch and Yetzer Go 1-2
By SteveU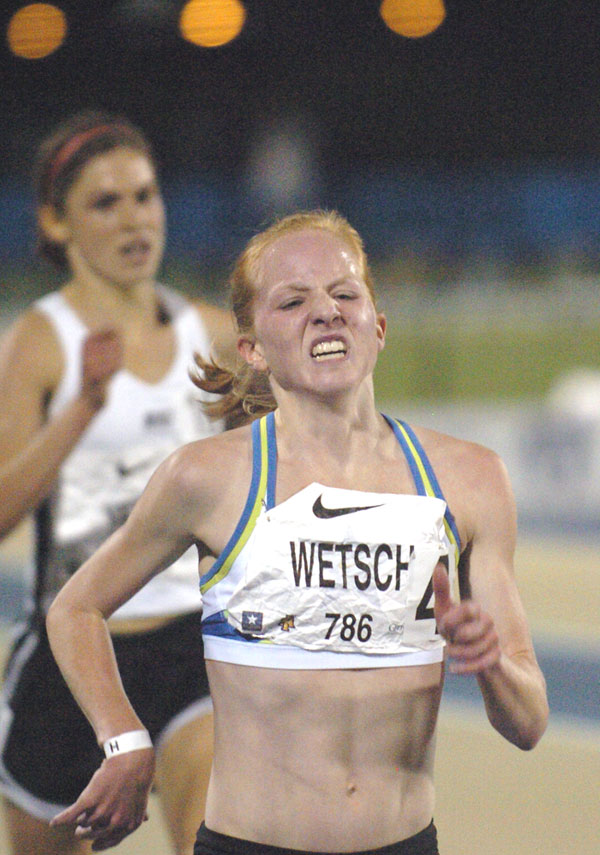 photo by John Dye
With both girls running cagey, strategically smart races, Minnesota megastars Elizabeth Yetzer and Bria Wetsch came into the final straight of the girls two-mile looking like a sure 1-2. More often than not, the script would have Yetzer outkicking her friendly rival. But Wetsch went to the very bottom of the well and triumphed with the biggest win of her career.
Both hit PRs, Wetsch knocking a whopping 18 seconds off her best with a 10:10.50 (last lap about 70), and Yetzer beating her 2005 NON winning time by more than 3 seconds with a 10:12.09. The Holy Family Catholic (Chaska) sr becomes No. 10 all-time with her US#1.
Wetsch was near tears of joy afterward. "I'm just so happy I'm going to cry," she said. "I wanted it so bad.
"I tried to go at 800 to go, but Aislinn took off so I just stuck with her. Then Elizabeth made her move with 400 to go. But I knew it was my last race and I wanted to make it my best."
Coming on strong at the end of the year to run her best race, the Lakeville North sr Yetzer hardly seemed too despondent. "I'm happy with the time. I felt like I ran a courageous race."
Eureka MO sr Merideth Snow was 3rd in a PR 10:15.49, followed by Warwick Valley NY sr Aislinn Ryan (10:16.95), who led much of the race. Spring SC sr Kate Niehaus was 5th in a PR 10:21.90 and Sioux Falls SD jr Allison Eckert was the first of the Class of 2007 in a near-PR 10:25.90.
by Elliott Denman
After Cypress Bay, Florida's Emilie Amaro (10:51.36) and
Corona Del Mar, California's Sarah Cummings (10:44.52) won the opening
sections, the
real racing was underway.
Would someone break 10 minutes? (The meet and National records are Molly
Huddle's 10:01.08 in 2002.)
Would someone break 10:10? (Not achieved since Huddle?)
Would anyone outspeed the 2005 winner, Elizabeth Yetzer of Lakeville,
Minnesota (10:15.73)?
Answers: no, no, yes.
The racing was superb - still anyone's to win around the final turn.
Yetzer beat her 2005 time, all right, with a 10:12.09, but she couldn't
beat another senior Minnesotan, Bria Wetsch of Holy Family Catholic High,
Victoria.
Wetsch took it in 10:10.50, now No. 2 time in NON history, with Yetzer's
10:12.09 now No. 3 on the NON charts.
Runnng their way onto the all-time meet list, too, were Eureka, Missouri's
Merideth Snow (10:15.49) and Warwick Valley, NY's Aislinn Ryan (10:16.85.)
"Wow, I PRed by 12 seconds," said the delighted Wetsch.
"Coming in, my best was 10:22.
"The conditions were perfect. In Minnesota, it's usually very windy.
"I was actually born in North Carolina (May 24, 1988), in Durham. Then we
moved to Minnesota when I was 2."
Her next stop: Eugene, Oregon.
"I'm going to be a Duck," she said, smiling.
Licensed to C.F.P.I. Timing & Data                        Hy-Tek's Meet Manager

                Nike Outdoor Nationals - 6/15/2006 to 6/17/2006                

                 North Carolina A+T University, Greensboro, NC                 

                                    Results                                    

 

Girls 2 Mile Run

================================================================

 Section 1 and 2 at 7:40pm   Section 3 at 9:30pm

    National: $ 10:01.08  6/14/2002   Molly Huddle, Notre Dame, Elmira, NY     

        Meet: # 10:01.08  6/14/2002   Molly Huddle, Notre Dame, Elmira, NY     

    Freshman:   10:20.69  1979        Vicki Cook, Alemany, Misn Hills, CA      

   Sophomore:   10:10.73  5/8/2004    Nicole Blood, Saratoga, NY               

      Junior:   10:03.0h  1984        Suzie Tuffey, Bergan Peoria, IL 3200m    

      Senior:   10:01.08  6/14/2002   Molly Huddle, Notre Dame, Elmira, NY     

    Name                    Year School                  Finals 

================================================================

Section  1  

  1 Emilie Amaro              08 Cypress Bay HS,Coop   10:51.36  

  2 Neely Spence              08 Cvac Girls Elite,Sh   10:55.71  

  3 Thereseann Zimmerman      06 Gaylord HS,Gaylord,   11:00.11  

  4 Marissa Treece            07 Glen Lake Commun,Ma   11:08.33  

  5 Jessica Armstrong         07 Wayland T+Rc,Dorr,    11:08.35  

  6 Kara Millhouse            08 Boiling Springs,Boi   11:13.70  

  7 Andie Cozzarelli          08 Apex HS,Apex, NC      11:15.32  

  8 Susanna Sullivan          08 George Mason HS,Fal   11:15.62  

  9 Maria Dalzot              06 Team WV,Morgantown,   11:20.15  

 10 Halsey Sinclair           07 Mach Los TC,Silver    11:20.93  

 11 Jennifer Barbi            07 South Forsyth HS,Su   11:43.79  

 12 Marley Burns              07 Carolina Day Sch,We   11:50.45  

Section  2  

  1 Sarah Cummings            07 Corona Del Mar H,Ne   10:44.52  

  2 Kinsey Farren             07 Metroplex Stride,Da   10:49.23  

  3 Alexandra Banfich         08 Culver Girls Aca,Pl   10:49.76  

  4 Alexa Glencer             06 Greenhills Schoo,An   10:50.42  

  5 Catherine Loden           08 Metroplex Stride,Wh   11:04.18  

  6 Alexandra Cadicamo        06 Hackley,Shrub Oak,    11:04.72  

  7 Danielle Berndt           08 Kennedy HS,Blooming   11:06.62  

  8 Mary Kate Champagne       08 Knights RC,Plattsbu   11:08.11  

  9 Laura Gallo               07 Cranford HS,Cranfor   11:15.51  

Section  3  

  1 Bria Wetsch               06 Holy Family Cath,Ch   10:10.50  

  2 Elizabeth Yetzer          06 Lakeville North,Lak   10:12.09  

  3 Merideth Snow             06 Eureka HS,Eureka, M   10:15.49  

  4 Aislinn Ryan              06 Warwick Valley T,Be   10:16.85  

  5 Kate Niehaus              06 Spring Valley,Colum   10:21.90  

  6 Allison Eckert            07 Roosevelt HS,Sioux    10:25.90  

  7 Catherine White           07 Northside HS,Roanok   10:32.14  

  8 Christy Adamyk            07 Glendora HS,Claremo   10:32.70  

  9 Bona Jones                06 Estero HS 3D Clu,Fo   10:35.06  

 10 Cassandra Schenck         07 Crestwood HS,Mantua   10:36.65  

 11 Callie Hogan              07 Bay Shore TC,Bay Sh   10:37.05  

 12 Emily Borsare             07 McIntosh HS,Peachtr   10:41.77  

 13 Ashley Higginson          07 Colts Neck HS,Marlb   10:43.00  

 14 Lindsay Anderson          08 Leeds HS,Leeds, ND    11:14.18  

 15 Kaylyn Christopher        07 Preston HS,Kingwood   11:29.36