Girls 1600m Sprint Medley
Blazin' Raiders (Eleanor Roosevelt MD) 3:52.38 US#2 all time
by SteveU
A medley of potential NON relay victories for the versatile, talented Blazin Raiders girls ( Eleanor Roosevelt School, MD) began Friday with a stunning effort in the 1600 sprint medley. National-record holding West Catholic (Philadelphia) PA was the 3-time defending champ and a strong contender, but ERS took a solid lead in the third leg and won by more than 3 seconds with a fantastic 3:52.38, missing the USR by a mere 0.16.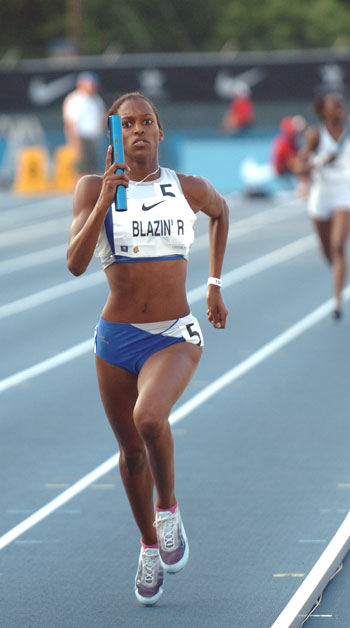 ERS has generally had a great year at the big meets, but a sanctioning issue prevented them from officially scoring at their state meet and Coach Larry Colbert eventually resigned. But the girls came to Greensboro ready to rock for one final time this season, simply focused on doing their best, whatever the result.
"Coach said it doesn't matter about place, he just wants quality out there," said Takecia Jameson, whose 53.9 400 really broke it open. "I'm extremely proud of all of our times out there."
Senior Antoinette Arrington started it off with a 25.2 200, followed by a flying 23.8 by Elan Hilaire over the same distance. Tameka Jameson finished it off in 2:09.4. (right, photo by John Dye)
"There have been so many great runners here," said Hilaire. "I just transferred here this year. I guess I was a missing piece of the puzzle."
Coach Desmond Dunham was very proud of his charges as well. "Antoinette had just finished her sixth attempt in the triple jump and 10 minutes later she's on the line to lead us off. She's a phenomenal all-around athlete.
"When I told Takecia she could run a 53, she looked at me like I was crazy," he added. "But she did it."
Boys and Girls NY was 2 nd in 3:56.08, and Northwestern ( Miami) FL 3:56.92.
by Elliott Denman
The Blazin' Raiders of Eleanor Roosevelt High,
Greenbelt, Md. knew they could sizzle. And so did the 32 other teams in the
five-section, 200-200-400-800 event, even West Catholic of Philadelphia,
riding a three-year NON winning streak, even with 2004-05 anchor and LSU-bound
Latavia Thomas back for West Catholic.
The Raiders did not disappoint.
Their 3:52.38 out of heat five will go into the books as the number two
time in USA history, topped only by West Catholic's 2004 3:52.22. West
Catholic's other winners were a 3:53.78 in 2005 and a 3:57.27 in 2003.
Thomas ran a solid 2:11.9 anchor and her team ran fourth in 3:58.32.
But the eye-opener was Tameka Jameson's 2:09.4 anchor for the Blazin'
Raiders.
Antoinette Arrington, the Raider quartet's only senior, who raced over
from the triple jump runway (she wound up seventh in the TJ), wasn't completely
content. All she'd say was "I ran OK."
"This was tough," said No. 2 Raider Elan Hilaire. "We had the national
record-holders in with us. But we had enough to win."
No. 3 Raider Takecia Jameson, twin of Tameka, had full confidence in her
sister's ability.
"I said to myself, if anyone else is going to catch Tameka, they're really
going to have to run. It would have been nice getting the National record,
but winning Nationals is pretty good, too.
Tameka more than lived up to expectations.
"Sure there was a lot of pressure on me, but I knew that if my teammates
had the lead after three legs, I could hold it," she said.
Boys and Girls High of Brooklyn came on strong to snare second in 3:56.08
with Northwestern of Miami, Florida (3:56.92) also getting in ahead of West
Catholic.
| | |
| --- | --- |
| photos by John Dye | |
Results
Licensed to C.F.P.I. Timing & Data                        Hy-Tek's Meet Manager

                Nike Outdoor Nationals - 6/15/2006 to 6/17/2006                

                 North Carolina A+T University, Greensboro, NC                 

                                    Results                                    

 

Girls 1600 Sprint Medley

================================================================

    National: $ 3:52.22  6/18/2004   West Catholic, Philadelphia, PA           

        Meet: # 3:52.22  6/18/2004   West Catholic, Philadelphia, PA           

    School                                               Finals 

================================================================

Section  1  

  1 Bayport Blue Point HS  'A'                          4:12.97  

     1) Melissa Eisenberg 06            2) Liz Crowley 07                 

     3) Jasmine Thompson 06             4) Deanna Schmitt 06              

  2 Bayside HS  'A'                                     4:13.08  

     1) Mary Kownack 07                 2) Champagne Bell 09              

     3) Tashara Van Alstyne 09          4) Adrianna Nottingham 08         

  3 Rebel TC  'A'                                       4:13.99  

     1) Kellee Hand 06                  2) Mellisa Goodwin 08             

     3) Jessica Johnson 06              4) Jamie Leacock 07               

  4 Harvard-Westlake  'A'                               4:14.85  

     1) Cara Bickers 07                 2) Atira Richards 09              

     3) Kerry Virgien 06                4) Laura Meadors 08               

  5 Herndon TC  'A'                                     4:16.89  

     1) Paige Bryan 07                  2) Lauren Pinkston 08             

     3) Emily Baumgartner 08            4) Sara Valcourt 08               

  6 W Windsor Plainsboro HS No  'A'                     4:17.67  

     1) Ashleigh MacIntosh 06           2) Trish Reilly 09                

     3) Holland Thomas 07               4) Chelsea Walters 09             

Section  2  

  1 Pine Bush HS  'A'                                   4:06.29  

     1) Jessica Hennig 09               2) Alexis Grable 09               

     3) Maurene Estriplet 08            4) Emily Moore 08                 

  2 Hillsborough  'A'                                   4:11.88  

     1) Lauren Watts 06                 2) Ebony Jones 07                 

     3) Stephanie Ogrodnik 08           4) Ebony Young 09                 

  3 Watchung Hills HS  'A'                              4:13.11  

     1) Emily Shulan 08                 2) Moncia Rodriguez 06            

     3) Sarah O'Meara 07                4) Adele Banks 06                 

  4 Spring Valley  'A'                                  4:14.13  

     1) Shalyn McMichael 07             2) Megan Fulks 07                 

     3) Ashley Drayton 06               4) Alexia Hall 06                 

  5 John F. Kennedy HS  'A'                             4:28.39  

     1) Michelle Heepe 07               2) Haleigh Lester 07              

     3) Gladys Hall 06                  4) Whitney Chalmers 07            

 -- Onalaska HS  'A'                                         DQ   OOZ x2

     1) Nicole Burr 06                  2) Stephanie LaLiberte 06         

     3) Rosie Rislow 06                 4) Jamie Hill 09                  

Section  3  

  1 Lenape TC  'A'                                      4:03.54  

     1) Dana Cataldo 08                 2) Kahmil Johnson 08              

     3) Kendra Johnson 08               4) Erika Griffith 08              

  2 Rancocas Valley  'A'                                4:10.14  

     1) Allison Hawkey 07               2) McCord Marcia 07               

     3) Brittney Gregory 06             4) Janaia Sledge-Maith 09         

  3 Runwest  'A'                                        4:11.97  

     1) Hadiza Sa-Aadu 08               2) Katie Johnson 07               

     3) Lisa Mellecker 07               4) Claire Hall 06                 

  4 Lewisburg Area  'A'                                 4:14.84  

     1) Cathy Meade 07                  2) Kalle James-Wintjen 06         

     3) Chloe Albright 08               4) Casey Miller 08                

  5 Spartanburg HS  'A'                                 4:15.00  

     1) Erica Peake 09                  2) Santresa Jamison 08            

     3) Denesha Edwards 06              4) Roceana Jackson 08             

  6 Concord Carlisle  'A'                               4:16.37  

     1) Caitlin Moss 07                 2) Laura Cote 09                  

     3) Kathie Nyholm 07                4) Stevie Pearl 06                

Section  4  

  1 Princeton HS  'A'                                   4:04.48  

     1) Olivia Johnston 08              2) Megan Wiseman 08               

     3) Elesha Casimir 06               4) Libby Bliss 07                 

  2 La Salle Academy  'A'                               4:07.96  

     1) Lily Kessinger 08               2) Kristen Capaldi 06             

     3) Lauren Cardarelli 08            4) Jeanne Mack 08                 

  3 The Potomac School  'A'                             4:09.07  

     1) Julie Vassar 07                 2) Natalie Heintz 08              

     3) Samantha Adelberg 07            4) Michaeline Nelson 07           

  4 Red Tide  'A'                                       4:11.31  

     1) Cara Dukes 06                   2) Katy Westenberg 07             

     3) Amber Pearsall 06               4) Carlie Green 07                

  5 Pope John Xxiii  'A'                                4:13.74  

     1) Caitlin Meehan 07               2) Tara Downing 07                

     3) Rachel Posthumus 06             4) Laura Loechner 08              

 -- Terre Haute South HS  'A'                               DNF  

     1) Christina Carrick 06            2) Adriane Wunderlich 06          

     3) Diana Price 06                  4) Justy Oldham 08                

 -- Ballou HS  'A'                                          DNF  

     1) Safiya Howard 08                2) Chantel Wimbush 08             

     3) Krystal Card 08                 4) Dominic Payne 06               

Section  5  

  1 Blazin' Raiders  'A'                                3:52.38  

     1) Antoinette Arrington 06         2) Elan Hilaire 08                

     3) Takecia Jameson 07              4) Tameka Jameson 07              

  2 Boys and Girls HS  'A'                              3:56.08  

     1) Adrenee Sterrett 06             2) Nadonnia Rodriques 08          

     3) Nicole Brown 07                 4) Meagan Gillespie 08            

  3 Northwestern Hs-Fl  'A'                             3:56.92  

     1) Lizzie Harris 07                2) Skyler Wallen 09               

     3) Brittany McCord 09              4) Naquia Williams 09             

  4 West Catholic HS  'A'                               3:58.32  

     1) Simone Carter 07                2) Christiana Taylor 06           

     3) Kneshia Sheard 06               4) Latavia Thomas 06              

  5 Willingboro HS  'A'                                 4:00.34  

     1) Brittnee Bynoe 07               2) Americori Odey 07              

     3) Stephanie McClean 07            4) Jasmine Rich 08                

  6 Hammer TC  'A'                                      4:04.76  

     1) Jessica Bergin 07               2) Brittany Knowles 07            

     3) Ashley Furlong 07               4) Jillian Smith 09               

  7 Bellport TC  'A'                                    4:11.21  

     1) Anna Francis 09                 2) Natalie Jasmin 06              

     3) Sherika Nicholas 07             4) Brittany Sheffey 07            

 -- Oak Ridge HS  'A'                                        DQ   1st runner on line

     1) Patrecia Daniley 07             2) Tatianna' Fisher 09            

     3) Odeika Bent 07                  4) Jamia Hutto 08