Girls 100m Hurdles - April Williams TX 13.52
Results - Marc Davis Video - SteveU's Story - Elliott Denmen's Story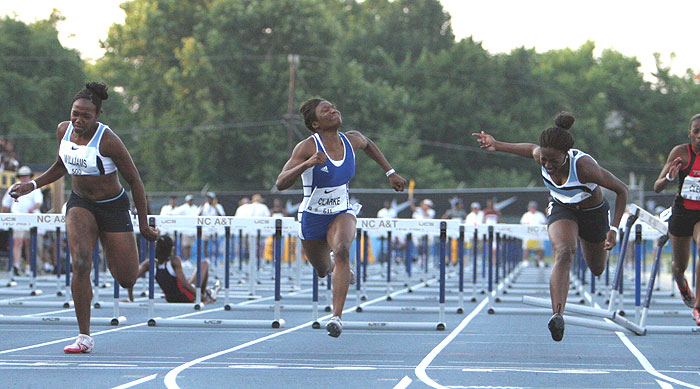 April Williams (left) wins, with Gabby Mayo fallen on the track to her left. -- Open Photo
April Williams Back in Top Form
By SteveU
Dallas Skyline TX jr April Williams has had a tough season in one of her specialties, the 100 hurdles. After a fine indoor season over the barriers, she had her ups and downs outdoors, with a lowlight being the Texas state meet, where in the 5A race, she did stumbled over a hurdle and finished last. Then at Great Southwest, she opted out after being name on the start lists.
On the biggest stage this weekend, however, she finally showed the country what she could do. Using her considerable power and running her best technical race of the year, she ran 13.52 – into a 1.0 headwind – to simply power past a super field that included Shalina Clarke IL (13.59), Jacquelyn Coward TN (13.62), Nia Ali NJ (13.65), and a number of other luminaries. The April Williams who had blitzed an 8.39 60H indoors was back.
Williams attributed her success to getting back to working with her Dallas Flyers hurdle coach, which is none other than her father, Roy. "Now that school is out, I've been working every day with my hurdles coach, which is my dad, and doing a lot of drills for both my lead leg and trail leg.
"At hurdle 6 or 7," she added, "I thought I had it."
The field also included Southeast Raleigh NC jr and 100 meter dash winner Gabby Mayo, who DNF after having problems at the 8th hurdle. Both she and Clarke tried the tough 100H/200 combo which virtually back-to-back.
Gabby Mayo's hopes of adding the 100 hurdles to the 100 flat title she claimed Friday night evaporated over the eighth hurdle. Tangled up, she failed to finish and saw seven others racing to the wire.
April Williams emerged as the gold medal pick a day earlier. The Syline High/Dallas Flyers Club junior star was at the top of her game with her decisive 13.70 prelim run.
Challenges out of the trials, though, loomed from Shalina Clarke of Evanston, Illinois (13.82), Jacquelyn Coward of Knoxville (13.82), 2006 Nike indoor
champion Nia Ali of Pleasantville, NJ (13.83), along with Mayo.
All that early form held up in the final as Williams raced home in 13.52 with Clarke (13.59), Coward (13.62) and Ali (13.65) in a tight blanket finish.
Nia Ali was first away, but hit a late hurdle and slipped to fourth. -- photo by John Dye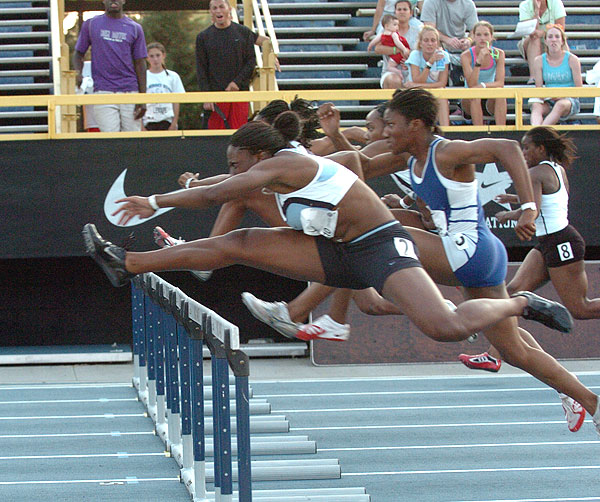 Licensed to C.F.P.I. Timing & Data                        Hy-Tek's Meet Manager

                Nike Outdoor Nationals - 6/15/2006 to 6/17/2006                

                 North Carolina A+T University, Greensboro, NC                 

                                    Results                                    

 

Girls 100 Meter Hurdles

================================================================

    National: $ 12.95  6/16/1979   Candy Young, Beaver Falls, PA               

        Meet: # 13.38  6/17/1995   Joanna Hayes, North, Riverside, CA          

    Freshman:   13.55  8/4/2004    April Williams, Skyline, Dallas, TX         

   Sophomore:   13.50  1976        Sonya Hardy, Boulder, CO                    

      Junior:   12.95  6/16/1979   Candy Young, Beaver Falls, PA               

      Senior:   13.20  6/3/2000    Nichole Denby, JW North, Riverside, CA      

    Name                    Year School                  Finals 

================================================================

Section  1 Finals   Wind: -1.0

  1 April Williams            07 Dallas Flyers,Dalla      13.52  

  2 Shalina Clarke            06 Evanston Townshi,Ro      13.59  

  3 Jacquelyn Coward          08 Track Knoxville,Kno      13.62  

  4 Nia Ali                   06 Mallery Challeng,Pl      13.65  

  5 Quaneshia Cleckley        06 Therrell,Atlanta, G      14.21  

  6 Theresa Lewis             06 Woodlawn Track P,Ra      14.23  

  7 Ryann Krais               08 Methacton TC,Eaglev      14.50  

 -- Gabby Mayo                07 Track Eastern Ca,Ra        DNF  
Preliminary Results
Licensed to C.F.P.I. Timing & Data                        Hy-Tek's Meet Manager

                Nike Outdoor Nationals - 6/15/2006 to 6/17/2006                

                 North Carolina A+T University, Greensboro, NC                 

                                    Results                                    

 

Girls 100 Meter Hurdles

================================================================

8 Advance:  Top 1 Each Heat plus Next 2 Best Times

    National: $ 12.95  6/16/1979   Candy Young, Beaver Falls, PA               

        Meet: # 13.38  6/17/1995   Joanna Hayes, North, Riverside, CA          

    Freshman:   13.55  8/4/2004    April Williams, Skyline, Dallas, TX         

   Sophomore:   13.50  1976        Sonya Hardy, Boulder, CO                    

      Junior:   12.95  6/16/1979   Candy Young, Beaver Falls, PA               

      Senior:   13.20  6/3/2000    Nichole Denby, JW North, Riverside, CA      

    Name                    Year School                 Prelims 

================================================================

Heat  1 Preliminaries   Wind: -1.1

  1 Gabby Mayo                07 Track Eastern Ca,Ra      13.78Q 

  2 Theresa Lewis             06 Woodlawn Track P,Ra      14.05q 

  3 Tierra Brown              07 Hampton HS,Hampton,      14.12  

  4 SaShauna Stewart          06 Weaver HS,Hartford,      14.45  

  5 Ashley Bethune            08 Harding Universi,Ch      15.20  

  6 Christie Leverette        08 Marietta,Dallas, GA      16.02  

  7 Iman Johnson              06 Columbia HS,Maplewo      16.34  

Heat  2 Preliminaries   Wind: -1.2

  1 Jacquelyn Coward          08 Track Knoxville,Kno      13.82Q 

  2 Hannah Cope               10 Maple Leaf TC,Mento      14.63  

  3 Charnee Lumbus            06 Collinwood HS,Cevel      14.93  

  4 Ayla Smith                06 John Handley Hs-,Wi      14.99  

Heat  3 Preliminaries   Wind: -0.9

  1 Ryann Krais               08 Methacton TC,Eaglev      14.19Q 

  2 Kristi Castlin            06 Straight Ahead A,Do      14.27  

  3 Teona Rodgers             07 Florida Elite TC,we      14.50  

  4 Kaylon Eppinger           07 Warrensville Hei,Wa      14.63  

  5 Deandra Doyley            06 Platinum TC,Fort La      14.85  

  6 Charisse Bryant           08 Green Run HS,Virgin      14.96  

Heat  4 Preliminaries   Wind: -1.4

  1 Nia Ali                   06 Mallery Challeng,Pl      13.83Q 

  2 Quaneshia Cleckley        06 Therrell,Atlanta, G      14.06q 

  3 Danielle Sampley          07 Knoxville TC,Knoxvi      14.07  

  4 Lindsay Rowe              07 Benjamin Cardozo,Ja      14.69  

  5 Caroline Vaughn           06 Unat-GA-Atlanta,Alp      14.71  

  6 Patience Coleman          07 Durham Striders,Dur      14.97  

  7 Brittany Knowles          07 Hammer TC,Cedar Run      15.91  

Heat  5 Preliminaries   Wind: -0.9

  1 April Williams            07 Dallas Flyers,Dalla      13.70Q 

  2 Bianca Blair              07 Knoxville TC,Knoxvi      14.07  

  3 Kali Watkins              07 Menchville HS,Newpo      14.57  

  4 Alexandra Coppadge        06 Wilmington Frien,Wi      14.61  

  5 Holland Thomas            07 W Windsor Plains,Pr      15.25  

  6 Janee' Sharper            06 Woodrow Wilson H,Ca      15.74  

Heat  6 Preliminaries   Wind: -0.7

  1 Shalina Clarke            06 Evanston Townshi,Ro      13.82Q 

  2 Jasmin Stowers            09 Quick Striders T,Li      14.16  

  3 Latoya James              07 Durham Striders,Bur      14.44  

  4 Jasmine Isley             08 Charlotte Latin,Cha      14.65  

  5 Racquel Vassell           07 East Orange Camp,Ir      15.17  

  6 Stephanie Reusch          07 Old Rochester Re,Ro      15.37