Boys Mile - Michael Coe 4:08.21 Reaches His Goal
Results - Stories - Marc Davis Video
B-Mile - Michael Coe CA lost the lead on the last lap and kicked back in the stretch to win over hard charging Ayalew Taye ME 4:08.21 to 4:08.50. The race started sluggishly with a 65-second quarter and then each lap was faster than the one before, with finishing in 58.5.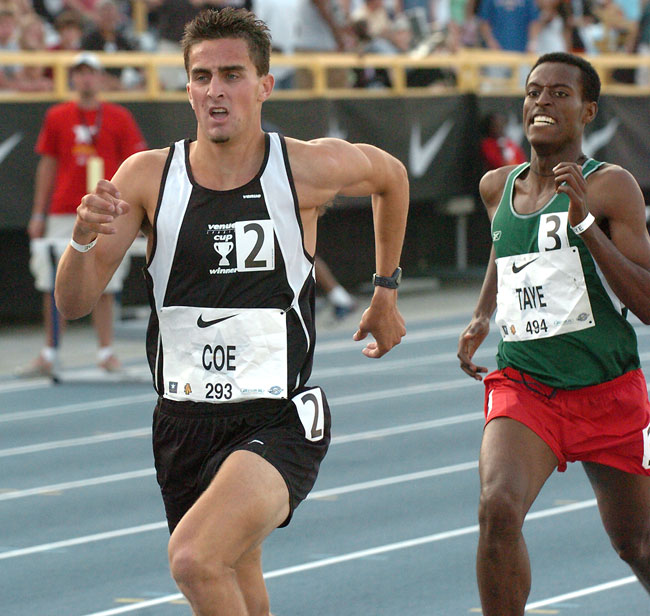 photo by John Dye
By John Sullivan
The field was quick off the line in the much-anticipated NON boys mile Saturday, with initial jostling for position. Greencastle IN jr Andy Weatherford moved to the front with leg turnover showing promise of a fast pace. However, things quickly slowed down on the backstretch.
Coldwater MI sr James Bilsborrow led at the first 440, passing in 65.5, with the pack bunched up and three abreast.
On lap 2, Big Bear CA jr Chad Hall, the younger brother – of course – of 2000 AOC champ Ryan Hall, took over front-running duties. Hall was 2:07.8 at the 880 as the pace dropped to 62.3.
It continued to heat up on lap 3, with Cabrillo CA sr Michael Coe, Colts Neck NJ jr Craig Forys and Central Catholic OR sr Kenny Klotz moving near the front. At the bell, in 3:09.4 (61.6), those three were lined up and starting to press.
On the backstretch, Klotz blasted by Forys and went after Coe. At the 200, Klotz had a slight lead, but Coe looked relaxed. Back in the pack, Cushing MA sr Ayalew Taye appeared to suddenly "wake up" and was flying, yet it seemed too late to challenge the leaders.
At 150 to go, Coe had eased up to Klotz' shoulder and now Taye was becoming a factor. Coming off the final turn, Coe was in command and Taye was moving around Klotz. It now appeared that Taye had a shot if Coe faltered.
But Coe was strong in the final stretch, powering home in 4:08.21 for the win with Taye chasing futilely in 4:08.50. Coe covered the last 880 yards in sub 2:00, and the last 440 in about 58.8 – a deserving champion indeed!
McEachern GA jr Ben Hubers closed well to nab 3rd in 4:09.76 with Klotz holding on for 4th in 4:11.02. Bilsborrow, the early leader, ended up 5th in 4:11.18.
After the race, Coe was satisfied. "I told myself beforehand that time means nothing. I just want to win. I didn't care if it was 4:30. My goal is to win."
And he was a bit relieved. "Indoors went so well (Boston 4:07.31 mile, NIN 8:56.87 2-mile wins) and I felt great. Then outdoors – not so good." He elaborated: "I had some problems (health issues early in the season, which he's now recovered from) and things got a bit rough. I just kept working and felt that things would come together. But then I hit the roughest spot – losing the state 1600 2 weeks ago to AJ.
"I really wanted to come in here and win a National championship. I've got a reputation as a kicker, but I typically lead and push the pace in most of my races. My plan here was to stay back, but always in striking distance. It worked and it feels awesome to get this National championship."
And now it's on to the University of California-Berkeley for Coe after this rewarding finale to an outstanding high school career.
Ayalew Taye commented, "I'm not happy that I was so far back early in the race. The pace was slow, but as I spent energy trying to pass in lane 2, and then getting caught inside a few times, it just didn't feel slow."
"My training has been tough this year," he added. "My brother (soph superstar Sintayehu) had a bad back this season, so he wasn't able to train with me. Then my coach, who would run parts of my speed work, also got hurt so my training hasn't gone too well."
Taye confirmed that this was his last high school race. "I'll be finishing up my senior coursework at Cushing next year, but won't be able to run high school races (ineligible due to age)."
by Pete Cava
Michael Coe, a California signee from Cabrillo High School in Lompoc and
the Nike Indoor two-mile champ, won the NON mile crown with a time of 4:08.21.
A bunched field took the first 400 meters in 65.4 and
surprising Jameson Bilsborrow (Coldwater, NY) was in the lead with Chad Hall
(Big Bear City, CA) and Ben Hubers (Powder Springs, GA) in the top three spots.
A 62-second second leg put Hall in front, with Coe moving up to fourth on the
backstretch as the pace quickened.
Coe surged at the bell to lead a seven-man pack. With about 200 meters to go,
Oregon-bound Kenny Klotz (Portland, OR) moved into the lead. But Coe kicked
heading into the straightaway, and no one could answer except junior Ayalew Taye
(Ashburnham, MA), this year's Nike Indoor mile champ. The pair left the field
behind, Ayalew taking second in 4:08.50. Coe's split for the last 400 was 58.3.
Third in 4:09.76 was Hubers.
"I like being No. 1," said Coe. "The time was a little slower than I would have
guessed going in, but I really don't care about the time today, just getting to
the No. 1 spot means everything to me.
Coe said the season hasn't gone smoothly for him. "I had some really good times
indoors during the year," he continued. "I felt like I was on top of the world,
and then I some rough times. But I just kept my confidence up. As a runner, you
have your good days and your bad days."
Coe, who was second at the California state meet this month, was bothered by
illness earlier this season. "But you take those lumps and move on," he said. "I
see high school as a stepping stone. I want to have a really good college career
and qualify for the Olympics. If you want to do that, you can't let every
pitfall stop you."
Saturday's closed out Coe's prep career. "In the last two weeks I didn't do that
much in the way of training. I just took it real easy, I didn't run very many
miles because this is it. I wanted to keep my legs fresh, and it worked. I think
they said I closed in 1:57. I've never done that before."

Licensed to C.F.P.I. Timing & Data                        Hy-Tek's Meet Manager

                Nike Outdoor Nationals - 6/15/2006 to 6/17/2006                

                 North Carolina A+T University, Greensboro, NC                 

                                    Results                                    

 

Boys 1 Mile Run

================================================================

 Section 1 at 4:15pm    Sections 2 and 3 at 6:45pm

    National: $ 3:53.43  5/27/2001   Alan Webb, South Lakes, Reston, VA        

    Freshman:   4:09.69  2005        Sintayehu Taye (m), Portland, ME          

        Meet: # 4:02.01  6/14/1997   Sharif Karie, West Springfield, VA        

    Freshman:   4:15.07  2005        Andrew Perkins, Watertown, WI             

   Sophomore:   4:06.07  6/14/2003   Jeff See, Middletown, OH                  

      Junior:   3:59.0h  1964        Jim Ryun, East, Wichita, KS               

      Senior:   3:53.43  5/27/2001   Alan Webb, South Lakes, Reston, VA        

    Name                    Year School                  Finals 

================================================================

Section  1  

  1 Samuel Borchers           07 Miami Valley TC,Yel    4:12.82  

  2 Greg Kiley                06 Racing City RC,Sara    4:17.45  

  3 Alex Crabill              06 Charles Wright A,La    4:18.03  

  4 Chris Williams            07 Collegiate,New York    4:20.42  

  5 Marshall Kambestad        06 Stevens HS,Rapid Ci    4:20.90  

  6 Andrew Revelle            07 Mach Los TC,Pasaden    4:22.81  

  7 Robbie Dugger             07 Glastonbury HS,Glas    4:24.72  

  8 Willie Ahearn             08 Danbury HS,Danbury,    4:26.98  

  9 Bobby Moldovan            07 Northrop HS,Fort Wa    4:26.99  

 10 Peter Manktelow           06 Hornell HS,Hornell,    4:28.06  

 11 Ryan Courtoy              06 Wharton HS,Thonotos    4:35.22  

 12 Josh Kearns               06 Ridgefield Hs-Bo,Ri    4:35.34  

Section  2  

  1 Evan Jager                07 Jacobs HS,Algonquin    4:13.29  

  2 Robert Finnerty           08 Burnsville HS,Barba    4:13.52  

  3 Matt Kaiser               06 Onteora Central,Woo    4:13.98  

  4 Paul Burke                07 Campbell County,Gil    4:14.54  

  5 J. Paul Springer          07 Unionville HS,Kenne    4:14.99  

  6 Charles White             08 Garden City TC,gard    4:15.23  

  7 Matthew Tebo              07 Eldorado HS,Albuque    4:17.95  

  8 Andy Wheating             06 Kimball Union Ac,No    4:20.55  

  9 Anthony LaMastro          06 Pope John Xxiii,Spa    4:21.34  

 10 Brian Sklodowski          07 Adrenaline TC,newar    4:23.87  

 11 Fawad Khan                07 Palos Verdes HS,Ran    4:30.75  

Section  3  

  1 Michael Coe               06 Cabrillo HS,Lompoc,    4:08.21  

  2 Ayalew Taye               07 Cushing Academy,Ash    4:08.50  

  3 Ben Hubers                07 Gower Power TC,Mari    4:09.76  

  4 Kenny Klotz               06 Stark Street AC,Por    4:11.02  

  5 Jameson Bilsborrow        06 Aquila Reds,Coldwat    4:11.18  

  6 Craig Forys               07 Colts Neck HS,Howel    4:11.30  

  7 Chad Hall                 07 Big Bear HS,Big Bea    4:13.18  

  8 Brian Rhodes-Devey        07 Dutchmen TC,Slinger    4:15.73  

  9 Steve Finley              06 Palatine HS,Palatin    4:19.63  

 10 Michael Chinchar          07 Kentwood TC,Kent, W    4:21.20  

 11 Andy Weatherford          07 Greencastle HS,Gree    4:31.69