Boys 800 - Karjuan Williams gets his title
Results - Marc Davis Video - John Sullivan's Story - Pete Cava's Story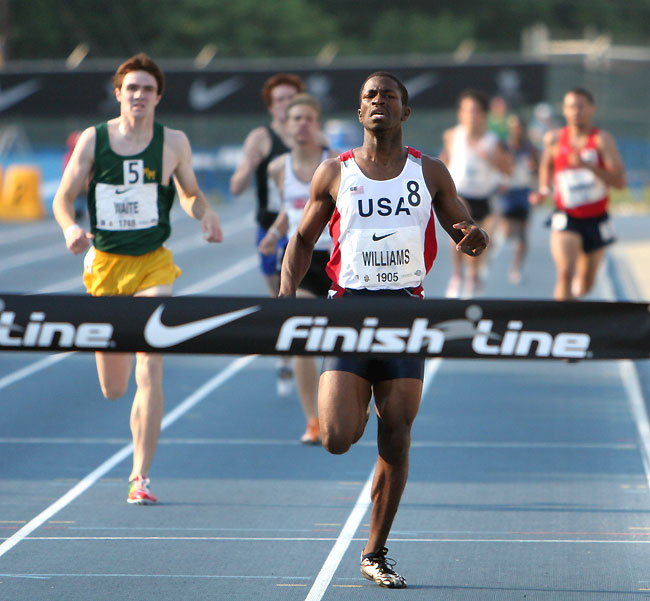 Open Photo
With 1:50.87 and 1:50.14 bests for St. Augustine LA the last 2 years, New Bern NC sr Karjuan Williams looked to be a sure thing to break 1:50 and lead the 800 list this year. After hurricane damage forced the move to North Carolina last fall, he had a strong early indoor campaign, including history's second-best clocking. But then an injury and missed training put things behind schedule, and his status as the event's leading man was somewhat in question as the season wound down.
However, a smooth-looking 46.6 400 leg on the 1600 SMR champion on Friday, plus two shorter legs on other relays, served notice that things were coming together. But the 800 would be a test of his strength.
Williams went out hard, his usual style, with US#1 Westlake CA jr Cory Primm on his shoulder. Splits of 25.5 and 52.3 spread the field. Willams appeared to push the 3rd 200, coming through 600 in 1:19.6. St. Helens OR sr Ryan Waite in 3rd was moving up and made a run at Williams down the homestretch. But Williams held form, his 1:49.97 clocking (his 1st-ever sub 1:50) confirming that he's back. Waite was next in 1:50.92.
"My 46.6 felt easy," said Karjuan. "Today, I wanted to make sure I didn't ease up on the 3rd 200, as that cost me last year (passed by NON champ Rob Novak.) I'm feeling rested and hope to do well at US Jr Nationals next week (he's the defending champ)."
Meanwhile, Godby FL soph Joseph Franklin had captured Section 4 (of 6) in 1:50.92, #8 all-time US soph. This turned out to be good for silver overall, edging Waite by .003, in an insanely deep event with three heats of runners seeded under 1:53. Franklin said, "I was dead after my race (PR was 1:52.74) and was lying down with a bad headache. My dad came up, gave me a hug, and said 'How does it feel to be an All-American?'"
Cory Primm and Ryan Waite came here with the nation's top two times
this season. Primm (Westlake Village, CA), a junior, had run 1:50.53 while the
Oregon-bound Waite (St. Helens, OR) had a 1:50.67 clocking.
Almost overlooked in lane one of the fast section was 2006 Nike Indoor champ
Karjuan Williams (New Bern, NC). Bothered all season by hamstring problems,
Williams had tried to come back too soon and failed to qualify for his state
meet.
Running on familiar turf, Williams proved he's back. The Texas Tech recruit took
an early lead and finished first in a sizzling 1:49.97 to take over as the
year's quickest prep.
Williams and Primm took the field through the first 200 meters in 25.5. At the
halfway mark it was Williams in 52.3, followed by Primm and Waite. With 200
meters to go, Williams and Primm began to leave the field behind, passing the
600 meter mark in 1:19.6.
When Williams kicked, nobody went with him. On the homestretch, Waite caught
Primm for second place, 1:50.92 to 1:52.30.
"It means a lot, to win this meet in particular," said Williams, the 2005
runnerup when he ran for St. Augustine's in New Orleans – before last autumn's
hurricanes drove him out of Louisiana and to the Tarheel State. "I wanted to
come back and claim what was rightfully mine. But there again, it's not yours
until you win it."
Williams admitted to being intimidated here a year ago. "I was mad with myself,
because some of those guys I had never heard of," he said. "It taught me not to
worry about the competition. You just have to run your own race."
The final standings showed Williams in first place, followed by Joseph Franklin
(Tallahassee, FL) in 1:50.92 (running in "slower" section 4), Waite in third place, Lamar Davis (New Bern, NC)
fourth in 1:51.17.Franklin was the winner in section four of six, while Davis
won the fifth section. Primm's time was good for tenth place.
the start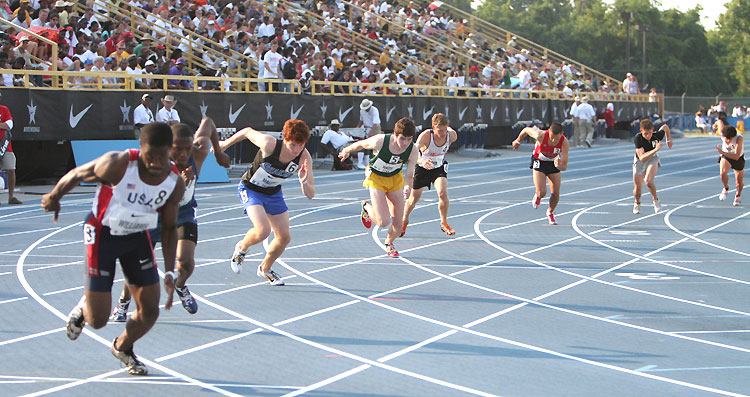 Open Photo
Licensed to C.F.P.I. Timing & Data                        Hy-Tek's Meet Manager

                Nike Outdoor Nationals - 6/15/2006 to 6/17/2006                

                 North Carolina A+T University, Greensboro, NC                 

                                    Results                                    

 

Boys 800 Meter Run

================================================================

 Sections 1-2-3 at 2:35pm    sections 4-5-6 at 6:05pm

    National: $ 1:46.45  5/31/1996   Mike Granville, Bell Gardens, CA          

        Meet: # 1:48.51  6/14/1997   Moses Washington, Carol City, Miami, FL   

    Freshman:   1:51.03  1993        Mike Granville, Bell Gardens, CA          

   Sophomore:   1:48.98  1994        Mike Granville, Bell Gardens, CA          

      Junior:   1:47.96  1995        Mike Granville, Bell Gardens, CA          

      Senior:   1:46.45  5/31/1996   Mike Granville, Bell Gardens, CA          

    Name                    Year School                  Finals 

================================================================

Section  1  

  1 Dan Holst                 07 Smithtown West H,Sm    1:53.74  

  2 Chris Behre               06 Mount Olive,Flander    1:54.04  

  3 Justin Schneider          07 Greater Atlanta,Atl    1:54.21  

  4 Josh Morgan               06 TC Roberson,Arden,     1:54.56  

  5 Jerod Franklin            07 Team Hypersonic,Upp    1:55.66  

  6 Stephen Arnold            06 Gower Power TC,Powd    1:56.25  

  7 Joseph Chapman            06 Bishop McNamara        1:58.18  

  8 Robert Mortel             06 Unat-NY-AP Rando,Br    1:58.54  

  9 Will Rover                06 Kings Local,Mainevi    1:59.35  

 10 Liddell Galtney           06 Cougar TC,Gary, IN     2:00.15  

 11 Richard Williams          06 Ridge View HS,Colum    2:00.67  

Section  2  

  1 Jack Sachse               06 Ottawa HS,Ottawa, K    1:53.73  

  2 Patrick McKinney          06 Mater Dei Hs-In,Eva    1:54.79  

  3 Gianni Catalano           07 Steele HS,Amherst,     1:54.96  

  4 Spencer Ferguson          08 Smiths Station T,Sm    1:54.99  

  5 Simon Nyang               06 Forest Hills Nor,Gr    1:55.14  

  6 Mike Brodsky              06 Unionville HS,West     1:55.78  

  7 Ben Leon                  06 Big Thompson TC,Lov    1:56.79  

  8 Jared Hall                08 Cleveland Height,Cl    1:56.92  

  9 Dorian Ellerbe            06 Columbia HS,Maplewo    2:01.18  

 10 Matt Frawley              07 Msr Farrell HS,Stat    2:01.26  

 11 Kelli Thibou              07 Blazin' Raiders,Gre    2:02.05  

Section  3  

  1 Mikail Ebanks             06 Rollin Thunder,Opal    1:53.19  

  2 Tom Friscia               06 Red Bank Reg HS,Uni    1:53.72  

  3 Eugene Ellis              07 Cougar TC,Gary, IN     1:53.75  

  4 Gigi Gibilisco            07 Notre Dame HS,Newto    1:54.95  

  5 Paul Vance                06 Berkley,Berkley, MI    1:55.40  

  6 Jamaal DeVore             06 John Adams HS,Jamai    1:55.75  

  7 Matt Conahan              07 Cornhusker Flyer,Om    1:57.46  

  8 Jason Grenell             06 Copley HS,Copley, O    1:57.67  

  9 Chris Wolfe               07 Baldwin HS,Pittsbur    1:58.34  

Section  4  

  1 Joseph Franklin           08 Godby HS,Tallahasse    1:50.92   1:50.917

  2 James Gilreath            07 Bartlett HS,Bartlet    1:51.69  

  3 Lionel Williams           07 St. Peter's HS,Stat    1:51.96  

  4 William Johnson           06 Lakota East HS,West    1:52.24  

  5 Christopher Bilbrew       07 Smiths Station T,Ph    1:52.81  

  6 Eric Strand               07 Campbell County,Gil    1:53.84  

  7 Drew Tucker               07 West Stokes,King, N    1:54.39  

  8 Michael Pachella          06 Wallkill Valley,Ogd    1:55.32  

Section  5  

  1 Lamar Davis               07 Track Eastern Ca,Kn    1:51.17  

  2 Andrew Rotz               07 Mid Penn TC,Harrisb    1:51.91  

  3 Adam Smith                06 Camp Hill HS,Camp H    1:52.19  

  4 Dylan Ferris              08 East Forsyth HS,Ker    1:52.45  

  5 Jared Weaver              06 Conestoga Valley,Le    1:52.67  

  6 Rocky Richardson          07 Piasa RC of Made,Ma    1:52.84  

  7 Richard Scheff            07 St. Pius X Catho,Du    1:58.71  

Section  6  

  1 Karjaun Williams          06 Track Eastern Ca,Ne    1:49.97  

  2 Ryan Waite                06 St. Helens HS,St. H    1:50.92   1:50.920

  3 Cory Primm                07 Westlake Hs-Ca,Thuo    1:52.30  

  4 John Maloy                06 Shaker T+F Club-,Lo    1:52.60  

  5 Aaron Kauffman            06 Red Land HS,Etters,    1:53.85  

  6 Ryan Gamboa               07 Upland HS,Upland, C    1:56.91  

  7 Jason Apwah               06 Roxbury Hs-Boys,Led    1:58.82  

  8 John Moore                06 Fonda-Fultonvill,Fu    1:59.93