Boys 4xMile
Fayetteville Manlius Sets Meet Record
By John Sullivan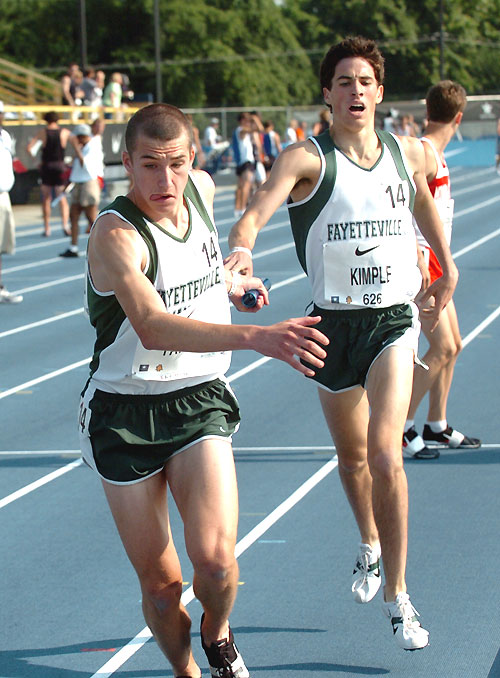 With a virtual who's-who of cross country powers, this race was a great way to kick off Saturday's events. Toeing the line were NTN squads from Fayetteville-Manlius NY, Royal CA and Kroy TC (York IL), among others.
Morris Hills NJ got a strong leadoff leg and handed off with 1-second margin over a group which included Fayetteville jr Geoff King in 4:22.3y. On leg 2, Fayetteville sr John Heron ran 4:19.7 to close on Morris Hills which continued to lead the charge.
Next for Fayetteville was sr Owen Kimple, the recent NY 1600 champ with a stellar 4:07.71. He took the lead early, but Morris Hills continued to hang tough. Kimple finally exerted his authority on lap 4 and closed well to record a 4:16.9 split.
Fayetteville anchor jr Tommy Gruenewald opened in 60.5 and it was now F-M against the clock. His loping-style served the squad well as his 4:19.3 leg finished off a 17:18.33 meet record, taking down the 17:20.92 by Novi MI in 2001. This also moves F-M to #8 all-time, the fastest clocking since 1986.
Afterwards, Gruenewald commented, "I hadn't been to the track until this morning. Geoff (King) and I had an English final yesterday and then hopped in the car for the 11-hour drive here." Teammate Kimple added, "Unfortunately I've been fighting a cold this week and I felt sluggish today. I'm going to rest up for the DMR (later tonight). I'm running the 1200 and we'll be running with the same four guys ."
Royal CA jr Michael Cybulski, doubling back from last night's late 2-mile effort, produced a strong anchor to claim silver in 17:27.72. He said, "I felt pretty good out there. I got too bed late, around 1:30am, and got only 5 hours sleep. I had a few knots in my quads this morning, but a stop at the massage tent worked that problem out."
Kimple hands off to Gruenewald. - photos by John Dye
The Fayetteville-Manlius - Morris Hills duel continued in the third leg with F-M's Owen Kimple a step ahead of MH's Jayson Decker.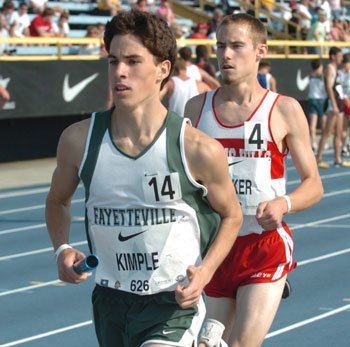 by Pete Cava
Fayetteville-Manlius (Manlius, NY) High School put together the
year's fastest time with a victory over Royal High (Simi Valley, CA). The
Californians had the season best, 17:19.31, coming into the Nike Outdoor
Nationals.
The Fayetteville-Manlius foursome of Geoff King, John Heron, Owen Kimple and
Tommy Gruenewald bettered the five-year-old meet record of 17:20.92 by Novi,
Mich.
"This is an awesome feeling," said Gruenewald. "You're talking about the best in
the country, and we came out on top."
The mile relay opened Saturday's competition at North Carolina A&T's Irwin Belk
Track, and Heron's leg proved decisive. Midway through the race, the senior was
running side-by-side with Jayson Decker of Morris Hills (Rockaway, NJ). But
Heron opened a lead on his final lap, and by the time Gruenewald got the stick
the outcome was academic..
"I thought we kept a good pace for most of the race," said Gruenewald. "We
talked about not getting out too early, but waiting to see how slow everyone was
going to start out. Once everyone started picking up the pace, we were ready."
Royal High passed Morris Hills to claim third with a time of 17:27.72. The New
Jersey squad settled for third in 17:30.18.
Licensed to C.F.P.I. Timing & Data                        Hy-Tek's Meet Manager

                Nike Outdoor Nationals - 6/15/2006 to 6/17/2006                

                 North Carolina A+T University, Greensboro, NC                 

                                    Results                                    

 

Boys 4x1 Mile Relay

================================================================

 Section 1 after Girls' Section 1; Section 2 after Girls' Sect 2

    National: $ 17:06.6h  5/7/1976    South Eugene, Eugene, OR                 

        Meet: # 17:20.92  6/16/2001   Novi, Novi, MI                           

    School                                               Finals 

================================================================

Section  1  

  1 Fayetteville-Manlius TC  'A'                       17:18.33# 

     1) John Heron 06                   2) Geoff King 07                  

     3) Tommy Gruenewald 07             4) Owen Kimple 06                 

  2 Royal HS  'A'                                      17:27.72  

     1) Jason Pedersen 06               2) Hudson Andrews 07              

     3) Michael Cybulski 07             4) Kevin Sullivan 06              

  3 Morris Hills  'A'                                  17:30.18  

     1) Jared Labar 06                  2) Ryan Uhrynowich 06             

     3) Jayson Decker 06                4) Kyle Soloff 07                 

  4 St. Charles North HS  'A'                          17:33.14  

     1) Chris Rosso 06                  2) Chris DeSilva 08               

     3) Andy Barbeau 06                 4) Michael McDonnell 06           

  5 Lakeville North HS  'A'                            17:38.26  

     1) Tyler King 08                   2) Ben Plankis 06                 

     3) Jeff Lombardo 06                4) Tim Bruhn 06                   

  6 BC TC  'A'                                         17:42.11  

     1) Seth Ball 06                    2) Chris Dietrick 06              

     3) Todd Leone 06                   4) Andrew Poore 07                

  7 Collegiate  'A'                                    17:49.96  

     1) Chris Williams 07               2) Dwayne Alexis 07               

     3) Itse Begho 07                   4) Peter Vizcarrondo 07           

  8 Kroy TC  'A'                                       17:57.70  

     1) Tom Achtien 08                  2) Dan Pizzi 06                   

     3) Kris Hinchley 07                4) Mike Fry 07                    

  9 Admiral TC  'A'                                    18:00.85  

     1) Brendan Ceriello 07             2) Daniel Cartica 06              

     3) Zach Elmanakhly 06              4) Cody McCoach 06                

 10 Jackalopes RC  'A'                                 18:07.30  

     1) Brian Hankins 08                2) Mike Katsefaras 08             

     3) Brenden Marcum 07               4) David Emery 07                 

 11 Weston HS  'A'                                     18:19.11  

     1) Ryan Lane 06                    2) Loeser John 06                 

     3) Adam Tobin 06                   4) Tim Anderson 07                

 12 Bishop Hendricken HS  'A'                          18:29.45  

     1) Andrew Palumbo 07               2) Stephen Wood 07                

     3) Derek Henderson 06              4) Thomas Webb 06                 

 13 East Brunswick HS  'A'                             18:34.41  

     1) Dan Gilbert 06                  2) Justin Granit 06               

     3) Eric Sorkin 07                  4) Yannick Wood 06                

 14 Portage HS  'A'                                    18:36.87  

     1) Brandon Campbell 06             2) Philipp Heckhausen 07          

     3) Jim Flannery 06                 4) Max Mulvihill 07               

 15 Pope John Xxiii  'A'                               18:52.01  

     1) Ryan Ehrhardt 09                2) Nick Beese 08                  

     3) Jeremy Scheid 07                4) Tim Burns 08                   

Section  2  

  1 Byram Hills HS  'A'                                18:00.65  

     1) Max Kasak 07                    2) Ryan Diorio 06                 

     3) Gerald McDonald 07              4) John Granata 07                

  2 Danbury HS  'A'                                    18:09.76  

     1) Matt Terry 08                   2) Willie Ahearn 08               

     3) Parker Boudreau 08              4) Joey Bubniak 09                

  3 Clarke Kents  'A'                                  18:16.25  

     1) Michael Leonard 06              2) Ben Veilleux 09                

     3) Daniel Callan 07                4) Simon Biddle-Snead 07          

  4 Peabody - Mvs  'A'                                 18:21.90  

     1) Louis Batista 06                2) Daniel Anastos 07              

     3) Nick Moskevich 06               4) Michal Malinowski 06           

  5 Washington Twp Hs-Nj  'A'                          18:26.10  

     1) Chris Choate 06                 2) Brett Salmon 06                

     3) Andrew Morris 06                4) Bill Matthias 06               

  6 Wisco TC  'A'                                      18:32.87  

     1) David Pede 06                   2) Jon Fink 06                    

     3) Ben Garbe 07                    4) Jordan Kook 06                 

  7 Kroy TC  'B'                                       18:33.52  

     1) Tim Jung 07                     2) Mark Sulkin 07                 

     3) Mike Rizzo 08                   4) Lionel Montenegro 06           

  8 Chelmsford HS  'A'                                 18:41.06  

     1) Josh Andrews 06                 2) Chris Brown 08                 

     3) Tim Eynatian 06                 4) Mike Sweeney 06                

  9 Germantown Friends  'A'                            18:41.84  

     1) Max Kaulbach 08                 2) Isaac Ortiz 08                 

     3) Jake McKenzie 08                4) Jonas Crimm 06                 

 10 Cardinal O'Hara HS  'A'                            18:43.23  

     1) Charlie McNulty 06              2) Andrew Buemi 07                

     3) Matt DiCarlo 06                 4) John Watts 07                  

 11 Pearl River HS  'A'                                18:46.99  

     1) Brad McNiff 06                  2) Bryan Herbst 07                

     3) James Alexander 07              4) Michael Hickey 09              

 12 Washington-Lee HS  'A'                             18:53.45  

     1) John McGrail 07                 2) Stephen Browning 07            

     3) Peter Gurney 07                 4) Chris Tyson 07                 

 13 John F. Kennedy HS  'A'                            19:10.40  

     1) Matt Berger 09                  2) Mike Berger 06                 

     3) Caleb Olsen 06                  4) Mitch Ostrow 06                

 14 Haddonfield HS  'A'                                19:11.47  

     1) Mike Burke 07                   2) Mike Hinrichsen 07             

     3) Matt Golia 07                   4) Dan Carreon 08                 

 15 Smithtown East  'A'                                19:34.59  

     1) Kevin Walsh 08                  2) Tim Borbet 07                  

     3) Brendan Ward 08                 4) Brian Hufsmith 08