Boys 4x800 - Warwick Marks a National Title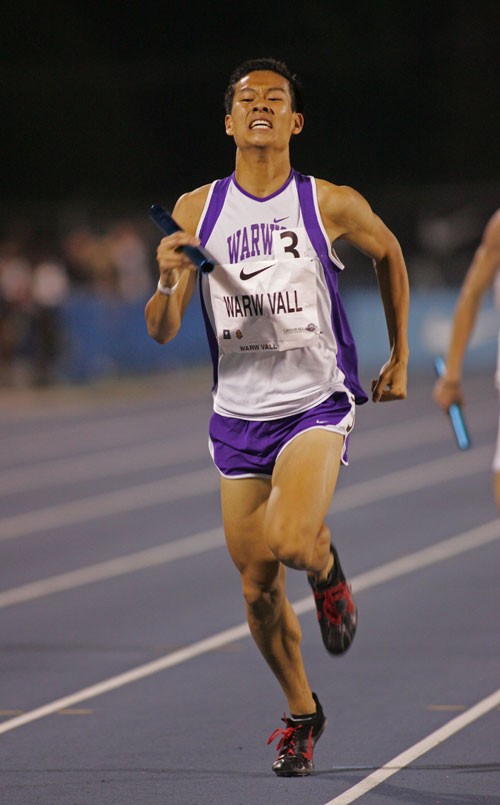 By John Sullivan
US leader Warwick Valley NY had posted its top 20 all-time 7:38.3 in the appropriately named "Fast Times Relays" on May 30. The same all-senior foursome went on to take state and was now lining up tonight. A deep field was set to challenge them, including Kroy (York) IL which was adding another Dettman to its previous 7:41.81 best lineup.
East St Louis IL led early with York (sr Eric Dettman) and Warwick Valley (Louis Tafuto) also among the leaders after the 1st leg. Warwick's Patrick Gallagher had a 1:52.5 carry to hold the lead at the 2nd exchange. York sr Matt Dettman produced a 1:54.1 on leg 3 to edge ahead of Warwick's Mike Segal. As York jr Nick Kuczwara began the final 800, Warwick's Mike Mark, a 1:50.07 800 performer, was lined up behind him.
A comfortable 58 first 400 saw no change, but Mark began his move on the final backstretch. Kuczwara hung tough, but with 200 to go Mark began to pull away. He closed with an impressive sub-55 for a 1:52.7 to bring Warwick Valley home in 7:36.96 – a new US#1 and #11 all-time. (right, Mike Mark, photo by Greg Armstrong)
Afterwards, Mark said, "I knew the first 400 felt slow. I looked back at the 400 and saw the pack was coming. I decided to go on the backstretch, but then saw in the Jumbotron on the last turn that York was still there. I then really went for it the last 100."
York finished in a still very good 7:38.35 for second.
by Pete Cava
4x800 meter relay: Warwick Valley (NY) improved on its national-leading time Friday night with a decisive victory. The Warwick Valley squad Patrick Gallagher, Louis Tafuto, Mike Segal and Mike Mark came to the Nike Outdoor meet with a season best of 7:38.3. The New Yorkers were up against a quality field that included the season's No. 3 and No. 4 teams, Bishop Chatard (Indianapolis, IN) and Kroy (York HS, Elmhurst, IL). Monsignor Farrell (Staten Island, NY) took an early lead and led through the first 800 meters. At the first exchange it was Farrell, Kroy and Warwick Valley. On the second leg, Warwick moved into second place. Kroy took over second place with Farrell dropping back. Byram Hills HS (Armonk, NY) moved up into third, followed by Bishop Chatard. Tafuto ran a 1:52.4 split on West Valley's second leg.At the second exchange it was Segal of Warwick Valley and Kroy's Matthew Dettman with a slight lead on the rest of the field, with Rob Gordon of Farrell in third. Warwick Valley led at the final exchange, thanks to Segal's 1:55.2 split, with Kroy second and Farrell in third place.With 400 meters to go, it came down to Warwick Valley and Kroy, followed by a pack of three. On the final turn, Nick Kuczwara of Kroy was in dogged pursuit of Warwick Valley's Mark. Mark began to pull away coming into the final turn. His 1:52.7 split gave Warwick Valley the win in 7:36.96.
Kroy also dipped under with 7:40 mark, finishing second in 7:38,35. Stark Street AC (Central Catholic HS, Portland, OR) moved up for third place in 7:40.68. Bishop Chatard was fifth in 7:40.74, followed by Farrell (7:43.06) and Byram Hills (7:44.19).
Licensed to C.F.P.I. Timing & Data                        Hy-Tek's Meet Manager

                Nike Outdoor Nationals - 6/15/2006 to 6/17/2006                

                 North Carolina A+T University, Greensboro, NC                 

                                    Results                                    

 

Boys 4x800 Meter Relay

================================================================

    National: $ 7:32.89  6/14/2002   Auburn, Auburn, WA                        

        Meet: # 7:32.89  6/14/2002   Auburn, Auburn, WA                        

    School                                               Finals 

================================================================

Section  1  

  1 Ridgefield Hs-Boys  'A'                             7:54.42  

     1) Kellen Quigley 06               2) Jon Giel 06                    

     3) Josh Kearns 06                  4) Thomas Brennan 06              

  2 Pope John Xxiii  'A'                                7:55.82  

     1) Tom Roy 07                      2) Clay Smith 07                  

     3) Tim Burns 08                    4) Anthony LaMastro 06            

  3 Bradford Area HS  'A'                               8:00.94  

     1) Shroy Mukerjee 07               2) Rich Bartlebaugh 07            

     3) Steve Kirkland 06               4) Colton Langianese 07           

  4 Staples HS  'A'                                     8:03.78  

     1) Henry Kaplan 06                 2) Jason Hanrahan 06              

     3) Brendon Cristobal 07            4) Remi Ray 06                    

  5 West Springfield HS  'A'                            8:04.04  

     1) Bobby Tillett 08                2) Leo Walker 07                  

     3) Alex Martis 07                  4) Mike Spooner 07                

  6 Bristol Central HS  'A'                             8:04.07  

     1) Brian Robbins 07                2) Christopher Janczyk 07         

     3) Thomas Robbins 07               4) Steven Lavoie 06               

  7 Peabody - Mvs  'A'                                  8:05.36  

     1) Louis Batista 06                2) Michal Malinowski 06           

     3) Brandon Thomaszvic 06           4) Angel Batista 06               

  8 Toms River East  'A'                                8:05.78  

     1) Adam Hirschberg 06              2) Tom Bocchino 07                

     3) Doug Weeks 07                   4) Brendan Schweer 07             

  9 Colonie HS  'A'                                     8:06.54  

     1) Kevin Treadway 06               2) Nicolas Santos 08              

     3) Christopher Johanning 06        4) Joseph Soblosky 06             

 10 Syosset TC  'A'                                     8:12.04  

     1) Tommy DeGregoris 06             2) Pat Malone 06                  

     3) Shuji Kawano 06                 4) Zach Polan 06                  

 11 Portage HS  'A'                                     8:35.37  

     1) Myles Tolliver 08               2) Jake Ahlborn 06                

     3) Max Mulvihill 07                4) Joe Efantis 08                 

Section  2  

  1 Morris Estate TC  'A'                               7:49.50  

     1) Alan Laws 07                    2) Alaric Best 06                 

     3) Alex Best 07                    4) Duke Mack 07                   

  2 Cardinal O'Hara HS  'A'                             7:52.52  

     1) Greg Thomas 06                  2) Matt Willard 06                

     3) Ed Buck 08                      4) Matt Pierson 06                

  3 Methuen-Whirlaway Racing  'A'                       7:53.24  

     1) Chris Forbes 06                 2) Erik Gonzalez 06               

     3) Duncan Mischo 06                4) Adam Hanley 07                 

  4 Ridge View HS  'A'                                  7:54.34  

     1) Richard Williams 06             2) David Mead 06                  

     3) Cornelius Harvin 06             4) Devin Blue 07                  

  5 Cleveland Heights HS  'A'                           7:56.36  

     1) Dontave Cowsette 08             2) Jairred Aloway 07              

     3) Jared Hall 08                   4) Ruben Hudson 06                

  6 Kellenberg Memorial HS  'A'                         7:58.30  

     1) Kasey Geller 07                 2) Conor Shelley 06               

     3) Brian Schmidt 07                4) Paul Szczepaniak 06            

  7 Shaker T+F Club-Boys  'A'                           7:58.40  

     1) Mike Kippins 06                 2) Matt Bogdan 07                 

     3) Steve Marthy 06                 4) Brian Benson 07                

  8 Big Thompson TC  'A'                                8:01.10  

     1) Damon Austin 07                 2) Collin Eckelman 06             

     3) David Bonomo 06                 4) Ben Leon 06                    

  9 Smiths Station TC  'A'                              8:07.38  

     1) Christopher Bilbrew 07          2) Timothy English 06             

     3) Spencer Ferguson 08             4) John Neill 07                  

 10 Kroy TC  'B'                                        8:10.69  

     1) Mark Talbot 08                  2) Rojin Thomas 08                

     3) Mike Rizzo 08                   4) Mark Sulkin 07                 

 11 Cougar TC  'A'                                      8:12.48  

     1) Eugene Ellis 07                 2) Liddell Galtney 06             

     3) Branden Wesby 08                4) Durell Hughes 08               

Section  3  

  1 Warwick Valley Tc-Boys  'A'                         7:36.96  

     1) Mike Segal 06                   2) Patrick Gallagher 06           

     3) Louis Tafuto 06                 4) Mike Mark 06                   

  2 Kroy TC  'A'                                        7:38.35  

     1) Matthew Dettman 06              2) Eric Dettman 06                

     3) Kris Hinchley 07                4) Nick Kuczwara 07               

  3 Stark Street AC  'A'                                7:40.68  

     1) Luke Wiltshire 07               2) David Beltramo 07              

     3) Kenny Klotz 06                  4) Taylor Morgan 08               

  4 BC TC  'A'                                          7:40.74  

     1) Andrew Poore 07                 2) Seth Ball 06                   

     3) Todd Leone 06                   4) Chris Dietrick 06              

  5 Monsignor Farrell HS  'A'                           7:43.06  

     1) Matt Frawley 07                 2) Vito Cannavo 06                

     3) Rob Gordon 06                   4) Jeff Carbonella 06             

  6 Byram Hills HS  'A'                                 7:44.19  

     1) Max Kasak 07                    2) John Granata 07                

     3) Nick Fasano 08                  4) Ryan Diorio 06                 

  7 Pinecrest HS  'A'                                   7:45.51  

     1) Andy Wacker 07                  2) Jed Black 06                   

     3) Jordan Rickard 06               4) Chase Williams 06              

  8 Quincy HS  'A'                                      7:53.06  

     1) Andrew Crane 06                 2) Isaiah Robbins 06              

     3) Marc Amarillas 08               4) Trevon Runnels 07              

  9 Libertyville HS  'A'                                7:54.02  

     1) Jack Howard 06                  2) Justin Hansen 06               

     3) Josh Schweigert 06              4) Tim Taylor 07                  

 10 St. Charles North HS  'A'                           7:55.06  

     1) Andy Barbeau 06                 2) Bryan Barker 07                

     3) Matt DeSilva 06                 4) Chris Rosso 06                 

 11 Run Colorado  'A'                                   7:57.11  

     1) Kenny D'Evelyn 06               2) Nate Sandberg 06               

     3) Kevin Williams 08               4) Derek Gilmore 06               

 12 East St. Louis HS  'A'                              7:57.43  

     1) Ritchie Cherry 06               2) Dontavius Robinson 07          

     3) Devin Williams 06               4) Mario McCottrell 08