Boys 4x400 - J.W. North CA 3:12.32 defends US#1 rank
Results - Marc Davis Video - John Sullivan's Story - Pete Cava's Story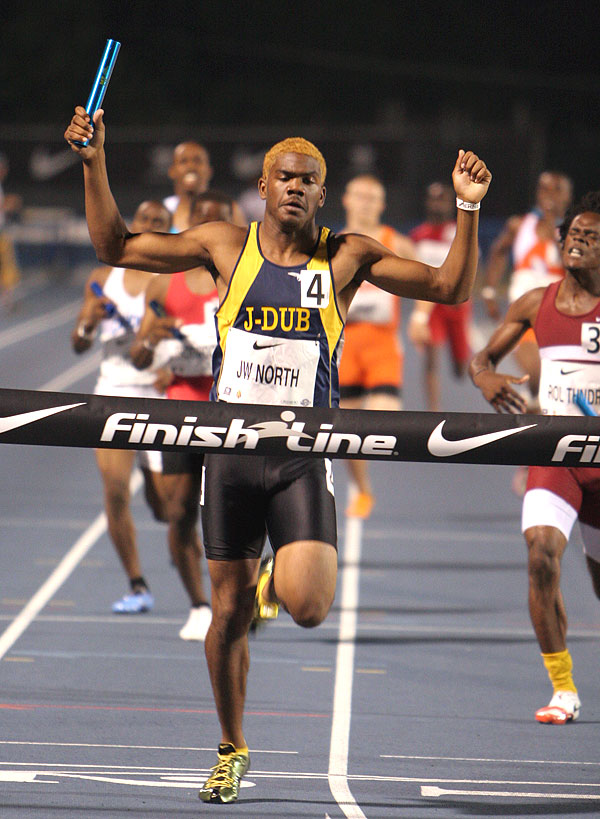 Open Photo
US#1 JW North lived up to its billing, running 3:12.32 for the victory. Hallandale FL (Rollin Thunder) nabbed silver in 3:13.10.
North anchor jr Nevin Gutierrez, the California state runner-up at 46.79, was pleased. "It feels good to win Nationals. I had to pass a few guys on my leg and I felt great."
JW North's splits:
49.2 Reggie Wyatt, fr
48.2 Ennis Jones, sr
48.7 Tim Sebastian, sr
46.3 Nevin Gutierrez, jr
J.W. North High School of Riverside, Calif., the national
leader at 3:10.36, staged a late rally to come from behind for a victory. The
Californians' winning time was 3:12.32, followed by Rollin' Thunder (Hallandale,
FL) in 3:13.10 and Trotwood (OH) Track Club in 3:13.74.
In the early going, North, Trotwood, West Des Moines (IA) Valley and Rollin'
Thunder all took turns in front. At the bell, it was Rollin' Thunder, the Iowans
and North in the top three spots. North's anchor, Junior Nevin Gutierrez, put
them in in second place on the final turn, then passed Rollin' Thunder on the
straightaway to cap off a strong comeback.
North's lineup was Reggie Wyatt, Ennis Jones, Tim Sebastian and Gutierrez.
"When you think about this being a national meet, it's big," said Wyatt. "All
kinds of athletes from all over the country are here, and you're considered the
best in the United States. You really don't realize how big it is until you put
in those words."
Sebastian agreed. "It means a lot because everyone across the nation sees it as
the best of the best," he said. "We didn't get out as quickly as we wanted to,
so we had to pick it up at the end. When we saw the second heat ran a 3:14, it
kind of worried us. We haven't consistently been under 3:14 all year."
Of his leadoff leg – a 49.1 split, Wyatt felt the key was his start. "I just had
to get out hard," he said, "but I didn't want to get out too hard and not have
any energy left. I wanted to catch up the stagger. Once I did that, I just
wanted to pace myself until it was time to explode."
Licensed to C.F.P.I. Timing & Data                        Hy-Tek's Meet Manager

                Nike Outdoor Nationals - 6/15/2006 to 6/17/2006                

                 North Carolina A+T University, Greensboro, NC                 

                                    Results                                    

 

Boys 4x400 Meter Relay

================================================================

    National: $ 3:07.40  4/6/1985    Hawthorne, Hawthorne, CA                  

        Meet: # 3:09.91  6/16/2001   Camden, Camden, NJ                        

    School                                               Finals 

================================================================

Section  1  

  1 Newburgh Elite TC  'A'                              3:17.21  

     1) Akinto Boone 08                 2) David McFadgen 06              

     3) Jarrell Warren 06               4) Maurice Little 06              

  2 West Ashley HS  'A'                                 3:22.02  

     1) Kennard Aiken 06                2) Robert Wright 08               

     3) Tywen Williams 06               4) Demetrius Snider 06            

  3 Southeast Raleigh HS  'A'                           3:23.48  

     1) Allen Freeman 07                2) Darius Law 07                  

     3) Kendrick Powe 08                4) Errin Smalls 07                

  4 Metuchen HS  'A'                                    3:23.61  

     1) Kyle Edmonds 06                 2) Dejuan Miller 08               

     3) Stephen Thomas 06               4) Mike Saunders 07               

  5 Staples HS  'A'                                     3:24.23  

     1) Dane Lonsdale 06                2) Brendon Cristobal 07           

     3) Will Caffery 06                 4) Remi Ray 06                    

  6 Bethel HS  'A'                                      3:24.34  

     1) Austin Cuffee 09                2) Russell Williams 07            

     3) Spenser Rogers 07               4) Sherrard Marrow 08             

Section  2  

  

6 Old Bridge HS  'A'                                  3:14.82   

     1) Racioppi, Paul 06               2) Lunkenheimer, Allan 07         

     3) Davila, Sean 07                 4) McCombs, Bryant 06     

          

  2 Ridge View HS  'A'                                  3:14.99  

     1) Michael Varner 06               2) Maurice Palmer 06              

     3) Richard Williams 06             4) Rodney Lipscomb 06             

  3 Western Branch HS  'A'                              3:19.75  

     1) Dionte Melton 07                2) Ernest Fair                    

     3) Daniel Nix 09                   4) Brandon Smith 07               

  4 Panther Cats  'A'                                   3:20.39  

     1) Terry Alston 09                 2) Zack Clarke 08                 

     3) Sherman Goree 07                4) Casey Pinckney 07              

  5 Potomac HS  'A'                                     3:21.49  

     1) Brice Mathews 08                2) Curtis Bryant 06               

     3) Ebenezer Amegashie 07           4) Chris Harrison 06              

  6 Otm Mustang  'A'                                    3:28.30  

     1) Mike Joly 06                    2) Craig Gaddy 06                 

     3) Eric Williams 06                4) Mike Joly 06                   

  7 Transit Tech  'B'                                   3:30.71  

     1) Anthony Andrews 06              2) Daniel Jawando 07              

     3) Jeston Job 08                   4) Dashaen Kirkland 07            

Section  3  

  1 Willingboro HS  'A'                                 3:15.79  

     1) Jason Boyd 08                   2) Antonio Abney 07               

     3) Daquan Brown 09                 4) Weslee Marsh 06                

  2 Transit Tech  'A'                                   3:15.98  

     1) Clemore Henry 06                2) Stephen McLean 06              

     3) Monaire Thompson 06             4) Matthew Armstrong 06           

  3 Marietta  'A'                                       3:16.82  

     1) Devin Floyd 08                  2) Trey Charles 08                

     3) Emil Potter 06                  4) Justin Roberts 07              

  4 Colonie HS  'A'                                     3:17.62  

     1) Colin Frederickson 06           2) James Kehrer 08                

     3) Brien Lenge 06                  4) Joseph Soblosky 06             

  5 Northwestern Hs-Fl  'A'                             3:19.31  

     1) Malcolm Anderson 07             2) Daquan Hargrett 09             

     3) Devin Hill 07                   4) Patrick Hill 06                

  6 Cougar TC  'A'                                      3:20.83  

     1) Eugene Ellis 07                 2) Terell Green 07                

     3) Branden Wesby 08                4) Durell Hughes 08               

  7 Warwick Valley Tc-Boys  'A'                         3:27.65  

     1) Jesse Fuca 07                   2) Andy Grosso 07                 

     3) Bryan Durland 06                4) Dan Gallagher 06               

Section  4  

  1 JW North  'A'                                       3:12.32  

     1) Reggie Wyatt 09                 2) Ennis Jones 06                 

     3) Tim Sebastian 06                4) Nevin Gutierrez 07             

  2 Rollin Thunder  'A'                                 3:13.10  

     1) Tabarie Henry 06                2) Mikail Ebanks 06               

     3) Troy Stone 07                   4) Remuro Henry 07                

  3 Trotwood TC  'A'                                    3:13.74  

     1) Steve Robinson 06               2) Darison Williams 06            

     3) Brandon Henderson 07            4) Donte Lyons 08                 

  4 Cahokia HS  'A'                                     3:14.12  

     1) Darien Donald 09                2) Martavis Hines 07              

     3) Therone Devine 07               4) Exzaybion Jackson 08           

  5 DeMatha Catholic  'A'                               3:14.52  

     1) Sean Suber 07                   2) Jeremy Samuels 06              

     3) Geoffrey Daley 06               4) Jaumale Sykes 06               

  6 Valley HS  'A'                                      3:15.91  

     1) Brian Collins 07                2) Zac Sandvig 06                 

     3) Ryan Keairnes 06                4) Brandon McSkimming 07          

  7 East St. Louis HS  'A'                              3:16.62  

     1) Mikal Rasheed 06                2) Artavius Kizer 07              

     3) Mario McCottrell 08             4) Dontavius Robinson 07          

  8 Bulldog Striders  'A'                               3:17.49  

     1) Derrick Davis 06                2) Trevor Mackins 06              

     3) Kevin Talley 06                 4) Khaliff Featherstone 08