Boys 4x200
Team Texas (Eisenhower Houston) 1:25.19
Results - Marc Davis Video - John Sullivan's Story - Pete Cava's Story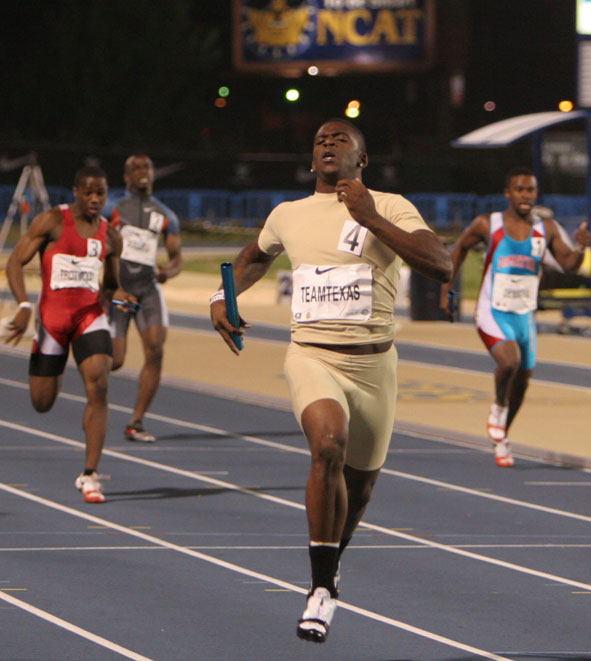 Friday's action concluded with the 4x2, which featured a distinguished field. As expected, Team Texas (also known as Eisenhower High School of Houston, Texas) won the event with a time of 1:25.19.
It was the second race of the day for the Texans, who qualified earlier for Saturday's 4x100 relay. Team Texas fielded a lineup of Randy Johnson, Otis Johnson, Frank Eugene and Brandon Myers. On the third leg, the Texans made up the stagger on lane eight.
Illinois state champ Cahokia was second in 1:26.35 with Trotwood (OH) TC third in 1:26.52. J.W. North (Riverside, CA) placed third in 1:26.94 as four teams dipped under 1:27.
Houston Eisenhower TX (Team Texas) was a heavy favorite after recording a US#4 all-time 1:24.10 at its state meet. The squad was bypassing individual honors to focus on this event and the 4x100.
Eisenhower steadily pulled ahead and broke the tape in a fine 1:25.19. Not their best, but good enough for the win, and understandable coming five weeks after peaking for the state meet. Cahokia IL took 2nd in 1:26.35 and Trotwood NJ 3rd in 1:26.52.
Anchor Brandon Myers shared, "This was my first time on a plane and it was great. We actually missed our flight, so we caught another one into Charlotte and drove to Greensboro."

Licensed to C.F.P.I. Timing & Data                        Hy-Tek's Meet Manager

                Nike Outdoor Nationals - 6/15/2006 to 6/17/2006                

                 North Carolina A+T University, Greensboro, NC                 

                                    Results                                    

 

Boys 4x200 Meter Relay

================================================================

 Run in lanes for the entire distance

    National: $ 1:23.31  5/30/1998   O.D. Wyatt, Ft. Worth, TX                 

        Meet: # 1:23.67  6/20/1998   O.D. Wyatt, Fort Worth, TX                

    School                                               Finals 

================================================================

Section  1  

  1 Manchester-VA  'A'                                  1:28.35  

     1) Arsenio Biechett 06             2) Anthony Chesson 07             

     3) Reggie Hill 07                  4) Wayne Thomas 06                

  2 Colonie HS  'A'                                     1:29.13  

     1) Colin Frederickson 06           2) James Kehrer 08                

     3) Tyler Johnson 07                4) Brien Lenge 06                 

  4 Pyro  'A'                                           1:30.30  

     1) Deangelo Yurcek 07              2) Chris Wright 07                

     3) Douglas Hamilton 09             4) Brendon Foster 07              

  5 Albion HS  'A'                                      1:30.59  

  6 DeWitt Clinton HS  'A'                              1:31.77  

     1) Brian McManious 06              2) Cevon Carver 06                

     3) George Nwankwo 06               4) Brandon Ferary 07              

  7 Neumann/Goretti HS  'A'                             1:32.52  

     1) Dane Davis 06                   2) Kyle Tucker 07                 

     3) Mark McPherson 07               4) Dion Smack 08                  

Section  2  

  1 The Four Brothers  'A'                              1:29.32  

     1) Jamal Green 06                  2) Jarae Allen 06                 

     3) Marcel Keene 06                 4) David Mathews 06               

  2 Forest Hills Northern Hs-Boys  'A'                  1:29.35  

     1) Cameron White 06                2) Andrew Post 06                 

     3) Keary VerMerris 06              4) Joshua Hembrough 07            

  3 Marietta  'A'                                       1:29.74  

     1) Emil Potter 06                  2) Marcus Potter 06               

     3) Justin Roberts 07               4) Devin Floyd 08                 

  4 Newburgh Elite TC  'A'                              1:29.83  

     1) Terrius McMilan 06              2) Jarrell Warren 06              

     3) Maurice Little 06               4) David McFadgen 06              

  5 St. John's College HS  'A'                          1:30.28  

     1) Delonte Armstrong 07            2) James Roberts 06               

     3) Adrian Williams 06              4) Ola Williams 06                

  6 John Handley Hs-Boys  'A'                           1:30.93  

     1) Charles Washington 06           2) Donn Booker 06                 

     3) Jeremy Lewis 06                 4) Wally Williams 06              

 -- Glen Burnie HS  'A'                                      DQ   OOZ x3

     1) Korey Nicholson 06              2) Will James 06                  

     3) Dwayne Gordon 07                4) Justin Murdock 08              

Section  3  

  1 Track Eastern Carolina  'A'                         1:27.43  

     1) Kelvin Hardesty 07              2) Edward Armstrong 06            

     3) Karjaun Williams 06             4) Darryl Reynolds 06             

  2 Valley HS  'A'                                      1:27.54  

     1) Brandon McSkimming 07           2) Zac Sandvig 06                 

     3) Ryan Keairnes 06                4) Brian Collins 07               

  3 Transit Tech  'A'                                   1:28.29  

     1) Stephen McLean 06               2) Monaire Thompson 06            

     3) Matthew Armstrong 06            4) Clemore Henry 06               

  4 Chatham County Runners  'A'                         1:29.02  

     1) Cory Wilkerson 09               2) Maurice Eubanks 07             

     3) Brandon Eaddy 07                4) Derrick Brown 07               

  5 Northwestern Hs-Fl  'A'                             1:29.11  

     1) Malcolm Anderson 07             2) Daquan Hargrett 09             

     3) Devin Hill 07                   4) Patrick Hill 06                

  6 Southeast Raleigh HS  'A'                           1:29.23  

     1) Allen Freeman 07                2) Phillip Hardy 08               

     3) Darius Law 07                   4) Kendrick Powe 08               

Section  4  

  1 Team Texas  'A'                                     1:25.19  

     1) Randy Johnson 06                2) Otis Johnson 06                

     3) Frank Eugene 06                 4) Brandon Myers 07               

  2 Cahokia HS  'A'                                     1:26.35  

     1) Clyde Young 07                  2) Earnest Winters 08             

     3) Jerdo Williams 06               4) Greg Williams 06               

  3 Trotwood TC  'A'                                    1:26.52  

     1) Steve Robinson 06               2) Darison Williams 06            

     3) Brandon Henderson 07            4) David Pierce 07                

  4 JW North  'A'                                       1:26.94  

     1) Reggie Wyatt 09                 2) Nevin Gutierrez 07             

     3) Thomas Henry 06                 4) Ennis Jones 06                 

  5 DeMatha Catholic  'A'                               1:27.12  

     1) Geoffrey Daley 06               2) Michael Cooper, Jr. 06         

     3) Jeremy Samuels 06               4) Jaumale Sykes 06               

  6 Parkland HS  'A'                                    1:27.13  

     1) Bryce Sherman 08                2) Brandon Sherman 06             

     3) shaton pratt 06                 4) Dewayne Chandler 06            

  7 Middletown HS  'A'                                  1:27.53  

     1) Skylar Jones 07                 2) Darrin Conley 06               

     3) Scott Johnson 07                4) Aaron Johnson 07               

 -- Bulldog Striders  'A'                                    DQ   OOZ x3

     1) Markise King 06                 2) Kevin Talley 06                

     3) Khaliff Featherstone 08         4) Kenneth Talley 06