Boys 2-Mile
Results - Story - Marc Davis Video
A.J. Acosta CA 8:46.32 led 9 runners under 9:00, with Matt Tebo NM 8:47.29 duplicating his runner-up position behind Acosta at Arcadia.
AJ Rules Fast, Deep Field
By John Sullivan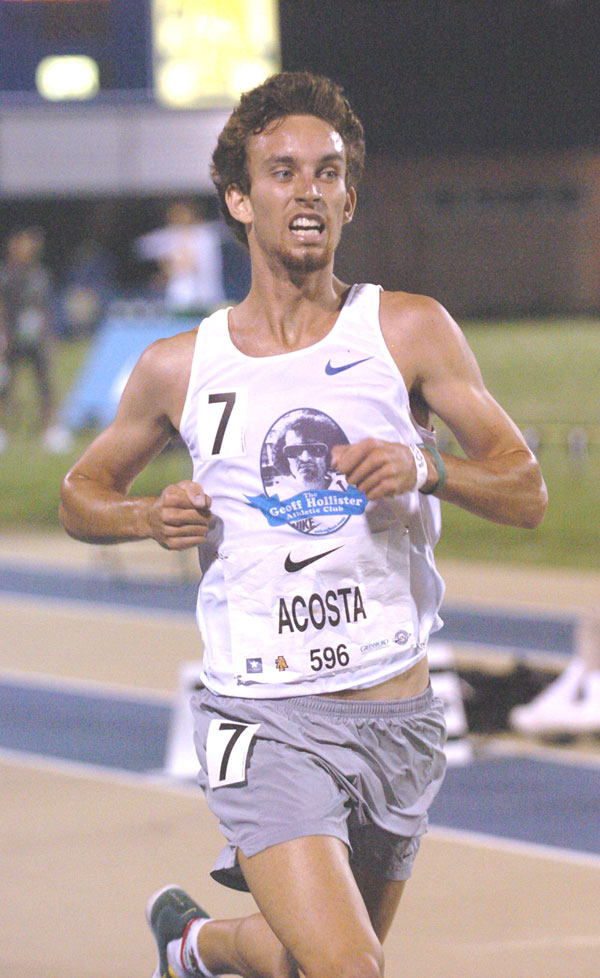 photo by John Dye
Another deep field, this one did not disappoint. The result - 9 under 9:00.
El Camino CA sr A.J. Acosta took the early lead and began to bang out 65-66 splits. Eldorado NM jr Matt Tebo briefly moved to the front on lap 3, but Acosta then regained the pacesetting duties. A 4:24.4 mile split with nearly everyone in contention was a great indicator that this race was special. Behind Acosta, Jacobs IL jr Evan Jager, Tebo, and Lourdes MN sr Mike Torchia were among the leaders. Acosta began to pull away on the 7th lap and no one could match his 2:07.5 last 880 yards.
Acosta finished in 8:46.32 – moving to #14 all-time just behind Chris Solinsky. Tebo ran a strong final 200 to nab silver in 8:47.29 - #17 all-time and #5 all-time Junior class. Jager hung on for the bronze in 8:50.42 - #30 all-time and #8 all-time Junior class.
Five more quickly followed under 9:00, making this one of the deepest prep races ever.
Acosta expressed his satisfaction after the race. "Mentally and physically, I felt great. The weather was perfect." He added, "It's cool to be here with Foot Locker friends, having a good time. And it's a great way to end my high school running career."
by Pete Cava
Nine contestants ran under nine minutes and A.J. Acosta and Matt Tebo duplicated their one-two finish at the Arcadia Invitational in a tight race. Acosta (Oceanside, CA), the favorite, took an early lead and set a slow pace, passing through the first 400 in about 1:06.9. After a 2:10.5 half-mile, Tebo (Albuquerque, NM) took the lead and quickened the pace a bit, with Acosta right on his shoulder and junior Mike Cybulski (Simi Valley, CA) in third place.Acosta retook the lead with less than five laps remaining. Cybulski was second with Matt Centrowitz (Arnold, MD) moving into third. With four laps left it was Acosta, Cybulski, Centrowitz, Evan Jager (Algonquin, IL), Tebo and Mark Mirault (Westwood, MA) at the front of a lead pack of 12.Cybulski was back in third with three laps to go. With two laps left, Acosta and Cybulski began to put some daylight between themselves and the rest of the field. Acosta began to pull away on the bell lap and kicked on the backstretch. By the final turn there was no doubt about the outcome. Acosta finished in 8:46.32, followed by Tebo in 8:47.29 with Jager third in 8:50.42. First through sixth place in Friday's race take over the top six spots on the current prep 2-mile list.
"I talked to a couple of guys before the race about sharing the lead," Acosta explained. "But what ended up happening is, I felt good and no one wanted to take charge. So I just took over. I just ran even splits all the way through and was able to pretty much run the way I wanted to. Acosta said he's not done yet. "I still have a couple of more races, so I'm looking forward to running some fast times, hanging out with my friends and getting better before I go to college."\
Acosta, who heads to Indianapolis next week for the U.S. Junior Championships, will enter the University of Oregon this fall..
Licensed to C.F.P.I. Timing & Data                        Hy-Tek's Meet Manager

                Nike Outdoor Nationals - 6/15/2006 to 6/17/2006                

                 North Carolina A+T University, Greensboro, NC                 

                                    Results                                    

 

Boys 2 Mile Run

================================================================

 Section 1 at 7:55pm   Section 2 at 9:45pm

    National: $ 8:36.3h  5/6/1979    Jeff Nelson, Burbank, CA                  

    Freshman:   9:01.68  2005        Sintayehu Taye (m), Portland, ME          

        Meet: # 8:44.43  6/15/2001   Dathan Ritzenhein, Rockford, MI           

    Freshman:   9:04.4h  1973        Eric Hulst, Laguna Beach, CA              

   Sophomore:   8:50.6h  1974        Eric Hulst, Laguna Beach, CA              

      Junior:   8:41.10  2000        Dathan Ritzenhein (m), Rockford, MI       

      Senior:   8:36.3h  5/6/1979    Jeff Nelson, Burbank, CA                  

    Name                    Year School                  Finals 

================================================================

Section  1  

  1 Robert Finnerty           08 Burnsville HS,Barba    9:07.99  

  2 Dan Jackson               07 Dexter HS,Ann Arbor    9:10.72  

  3 David Pede                06 Wisco TC,Greenfield    9:13.08  

  4 Bobby Moldovan            07 Northrop HS,Fort Wa    9:21.74  

  5 Patterson Wilhelm         06 EC Glass HS,Lynchbu    9:23.93  

  6 Caleb Vogt                06 Winter Park HS,Wint    9:28.89  

  7 Iain Turnbull             06 Marist,Peachtree Ci    9:38.31  

  8 Dwight Parker             07 World Express -,Bal    9:46.96  

  9 Simon Gordonov            06 Hightstown Hs-Bo,Ea    9:52.25  

 10 Brandon Burns             07 North Kingstown,Nor   10:22.44  

Section  2  

  1 AJ Acosta                 06 El Camino,Oceanside    8:46.32  

  2 Matthew Tebo              07 Eldorado HS,Albuque    8:47.29  

  3 Evan Jager                07 Jacobs HS,Algonquin    8:50.42  

  4 Mike Torchia              06 Lourdes HS,Rocheste    8:50.80  

  5 Chad Balyo                06 Springboro,Springbo    8:52.76  

  6 Michael Cybulski          07 Royal HS,Simi Valle    8:53.85  

  7 Daniel Roberts            06 Crested Butte Ac,Cr    8:58.10  

  8 Sandy Roberts             06 Broughton HS,Raleig    8:58.77  

  9 Mark Amirault             07 Xaverian Brother,Wa    8:59.82  

 10 Noah Shannon              06 Ft. Collins HS,Ft.     9:05.04  

 11 Jeremy Stevens            06 Winnebago TC,Winneb    9:06.32  

 12 Jeffrey Perrella          06 Westfield Hs-Nj,Wes    9:09.98  

 13 Matthew Centrowitz        07 Broadneck HS,Arnold    9:16.18  

 14 Jacob Boone               06 Lee's Summit Nor,Le    9:16.49  

 15 Thomas Webb               06 Bishop Hendricke,Ba    9:43.39