Boys 200 -
Charles Cox VA 20.92 wins wire to wire for two golds
Results - Marc Davis Video - John Sullivan's Story - Pete Cava's Story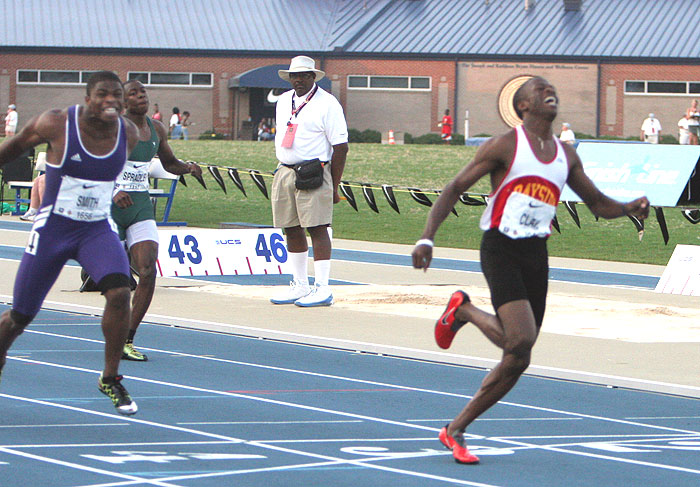 Open Photo
Bayside (Virginia Beach) VA sr Charles Clark garnered 100 bronze on Friday night. Earlier on Saturday he'd anchored the 800 SMR victors to the #3 all-time clocking.
Against a solid field n the 200, which included Great Southwest champ Trey Harts (Barbe HS, Lake Charles LA), he got out well and finished strongly. He let out a triumphant shout of joy after breaking the tape in 20.92 (-0.3w).
After the SMR, he'd said, "I may or may not run the 200 tonight." The decision to compete was a good one. "I wasn't necessarily expecting to win, but I always say, 'expect the unexpected."
Riding a terrific start, Charles Clark (Virginia Beach, VA), last
year's fourth-place finisher, ran to victory this time around in 20.92.
Clark led wire to wire, throwing his hands skyward in exaltation at the finish.
His winning time was just a click off his personal record, 20.91.
Clark was third in Friday's 100 meter final.
Jeffrey Smith (Kingston, MA) staged a late burst of speed to claim second in
21.15 with Trey Harts (Lake Charles, LA) third in 21.22. Harts was fifth in the
100 on Friday.
The wind reading for the race was a headwind of -0.3
"I knew I was coming in here and do well, but I had no idea I'd do this well,"
said Clark. "This has been an unbelievable weekend. I can't even put it into
words. To come in here and walk away with two national championships [Clark
anchored his team's victorious 800 meter sprint medley relay earlier in the day]
is something I wouldn't believe, if you had told me it would happen two weeks
ago. "I finished in the third in the 100, so that makes it even more
remarkable."
Mid-stretch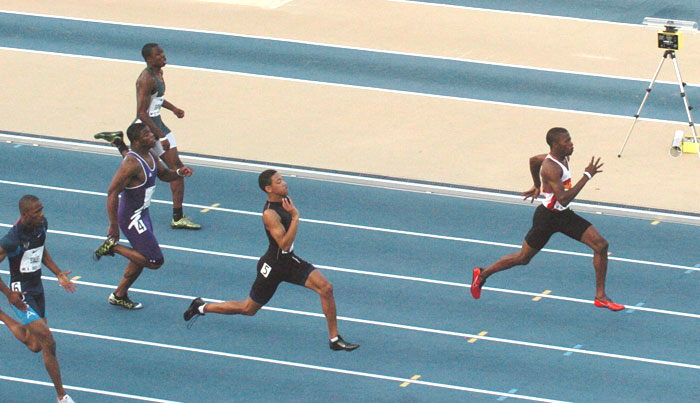 photo by John Dye
Licensed to C.F.P.I. Timing & Data                        Hy-Tek's Meet Manager

                Nike Outdoor Nationals - 6/15/2006 to 6/17/2006                

                 North Carolina A+T University, Greensboro, NC                 

                                    Results                                    

 

Boys 200 Meter Dash

================================================================

    National: $ 20.13  5/11/1985   Roy Martin, Roosevelt, Dallas, TX           

        Meet: # 20.76  6/18/2005   J-Mee Samuels, Mt Tabor,Wins-Salem,NC       

    Freshman:   20.99  8/9/2002    J-Mee Samuels, MtTabor, Wins-Salem,NC       

   Sophomore:   20.78  2000        Brendan Christian, Reagan, Austin, TX       

      Junior:   20.28  1984        Roy Martin, Roosevelt, Dallas, TX           

      Senior:   20.13  5/11/1985   Roy Martin, Roosevelt,Dallas, TX            

    Name                    Year School                  Finals 

================================================================

Section  1 Finals   Wind: -0.3

  1 Charles Clark             06 Bayside TC,Virginia      20.92  

  2 Jeffrey Smith             06 Silver Lake Reg,Ply      21.15  

  3 Trey Harts                06 Barbe HS,Lake Charl      21.22  

  4 Antonio Sales             07 East Chapel Hill,Ch      21.42  

  5 Terrill McCombs           06 Blazin' Raiders,Upp      21.44  

  6 Antione McNeil            06 Track Eastern Ca,Mo      21.49  

  7 Brandon Spradley          06 Port City,Saraland,      21.77  

  8 Ceedy Walker                 Yth - Pee Dee El       1:09.99  
Preliminary Results
by Pete Cava
Brandon Banks, Friday's 100m champion, and Ohio state 200m winner Darrin Conley were
among the casualties in Saturday's qualifying round.
1st heat (-0.8): Trey Harts (Lake Charles, LA) got out very quickly in lane four
to win in 21.31.
2nd heat (-2.1): Banks (New Bern, NC) got a quick start. But Charles Clark
(Virginia Beach, VA) came down the stretch in a hurry, passing Banks for first
in 21.34. Banks was a non-qualifying second in 21.50.
3rd heat (-0.6): Brandon Spradley (Saraland, AL), running in lane three, was a
surprise winner in 21.64. Conley, expected to make Saturday's final, wound up
fifth in 21.91 and failed to advance.
4th heat (-0.5): Antonio Sales (East Chapel Hill, NC) passed muscular Brandon
Saine (Piqua, OH) in the waning meters to win in 21.48. Saine settled for second
in 21.49.
5th heat (-0.8): Jeffrey Smith came up fast at the finish to win in 21.24.
Terrill McCombs (Greenbelt, MD), who led most of the way, was second in 21.32
with Antoine McNeil (New Bern, NC) third in 21.42.
Qualifiers for the final are Smith, Harts, Clark, Sales, Spradley, McCombs,
McNeil and Saine. Clark took fourth in this event in 2005.
Licensed to C.F.P.I. Timing & Data                        Hy-Tek's Meet Manager

                Nike Outdoor Nationals - 6/15/2006 to 6/17/2006                

                 North Carolina A+T University, Greensboro, NC                 

                                    Results                                    

 

Boys 200 Meter Dash

================================================================

8 Advance:  Top 1 Each Heat plus Next 3 Best Times

    National: $ 20.13  5/11/1985   Roy Martin, Roosevelt, Dallas, TX           

        Meet: # 20.76  6/18/2005   J-Mee Samuels, Mt Tabor,Wins-Salem,NC       

    Freshman:   20.99  8/9/2002    J-Mee Samuels, MtTabor, Wins-Salem,NC       

   Sophomore:   20.78  2000        Brendan Christian, Reagan, Austin, TX       

      Junior:   20.28  1984        Roy Martin, Roosevelt, Dallas, TX           

      Senior:   20.13  5/11/1985   Roy Martin, Roosevelt,Dallas, TX            

    Name                    Year School                 Prelims 

================================================================

Heat  1 Preliminaries   Wind: -0.8

  1 Trey Harts                06 Barbe HS,Lake Charl      21.31Q 

  2 Oliver Alexander          06 Bayside TC,Va Beach      21.51  

  3 Bryant McCombs            06 Old Bridge HS,Mataw      21.72  

  4 Edward Alexander          06 West Charlotte H,Ch      21.83  

  5 Charles Washington        06 John Handley Hs-,Wi      22.18  

  6 Andre Pinnock             06 Sheepsheads Fine,Br      29.95  

Heat  2 Preliminaries   Wind: -2.1

  1 Charles Clark             06 Bayside TC,Virginia      21.34Q 

  2 Brandon Banks             06 Track Eastern Ca,Ga      21.50  

  3 James Nixon               06 New Haven AG TC,New      21.61  

  4 Rodney Lipscomb           06 Ridge View HS,Colum      21.86  

  5 Aaron Anderson            06 Bishop McNamara,Ft       22.18  

  6 Armanti Hayes             06 World Wide TC,Moult      22.28  

  7 Aaron Jones               06 Hawks TC,Frisco, TX      22.62  

  8 Brandon Rabb              06 Indy Striders,Fishe      23.50  

Heat  3 Preliminaries   Wind: -0.6

  1 Brandon Spradley          06 Port City,Saraland,      21.64Q 

  2 Charles Cox               07 Monmouth Reg HS,Tin      21.69  

  3 Eric Gaffney              08 Gaffney Elite TC,Ga      21.91  

  4 Rashad White              08 Teaneck Hs-Boys,tea      22.16  

  5 Darrin Conley             06 Middletown HS,Middl      22.56  

  6 Michael Demko             06 Hightstown Hs-Bo,Hi      22.83  

  7 Brian Rabb                06 Indy Striders,Fishe      22.92  

Heat  4 Preliminaries   Wind: -0.5

  1 Antonio Sales             07 East Chapel Hill,Ch      21.48Q 

  2 Brandon Saine             07 Piqua HS,Piqua, OH       21.49q 

  3 Sean Holston              07 Robert  E. Lee H,Sp      21.61  

  4 Trumaine Kelso            06 Appomattox,Appomatt      21.73  

  5 Courtland Marriner        06 Western Branch H,Ch      22.19  

  6 Terrell Davis             06 Nemesis Athletic,Wh      22.41  

  7 Chris Taiwo               06 Mount Olive,Budd La      22.72  

  8 Eric Wornum               07 Milton HS,Milton, M      22.85  

Heat  5 Preliminaries   Wind: -0.8

  1 Jeffrey Smith             06 Silver Lake Reg,Ply      21.24Q 

  2 Terrill McCombs           06 Blazin' Raiders,Upp      21.32q 

  3 Antione McNeil            06 Track Eastern Ca,Mo      21.42q 

  4 Keeno Dargan              07 Wilson HS,Florence,      22.05  

  5 Kendall Gregory           08 Lake Ridge Acade,st      22.25  

  6 Bryce Sherman             08 Parkland HS,winston      22.27