Boys 110m Hurdles -
Johnny Dutch NC 13.54 makes amends for DQ in 400H
Results - Marc Davis Video - John Sullivan's Story - Pete Cava's Story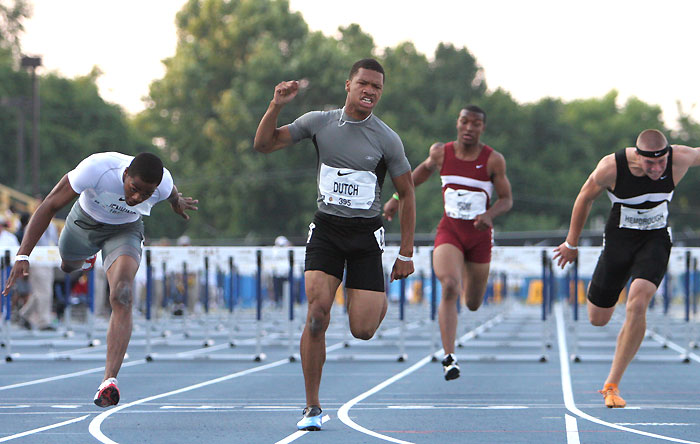 Open Photo
Clayton NC jr Johnny Dutch had run an outstanding 400H for apparent title earlier in the day, but had been DQ'd for dragging his trail leg. This would be his chance for redemption.
He seized the opportunity, clocking a superb US#1 13.54 into a 1.6 headwind. Trailing was a stellar field, including World Youth and NIN champ Dickinson TX sr Cordera Jenkins, 2nd in 13.62, as well as another Texan, US all-conditions leader Oscar Spurlock (4th, 14.01).
Dutch made no effort to hide that he was happy with this title. "I was down after the 400H DQ, but I'm a positive person," he said. "I was very nervous before this race, as nervous as I've ever been. My coach had shown me some breathing drills before to calm my nerves, so I tried those and it helped a lot."
Next up for Dutch is a meet in Greensboro next week, followed by the Carolina Invite and then running for the US Team in Puerto Rico.
Johnny Dutch, disqualified earlier after a first-place finish
in the 400 meter hurdles, scored a triumph in the high hurdles.
By the fifth hurdle in was Dutch, the junior from Clayton, N.C., and Texas A&M
recruit Cordera Jenkins (Dickinson, TX), running side-by-side in lanes four and
five. Dutch took a lead over the next-to-last hurdle and held off Jenkins for a
win in 13.54.
The race was run into a 1.6 mps headwind.
"I hope it's a official this time," said Dutch. "They had two violations saying
my trail leg went around the hurdle. I didn't think my disqualification was
official until I saw the revised sheet. So at that point, I had to have a fresh
mind, I couldn't think about anything else except this race.
Getting ready for the 110m hurdles was difficult after the DQ, said Dutch. "It's
very hard to prepare after something like that," he explained. "Like I said
earlier, you train all this time for a few seconds, and to have it taken away is
tough. You only get a couple of times to run against the best in the nation, so
you have to make the best of it. That's what I wanted to do in this race."
Third was Will Brown (Palmyra, NJ) in 13.97 with Texas 5A champ Oscar Spurlock
fourth in 14.01.
Carrington Queen (Boothwyn, PA), the 2005 runnerup, was seventh this time around
in 14.23
Licensed to C.F.P.I. Timing & Data                        Hy-Tek's Meet Manager

                Nike Outdoor Nationals - 6/15/2006 to 6/17/2006                

                 North Carolina A+T University, Greensboro, NC                 

                                    Results                                    

 

Boys 110 Meter Hurdles

================================================================

    National: $ 12.9h  5/30/1979   Renaldo Nehemiah, Scotch Plains, NJ         

    Freshman:   14.16  5/22/2004   Johnny Dutch, Clayton, NC                   

        Meet: # 13.32  6/12/1999   Ricardo Moody, Harrison, CO Springs, CO     

    Freshman:   14.16  1998        Jason Stanley, Plantation, FL               

   Sophomore:   13.67  1998        Rickey Harris, Centreville, Clifton VA      

      Junior:   13.34  1996        Terrence Trammell, SW De Kalb,Decatur,GA    

      Senior:   13.30  5/26/1990   Chris Nelloms, Dunbar, Dayton, OH           

    Name                    Year School                  Finals 

================================================================

Section  1 Finals   Wind: -1.6

  1 Johnny Dutch              07 Clayton HS,Clayton,      13.54  

  2 Cordera Jenkins           06 Texas Cyclones,Dick      13.62  

  3 Will Brown                06 Palmyra Hs-Nj,Burli      13.97  

  4 Oscar Spurlock            07 David W Carter,Dall      14.01  

  5 Joshua Hembrough          07 Forest Hills Nor,Ad      14.03  

  6 Charlton Rolle            07 RJ Reynolds HS,Wins      14.09  

  7 Carrington Queen          06 Chichester Tc-Bo,Bo      14.23  

  8 Delon Isom                06 PA Quarterboys,Harr      14.44  
by Pete Cava
110 meter hurdles qualifying (4 heats; winners plus next 3 fastest to final): Darryl Reynolds (New Bern, NC) was a no-show in the first heat and Jeffrey Julmes (Fort Lauderdale, FL) went out on a false start in heat two. Other than that, everything else went according to Hoyle. 1st heat (-1.3): Delson Isom (Harrisburg, PA) won in 14.09, followed by Charlton Rolle (Winston-Salem, NC) in 14.19. 2nd heat (-0.4): Cordera Jenkins (Dickinson, TX) finished first handily in 13.99. Will Brown (Palmyra, NJ) was second in 14.23 3rd heat (-1.2): Oscar Spurlock (Dallas, TX) showed why he's the No. 1 U.S. Prep. The Texas 5A champ had a great start and finished first in 14.11.4th heat (-0.2): Johnny Dutch (Clayton, NC) held off the late-charging Carrington Queen (Boothwyn, PA) in the day's fastest race. Dutch finished in 13.82 to 13.90 for Queen.5th heat (-0.9): Josh Hembrough took a slight lead about midway through the race and held on to finish first in 14.22.
Advancing to Saturday's final are Isom, Rolle, Jenkins, Brown, Spurlock, Dutch, Queen and Hembrough.
| | | | | |
| --- | --- | --- | --- | --- |
| Heat 1 | Heat 2 | Heat 3 | Heat 4 | Heat 5 |
 

Licensed to C.F.P.I. Timing & Data                        Hy-Tek's Meet Manager

                Nike Outdoor Nationals - 6/15/2006 to 6/17/2006                

                 North Carolina A+T University, Greensboro, NC                 

                                    Results                                    

 

Boys 110 Meter Hurdles

================================================================

8 Advance:  Top 1 Each Heat plus Next 3 Best Times

    National: $ 12.9h  5/30/1979   Renaldo Nehemiah, Scotch Plains, NJ         

    Freshman:   14.16  5/22/2004   Johnny Dutch, Clayton, NC                   

        Meet: # 13.32  6/12/1999   Ricardo Moody, Harrison, CO Springs, CO     

    Freshman:   14.16  1998        Jason Stanley, Plantation, FL               

   Sophomore:   13.67  1998        Rickey Harris, Centreville, Clifton VA      

      Junior:   13.34  1996        Terrence Trammell, SW De Kalb,Decatur,GA    

      Senior:   13.30  5/26/1990   Chris Nelloms, Dunbar, Dayton, OH           

    Name                    Year School                 Prelims 

================================================================

Heat  1 Preliminaries   Wind: -1.3

  1 Delon Isom                06 PA Quarterboys,Harr      14.09Q 

  2 Charlton Rolle            07 RJ Reynolds HS,Wins      14.19q 

  3 Mark Jones                06 Lindenwold HS,Linde      14.63  

  4 Sion Feliciano            07 Leesburg HS,Fruitla      14.73  

  5 Tywen Williams            06 West Ashley HS,Char      15.16  

  6 Aaron Roberts             07 Heath HS,Heath, OH       15.24  

Heat  2 Preliminaries   Wind: -0.4

  1 Cordera Jenkins           06 Texas Cyclones,Dick      13.99Q 

  2 Will Brown                06 Palmyra Hs-Nj,Burli      14.23q 

  3 Donte' Brown              06 Unat-MA-Bridgewa,Ra      14.39  

  4 Jason Boyd                08 Willingboro HS,Will      15.07  

  5 Frederick Brown           06 Team Texas,Houston,      19.05  

 -- Jeffery Julmes            06 Platinum TC,Fort La         FS  

Heat  3 Preliminaries   Wind: -1.2

  1 Oscar Spurlock            07 David W Carter,Dall      14.11Q 

  2 Thomas Oatts              06 Track Knoxville,Kno      14.58  

  3 Raymond Varner            06 Warren Township,Wad      14.71  

  4 Steve Simeus              06 Palm Beach Lakes,We      14.81  

  5 Bernard Fowler            06 East St. Louis H,Ea      15.25  

  6 Korel Mack                07 RJ Reynolds HS,Wins      15.48  

 -- Brett Brown               06 Team Hypersonic,Lan         DQ   Hand on Hurdles

Heat  4 Preliminaries   Wind: -0.2

  1 Johnny Dutch              07 Clayton HS,Clayton,      13.82Q 

  2 Carrington Queen          06 Chichester Tc-Bo,Bo      13.90q 

  3 Brendan Ames              07 Cheyenne Central,Ch      14.29  

  4 Skylar Jones              07 Middletown HS,Middl      14.58  

  5 Donta Young               07 Seventy-First HS,Fa      14.68  

  6 Alfonso Ferguson          06 Platinum TC,Fort La      15.00  

  7 Jesse Fuca                07 Warwick Valley T,Wa      15.05  

Heat  5 Preliminaries   Wind: -0.9

  1 Joshua Hembrough          07 Forest Hills Nor,Ad      14.22Q 

  2 Zachary Harper            06 Solon HS,Solon, OH       14.37  

  3 Mauricus Brown            06 Quick Striders T,an      14.43  

  4 Clyde Young               07 Cahokia HS,Cahokia,      14.79  

  5 Benjamin Wheeler          06 Spartanburg HS,Spar      14.94  

  6 Keith Arthur              06 Haddon Heights H,La      15.23  

  7 Brian Monetti             06 Watchung Hills H,Wa      15.57