Boys 100 - Banks' Blast Takes 100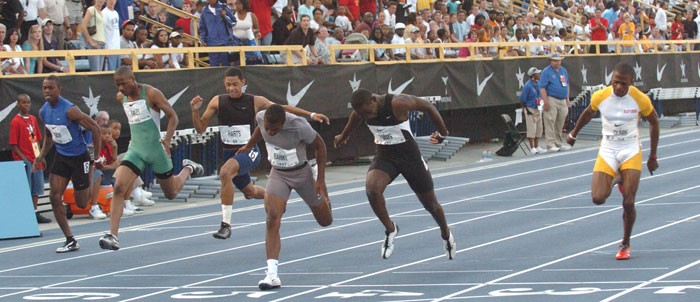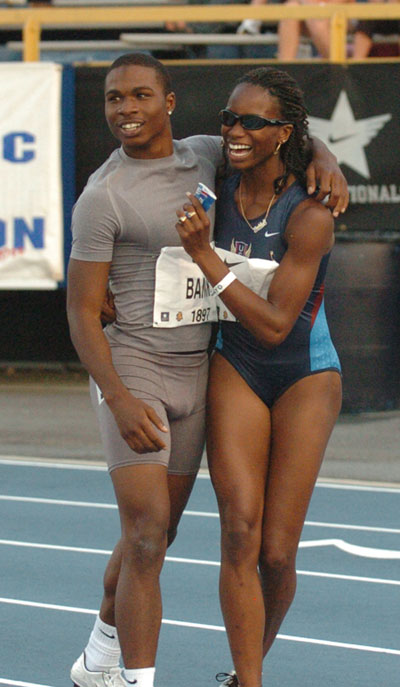 By John Sullivan
Garner NC sr Brandon Banks watched his sister Gabby Mayo grab 100 gold before settling into the blocks for his final, the next race. A solid contender with state runner-up and 2005 NON 6th credentials, this may have been the boost he needed. A short 10.42 later, into a 0.2 headwind, and the title was his. US#2 Dillard FL soph Harry Adams was the closest pursuer at 10.45.
"I ran track as a middle schooler, but then gave it up to focus on football in high school," said Banks. "I got back into it last year (with a splash, a NON-winner 4x100 leg and the above mentioned 100 6th)."
"This year I won the 200 and long jump at state. I'm going to continue my track career at St Augustine next year."
After her race, Gabby Mayo hung around to watch Brandon and leaped into his arms when he won. At right, they celebrate while watching he video replay of Brandon's race.
photos by John Dye
by Pete Cava
100 meter final (-0.2 mps): Brandon Banks started running track to stay in shape for football. Now the senior from Garner, N.C., High School is the Nike Outdoor Champion. Banks was the second member of his family to win at the meet – by only a few minutes."I've never made a push like that," said Banks. "I've never seen me do that before so it was amazing. I've been training really hard, so I guess it does really pay off."After two false starts, Banks and sophomore Harry Adams (Fort Lauderdale, FL) got out well and were running side-by-side in lanes four and five. At the midway point, Banks had a slight lead. He held on to finish first in 10.42 with Adams a close second in 10.45.Third was Charles Clark (Virginia Beach, VA) in 10.58, with junior Brandon Saine (Piqua, OH) a shade behind in 10.60. Banks' time tied for seventh on the current national prep list. "I started out wanting to play football and using track to stay in shape," Banks told North Carolina A&T sports information director Brian Holloway. "But track will probably pay for college, because football doesn't like my size. It's funny how things work out." Earlier Friday, the girls 100 meter title went to Banks's half-sister, Gabby Mayo, who leaped into Brandon's arms (right, photo by John Dye) right after his win. Mayo and Banks have the same father and live in the same house in Garner, a Raleigh suburb. Banks just graduated from Garner High School while Gabby just competed her junior year at Southeast Raleigh, a magnet school.Friday's win at the Nike meet was his second this year at Irwin Belk Track. "I love this track," he said. "I ran here last year and I won State here . . . I always do well here.
"This is a great day for me. It will give me the national recognition I need. When I first came here, no one knew who I was. Now, I'm an All-American. That's big!"
Licensed to C.F.P.I. Timing & Data                        Hy-Tek's Meet Manager

                Nike Outdoor Nationals - 6/15/2006 to 6/17/2006                

                 North Carolina A+T University, Greensboro, NC                 

                                    Results                                    

 

Boys 100 Meter Dash

================================================================

    National: $ 10.08  7/24/2005   J-Mee Samuels, Mt Tabor, Win-Salem,NC       

        Meet: # 10.14  6/17/2000   Dwight Thomas, Northwestern, Hyatts-MD      

    Freshman:   10.35  6/2000      Jamar Ervin, Camden, NJ                     

   Sophomore:   10.27  6/8/2002    Ivory Williams, Central, Beaumont, TX       

      Junior:   10.21  5/25/2002   Willie Hordge, ForestBrook,Houston, TX      

      Senior:   10.08  7/24/2005   J-Mee Samuels, Mt Tabor,Win-Salem,NC        

    Name                    Year School                  Finals 

================================================================

Section  1 Finals   Wind: -0.2

  1 Brandon Banks             06 Track Eastern Ca,Ga      10.42  

  2 Harry Adams               08 Dillard HS,Ft Laude      10.45  

  3 Charles Clark             06 Bayside TC,Virginia      10.58  

  4 Brandon Saine             07 Piqua HS,Piqua, OH       10.60  

  5 Trey Harts                06 Barbe HS,Lake Charl      10.64  

  6 Antonio Sales             07 East Chapel Hill,Ch      10.65  

  7 James Nixon               06 New Haven AG TC,New      10.76  

  8 Jamil Benjamin            07 Cumberland-NJ,Cumbe      10.77     



Prelims






by Pete Cava
100 meter qualifying (4 heats; winners plus next 4 fastest advance to final): No surprises, with the top seeds advancing to the final later Friday. 1st heat (-0.7) Charles Clark (Virginia Beach, VA) shaded Antonio Sales (Chapel Hill, NC), 10.74 to 10.77.2nd heat (-1.9): Trey Harts (Lake Charles, LA) came from behind and pulled away in the last 30 meters to win in 10.78.3rd heat (-1.0): Harry Adams (Ft. Lauderdale, FL), clad in all black, pulled away at 50 meters to finish in 10.59, Second was Jamil Benjamin (Cumberland, NJ) in 10.82.4th heat (-1.8): Brandon Banks (Garner, NC) too an early lead and held throughout, winning in 10.59. Brandon Saine (Piqua, OH) took second in 10.76 with James Nixon (New Haven, CT) a close third in 10.80.
Reaching the final were Clark, Sales, Harts, Adams, Benjamin, Banks, Saine and Nixon.





Boys 100 Meter Dash
================================================================
8 Advance:  Top 1 Each Heat plus Next 4 Best Times
    National: $ 10.08  7/24/2005   J-Mee Samuels, Mt Tabor, Win-Salem,NC       
        Meet: # 10.14  6/17/2000   Dwight Thomas, Northwestern, Hyatts-MD      
    Freshman:   10.35  6/2000      Jamar Ervin, Camden, NJ                     
   Sophomore:   10.27  6/8/2002    Ivory Williams, Central, Beaumont, TX       
      Junior:   10.21  5/25/2002   Willie Hordge, ForestBrook,Houston, TX      
      Senior:   10.08  7/24/2005   J-Mee Samuels, Mt Tabor,Win-Salem,NC        
    Name                    Year School                 Prelims 
================================================================
Heat  1 Preliminaries   Wind: -0.7
  1 Charles Clark             06 Bayside TC,Virginia      10.74Q 
  2 Antonio Sales             07 East Chapel Hill,Ch      10.77q 
  3 Rushane Scott             06 William Allen HS,Al      10.86  
  4 Antione McNeil            06 Track Eastern Ca,Mo      10.87  
  5 Aaron Anderson            06 Bishop McNamara,Ft       11.01  
  6 Aaron Jones               06 Hawks TC,Frisco, TX      11.04  
  7 James McDowell            06 Chattanooga Jets,Ch      11.22  
  8 Brian Rabb                06 Indy Striders,Fishe      11.42  
Heat  2 Preliminaries   Wind: -1.9
  1 Trey Harts                06 Barbe HS,Lake Charl      10.78Q 
  2 A'Toloni Akinkoutu        06 Track Eastern Ca,Gr      10.87  
  3 Justin Stith              06 Unat-VA-Crewe,Crewe      10.92  
  4 Phillip Hardy             08 Southeast Raleig,Ca      11.23  
  5 James Harris              07 Middlesex HS,Church      11.25  
  6 Keeno Dargan              07 Wilson HS,Florence,      11.26  
  7 Courtland Marriner        06 Western Branch H,Ch      11.37  
Heat  3 Preliminaries   Wind: -1.0
  1 Harry Adams               08 Dillard HS,Ft Laude      10.59Q 
  2 Jamil Benjamin            07 Cumberland-NJ,Cumbe      10.82q 
  3 Edward Alexander          06 West Charlotte H,Ch      10.89  
  4 Kelvin Hardesty           07 Track Eastern Ca,Ne      11.01  
  5 Phillip Bush              07 North Rowan,spencer      11.21  
  6 David Pickett             06 Asheville Lightn,Ar      11.71  
Heat  4 Preliminaries   Wind: -1.8
  1 Brandon Banks             06 Track Eastern Ca,Ga      10.59Q 
  2 Brandon Saine             07 Piqua HS,Piqua, OH       10.76q 
  3 James Nixon               06 New Haven AG TC,New      10.80q 
  4 Sean Holston              07 Robert  E. Lee H,Sp      10.83  
  5 Justin Murdock            08 Glen Burnie HS,Colu      11.05  
  6 Michael Demko             06 Hightstown Hs-Bo,Hi      11.39  
  7 Brandon Rabb              06 Indy Striders,Fishe      11.57  


      
Heat 1
Antonio Sales, Charles Clark


Heat 2

A'Toloni Akinkouti, Trey Harts

Heat 3

Harry Adams, Edward Alexander

Heat 4

Brandon Banks, Brandon Saine