Boys Shot Put - Benjamin Stephen IN 65-0 pulls upset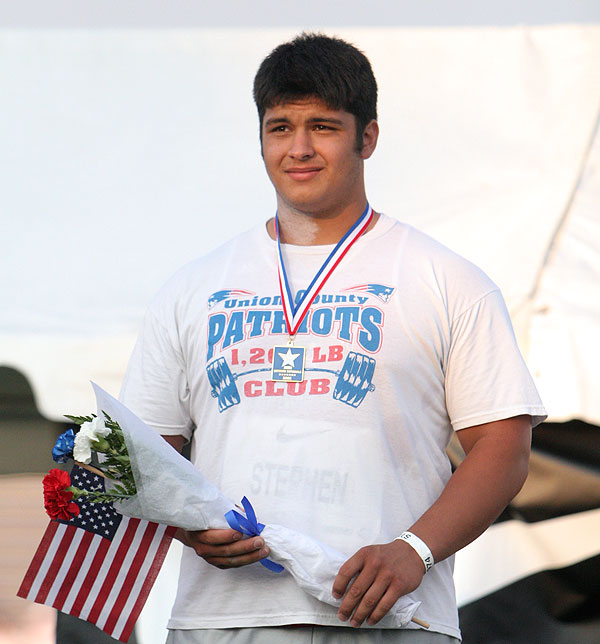 Open Photo
by Pete Cava
In one of the day's biggest upsets, junior Benjamin Stephen of Union
County High School in Liberty, Ind., conquered a strong field for the shot put
crown.
Stephen, who finished second at his state meet, took the lead with a third-round
heave of 64-4.75. Stephen's mark knocked Andrew Oaker (Steelville, MO), the
nation's No. 3 prep performer, down to second place.
Stephen iced the event with a 65-0 personal best on his last attempt. Oaker
wound up second with UCLA recruit Bo Taylor (Newport Beach, CA), Friday's discus
winner, third in 62-1.25.
U.S. leader Eric Flores (Custer, SD) never approached his season best of 67-4.5.
Flores only mustered a 61-9.5 in the fifth round and fouled four times.
"To win a national meet as a junior is unbelievable," gushed Stephen. "I always
thought I'd make it here, but I never thought I'd win it. I knew I had a chance,
but I never thought I'd pull it off. I can't believe it."
Stephen said his performance at the Indiana state meet in Bloomington this month
gave him confidence. "I PRed by four feet," he said. "At that point, I knew I
had a chance to win a national meet."
Licensed to C.F.P.I. Timing & Data                        Hy-Tek's Meet Manager

                Nike Outdoor Nationals - 6/15/2006 to 6/17/2006                

                 North Carolina A+T University, Greensboro, NC                 

                                    Results                                    

 

Boys Shot Put

==========================================================================

    National: $ 81-03.50  6/16/1979   Michael Carter, Jefferson, Dallas TX     

        Meet: # 69-08.25  6/14/1997   Kevin DiGiorgio, Bayonne, NJ             

    Freshman:      63-00  1999        Kevin Bookout, Stroud, OK                

   Sophomore:   68-10.75  2000        Kevin Bookout, Stroud, OK                

      Junior:   71-10.25  1983        Arnold Campbell, Airline,Bossier City,LA 

      Senior:   81-03.50  6/16/1979   Michael Carter, Jefferson, Dallas, TX    

    Name                    Year School                  Finals           

==========================================================================

  1 Trey Davis                07 Farmington HS,Farmi     18.38m   60-03.75 

  2 Vincent Helmuth           07 Spirit of Pre TC,Sa     18.05m   59-02.75 

  3 Robert Williams           06 Concordville TC,Con     17.66m   57-11.25 

  4 Geoffrey Tabor            08 Ardmore HS,Ardmore,     17.59m   57-08.50 

  5 Adam Chambers             07 Glen Este HS,Mount      17.26m   56-07.50 

  6 Cory Murray               06 Methuen-Whirlawa,Me     17.05m   55-11.25 

  7 Eric Pickle               06 Bearden HS,Knoxvill     16.99m   55-09.00 

  8 Weston Banks              07 Spartan F+T Club,Gr     16.60m   54-05.50 

  9 Bruce Campbell            06 New Haven AG TC,ham     16.51m   54-02.00 

 10 Michael Putman            07 Christopher Colu,Mi     16.47m   54-00.50 

 11 Nick Ray                  06 Charlotte Latin,Cha     15.43m   50-07.50 

 -- Greg Davis                07 Throw One Deep,Peac       FOUL            

Flight  2  

  1 Benjamin Stephen          07 Union County Hs-,Li     19.81m   65-00.00 

  2 Andrew Oaker              06 Steelville HS,Steel     19.55m   64-01.75 

  3 Bo Taylor                 06 Newport Harbor,newp     18.93m   62-01.25 

  4 Eric Flores               06 Custer HS,Custer, S     18.83m   61-09.50 

  5 Israel Machovec           06 Unat-GA-Lawrence,La     18.76m   61-06.75 

  6 Nick Robinson             06 El Toro HS,Lake For     18.39m   60-04.00 

  7 Billy Hardcastle          06 Mobridge HS,Mobridg     18.32m   60-01.25 

  8 Wesley Wright             08 Throw One Deep,Vill     17.68m   58-00.25 

  9 Aaron Studt               06 Ripon HS,Ripon, WI      17.52m   57-05.75 

 10 Rob Golabek               07 Frontier HS,Hamburg     17.36m   56-11.50 

 11 Nathan Stewart            07 Concordville TC,Con     17.19m   56-04.75 

 -- Eric Werskey              06 Seymour HS,Seymour,       FOUL