Boys Pole Vault - Michael Morrison conquers winds and meet record at 17-3
Results - Mark Davis Video - SteveU's Story - Pete Cava's Story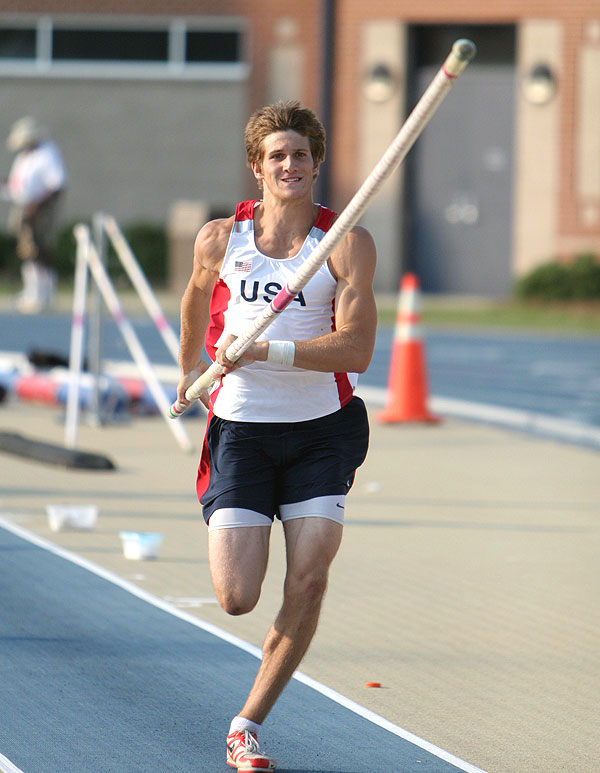 Open Photo
By SteveU
One of the absolute highlights of Nike Indoor Nationals in March was the boys pole vault. With an unparalleled field of 16- and 17-footers, the event was hyped as the greatest indoor vault of all-time and lived up to the hype, with Granite Bay CA sr Scott Roth winning a jump-off with the infamous 4th attempt (officials error on 3rd) at 17-04.
Nearly the same field, even an improved field, came to the track Saturday in Greensboro for another historically deep competition. For whatever reason, though – the higher quality of the concurrent races, the fact that there wasn't as much record hype due to a much tougher standard, or the debilitating headwind – there just wasn't as much energy behind it. The headwind was enough of an issue that there was an attempt to get the direction of the runway changed, but it was turned down.
The defending champ and meet-record-holder Roth, as it turned out, was one of the first casualties, of the wind or whatever else; he missed at 16-03.25, finishing 8th at 15-11.25. Surprise Golden West winner Jared Jodon went 16-03 there and no-heighted at 15-01.50 here.
When the bar reached 16-07.25, there were just six vaulters left: 17-foot regulars Michael Morrison VA and Jordan Scott GA; Spencer McCorkel AR, a 17-foot pro looking to shed his big meet problems; 17-foot neophytes Nick Frawley TX and Phil Hanson IL; and Casey Roche CA.
Roche and Frawley both went out here, but Roche – who had missed five times earlier, but cleared his first at 16-03.25 – was fifth. That left four, with Morrison and a surprising McCorkel having a perfect record to that point.
At 16-11, though, Scott made it on his first attempt, atoning for three earlier misses, while Hanson and McCorkel both went out. By getting third, however, McCorkel got the monkey at least partly off his back.
Morrison needed two attempts to get over, so Scott had the lead – temporarily. At a meet record 17-03, the Great Bridge VA sr cleared on his second and Scott, trying for a PR there, could not.
Having secured the win, Morrison, who had jumped a US#1 17-6 at his state meet, upped the ante to 17-08.50, a mark that could have put him = #8 on the all-time list. But the pole looked heavy, or too big in his hands (to the untrained observer), and he wasn't able to do much on any of his attempts. Still, he was the new national champ and meet record-holder.
Later, wearing a champion's smile, Morrison indicated that what actually happened on his final attempts was that a blister he had on his thumb had broken, preventing him from getting a good grip on the pole. The pole was actually smaller, as had been the case throughout the competition, which was one of his adjustments to the headwind. He also said he moved his handgrip down and the standards a bit closer.
"I'm really glad I was able to adapt," he said.
While he has won at NSIC and last year's USATF juniors, this was Morrison's first Nike meet title after a series of runner-up finishes. "It's awesome; it just feels great," he said. "It seems like I've been runner-up so long … I can't ask for a better way to go out.
"And it's always great competing against the best guys," he added. "We always have a great time when we get together."
The Fourth of July doesn't come around for another seventeen
days, but this event provided plenty of fireworks . . . and surprises.
Mike Morrison, a future Florida Gator from Chesapeake, Va., who took second at
the 2005 Nike Outdoors, set a meet record with a winning vault of 17-3.
Jordan Scott (Watkinsville, GA) and junior Spencer McCorkel (Bryant, AR), both
with previous 17-foot clearances, took second and third. Scott cleared 16-11
while McCorkel went 16-7.25.
Defending champ Scott Roth (Granite Bay, CA) never got untracked. The
Washington signee wound up eighth with a 15-11.25 clearance. The old meet
record, 17-2.25, was set by Roth a year ago.
"I've been second place the last three years at Nike, so I came in today wanting
finally get over that hump," said Morrison. "And I'm so glad I finally did it.
It's great to come into a meet with the greatest pole vaulters in the country
and be able to compete well and win it."
Morrison blamed weather conditions for the low heights by much of the field. "I
think today everyone had a tough time adjusting," he said. "I think the wind may
have kept the heights down a little bit. I've been consistent at 17 feet. I hit
17-feet indoors, and kept improving until I hit 17-6 ½ three weeks ago at a
regional meet. That was a huge confidence booster for me."
Licensed to C.F.P.I. Timing & Data                        Hy-Tek's Meet Manager

                Nike Outdoor Nationals - 6/15/2006 to 6/17/2006                

                 North Carolina A+T University, Greensboro, NC                 

                                    Results                                    

 

Boys Pole Vault

==========================================================================

 Flight 1 at 2:30pm:  Opening Height: 14-1.5  then 14-7.5

 15-1.5  15-7.25  15-11.25  16-3.25  16-7.25  16-11  17-3  17-7

 Flight 2 at 5:30pm: Opening Height:  14-7.5   then 15-1.5

 with same progressions as above plus 17-11

    National: $    18-03  6/15/2003   Tommy Skipper, Sandy, OR                 

        Meet: # 17-02.25  6/18/2005   Scott Roth, Granite Bay, CA              

    Freshman:   16-03.25  1987        Jayson Lavender, Wichita Falls, TX       

   Sophomore:      17-06  1994        Jacob Davis, Orangefield, TX             

      Junior:   17-07.25  6/2/2002    Tommy Skipper, Sandy, OR                 

      Senior:      18-03  6/15/2003   Tommy Skipper, Sandy, OR                 

    Name                    Year School                  Finals           

==========================================================================

Flight  1  

  9 Chad Faulkner             06 Arkansas Vault C,Fa      4.76m   15-07.25 

 10 Cameron Cheek             07 Mill Creek HS,Bufor      4.61m   15-01.50 

 13 Logan Lynch               07 Bedford HS,Lambertv      4.61m   15-01.50 

 14 Eric Foran                06 Pole Vault City,For      4.46m   14-07.50 

 15 Bryan Curley              06 Branford HS,Branfor      4.46m   14-07.50 

 16 Kevin Brinkley            06 Freeman HS,Richmond      4.46m   14-07.50 

 17 Roy Glass                 07 Lone Star Pole V,Go      4.31m   14-01.75 

 17 Bryan Keck                07 Stevens HS,Rapid Ci      4.31m   14-01.75 

 19 Devon Purves              06 Haddonfield HS,Hadd      4.31m   14-01.75 

 19 Robert Womack             06 Arkansas Vault C,Na      4.31m   14-01.75 

 19 Joe Wesley                08 Marine City HS,Mari      4.31m   14-01.75 

 19 Eric Hughes               06 Waverly HS,Sayre, P      4.31m   14-01.75 

 -- Jason Inzana              06 Daniel Boone HS,Bir         NH            

 -- Heath Morphew             06 Arkansas Vault C,Gi         NH            

 -- Andrew Lindberg           06 Southwest HS,Green          NH            

 -- Jay Lucas                 06 Jaybirds,Florence,          NH            

Flight  2  

  1 Mike Morrison             06 Chesapeake Edge,Che      5.26m   17-03.00 

  2 Jordan Scott              06 Spirit TC,Watkinsvi      5.16m   16-11.00 

  3 Spencer McCorkel          08 Arkansas Vault C,Br      5.06m   16-07.25 

  4 Phil Hanson               06 Flying Dragon's,Pon      5.06m   16-07.25 

  5 Casey Roche               07 St. Francis Hs-C,Mo      4.96m   16-03.25 

  6 Nick Frawley              06 Midlothian Hs-Tx,Mi      4.96m   16-03.25 

  7 Josh Dominguez            06 Ponchatoula HS,Ponc      4.86m   15-11.25 

  8 Scott Roth                06 Granite Bay HS,Gran      4.86m   15-11.25 

 10 Jake Winder               06 Stix-N-Stonz Vau,Jo      4.61m   15-01.50 

 10 Joseph Farley             07 Aledo HS,Aledo, TX       4.61m   15-01.50 

 -- Jared Jodon               06 Unat-PA-Uniontow,Un         NH            

 -- Sean Gil                  07 North Allegheny,Pit         NH