Boys High Jump -
Donte Nall GA 6-10.25 wins on tie breaker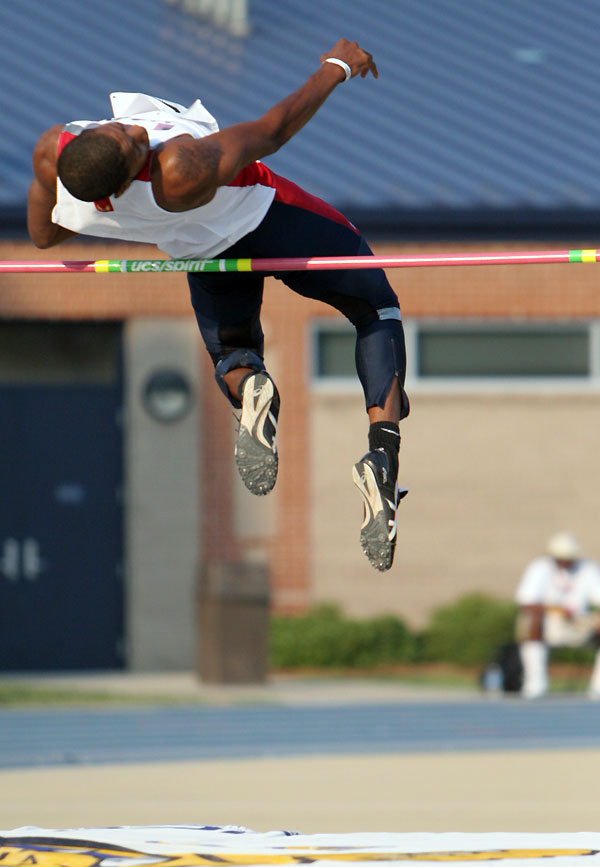 Open Photo
by Pete Cava
Donte Nall's win was hardly unexpected. After all, the senior from
Chapel Hill High School in Douglasville, Ga., was the lone seven-footer in this
year's Nike Outdoor meet.
What did raise a few eyebrows was the tenacious challenge by Darrell Roddick of
Fort Dorchester High School in Charleston, S..C.
Roddick came in with a best of 6-7. When Nall took two attempts at 6-6.25,
Roddick – who needed one attempt – found himself atop the standings. Both
cleared 6-8.25 on their first tries. When the bar reached 6-10.25, Nall's
experience came through. Nall sailed over the bar on his first jump, while
Roddick needed three attempts.
Both missed on all three jumps at 7-0.25 to end the competition.
Justin Frick (Freehold, NJ), a Princeton signee, and Justin Oliver (Pennsauken, NJ) tied for
third place at 6-8.25.
"I didn't know what to expect," said Nall, "because I had a bad pain going
through my knee, and I've been thinking about it since I got here on Thursday.
But I couldn't let that stop it. I had to do my thing. I just focused. I
couldn't come out here and have it on my mind. You have to do what you know you
can do and let things happen the way they happen.
" My junior year I pulled my hamstring, so it took me some time to get my confidence
back. On May 1 in Mobile I jumped seven feet and I knew I was back from there."
Nall plans to enter North Carolina this fall..
| | |
| --- | --- |
| | Open Photo |
Results
Licensed to C.F.P.I. Timing & Data                        Hy-Tek's Meet Manager

                Nike Outdoor Nationals - 6/15/2006 to 6/17/2006                

                 North Carolina A+T University, Greensboro, NC                 

                                    Results                                    

 

Boys High Jump

==========================================================================

 Opening Height   6-4.25 Progression: 6-6.25  6-8.25  6-10.25

 7-0.25  7-2.25  7-3.75  7-5.25

    National: $    7-07  7/18/2002   Andra Manson, Brenham, TX                 

    Freshman:      7-00  1990        Pernell Barnett, Bastrop, TX              

        Meet: # 7-04.50  6/17/2000   Paul Klemic, Mainland reg Linwood, NJ     

    Freshman:      7-00  1988        Shane Haney, Winder-Barrow,GA             

   Sophomore:   7-03.25  6/14/2003   Scott Sellers, Cinco Ranch, Katy, TX      

      Junior:      7-06  7/9/1983    Dothel Edwards, Cedar Shoals, Athens, GA  

      Senior:      7-07  7/18/2002   Andra Manson, Brenham, TX                 

    Name                    Year School                  Finals           

==========================================================================

Flight  1  

  1 Donte Nall                06 Chapel Hill HS,Doug      2.09m    6-10.25 

  2 Darrell Roddick           06 Fort Dorchester,Nor      2.09m    6-10.25 

  3 Justin Oliver             06 Pennsauken HS,Penns      2.04m    6-08.25 

  3 Justin Frick              06 Freehold HS,Freehol      2.04m    6-08.25 

  5 Marlon Woods              06 Booker T. Washin,No      2.04m    6-08.25 

  6 Michael Kursteiner        06 Unat-FL-Weeki Wa,We      2.04m    6-08.25 

  7 Jonathan Tate             06 Ben Davis HS,Indian      2.04m    6-08.25 

  7 Anthony Bryant            06 Albemarle HS,Charlo      2.04m    6-08.25 

  9 Luke Robinson             06 Alabama Runners,Sco      1.99m    6-06.25 

 10 Greg Nelson               07 Burlington HS,Bille      1.99m    6-06.25 

 10 Taylor Hobson             07 Upland HS,Upland, C      1.99m    6-06.25 

 12 James Pittenger           07 William Tennent,War      1.99m    6-06.25 

 13 Jay Pierce                06 Solon HS,Solon, OH       1.94m    6-04.25 

 14 Jerome McKenzie           06 Marietta,Marietta,       1.94m    6-04.25 

 -- Jordan Maddocks           07 Framingham HS,Frami         NH            

 -- Joe Bunton                07 Bridgeton,Bridgeton         NH            

 -- Mark Jones                06 Lindenwold HS,Linde         NH            

 -- Henry Vaughn              06 Lake Taylor HS,Norf         NH            

 -- Franky Hammond            08 Rollin Thunder,opal         NH            

 -- Nicholas Crosta           06 Monsignor Donova,To         NH