Boys Distance Medley - The Monkey's Off York's Back
Results -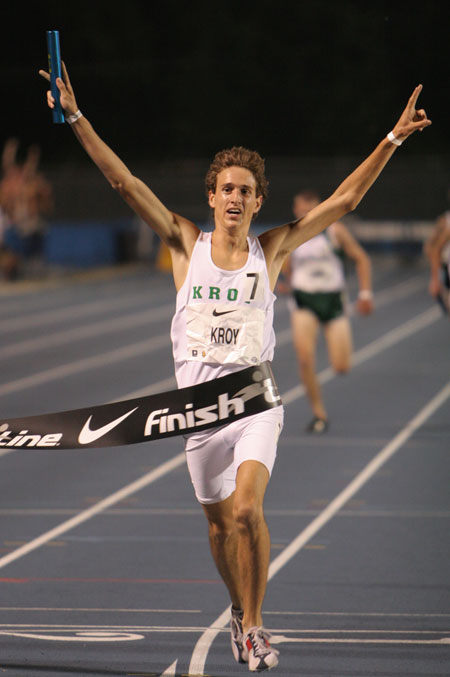 By John Sullivan
The final race of the meet had great promise. Fayetteville-Manlius NY was bringing back a lineup which had posted the #8 all-time, and fastest in 20 years, 4xMile relay earlier in the day. Warwick Valley NY had taken the 4x800 in 7:36.96 – a new US#1 and #11 all-time. York IL (Kroy TC) was a perennial national distance power, but a bridesmaid at this meet recently, including the 4x800 on Friday. Chapel Hill NC sr Jack Bolas, with US#1 1600 credentials, had passed up the seeded Mile to be fresh for this relay.
F-M sr Owen Kimple, NY 1600 champ in 4:07.71, led through 2 laps of the opening 1200 leg in 59.0 and 2:01.4. On the backstretch, Warwick sr Mike Mark, a 1:50.8 performer and the 4x800 anchor, took over and handed off first with a 3:00.3 split. Kimple followed closely in 3:01.0, then York sr Matt Dettman in 3:02.7.
Warwick got a solid 50.0 400 leg from jr Nick Longfellow while York sr Dan Palmer, the state 400 champ, cruised the first 200 and then put the pedal to the metal, finishing in 48.5, passing F-M and closing on Warwick.
Next up, York jr Nick Kuczwara, produced a 1:52.8 800 split to take over the lead from Warwick sr Patrick Gallagher on the 2nd lap. Ridgewood jr Niall Buckley had run a strong leg to move into 3rd. Back in about 8th, and 7 seconds in arrears, Chapel Hill's Bolas had a monumental task ahead of him.
As York sr Eric Dettman took the final exchange from Kuczwara, the lead over Warwick was about 1second. Dettman pushed the first 200 and noticeably extended the margin. A first 400 of 60 confirmed the seriousness of his pace.
He continued to pull away, but appeared to begin to tire with 500 to go. He was now sneaking looks over his shoulder, trying to gauge his lead. F-M sr Tommy Greuenwald was now challenging Warwick sr Mike Segal. Bolas was still well back, but definitely moving up.
Dettman slowed on the final backstretch, giving momentary hope to the trailing squads. But then he accelerated over the final 200 to close out a 4:16.8 split, just missing the 10:00 barrier by an agonizingly close 0.37. Gruenewald's 4:12.1 finished off F-M's 10:04.39 for silver with Warwick taking the bronze in 10:05.26.
photo by Open Photo
Bolas producing the quickest 1600 split was expected, but his effort was still a little mind-bending. With a closing 57, his 4:03.7 brought his Chapel Hill squad home in 4th.
York's 10:00.37 is #10 all-time (#9 performers).
The Dettman twins were very appreciative and proud of the win to close out their high school career. "Ever since last year, we've been saying, 'DMR, DMR.' We've been close to 5 other national titles, but got 2nd each of those times (they did win the 2004 NTN).. Sophomore year – 4xMile, Junior – 4xMile and DMR, Senior – 4x800 and NTN. We really wanted this one."
Dan Palmer added, "This was the best 2 weeks of my life, state 400 title and now this."
York coach Charlie Kern was happy. "We finally got the monkey off our back. We'd run well, but every year someone different beat us. I'm very glad for the Dettmans, they really deserved this title."
by Pete Cava
Warwick Valley, Kroy and Fayetteville-Manlius, distance
running doyens at the Nike Indoor and Outdoor Championships, hooked up for one
last go-round at the 2006 meet.
A convincing win for Kroy (York High School, Elmhurst, IL) closed down the
championships not with a yawn, but a rousing hurrah as the Illini squad won in
10:00.37, the year's fastest time. Second was Fayetteville-Manlius (Manlius, NY)
in 10:04.39 with Warwick Valley (NY) third in 10:05.26. Saturday's top six times
became the top half-dozen performances on the year's high school list.
Kroy turned the tables on Warwick Valley after the New Yorkers beat the Illinois
squad in Friday's 4x800 relay.
By 1600 meters it was a two-team race between Warwick Valley and Kroy. By the
second lap of the 800 meter leg, Kroy had a 10-meter lead. By the first lap of
the anchor leg, Eric Dettman stretched Kroy's edge to 40 meters.
With the outcome no longer in doubt, Tommy Gruenewald – who anchored
Fayetteville-Manlius's winning 4xMile team Saturday morning – began to battle
Warwick Valley's Mike Segal for second place.
At the bell, Gruenewald was right on Segal's shoulder. Segal pulled away
slightly at the backstretch, but heading into the straightaway Gruenewald zipped
past Segal to give Fayetteville-Manlius the silver medal.
Gruenewald finished with a gallant 4:12.1 leg.
Kroy's order was Matthew Dettman, Dan Palmer, Nick Kuczwara and Eric Dettman.
"I'm in ecstasy right now," said Eric. "We've been so close so many times –
sophomore and junior year come to mind. There have been so many races that came
down to the wire where we got nipped at the end. I couldn't be happier."
The Kroy anchorman praised Palmer, who ran second. "He made it happen," said
Eric. "He got us back in it and that's how we started rolling. This year he came
out of his shell and won the state title in the quarter, and he's become good –
really good.
Dettman said there was no way he would allow himself to be caught on the final
lap. "I just waited until about the last 150 and I brought home," he said. "I
slowed down to make sure I had something at the end. I looked back one time, and
I knew we had it."

Licensed to C.F.P.I. Timing & Data                        Hy-Tek's Meet Manager

                Nike Outdoor Nationals - 6/15/2006 to 6/17/2006                

                 North Carolina A+T University, Greensboro, NC                 

                                    Results                                    

 

Boys Distance Medley

================================================================

 Section 1 at 9:30am  Section 2 at 8:25pm

    National: $ 9:49.78  6/17/2001   South Lakes, Reston, VA                   

        Meet: # 9:49.78  6/17/2001   South Lakes, Reston, VA                   

    School                                               Finals 

================================================================

Section  1  

  1 Run Colorado  'A'                                  10:26.66  

     1) Derek Gilmore 06                2) Nate Sandberg 06               

     3) Kenny D'Evelyn 06               4) Kevin Williams 08              

  2 West Springfield HS  'A'                           10:31.73  

     1) Alex Martis 07                  2) Mike Spooner 07                

     3) Bobby Tillett 08                4) Leo Walker 07                  

  3 Shaker T+F Club-Boys  'A'                          10:34.45  

     1) Brian Benson 07                 2) Matt Bogdan 07                 

     3) Mike Kippins 06                 4) Steve Marthy 06                

  4 Red Tide  'A'                                      10:35.07  

     1) Andrew McKeachie 08             2) Chad Roath 06                  

     3) Matt Picou 06                   4) Devin McKeown 07               

  5 Colonie HS  'A'                                    10:44.39  

     1) Nicolas Santos 08               2) Joseph Soblosky 06             

     3) Christopher Johanning 06        4) Kevin Treadway 06              

  6 Jackalopes RC  'A'                                 10:46.89  

     1) Jake Hohl 08                    2) Erik Braun 08                  

     3) Gordie Taylor 06                4) Brenden Marcum 07              

  7 Ridgefield Hs-Boys  'A'                            10:57.45  

     1) Kellen Quigley 06               2) Chris Wilson 08                

     3) Thomas Brennan 06               4) Josh Kearns 06                 

Section  2  

  1 Kroy TC  'A'                                       10:00.37  

     1) Matthew Dettman 06              2) Eric Dettman 06                

     3) Dan Palmer 06                   4) Nick Kuczwara 07               

  2 Fayetteville-Manlius TC  'A'                       10:04.39  

     1) Owen Kimple 06                  2) Geoff King 07                  

     3) John Heron 06                   4) Tommy Gruenewald 07            

  3 Warwick Valley Tc-Boys  'A'                        10:05.26  

     1) Nick Longfellow 07              2) Patrick Gallagher 06           

     3) Mike Mark 06                    4) Mike Segal 06                  

  4 Chapel Hill HS  'A'                                10:06.13  

     1) Ryan Workman 06                 2) Taylor Muir 07                 

     3) Matt Villemain 06               4) Jack Bolas 06                  

  5 Ridgewood HS  'A'                                  10:06.57  

     1) Byron Williams 06               2) Chris Zeigler 07               

     3) Niall Buckley 07                4) Michael Cator 06               

  6 Herndon TC  'A'                                    10:08.54  

     1) Ermin Mujezinovic 07            2) Adin Kavazovic 07              

     3) Abe Dagnachew 07                4) Russell Green 07               

  7 Monsignor Farrell HS  'A'                          10:09.38  

     1) Jeff Carbonella 06              2) Rob Gordon 06                  

     3) Matt Frawley 07                 4) Dan Lewis 06                   

  8 Chaminade HS  'A'                                  10:15.09  

     1) Richard Semenick 07             2) Conor McNamara 06              

     3) Ryan McDermott 07               4) Kevin Kiley 06                 

  9 Stark Street AC  'A'                               10:16.53  

     1) Kenny Klotz 06                  2) Luke Wiltshire 07              

     3) David Beltramo 07               4) Taylor Morgan 08               

 10 Cardinal O'Hara HS  'A'                            10:34.88  

     1) Greg Thomas 06                  2) Matt Willard 06                

     3) Ed Buck 08                      4) Matt Pierson 06                

 11 Pope John Xxiii  'A'                               10:35.30  

     1) Jeff Weiler 08                  2) Tom Roy 07                     

     3) Dan Allen 06                    4) Clay Smith 07