DEAFNESS NO BARRIER FOR HURDLER JOSH HEMBROUGH
By Pete Cava,
National Scholastic Sports Foundation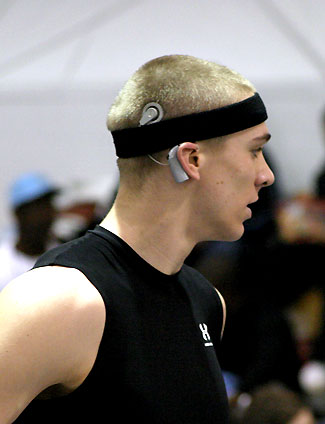 Josh Hembrough's pre-race routine has a unique twist. Without fail, the hurdler from Forest Northern High School in Grand Rapids, Michigan, asks the starter to enunciate his commands clearly.
Joshua Howard Hembrough is profoundly deaf. He's also a top entry in the 110 meter hurdles for the National Scholastics Sports Foundation's Nike Outdoor Nationals in Greensboro, North Carolina, June 16-17.
Thanks to a cochlear implant, the 6-foot-5, 210-pound senior has some hearing ability. "Josh was born deaf," said his father, Mike Hembrough. "He started wearing hearing aids at an early age."
But those devices were as effective as contact lenses for a sightless person. "You can't really test someone for hearing loss until 7 or 8 years of age," explained Mike. "Until they're older, they can't tell you what they can or can't hear. For Josh, no sound was getting through with the hearing aids."
Deafness couldn't keep Josh from playing sports. He came by his competitive zest naturally: his father had a trial with the NFL's Denver Broncos in the early 1980s and his mother, Karen, played college volleyball for Western Illinois.
Josh started playing T-ball at about age 5, and later tried his hand at gymnastics. "I thought it was cool to learn how to do a backflip," he said.
A sports addict by age 12, Hembrough joined his elementary school's football squad. "I played seventh grade and JV," he said. "Tight end and wide receiver. I was the fastest kid on the team."
That speed made Josh an ideal candidate for track. "He was doing both sports at the same time," said Mike. "When he was able to three-step the hurdles in seventh grade, we knew he was going to be pretty good."
Josh's wide receiver skills came in handy during an eighth-grade track meet. "I was running the 200 meter hurdles and my cochlear implant processor flew off my head," he said. "But I caught it and continued to run. It didn't slow me down that much. I won the race."
Since Josh couldn't wear the external portion of the device during football, communication became a problem. "Everything was by signals," he explained.
Eventually, concern for the implant – which one observer describes as a "funky iPod kind of thing" – eventually led Josh to give up the sport. "We were concerned about damage," said Mike. "There wasn't much information on how safe it was to play with a cochlear implant."
Josh brushed off any suggestion that deafness is a handicap in track. "Not to me," he insisted. "Before a race, I left the official know he's got to be very firm with his commands so I can hear him. With the implant, I can hear the commands 'take your marks' and 'set.' Then I listen for the gun."
As a junior, Josh won a conference title and placed first at regionals. He ran a leg on Northern Hill's 4x100m relay team, which took second at state.
He communicates easily with teammates. "I can talk and I can hear them talk, mostly," he said. "And if I can't hear them, I can read lips." He does the same thing with athletes from other teams who may not know he's deaf. "They catch on pretty quick," said Josh with a chuckle.
Hembrough's personal bests include 13.8 for the high hurdles, 39.6 in the 300m intermediates, 10.8 for the 100 and 22.2 for the 200. To date, his biggest thrill in track is a fourth-place at the Nike Indoor Nationals last March. "That was outstanding!" he exclaimed.
An Orlando, Florida, native who turns 18 on June 3, Hembrough maintains a 3.87 grade point average. He'd like to major in secondary education or health, and is currently considering his college choices. Michigan, Auburn, Michigan State, Arkansas and Florida are on Josh's short list.
Along with the Nike Outdoor Nationals, Hembrough's summer itinerary includes AAU meets in the Midwest and USATF's Junior Olympic Championships in Baltimore.
A big fan of the Detroit Pistons, Hembrough said his favorite athlete is Allen Johnson, a four-time world champion in the 110m hurdles and the 1996 Olympic gold medalist. "I've seen him on TV," added Josh. "He's got the American record and he seems like a great guy."
If Josh had his way, there would be more track on television. "I'd make long distance races shorter, too," he said. "And I'd like to invent a new event combining the hurdles and bench press – kind of like a biathlon – so you could see true speed and strength. I'd be pretty good at it."
#