Previous Years
2005 - Brittany Daniels soars, while J-Mee Samuels roars! Bianca Knight, Kira Robinson, Nicole Leach, Ebony Collins, Justin Oliver, Heidi Houle, Teekay TC (Wilson Long Beach), and Michaela Wallerstadt also star as US#1 and all-time ranking performances abound. Doubles by Daniels 20-5 and 43-5. Samuels 6.72 and 21.47. Oliver 47.68 and 23-6.5, and Teekay TC 1:38.77 and 3:48.85. Eleven Simplot performances are US#1 for the season.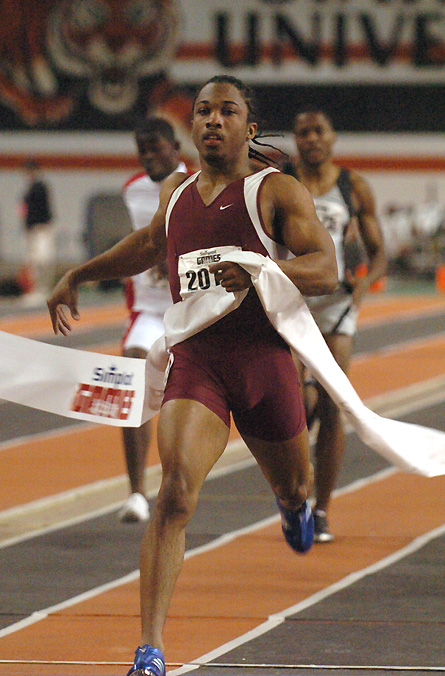 2004 - U.S. Record by Elzie Coleman 45.92 and Ashley Owens 7.19!! US soph class record and Meet Record by Shana Woods 19-11.75. Meet Record by Derrick Jones 21.53, Shalonda Solomon 23.46 (US#3 all time), Jason Richardson 7.82 (US#11 all time), Kenny O'Neal 6.68, Newburgh NY 1:27.96, Leif Arrhenius 82-7.25 (US#2 all time).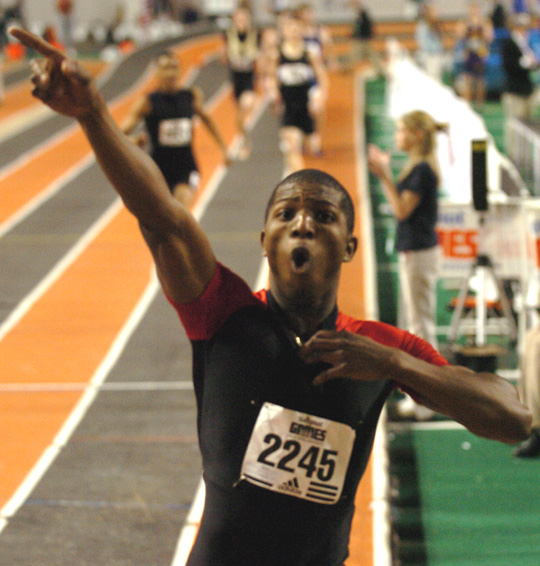 2003 - All-around phenom Donovan Kilmartin (he starts four finals within 45 minutes Saturday!), dash wiz Allyson Felix (60m, 200m) and pole vaulter Julene Bailey compete unattached. Speed City TC (LB Poly) and Union City Logan, two California powers, topped the 4x200 girls qualifying, in 1:40.95 and 1:41.49, respectively. Logan had to beat relays juggernaut Long Beach Wilson (dropped baton, (1:46.48) head-on in its heat! Yikes! United Stars TC (PA) blazes to 1:42.92. The final will smoke!!!

On the boys' side, Transit Tech of New York squandered a blistering pace with a botched anchor-leg exchange and was disqualified (DATAC of Denver was best in 1:31.66). The Transit Tech crew (above) rebounded to post the top 4x400 qualifying time in 3:26.51. Not many notes today, but figure on many taking shape on Saturday!
 Simplot meet home page