Friday
Hot prelims set up some sensational finals for Saturday,
especially the girls sprints.
Results - Event Summaries by Mike Kennedy - "Get ready for one of the great indoor girls 60-meter races of all-time," says Mike.
DOUG SPECK VIDEO - Seven videos of Friday action - 400m heats, 60m heats, and interviews with Ke'Nyia Richardson, J.T. Scheuerman, and Bianca Knight.
JOHN DYE PHOTO ALBUM - 27 action pix of Boys, 41of Girls
G-60: Ashley Cruder CO 7.48 (Bianca Knight MS 7.49.
G-200: Ebony Collins CA 24.73 (8th grader Ashton Purvis CA 25.03)
NC newcomer Trenton Guy sweeps boys sprint prelims in 7.04 (Terrius McMillen NY 7.06) and 22.62.
B-800: Richard Jones CA 1:58.68 edges favorite Karjuan Williams NC 1:58.75 in first heat.
Event Summaries
text by Mike Kennedy, photos by John Dye
Simplot Games Finals Are Here
After a full day of Friday's preliminary action, in which most of the favorites made it through to the finals, Saturday's action holds great promise. Here is capsule look the preliminary results and some of the things could take place in the finals.
Girls
Get ready for one of the great indoor 60-meter races of all-time. Not only is the competition fierce at the top but the depth is also remarkable. Bianca Knight (Ridgeland, Ms.) won her heat in 7.49 but that wasn't even the best time as Ashley Cruder (Eaglecrest, Aurora, Co.) was clocked in 7.48. Knight leads the nation with a 7.26 as sea level and Cruder is close behind with a 7.30—a mark achieved at altitude.
What makes the preliminary marks so exceptional is that they were achieved in "flats" and there is usually a .2 to .3 second improvement when you switch to spikes. When Ashley Owens (Liberty, Colorado Springs, Co.) set the current national record of 7.19 here two years ago she won her heat in 7.47. If either Knight or Cruder falter in just the slightest way, the remaining finalists will be quick to take advantage.
Kristina Davis (James Logan, Union City, Ca.) qualified in 7.61 and has a best 100 of 11.56, Jeneba Tarmoh (Mt.Pleasant, San Jose, Ca.) ran 7.66 and has a best of 11.61w. Ebony Collins (Wilson, Long Beach, Ca.) ran 7.67 and has a best of 11.44, and Sarah Matthews (Niwot, Co.) was the final qualifier in 7.68 and has best of 11.49w and 11.54.
| | |
| --- | --- |
| Bianca Knight | Ashley Cruder |
Collins, the defending champion at 23.70, was the top qualifier in the 200 at 24.73 but a surprise second was a home-schooled eighth grader Ashton Purvis (Oakland, Ca.), who clocked 25.03. Knight, who has a best of 23.44 this season, Tarmoh and Davis also qualified for the final along with Malaya Owens (Washington, Denver, Co.). Missing the Elite final were Sade Williams (Rancho Cucamonga, Ca.) and Carter.
Sade Williams, the 2005 outdoor national leader in the 400, was the top qualifier in her specialty at 55.55. Élan Hillaire (The Park School, Brooklandville, Md.), second here last year as a freshman, made the final with 58.02 and sophomore Nachelle Stewart (Spanish Fork, Ut.) looked impressive in winning her heat in 56.27.
The 800 shapes up as a real battle after Brittany Sheffey (Bellport, Brookhaven, N.Y.) chose not to run. Rosa Magana (Holy Names, Oakland, and Ca.) was the top qualifier at 2:18.13 but ran 2:13.41 last spring. Stacy Slight (Cody, Wee.) was the second fastest qualifier at 2:18.30 but had an even faster time with her 2:10.65 in 2005. Samantha McMillian (Judge Memorial, Salt Lake city, Ut.) was third at 2:18.41 but has been under five minutes for 1,600 meters.
Freshman Candace Eddy (Davis, Keysville, Ut.) led all qualifiers at 1,600 meters at 5:13.4 followed by Shelley Forbes (Sheridan, Wy.) at 5:17.28 and Laura Thweatt (Durango, Co.) at 5:18.49.
Kim Quinn (Bingham, South Jordan, and Ut.) was the fastest qualifier in the 3,200 at 11:36.60 and the only runner to break 11:40.0.
When it comes to quality, the 60-meter hurdles are just a step behind the sprints. Jullian Purvis (St. Elizabeth, Oakland, Ca.) was the top qualifier at 8.89 followed by Kenya Richardson (Holy Names, Oakland, Ca.) at 8.90 and Vesti T homas (Mt. Pleasant, San Jose, Ca.) at 8.92. Last year at the California State Meet, Richardson was third at wind-aided 13.75 and Purvis was fifth in 14.05. Thomas had a best of 14.16 last year and was undefeated before false starting at State.
With Richardson being passed on to the triple jump final and Ashika Charan (Claremont, Ca.) qualifying for the final, the top two indoor triple jumpers in the nation, at 41-8¾ and 40-10½, respectively, are assured of meeting.
All of leading jumpers also qualified for the finals . It should be noted that in field event qualifying at Simplot you advance to the final by bettering a pre-set standard but no marks are recorded.
Last years national outdoor leader in the long jump at 21-2, Sarah Matthew (Niwot, Co.) and Charon, who jumped 19-10½, both advanced to the final. All of the other major players also advanced.
In the pole vault, the top two entrants, Allyson Stokke (Newport Harbor, Newport Beach, Ca.) and Annelise Bertleson (Borah, Boise, Id.) both advanced.
The two top entrants in the shotput .Amanda Rollin (Rock Springs, Wy.) and Sarah Cardinal (Blackfoot, Id.) both qualified for the final.
Teekay Track Club (Wilson, Long Beach, Ca.) was the top qualifier in the 4 x 200 Relay and despite not being the leading qualifier in the 4 x 400 relay, still must rank as the favorite.
Boys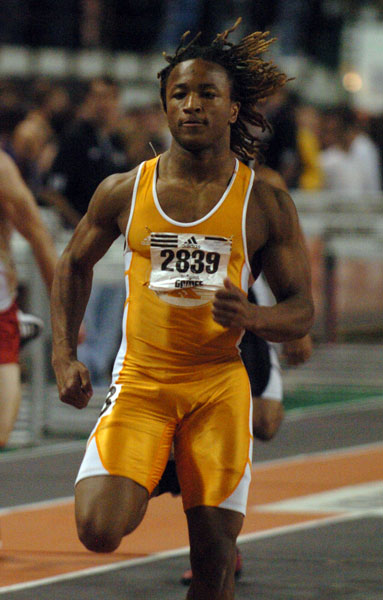 With all five 16-0 foot vaulters, including two 17-0 performers advancing to the pole vault final, there is an excellent chance that at least one vaulter will get a chance to jump at Pat Manson's national indoor record of 17-6¾ set in 1986. Spence McCorkel (Bryant, Ark.) has already cleared 17-3½ and Scott Roth (Granite Bay, who had a best of 17-2 ¾ outdoors in 2005, had an extreamly close miss at a national-record 17-7 at the Pole Vault Summit.
Trenton Guy (West Charlotte, N.C.), right, the national leader in the 60 meters at 6.76, was the leading qualifier at 7:04, but there are five other runners nipping at his heels. Terrius McMillan (Newburgh Free Academy, Newburth, N.Y.) had the second fastest qualifying time at 7.06 followed by Aaron Campbell (Summit, Bend, Or.) and J.T. Scheuerman (Littleton, Co.), both at 7.11. Jordan Calhoun (Vista, Ca.) and Cameron Island (Skyline, Oakland, Ca.) round out the field, both at 7.14.
Guy was also the leading qualifier in the 200 at 22.62 followed by Pearson Crichlow (James Logan, Union City, Ca.) at 22.89 and Scheuerman at 22.92. Clemore Henry (Transit Tech, New York, N.Y.), who is the national leader in the 300, was the top qualifier in the 400 at 49.80. No other runner bettered 51 seconds.
Karjuan Williams (New Bern, N.C.) was not the leading qualifier in the 800 and in fact did not even win his heat but he is still a solid favorite. Earlier this year he ran 47.99, 1:02.80 (for 500 meters) and 1:56.59. Last season he had a best of 1:50.14. The runner that finished in front of Williams was Richard Jones (Benicia, Ca.), 1:58.68 to 1:58.75. Two weeks ago Jones ran 1:56.5 and last year he had a best of 1:53.79.
Mohanud Ige (South, Denver, Co.), who ran 4:11.97 for a mile in 2005, led all qualifiers in the 1,600 by six second with a time of 4:20.73 but could get a challenge from Adam McDonald (Mountain View, Orem, Ut.), who had an outstanding cross country season.
Daniel Roberts (Crested Butte Academy, Co.) is the leading qualifier in the 3,200 at 9:48.04.
Baring a spill, Darius Reed (Washington, Denver, Co.), the national 60-meter leader at 7.91, should have no trouble handling the 60m hurdle field. He qualified in 8.03, which was .25 faster than the second fastest qualifer Brendan Ames (Central, Cheyenne, Wy.). Terry Prentice (Diamond Ranch, Pomona, Ca.) had the third fastest time at 8.45.
Prentice, who has jumped 24-0 in the long jump, has more than a foot advantage over anyone else in the field. Eric Quick (Liberty, Bakersfield), at 22-9, and Marcus Spencer (James Logan Union City, Ut), at 22-8, are the second and third best jumpers in the final
Quick, who triple jumped 48-3 last year, leads the triple jump finalists.
James Logan (Union City, Ca.), DATAC (Denver, Co.), Newburgh Free Academy (Newburgh, N.Y.), Transit Tech (NY) and Kryptonite (Co.) all are capable of win a relay title.
Results
complete results at Simplot site.



Licensed to Simplot Games              Hy-Tek's Meet Manager 2/17/2006 12:04 PM

                  Simplot Games 2006 - 2/16/2005 to 2/18/2005                  

                                    Results                                    

 

Event 1  Men 60 Meter Dash

===================================================================

    Name                    Year School                 Prelims  H#

===================================================================

Preliminaries

  1  2839 Guy, Jr., Trenton   11 Two Guys,Charlotte        7.04q  5 

  2  2138 McMillan, Terrius   12 Newburgh,Newburgh N       7.06q  2 

  3  2592 Campbell, Aaron     12 Summit Track Clu,Be       7.11q 22 

  4  1989 Scheuerman, J T     12 Kryptonite Speed,Ca       7.11q  6 

  5  2327 Calhoun, Jordan     12 Rock Back,Oceanside       7.14q  2 

  6  1267 Island, Cameron     12 C A T C,Oakland CA        7.14q  4 

  7  2800 Watters, Deshaun    12 Tracy Flyers Tra,Tr       7.15q  1 

  8  1508 Whitaker, A J       10 D A T A C,Denver CO       7.21q 15 

  9  2518 Hunsucker, Dominiq  12 South Bay Expres,Sa       7.26q 11 

 10  2799 Procter, C J        12 Tracy Flyers Tra,Tr       7.26q 24 

 11  1682 Pflueger, Trae      12 Fort Collins Tra,Wi       7.26q 18 

 12  1506 McGaughy, Terrence  11 D A T A C,Denver CO       7.28q 17 

 13  1686 Yeh, Geoff          11 Fort Collins Tra,Wi       7.29q 17 

 14  2036 Lewis, DeAndre      12 Lewis, DeAndre,Deca       7.29q 15 

 15  1874 Spencer, Marcus     12 James Logan,Union C       7.30q 20 

 16  1858 Crichlow, Pearson   12 James Logan,Union C       7.31q 19 

 17  1926 Weidle, Jordan      11 Judge Memorial,Salt       7.32q 10 

 18  1619 Brown, Chris        12 Eaglecrest E T C,Ce       7.32q  6 

 19  2909 DeMers, Chas        11 Winner Track Clu,Wi       7.34  20 

 20  2797 Arukwe, Stanley     11 Tracy Flyers Tra,Tr       7.36  24 

 21  2334 McCastle, Dean      12 Rock Back,Oceanside       7.37  21 

 22  1505 Lomax, Terren       12 D A T A C,Denver CO       7.40  14 

 23  1963 Miller, Brody       12 Kimberly Track,Kimb       7.41  16 

 24  1591 Driscoll, Dillon    12 Driscoll, Dillon,Ab       7.42   2 

 25  1876 Wethington, Keagan  11 James Logan,Union C       7.43  23 

 26  1500 Dodson, Quinton     10 D A T A C,Denver CO       7.44  22 

 27  2767 Goodwin, Tyler      10 Timpview Thunder,Pr       7.49  14 

 27  2361 Prosperie, Christi  11 Rustler Nation,Grea       7.49  16 

 29  2105 Horner, Micah          Missoula Big Sky,Mi       7.51   7 

 29  2715 Sofe, Raage         12 Tiger Track OR,La G       7.51   9 

 31  2726 Ali, Tarnue         12 Timpanogos Track,Or       7.52   7 

 32  2091 Wildman, Grant      11 McCall DonnellyT,Mc       7.53  18 

 32  2286 Jefferson, Maboya   10 Rangeview Track,Aur       7.53  15 

 34  1064 Bazerd, Charles     11 Bazerd, Charles,She       7.54  14 

 34  1865 Neal, Josh          11 James Logan,Union C       7.54  13 

 36  2470 Cooper, John        10 So. Cal Cheetahs,Di       7.56   9 

 36  2801 Young, Christen     12 Tracy Flyers Tra,Tr       7.56  24 

 36  2231 Overrocker, Jason   12 Portneuf Track C,Po       7.56  10 

 39  2484 Baul, Louis         11 So. Cal Track As,Lo       7.60   7 

 39  1995 Muth, Jake          12 Lander Tigers,Lande       7.60  13 

 41  2146 Cooknell, Jason     10 Northeast Albert,St       7.62  12 

 42  2784 Root, David         12 Titan Track,Salt La       7.63  12 

 43  2848 Bailey, Nick        12 Warrior Express,Cen       7.64  19 

 43  1960 Anderson, Tyeson    12 Kimberly Track,Kimb       7.64   6 

 45  1708 Smith, Jordan       12 Gillette Track,Gill       7.65  14 

 46  2773 Page, Chris         11 Timpview Thunder,Pr       7.68  23 

 47  1822 Roberts, Geoff      11 Indian Track Tea,Po       7.69  22 

 48  2098 Goodman, Scott      12 Minidoka Track C,Ru       7.70  13 

 48  2713 Humphreys, Nathan   11 Tiger Track OR,La G       7.70  22 

 50  1927 Wilkins, DeVaughn   10 Judge Memorial,Salt       7.71  11 

 51  1084 McGinley, Jake      10 Beaverhead Track,Di       7.72   3 

 51  2698 Thol, Reid          12 Thol, Reid,Moscow I       7.72  15 

 53  2685 Burris, Chris          Teeva Track,Colorad       7.73   5 

 53  2693 Jones, Taurean      10 Teeva Track,Colorad       7.73   4 

 53  2466 Young, John         11 Snake River Rapi,Bl       7.73  13 

 56  2099 Sayles, Dale        12 Minidoka Track C,Ru       7.75   1 

 56  2421 Rhinesmith, Ben     10 Sheridan Track,Sher       7.75  17 

 56  1673 Smith, Zach            Flying A J's Tra,Fe       7.75  18 

 59  1368 Christoffersen, Ch   9 Christoffersen,,Wil       7.76  21 

 59  2460 Bair, Justin        11 Snake River Rapi,Bl       7.76  20 

 61  2930 Chugg, Stephen      11 Wolfpack Track C,Pl       7.78  10 

 62  2558 Martin, Andy        10 Split City Sonic,Ll       7.80  21 

 63  1502 Gilbert, Stephon    12 D A T A C,Denver CO       7.81  20 

 63  1548 Smith, Gentry       12 Davis Track Club,Cl       7.81   8 

 63  2040 Eaton, Levi         11 Lion Track Club,Twi       7.81  10 

 66  2375 Munson, Oakley      12 S L C Track Club,Sa       7.82  10 

 66  1737 Holmes, Wade         9 Green River Trac,Gr       7.82   4 

 68  2102 Worthington, McCoy  12 Minidoka Track C,Ru       7.83   5 

 69  1114 Linn, Seth          11 Big Piney Track,Big       7.84  19 

 70  1310 Caldwell, Dallin    11 Caveman Track Cl,Am       7.85   7 

 71  2490 Westling, Trent     10 So. Cal Track As,Lo       7.86  16 

 71  2120 Nilson, Nate        11 Murray Track Clu,We       7.86   1 

 73  2326 Aguinaldo, Aaron    11 Rock Back,Oceanside       7.90  17 

 73  2330 Ghabour, Mina       12 Rock Back,Oceanside       7.90  23 

 75  1672 Moore, Greg            Flying A J's Tra,Fe       7.91   6 

 76  2688 Eaton, Clayton      11 Teeva Track,Colorad       7.92   3 

 76  2798 Matthews, Aaron     10 Tracy Flyers Tra,Tr       7.92  24 

 78  1365 McCall, Reggie      11 Chino Pumas,Chino C       7.93  21 

 78  1554 Tyndall, Joshua     10 Davis Track Club,Cl       7.93   4 

 80  2473 Houston, Donavan    12 So. Cal Cheetahs,Di       7.97   3 

 80  1707 Schilling, Garrett   9 Gillette Track,Gill       7.97  10 

 82  1088 Russell, Cody       10 Beaverhead Track,Di       7.98  12 

 82  2781 Colman, Seth        11 Titan Track,Salt La       7.98  18 

 84  2415 Grammens, Kyle      10 Sheridan Track,Sher       8.01   3 

 84  1507 Stancil, Kourtney   10 D A T A C,Denver CO       8.01  19 

 86  2486 Hendrickson, Marce  11 So. Cal Track As,Lo       8.04   3 

 87  1089 Sawyer, Robert      10 Beaverhead Track,Di       8.08  21 

 87  1779 Huntsman, Richard   11 Huntsman, Richar,Ly       8.08   8 

 89  2689 Exxum, Phil         10 Teeva Track,Colorad       8.11   1 

 90  2101 Tracy, Matt         11 Minidoka Track C,Ru       8.12   4 

 91  1908 Bryant, Ezekiel     11 Judge Memorial,Salt       8.13   7 

 92  1079 Conover, Shane      10 Beaverhead Track,Di       8.14  23 

 93  1802 Cone, Eli           10 Indian Track Tea,Po       8.16  20 

 94  1177 Morrill, Brian      11 Box Elder Track,Bri       8.19   5 

 94  1093 Steinle, Andy       12 Beaverhead Track,Di       8.19  16 

 96  1757 Moore, Junior       11 Havre Track Club,Ha       8.22   6 

 97  1179 Robertson, Jake     10 Box Elder Track,Bri       8.29  13 

 98  2465 Hames, Matt          9 Snake River Rapi,Bl       8.30  17 

 99  1232 Cassells, Randolph  12 Brighton Track C,Sa       8.35  23 

100  2873 Roberts, Kadin       9 West Side Track,Day       8.37  19 

101  1549 Smith, Todd         12 Davis Track Club,Cl       8.42  23 

102  1754 Horne, Ryan         12 Havre Track Club,Ha       8.53   2 

102  2170 Jameson, Kyle       11 Payson Track,Payson       8.53  16 

104  2333 Maher, Tim          11 Rock Back,Oceanside       8.54   2 

105  1813 Jensen, Keegan      11 Indian Track Tea,Po       8.62   7 

106  2172 Smith, Daniel       10 Payson Track,Payson       8.73  15 

107  1857 Cottrell, Alex      12 James Logan,Union C       8.91  18 

108  1573 Hardman, Quinton     9 Dixie Dashers,Leeds       8.99  14 

109  2235 Wilcutt, Robert     10 Portneuf Track C,Po       9.06  22 

110  1918 McPolin, Preston     9 Judge Memorial,Salt       9.21  11 

111  2453 Teerlink, Chris     10 Skyline Eagles T,Sa       9.46   1 

112  2463 Eggleston, Wayde     9 Snake River Rapi,Bl       9.61   9 

113  1815 Johnson, James      10 Indian Track Tea,Po       9.93  12 









Event 5  Men 200 Meter Dash

===================================================================

    Name                    Year School                 Prelims  H#

===================================================================

Preliminaries

  1  2839 Guy, Jr., Trenton   11 Two Guys,Charlotte       22.62q 11 

  2  1858 Crichlow, Pearson   12 James Logan,Union C      22.89q  6 

  3  1989 Scheuerman, J T     12 Kryptonite Speed,Ca      22.92q  1 

  4  1508 Whitaker, A J       10 D A T A C,Denver CO      22.93q  7 

  5  2800 Watters, Deshaun    12 Tracy Flyers Tra,Tr      23.14q  5 

  6  3014 Slaughter, Adam     12 YMCA Team Idaho,Boi      23.24q 10 

  7  1835 Tucker, Cole        12 J Q S,Rapid City SD      23.28q  4 

  8  2737 Pimentel, Silas     11 Timpanogos Track,Or      23.31q  5 

  9  1424 Pettaway, Anthony   12 Colorado Springs,Co      23.34q  9 

 10  2564 Brown, Morrey       11 Sport of the God,Re      23.37q 15 

 11  1805 Dalley, Jon         12 Indian Track Tea,Po      23.39q 12 

 12  1267 Island, Cameron     12 C A T C,Oakland CA       23.41q 10 

 13  2799 Procter, C J        12 Tracy Flyers Tra,Tr      23.41q  8 

 14  2909 DeMers, Chas        11 Winner Track Clu,Wi      23.45q  6 

 15  2049 Council, Matt       12 Lodi Track Club,Lod      23.49q  5 

 16  1500 Dodson, Quinton     10 D A T A C,Denver CO      23.54q  4 

 17  2518 Hunsucker, Dominiq  12 South Bay Expres,Sa      23.57q  9 

 18  2994 Ferrin, Curtis      10 YMCA Team Idaho,Boi      23.58q  6 

 19  1425 Richards, Patrick   10 Colorado Springs,Co      23.58  13 

 20  1279 Reddy, Julian       12 Capital City Tra,Ed      23.71   3 

 21  1981 Ancell, Zach        12 Kryptonite Speed,Ca      23.82   2 

 22  2802 Adeyanki, Muktai    12 Transit Tech Tra,Br      23.88  11 

 23  2797 Arukwe, Stanley     11 Tracy Flyers Tra,Tr      24.04   3 

 24  1462 Rice, Kevin          9 Cougar Track,Parker      24.09  19 

 25  2351 Elgaaen, Daniel     11 Roy Track,Roy UT         24.13  20 

 26  2503 Maughan, Derek      12 Soda Track Club,Sod      24.14  20 

 27  2469 Brown, Stephen      12 So. Cal Cheetahs,Di      24.15   8 

 28  2826 Topps, Reggie       11 Tri County Runni,Ho      24.39  10 

 29  1457 Habel, Steven       11 Cougar Track,Parker      24.40   5 

 30  1683 Robbins, Matt       12 Fort Collins Tra,Wi      24.52  19 

 31  2806 Gillispsi, Geovann  11 Transit Tech Tra,Br      24.56  21 

 32  2684 Bennett, Antjuan    11 Teeva Track,Colorad      24.58  19 

 33  1763 Bongers, Jacob      11 Heritage Track C,Sa      24.64  13 

 34  1868 Powell, Quentin     11 James Logan,Union C      24.71   2 

 35  2340 Smith, Darius       11 Rock Back,Oceanside      24.73  22 

 36  2801 Young, Christen     12 Tracy Flyers Tra,Tr      24.74   9 

 37  1464 Scott, Jeremy       12 Cougar Track,Parker      24.76  14 

 38  2574 Tarantino, Greyson  11 St Mary's Panthe,Be      24.84  22 

 39  2569 Huff, Andre         11 St Mary's Panthe,Be      24.85  16 

 40  1774 Lattimore, Corban   10 Highland Track C,Po      24.88  10 

 41  2474 Melvin, Hakim       11 So. Cal Cheetahs,Di      24.90   1 

 42  2042 Mehraban, Earl      11 Lion Track Club,Twi      24.97  18 

 43  3010 Robertson, Eric        YMCA Team Idaho,Boi      25.00   1 

 44  1785 Worwood, Dan           Hurricane Tigers,Hu      25.02  12 

 45  1574 Hunt, Chris         12 Dixie Dashers,Leeds      25.03  17 

 46  1294 Perez, Jacob        12 Carbon Track,Price       25.05  21 

 47  1781 Housley, Trent      11 Hurricane Tigers,Hu      25.06  18 

 48  1449 Blackman, A J       10 Cougar Track,Parker      25.14  11 

 49  1717 White, Regginal     12 Glenarm Track Cl,De      25.15   3 

 49  2849 Clark, Ben          12 Warrior Express,Cen      25.15   5 

 51  2489 Weber, Zack         11 So. Cal Track As,Lo      25.19  17 

 52  2287 Lajoie, Justin      12 Rangeview Track,Aur      25.23  20 

 53  2539 Olsen, Kyle         12 Spanish Fork Tra,Sp      25.36   4 

 53  2683 Baabs, Andrew       12 Teeva Track,Colorad      25.36  14 

 55  2495 Yayoshi, Greg       10 So. Cal Track As,Lo      25.38  16 

 56  2227 Labrum, Thad        11 Portneuf Track C,Po      25.42  15 

 56  2798 Matthews, Aaron     10 Tracy Flyers Tra,Tr      25.42   7 

 58  2532 Bingham, Clayton    12 Spanish Fork Tra,Sp      25.44  16 

 59  1463 Riegleman, Brett    11 Cougar Track,Parker      25.45  19 

 60  2106 Klaudt, Kyle        12 Missoula Big Sky,Mi      25.48   2 

 61  1783 Sanders, Jaren      12 Hurricane Tigers,Hu      25.51  17 

 61  2768 Guincho, Carl       11 Timpview Thunder,Pr      25.51   9 

 63  1621 Hill, Tarique        9 Eaglecrest E T C,Ce      25.56   9 

 63  2335 McCreery, Jonathan  11 Rock Back,Oceanside      25.56  22 

 65  1157 Workman, Dan        12 Bingham Track Cl,So      25.61  11 

 66  2535 James, Ryan         12 Spanish Fork Tra,Sp      25.63   1 

 67  1453 Corbin, Josh        11 Cougar Track,Parker      25.66   6 

 67  2068 Nielsen, Jayson     12 Marsh Valley,Arimo       25.66  14 

 69  2272 Philson, Brad       11 Pueblo South Col,Pu      25.68  17 

 70  1758 Verploegen, Derek   12 Havre Track Club,Ha      25.73  21 

 71  1651 Tschritter, Kirk    10 Edmonton Thunder,Ed      25.74   8 

 72  1551 Stout, Josh         11 Davis Track Club,Cl      25.79  17 

 72  1536 Fong, Michael       11 Davis Track Club,Cl      25.79  17 

 74  2729 Carter, Mark        11 Timpanogos Track,Or      25.82  15 

 75  2418 Moreno, Carlos      12 Sheridan Track,Sher      25.85  20 

 76  1085 Monk, Paul          12 Beaverhead Track,Di      25.88   7 

 77  1364 Hartanto, Art       11 Chino Pumas,Chino C      25.92  12 

 77  1115 Moffat, Brett       11 Big Piney Track,Big      25.92   3 

 79  1151 Schieving, Nick     10 Bingham Track Cl,So      25.93  21 

 80  1994 Lovato, Mike        11 Lander Tigers,Lande      25.95  18 

 81  2387 Snyder, Daren       10 S. I. Track Club,Id      26.10  11 

 82  1155 Walker, Tyler       11 Bingham Track Cl,So      26.12  14 

 83  2414 Beard, Taylor       10 Sheridan Track,Sher      26.14  19 

 83  2853 Smith, Travis       12 Warrior Express,Cen      26.14  20 

 85  2232 Rincon, John           Portneuf Track C,Po      26.15  21 

 86  2538 Norris, Chris       10 Spanish Fork Tra,Sp      26.41  18 

 87  2416 Hurst, Zack         12 Sheridan Track,Sher      26.63  22 

 88  2852 Shell, Garrett      12 Warrior Express,Cen      26.65  16 

 89  2275 Rucker, Kam         10 Pueblo South Col,Pu      27.01   8 

 90  1622 Hill, Tashaun        9 Eaglecrest E T C,Ce      27.09  11 

 91  1919 Oles, Jack          10 Judge Memorial,Salt      27.16   1 

 92  2687 Coleman, Racaun        Teeva Track,Colorad      27.18   9 

 93  2002 Matra, Nick          9 Lane 5 Productio,Th      27.62  13 

 94  2360 O'Moore, Patrick    10 Rustler Nation,Grea      27.83  22 

 95  2035 Stamp, Nathan       10 Lethbridge Track,Le      27.86  12 

 96  1735 Brown, Tanner       11 Green River Trac,Gr      27.87  15 

 97  2331 Hagans, Alex        11 Rock Back,Oceanside      28.07  14 

 98  2247 Eatough, Jordan     10 Provo Track,Provo        28.09   6 

 99  1923 Teynor, Christian   11 Judge Memorial,Salt      28.14  16 

100  2246 Duerden, Jonathan    9 Provo Track,Provo        28.46   5 

101  2251 Platt, Bradon       12 Provo Track,Provo        28.56   4 

102  1203 Jakob, Andrew        9 Bozeman Track Cl,Bo      28.63  19 

103  1903 Allam, Jeremy        9 Judge Memorial,Salt      28.66   7 

104  1432 Grinsell, Bobby     11 Colstrip Speed F,Co      28.87  13 

105  2248 Ebmeyer, Justin      9 Provo Track,Provo        29.33  10 

106  2255 Rowley, Zack         9 Provo Track,Provo        32.00   3 







Event 7  Men 400 Meter Run

===================================================================

    Name                    Year School                 Prelims  H#

===================================================================

Preliminaries

  1  2807 Henry, Clemore      12 Transit Tech Tra,Br      49.80q  4 

  2  1981 Ancell, Zach        12 Kryptonite Speed,Ca      51.10q  6 

  3  2050 Goldberg, Alex      12 Lodi Track Club,Lod      51.25q  7 

  4  2804 Armstrong, Matthew  12 Transit Tech Tra,Br      51.71q 10 

  5  1835 Tucker, Cole        12 J Q S,Rapid City SD      51.87q  9 

  6  1985 Frigon, Chandler    12 Kryptonite Speed,Ca      51.96q  6 

  7  2732 Hart, Steve         12 Timpanogos Track,Or      51.98q  9 

  8  2266 Aragon, Bobby       11 Pueblo South Col,Pu      52.19q  7 

  9  2443 Bradshaw, Ben       12 Skyline Eagles T,Sa      52.40q 11 

 10  2735 Oliver, Jonny       12 Timpanogos Track,Or      52.85q 20 

 11  2254 Robison, Isaac      11 Provo Track,Provo        52.95q  9 

 12  2938 Lewis, Rick         11 Wolfpack Track C,Pl      53.21q 16 

 13  2445 Daw, Jeff            9 Skyline Eagles T,Sa      53.21q 16 

 14  1983 Boren, Scott        12 Kryptonite Speed,Ca      53.30q 17 

 15  1501 Dorsey, Courtney    10 D A T A C,Denver CO      53.34q 11 

 16  2733 Henrie, Austin      12 Timpanogos Track,Or      53.50q 20 

 17  2493 Wise, Shawn         12 So. Cal Track As,Lo      53.51q 13 

 18  1986 Larson, Chris       12 Kryptonite Speed,Ca      53.66q 18 

 19  2332 Hodges, Tony        11 Rock Back,Oceanside      53.69   1 

 20  1684 Wittmer, Marty      12 Fort Collins Tra,Wi      53.70   5 

 21  1878 Wilwright, Alex     12 James Logan,Union C      53.90   8 

 22  1162 Kelly, Edryse       10 Blazers Track Cl,Au      53.99  18 

 23  1328 Espinosa, Moses     11 Cheetahs Storm T,Mo      54.12  16 

 24  2803 Andrews, Anthony    12 Transit Tech Tra,Br      54.30   6 

 25  1167 Barnett, Shawn      10 Box Elder Track,Bri      54.32   9 

 26  2559 Trefiak, Brent      12 Split City Sonic,Ll      54.38   3 

 27  2809 Kirkland, Deshawn   11 Transit Tech Tra,Br      54.52   1 

 28  1431 Espinoza, Bruno     12 Colstrip Speed F,Co      54.57  14 

 28  1369 Williams, Clark     12 Cincinnati Expre,Da      54.57  11 

 30  3015 Tanner, Houston     11 YMCA Team Idaho,Boi      54.67  16 

 31  2626 Switzer, Andrew     10 Team U S A Color,Gr      54.70  18 

 31  1575 Stahli, Brit        10 Dixie Dashers,Leeds      54.70   3 

 33  2570 Logans, Brandon     10 St Mary's Panthe,Be      54.72   3 

 34  2571 Lomax, Jesse        11 St Mary's Panthe,Be      54.79   2 

 35  1255 Thomas, Jeremy      12 Buhl Track Club,Buh      54.81  19 

 36  2519 Walker, Jake        12 South Bay Expres,Sa      54.82  13 

 37  2381 Dial, Tyrell        11 S. I. Track Club,Id      54.90  14 

 38  2491 Widdup, Jonathan    11 So. Cal Track As,Lo      55.16  10 

 39  2444 Clements, Tanner    12 Skyline Eagles T,Sa      55.37  20 

 40  1460 James, Justin       12 Cougar Track,Parker      55.39  10 

 41  2529 Alvarado, Andrew    11 Spanish Fork Tra,Sp      55.53  10 

 42  2766 Goodwin, Jaren      11 Timpview Thunder,Pr      55.54  20 

 43  2808 Job, Keston         10 Transit Tech Tra,Br      55.56  12 

 44  2805 Fearon, Darron      12 Transit Tech Tra,Br      55.60   2 

 45  2033 Murray, Kyle        11 Lethbridge Track,Le      55.67   8 

 46  2594 Miller, Robin       10 Summit Track Clu,Be      55.73  11 

 47  2464 Hallowell, Matt     12 Snake River Rapi,Bl      56.05  20 

 47  2487 Hill, Gregory       11 So. Cal Track As,Lo      56.05   8 

 49  2760 Cline, Kenneth      10 Timpview Thunder,Pr      56.07  17 

 50  1329 Hopkins, Johnathan  12 Cheetahs Storm T,Mo      56.25  15 

 51  1543 Jacobson, Ben       11 Davis Track Club,Cl      56.26   9 

 52  2494 Wright, Jonathan    11 So. Cal Track As,Lo      56.27  17 

 53  2891 Gowan, Tyler        10 Wildcat Track Cl,Wo      56.44  18 

 54  1559 Willoughby, Daniel  10 Davis Track Club,Cl      56.48   1 

 55  2391 Hillebrant, Skylar  11 Schmidts Kids,Idaho      56.66  18 

 56  1140 Hunter, Addison     12 Bingham Track Cl,So      56.69   4 

 57  1557 Webb, Shaun         10 Davis Track Club,Cl      56.72   7 

 58  2941 Powell, Richard     12 Wolfpack Track C,Pl      56.89  12 

 59  1421 Jarmon, Reggie      12 Colorado Springs,Co      57.03   1 

 60  2697 Sanchez, Jonathan   10 Teeva Track,Colorad      57.25   7 

 61  2775 Reynolds, Brent     12 Timpview Thunder,Pr      57.30   6 

 62  2595 Spiedel, Josh       11 Summit Track Clu,Be      57.32  19 

 63  1215 Brough, Kevin        9 Brave Running Cl,Af      57.38  12 

 64  1760 Hawkins, Sam        12 Hawkins, Sam,Evanst      57.75   2 

 65  2420 Phillips, Clancey   10 Sheridan Track,Sher      58.14   8 

 66  1150 Sayasith, Tom       12 Bingham Track Cl,So      58.24  13 

 67  1662 Sorensen, Jesse     10 Firth Cougars,Firth      58.27  11 

 68  1809 Henderson, Shon     12 Indian Track Tea,Po      58.56  17 

 69  2252 Reid, Joseph         9 Provo Track,Provo        58.69   4 

 70  1759 Welter, Tristan     12 Havre Track Club,Ha      58.96   5 

 71  2835 Peterson, Curtis     9 Trojan Track Clu,Ri      59.01  12 

 72  1555 VanWeezep, Jake     11 Davis Track Club,Cl      59.03  12 

 73  1454 Cruz-LaSanta, Keen   9 Cougar Track,Parker      59.09  14 

 74  1534 Checketts, Levi     12 Davis Track Club,Cl      59.58  10 

 75  1147 Ruesch, Daniel      12 Bingham Track Cl,So      59.85  17 

 75  1392 Rhodes, Jon         12 Cody Track Club,Cod      59.85  13 

 77  1223 McKen, Chad         10 Brave Running Cl,Af      59.95  20 

 78  1940 Sicairos, Marcus    12 Kearns Track Clu,Ke    1:00.05  19 

 79  1134 Andersen, Brett     11 Bingham Track Cl,So    1:00.40  14 

 80  2168 Elison, Tracy       10 Payson Track,Payson    1:00.81  13 

 81  2169 Hill, Rutger        11 Payson Track,Payson    1:01.30  16 

 82  1290 Burrows, Jordan     11 Carbon Track,Price     1:01.47   8 

 83  1146 Reyes, Esteban      10 Bingham Track Cl,So    1:02.61   7 

 84  1148 Sara, Brandon       12 Bingham Track Cl,So    1:03.73  19 

 85  1142 Lemperle, Travis    10 Bingham Track Cl,So    1:05.91   5 

 86  1221 Izatt, Ben          11 Brave Running Cl,Af    1:06.68  15 

 87  1917 McMinimee, Andrew   12 Judge Memorial,Salt    1:06.93  16 

 88  2778 Wu, Miguel          12 Timpview Thunder,Pr    1:18.41   6 

   



Event 9  Men 800 Meter Run

================================================================

    Name                    Year School                 Prelims 

================================================================

Preliminaries

  1  1020 Jones, Richard      12 Alex Van Dyke Tr,Sa    1:58.68q 

  2  2131 Williams, Karjuan   12 New Bern High,New B    1:58.75q 

  3  3006 Mering, John        12 YMCA Team Idaho,Boi    1:59.81q 

  4  2576 Monds, Jevin        11 St.  Albert Trac,St    2:00.47q 

  5  2706 Sweeney, Chris      12 Thunder Ridge Tr,Hi    2:00.49q 

  6  1625 Short, Greg         12 Eaglecrest E T C,Ce    2:00.66q 

  7  2937 Jones, Ryan         12 Wolfpack Track C,Pl    2:00.77q 

  8  1703 Hewitt-Gaffney, Bo  12 Gillette Track,Gill    2:00.86q 

  9  1988 Peterson, Ryan      12 Kryptonite Speed,Ca    2:00.87q 

 10  2577 Roller, Lance       10 Stars,New York NY      2:00.91q 

 11  1650 Page, Mackenzie     12 Edmonton Thunder,Ed    2:01.51q 

 12  2854 Arnold, Karl        12 Wasson Track,Colora    2:01.57q 

 13  1050 Miller, William     12 Aspen Mountain T,Ro    2:01.81q 

 14  1444 Ellerbe, Dorian     12 Columbia High Sc,Ma    2:01.98q 

 15  1710 Strand, Eric        11 Gillette Track,Gill    2:01.98q 

 16  1782 Jones, Jeremy       12 Hurricane Tigers,Hu    2:02.32q 

 17  2944 Britton, Trevar     12 Wolverine Track,Par    2:02.41q 

 18  2018 Nishiyama, Michael  11 Leduc Track Club,Ca    2:02.63q 

 19  2694 Loa, Filemon        12 Teeva Track,Colorad    2:03.00q 

 20  1422 Kulow, Kevin        12 Colorado Springs,Co    2:03.14q 

 21  1483 Snieder, Hylke      11 Crown Hill Track,Go    2:04.08q 

 22  1187 Steinbacher, David  12 Bozeman Distance,Bo    2:04.28q 

 23  2051 Merrill, Jeff       12 Lodi Track Club,Lod    2:04.64q 

 24  2269 Legan, Jordon       12 Pueblo South Col,Pu    2:05.01q 

 25  1313 Harmon, Geoff       11 Caveman Track Cl,Am    2:05.15q 

 26  2850 Glenn, Adam         12 Warrior Express,Cen    2:05.26q 

 27  2825 Palmtag, Mike       12 Tri County Runni,Ho    2:05.90q 

 28  1277 Kimick, Evan        11 Calgary Spartans,Ca    2:05.94  

 29  2053 Griggs, Russell     12 Logan Regional A,Lo    2:06.48  

 30  2728 Bringhurst, Chris   12 Timpanogos Track,Or    2:06.58  

 31  1348 Hayes, Danny        12 Cheyenne Central,Ch    2:06.72  

 32  1836 Jambor, Wade        12 Jambor, Wade,Belgra    2:06.94  

 33  2782 Goldhardt, Mark     11 Titan Track,Salt La    2:07.02  

 34  2888 Bishop, Brad        12 Wildcat Track Cl,Wo    2:07.07  

 35  1913 Hirning, Andrew     12 Judge Memorial,Salt    2:07.49  

 36  2250 Olsen, Austin       11 Provo Track,Provo      2:07.70  

 37  2092 McCauley, Dutton    12 McCauley, Dutton,Id    2:07.96  

 38  2030 Crawford, Billy     12 Lethbridge Track,Le    2:08.16  

 39  1451 Cody, Tom           11 Cougar Track,Parker    2:08.40  

 40  1395 Shuler, Tucker      11 Cody Track Club,Cod    2:08.41  

 41  3027 Thompson, Ryan         Columbia High Sc       2:08.79  

 42  1867 Parker, Taven       12 James Logan,Union C    2:09.25  

 43  1448 Joseph, Ronald      11 Columbia High Sc,Ma    2:09.29  

 44  2575 Vasquez, Tommy      12 St Mary's Panthe,Be    2:09.39  

 45  2350 Berry, Justin       10 Roy Track,Roy UT       2:09.53  

 46  2273 Philson, Matt       12 Pueblo South Col,Pu    2:09.55  

 47  1217 Call, Joseph        11 Brave Running Cl,Af    2:09.93  

 48  1152 Shaw, Greg          12 Bingham Track Cl,So    2:09.97  

 49  2395 Scott, Ryan         12 Scott, Ryan,West Jo    2:10.21  

 50  1535 Clouse, Jared       11 Davis Track Club,Cl    2:10.73  

 51  2003 Renner, Nolan       11 Lane 5 Productio,Th    2:10.89  

 52  1689 Gardner, Trevor     12 Gardner, Trevor,Ida    2:11.21  

 53  1643 Falk, David         11 Edmonton Thunder,Ed    2:11.73  

 54  2820 Bambrick, Kyle      12 Tri County Runni,Ho    2:11.80  

 55  2301 Paul, Alex           8 Ric Rojas Runnin,Bo    2:11.89  

 56  2810 Knight, Kevin       11 Transit Tech Tra,Br    2:11.90  

 57  3008 Norberg, J J        11 YMCA Team Idaho,Boi    2:12.41  

 58  2426 Varah, Alex         12 Sheridan Track,Sher    2:12.44  

 59  2725 Aaron, Sean         10 Timpanogos Track,Or    2:12.49  

 60  2080 Birt, Adam          11 Max Trax Track C,Lo    2:12.60  

 61  1450 Cano, Raul          12 Cougar Track,Parker    2:12.62  

 62  1308 Taylor, Mitch       12 Cardinal Track C,Sa    2:12.71  

 63  1982 Batliner, Matt      12 Kryptonite Speed,Ca    2:12.75  

 64  1725 Dean, Kyler         11 Gooding Track Cl,Go    2:12.76  

 65  1393 Rogers, Sean        10 Cody Track Club,Cod    2:13.28  

 66  2019 Robertson, Karl      9 Leduc Track Club,Ca    2:13.35  

 67  2229 McKee, Chad         10 Portneuf Track C,Po    2:13.56  

 68  2832 Browning, Bren      11 Trojan Track Clu,Ri    2:13.85  

 69  1139 Haworth, Brandon    11 Bingham Track Cl,So    2:13.95  

 70  1601 Alderton, Riley     12 Durango Track Cl,Du    2:14.41  

 71  2860 Hedges, David       12 Weber Track Club,Pl    2:14.50  

 72  1144 Petersen, Quinton   10 Bingham Track Cl,So    2:14.69  

 73  2299 Kahn, Dain          10 Ric Rojas Runnin,Bo    2:14.81  

 74  1068 Pugmire, Allen      12 Bear Lake,Montpelie    2:15.08  

 75  2704 Krouse, Steven      11 Thunder Ridge Tr,Hi    2:15.18  

 76  1533 Anderson, Spencer   10 Davis Track Club,Cl    2:15.27  

 77  1209 Bramwell, Jon       12 Bramwell, Jon,Idaho    2:15.31  

 78  1461 Labadie, Ben        12 Cougar Track,Parker    2:15.47  

 79  1724 Anderson, Curtis    12 Gooding Track Cl,Go    2:15.62  

 80  2020 Ward, Adam          10 Leduc Track Club,Ca    2:15.64  

 81  2031 Dorosz, Sam         10 Lethbridge Track,Le    2:15.91  

 82  1716 Austin, Jovan       12 Glenarm Track Cl,De    2:15.98  

 83  1558 Williams, Milo      12 Davis Track Club,Cl    2:16.01  

 84  2369 Dautel, Ben         10 S L C Track Club,Sa    2:16.03  

 85  2032 Laarman, Tim         9 Lethbridge Track,Le    2:16.22  

 86  1873 Shutes, Shaun       10 James Logan,Union C    2:16.51  

 87  2385 Roy, Robert         11 S. I. Track Club,Id    2:16.80  

 88  1585 Little, Kyle        10 Donnelley Track,Twi    2:16.83  

 89  1664 Ward, Kurt          10 Firth Cougars,Firth    2:16.96  

 90  2328 Carpenter, Beau     11 Rock Back,Oceanside    2:17.16  

 91  1466 Wheeler, Andy       11 Cougar Track,Parker    2:17.34  

 92  1872 Shutes, Nick        10 James Logan,Union C    2:17.82  

 93  1458 Hall, Chris         12 Cougar Track,Parker    2:18.21  

 94  1546 Madsen, Cameron     11 Davis Track Club,Cl    2:18.42  

 95  2382 Dooly, Shane        12 S. I. Track Club,Id    2:18.45  

 96  2329 Custer, Isaac       11 Rock Back,Oceanside    2:18.51  

 97  2822 Cortez, Luis        10 Tri County Runni,Ho    2:18.56  

 98  1863 Hernandez, Hector   10 James Logan,Union C    2:18.59  

 99  1224 Rees, Mike          11 Brave Running Cl,Af    2:18.88  

100  1067 Lamm, Andrew        12 Bear Lake,Montpelie    2:19.73  

101  2041 Gillette, Eric      10 Lion Track Club,Twi    2:20.61  

102  2705 Martin, Derek       11 Thunder Ridge Tr,Hi    2:20.70  

103  2155 Olsen, Kyle         11 Olsen, Kyle,Idaho F    2:21.48  

104  1401 Coles, John         10 Coles, John,West Jo    2:21.72  

105  1803 Contor, Rourk       11 Indian Track Tea,Po    2:22.02  

106  2109 Lund, Cody          10 Missoula Big Sky,Mi    2:22.32  

107  2478 Smith, Gary         12 So. Cal Cheetahs,Di    2:24.26  

108  1113 Leavitt, Craig      10 Big Piney Track,Big    2:24.56  

109  2900 Nelson, Derek       11 Wildcat Track Cl,Wo    2:25.05  

110  2016 Giddings, Brody      9 Leduc Track Club,Ca    2:25.86  

111  1112 Evans, Sheldon      11 Big Piney Track,Big    2:26.75  

112  1141 Hurst, Westley      11 Bingham Track Cl,So    2:27.16  

113  2902 Prusse, Sam         11 Wildcat Track Cl,Wo    2:29.95  

114  2148 Lawrence, Logan     10 Northeast Albert,St    2:31.38  

115  2904 Walker, Jason       11 Wildcat Track Cl,Wo    2:32.29  

116  1233 Davenport, Parker   12 Brighton Track C,Sa    2:32.69  

117  2005 Snelling, Stephen   12 Lane 5 Productio,Th    2:35.54  

118  1904 Allam, Joshua       10 Judge Memorial,Salt    2:36.73  

119  1111 Despain, Kyle       11 Big Piney Track,Big    2:43.52  

120  1149 Sara, Jason          9 Bingham Track Cl,So    2:49.09  

121  2222 Christelow, Sebi    10 Portneuf Track C,Po    2:59.28  







Event 3  Men 60 Meter Hurdles

===================================================================

    Name                    Year School                 Prelims  H#

===================================================================

Preliminaries

  1  1411 Reed, Darius        12 Colorado Flyers,Den       8.03q  5 

  2  1341 Ames, Brendan       11 Cheyenne Central,Ch       8.28q  1 

  3  2477 Prentice, Terry     11 So. Cal Cheetahs,Di       8.45q 12 

  4  1875 Stewart, Ray        12 James Logan,Union C       8.54q  7 

  5  1381 Cross, Justin       11 Cody Track Club,Cod       8.62q 13 

  6  2855 McCrae, Ricky       12 Wasson Track,Colora       8.65q  5 

  7  2425 Soukup, Ben         12 Sheridan Track,Sher       8.73q 14 

  8  1685 Yeh, Ben            12 Fort Collins Tra,Wi       8.75q  4 

  9  1571 Dalene, Tim         12 Dixie Dashers,Leeds       8.78q  3 

 10  1137 Cook, Zach          12 Bingham Track Cl,So       8.84q 14 

 11  1173 Iverson, Hyrum      10 Box Elder Track,Bri       8.84q  1 

 12  3029 Hancock, Micheal       Colorado Flyers           8.86q  6 

 13  1937 Cox, Jeremy         12 Kearns Track Clu,Ke       8.95q  2 

 14  2021 White, Josh         12 Lehi Track,Lehi UT        8.96q 10 

 15  1386 Lassiter, Kegan     10 Cody Track Club,Cod       9.03q 14 

 16  2814 Thompson, Momaire   12 Transit Tech Tra,Br       9.08q  4 

 17  2383 Maynard, Travis     11 S. I. Track Club,Id       9.10q  1 

 18  2472 Dispanurat, Putcho  12 So. Cal Cheetahs,Di       9.13q 12 

 19  1204 Marks, Johnny       12 Bozeman Track Cl,Bo       9.16   7 

 19  1202 Hickert, Justin     11 Bozeman Track Cl,Bo       9.16  14 

 21  2270 Meyers, Devon       11 Pueblo South Col,Pu       9.18  10 

 22  2563 Borth, Preston      11 Sport of the God,Re       9.20   7 

 23  2777 Wilson, Bennett     12 Timpview Thunder,Pr       9.21  13 

 24  1504 Kelley, Isiaah      12 D A T A C,Denver CO       9.23  11 

 25  2821 Bearden, Aaron      12 Tri County Runni,Ho       9.25   9 

 26  2147 Ferriera, Henry     11 Northeast Albert,St       9.26   5 

 27  1602 Close, DJ           12 Durango Track Cl,Du       9.27   8 

 28  2461 Bingham, Brian      12 Snake River Rapi,Bl       9.28  12 

 29  1878 Wilwright, Alex     12 James Logan,Union C       9.29   6 

 29  2034 Rockerbie, Phillip  12 Lethbridge Track,Le       9.29   8 

 31  1234 Swan, Cole          11 Brighton Track C,Sa       9.30  10 

 32  1426 Wood, Kevin         12 Colorado Springs,Co       9.32   9 

 33  1709 Storie, Jed         10 Gillette Track,Gill       9.37   6 

 33  2357 Churchill, Phillip  12 Rustler Nation,Grea       9.37   5 

 35  1482 Salzmann, Adam      11 Crown Hill Track,Go       9.45   9 

 36  1306 Sulit, Dextur       10 Cardinal Track C,Sa       9.49   9 

 37  1465 Tasker, Michael      9 Cougar Track,Parker       9.54   3 

 38  1456 Galvan, Justin      10 Cougar Track,Parker       9.56  11 

 39  2302 Ricks, Taylor       12 Ricks, Taylor,Ammon       9.66   8 

 39  2233 Seamons, Matt       11 Portneuf Track C,Po       9.66   6 

 41  1382 Hollinger, Matt     12 Cody Track Club,Cod       9.67  14 

 42  2475 Meyers, Andy        11 So. Cal Cheetahs,Di       9.73  11 

 43  2422 Rojo, Danny         10 Sheridan Track,Sher       9.77   8 

 44  3002 Koch, Channing      12 YMCA Team Idaho,Boi       9.85   2 

 45  2289 Thaxton, Devin      10 Rangeview Track,Aur       9.86   1 

 46  2531 August, Brandon     11 Spanish Fork Tra,Sp       9.91   4 

 47  1545 Jones, Preston      11 Davis Track Club,Cl       9.95  11 

 48  2933 Jenkins, Blake      10 Wolfpack Track C,Pl       9.98   7 

 49  2060 Oberhansley, James  12 Madison Track Cl,Re      10.08  12 

 50  2352 Pawelek, Payton     12 Ruby Mountain Tr,El      10.27   8 

 51  1367 Spring, Kevin       11 Chino Pumas,Chino C      10.31   9 

 52  2253 Richardson, Trevor  12 Provo Track,Provo        10.36  10 

 53  2492 Willie, Michael     10 So. Cal Track As,Lo      10.38   2 

 54  2392 Keeton, Colton      11 Schmidts Kids,Idaho      10.41   6 

 55  2462 Bingham, Logan      10 Snake River Rapi,Bl      10.60   9 

 56  1906 Benson, Jordan      10 Judge Memorial,Salt      10.91  11 

 57  1996 Ryder, Sean         10 Lander Tigers,Lande      10.93   4 

 58  2479 Yee, Justin         11 So. Cal Cheetahs,Di      11.15   3 

 59  1620 Harrison, Malcolm   10 Eaglecrest E T C,Ce      12.10  13 

 --  2812 McLean, Stephen     11 Transit Tech Tra,Br        DNF   3 







Event 20  Men 4x200 Meter Relay

===================================================================

    School                                              Prelims  H#

===================================================================

Preliminaries

  1 D A T A C  'A'                                      1:33.67q 10 

  2 James Logan  'A'                                    1:34.19q  2 

  3 Tracy Flyers Track Club  'A'                        1:34.43q  1 

  4 Newburgh  'A'                                       1:35.12q  3 

  5 Fort Collins Track Club  'A'                        1:35.41q  5 

  6 YMCA Team Idaho  'A'                                1:35.60q  2 

  7 Timpview Thunderbirds  'A'                          1:35.76q  3 

  8 Rock Back  'A'                                      1:36.53q  1 

  9 Colorado Springs Striders  'A'                      1:37.00q  6 

 10 Judge Memorial  'A'                                 1:37.28q  9 

 11 So. Cal Cheetahs Men  'A'                           1:37.29q  5 

 12 Summit Track Club  'A'                              1:37.60q  9 

 13 Cougar Track  'A'                                   1:37.67  10 

 14 Indian Track Team  'A'                              1:38.20   3 

 15 Cheetahs Storm Track Club  'A'                      1:38.59   8 

 16 Wolfpack Track Club  'A'                            1:39.39  10 

 17 Kimberly Track  'A'                                 1:39.55   2 

 18 Bingham Track Club  'A'                             1:39.65   5 

 19 So. Cal Cheetahs Men  'B'                           1:39.88   7 

 20 Spanish Fork Track Club  'A'                        1:40.36   3 

 21 Minidoka Track Club  'A'                            1:40.53   6 

 22 So. Cal Track Association  'B'                      1:40.57   7 

 23 Pueblo South Colts  'A'                             1:41.02   8 

 24 Rangeview Track Club  'A'                           1:41.10   1 

 25 Dixie Dashers  'A'                                  1:41.12   5 

 26 Portneuf Track Club  'A'                            1:41.34   1 

 27 D A T A C  'B'                                      1:41.36   1 

 28 Box Elder Track  'A'                                1:41.42   3 

 29 Davis Track Club  'A'                               1:41.45   2 

 30 Snake River Rapids Track Club  'A'                  1:41.92   8 

 31 Lethbridge Track & Field Club  'A'                  1:41.99   4 

 32 Teeva Track  'B'                                    1:42.29   7 

 33 Beaverhead Track Club  'A'                          1:42.80   4 

 34 Spanish Fork Track Club  'B'                        1:42.87  10 

 35 Eaglecrest E T C  'A'                               1:43.71   4 

 36 Teeva Track  'A'                                    1:43.91   9 

 37 Sheridan Track  'A'                                 1:44.77   7 

 38 Trojan Track Club  'A'                              1:44.83   2 

 39 Judge Memorial  'B'                                 1:45.75   9 

 40 Davis Track Club  'B'                               1:45.85  10 

 41 Box Elder Track  'B'                                1:48.90   7 

 42 Provo Track  'A'                                    1:55.67   7 

 -- Indian Track Team  'B'                                   DQ   6 

 -- So. Cal Track Association  'A'                           DQ   6 

 -- Kearns Track Club  'A'                                   DQ   5 







Event 22  Men 4x400 Meter Relay

===================================================================

    School                                              Prelims  H#

==========================================

=========================

Preliminaries

  1 Kryptonite Speed Team  'A'                          3:30.07q  1 

  2 Transit Tech Track Club  'A'                        3:30.09q  2 

  3 Newburgh  'A'                                       3:30.37q  3 

  4 Timpanogos Track  'A'                               3:31.68q  5 

  5 James Logan  'A'                                    3:33.03q  4 

  6 Lodi Track Club  'A'                                3:34.47q  6 

  7 Gillette Track  'A'                                 3:35.38q  5 

  8 St Mary's Panthers  'A'                             3:35.94q  4 

  9 Transit Tech Track Club  'B'                        3:37.51q  8 

 10 Cougar Track  'A'                                   3:37.66q  5 

 11 So. Cal Track Association  'A'                      3:38.79q  6 

 12 Warrior Express  'A'                                3:39.83q  1 

 13 Transit Tech Track Club  'C'                        3:40.22   2 

 14 Judge Memorial  'A'                                 3:40.25   8 

 15 Newburgh  'B'                                       3:40.98   7 

 16 Wildcat Track Club  'A'                             3:43.50   3 

 17 So. Cal Track Association  'B'                      3:44.32   6 

 18 Missoula Big Sky  'A'                               3:44.44   7 

 19 James Logan  'B'                                    3:44.78   1 

 20 Davis Track Club  'A'                               3:45.36   2 

 21 Box Elder Track  'A'                                3:45.46   4 

 22 Bingham Track Club  'A'                             3:46.34   8 

 23 Rock Back  'A'                                      3:49.10   4 

 24 Cougar Track  'B'                                   3:49.18   4 

 25 Lethbridge Track & Field Club  'A'                  3:49.68   7 

 26 Provo Track  'A'                                    3:51.02   3 

 27 Chino Pumas  'A'                                    3:53.38   7 

 28 Spanish Fork Track Club  'A'                        3:54.01   1 

 29 Havre Track Club  'A'                               3:55.59   5 

 30 Indian Track Team  'A'                              3:56.41   6 

 31 Timpanogos Track  'B'                               3:56.64   8 

 32 Bingham Track Club  'B'                             3:57.68   3 

 33 Wildcat Track Club  'B'                             3:58.24   1 

 34 Rangeview Track Club  'A'                           3:59.74   2 

 35 Rock Back  'B'                                      4:00.64   3 

 36 Wildcat Track Club  'C'                             4:03.16   5 

 37 Wildcat Track Club  'D'                             4:07.11   7 

 38 Beaverhead Track Club  'A'                          4:09.44   8 

 39 Box Elder Track  'B'                                4:16.35   2 

 40 Provo Track  'B'                                    4:29.38   6 











=================== girls girls girls ============================





Event 2  Women 60 Meter Dash

===================================================================

    Name                    Year School                 Prelims  H#

===================================================================

Preliminaries

  1  1403 Cruder, Ashley      12 Colorado Flyers,Den       7.48q  3 

  2  2303 Knight, Bianca      11 Ridgeland High S,Ri       7.49q  7 

  3  1840 Davis, Kristina     12 James Logan,Union C       7.61q  6 

  4  1301 Tarmoh, Jeneba      11 Cardinal Track C,Sa       7.66q  2 

  5  2662 Collins, Ebony      11 Teekay Track Clu,Co       7.67q  4 

  6  1408 Matthew, Sarah      12 Colorado Flyers,Den       7.68q  5 

  7  2517 Carter, Khrystal    12 South Bay Expres,Sa       7.68q  8 

  8  1609 Purvis, Ashton       8 E O Y D C,Oakland C       7.69q  6 

  9  2028 Laarman, Loudia      8 Lethbridge Track,Le       7.91q  7 

 10  2673 Smith, Tasia        12 Teekay Track Clu,Co       7.97q  1 

 11  1058 Deguzman, Hyacinth  11 Awesome Power Tr,La       7.97q 10 

 12  1008 Harris, Andra       10 Alex Van Dyke Tr,Sa       8.00q  5 

 13  1441 Simpson, Tenesia    10 Columbia High Sc,Ma       8.02q  1 

 14  2676 Woods, Erika         9 Teekay Track Clu,Co       8.10q  2 

 15  1303 White, Kayla         9 Cardinal Track C,Sa       8.11q  8 

 16  1003 Anderson, Romesha   11 Alex Van Dyke Tr,Sa       8.14q 11 

 17  1435 Anderson, Aasha     12 Columbia High Sc,Ma       8.16q  9 

 18  1846 Johnson, Victoria   11 James Logan,Union C       8.20q 12 

 19  1318 Co, Julia           12 Cheetahs Storm T,Mo       8.20   3 

 20  2793 Lewis, Danielle     12 Tracy Flyers Tra,Tr       8.21   7 

 20  2795 Reed, Leslie         9 Tracy Flyers Tra,Tr       8.21   6 

 22  2843 Chadwick, Brittany  12 Utah Acceleratio,Pr       8.23  14 

 23  1413 Crawford, Lindsey   12 Colorado Springs,Co       8.24  15 

 24  1057 Davis, Petergay     12 Awesome Power Tr,La       8.26   4 

 25  1321 Leung, Elise        10 Cheetahs Storm T,Mo       8.30  17 

 26  2214 Marchand, Camille   10 Portneuf Track C,Po       8.31  14 

 27  1107 Rose, Janet         12 Big Piney Track,Big       8.32  10 

 28  1056 Daley, Dihanne      12 Awesome Power Tr,La       8.35   6 

 29  2796 Snyder, Alexis      12 Tracy Flyers Tra,Tr       8.37   2 

 30  1325 Padua, Irena        11 Cheetahs Storm T,Mo       8.38   9 

 31  1668 Smith, Sammie          Flying A J's Tra,Fe       8.39   5 

 31  1264 Nwadugbo, Ada       11 C A T C,Oakland CA        8.39  11 

 31  2794 Matthews, Arianna   11 Tracy Flyers Tra,Tr       8.39  15 

 34  2512 Fair, Qiauna        10 Sophisticated La,Lo       8.40  18 

 34  2212 Katsilometes, Sunn  12 Portneuf Track C,Po       8.40   8 

 36  1714 Hudnell, Crystal    12 Glenarm Track Cl,De       8.41  18 

 37  2789 Bumanlag, Breanne   12 Tracy Flyers Tra,Tr       8.42  10 

 38  1615 Elam, Jenny         12 Eaglecrest E T C,Ce       8.44  17 

 39  1666 Harris, Vanessa        Flying A J's Tra,Fe       8.45   9 

 40  1971 Hayner, Caroline    11 Kryptonite Speed,Ca       8.48  12 

 41  1889 King, Madelyn       12 Judge Memorial,Salt       8.49  15 

 42  1471 Cremer, Andrea      11 Cremer, Andrea,Mank       8.50  18 

 43  1613 Abadie, Adwoa       12 Eaglecrest E T C,Ce       8.52  16 

 44  2707 Abesa, Melisa       11 Tiger Track OR,La G       8.55   6 

 45  1696 Ferguson, Kelly     11 Gillette Track,Gill       8.57   7 

 46  2552 Breland, Melissa    11 Split City Sonic,Ll       8.58  13 

 47  1283 Kapphan, Kayte      11 Capital Track Cl,He       8.62  16 

 48  2666 Hackett, Amunique    9 Teekay Track Clu,Co       8.63  11 

 49  1667 Smith, Madison         Flying A J's Tra,Fe       8.65   3 

 50  2189 Goodrich, Sarah     12 Pleasant Grove V,Pl       8.68  12 

 51  2029 Vanden Durgen, Dyn  12 Lethbridge Track,Le       8.72  14 

 52  1830 Ollerich, Courtney  12 J Q S,Rapid City SD       8.75  17 

 52  2755 Nibley, Kristina    12 Timpview Thunder,Pr       8.75   1 

 54  2868 Keller, Kelsie       9 West Side Track,Day       8.77  16 

 55  1698 Moore, Tina         11 Gillette Track,Gill       8.79   5 

 56  1895 Meyer, Aubrey       12 Judge Memorial,Salt       8.82   9 

 56  2313 Altieri, Angela     12 Rock Back,Oceanside       8.82  16 

 58  1226 Doong, Julie        12 Brighton Track C,Sa       8.83   6 

 59  2403 Carter, Kym         12 Sheridan Track,Sher       8.85   3 

 60  1492 Linnaer, Djidade     8 D A T A C,Denver CO       8.86   8 

 61  1104 Lockwood, Hailey     9 Big Piney Track,Big       8.88   2 

 62  1893 McMillan, Ellison    9 Judge Memorial,Salt       8.89   1 

 63  2216 Overrocker, Julie-   9 Portneuf Track C,Po       8.93  15 

 64  1229 Mendel, Danielle    11 Brighton Track C,Sa       9.00   2 

 64  1287 Songer, Sammy       10 Capital Track Cl,He       9.00   4 

 66  2116 Riches, Jessica     12 Murray Track Clu,We       9.01  10 

 67  2748 Healey, Simone      10 Timpview Thunder,Pr       9.02  10 

 68  2708 Beach, Cora         11 Tiger Track OR,La G       9.05   5 

 69  2365 Owens, Erica         9 S L C Track Club,Sa       9.09  10 

 70  2754 Murray, Jordan       9 Timpview Thunder,Pr       9.11  17 

 71  1751 West, Kelsey        12 Havre Track Club,Ha       9.15   9 

 72  2379 Nielsen, Ashley      9 S. I. Track Club,Id       9.21  18 

 73  1794 Holtzen, Heather    12 Indian Track Tea,Po       9.27  13 

 74  2554 Hiltz, Jennifer     12 Split City Sonic,Ll       9.36  11 

 74  2315 Bruton, Cephora     12 Rock Back,Oceanside       9.36   4 

 76  2459 Phillips, Krystal   10 Snake River Rapi,Bl       9.43  17 

 76  2015 Ward, Arielle       10 Leduc Track Club,Ca       9.43   7 

 78  2380 Nielsen, Kayla       9 S. I. Track Club,Id       9.44  13 

 79  2553 Cadrin, Rachel      12 Split City Sonic,Ll       9.46   8 

 80  1931 Glaittli, Michelle  10 Kearns Track Clu,Ke       9.51  13 

 81  1213 Hyde, Jenna         10 Brave Running Cl,Af       9.52   9 

 82  2723 Snowden, Allanna    12 Timpanogos Track,Or       9.63  14 

 82  1565 Hardman, Jessica     9 Dixie Dashers,Leeds       9.63  14 

 84  1227 Egan, Ali           11 Brighton Track C,Sa       9.67  11 

 85  2742 Clark, Jen           9 Timpview Thunder,Pr       9.70  12 

 86  1929 Dudar, Stephanie    11 Kearns Track Clu,Ke       9.75  12 

 87  2038 Borchardt, Kailey   10 Lion Track Club,Twi       9.79   3 

 88  1750 Sienkowski, Heathe  11 Havre Track Club,Ha       9.90   5 

 89  2164 Rowley, Emily        9 Payson Track,Payson      10.20   8 

 90  2163 Jensen, Chantel      9 Payson Track,Payson      10.36  15 

 91  2741 Boyer, Amber        12 Timpview Thunder,Pr      10.57  16 







Event 6  Women 200 Meter Dash

===================================================================

    Name                    Year School                 Prelims  H#

===================================================================

Preliminaries

  1  2662 Collins, Ebony      11 Teekay Track Clu,Co      24.73q  5 

  2  1609 Purvis, Ashton       8 E O Y D C,Oakland C      25.03q 13 

  3  1409 Owens, Talaya       12 Colorado Flyers,Den      25.06q 12 

  4  2303 Knight, Bianca      11 Ridgeland High S,Ri      25.28q  4 

  5  1301 Tarmoh, Jeneba      11 Cardinal Track C,Sa      25.31q  3 

  6  1840 Davis, Kristina     12 James Logan,Union C      25.36q  6 

  7  2907 Williams, Sade      11 Williams, Sade,Onta      25.40q  1 

  8  2517 Carter, Khrystal    12 South Bay Expres,Sa      25.53q  2 

  9  2675 Williams, Shelise   11 Teekay Track Clu,Co      25.55q 12 

 10  2661 Carson, De Ana      12 Teekay Track Clu,Co      25.67q  9 

 11  2527 Stewart, Natalie    10 Spanish Fork Tra,Sp      25.76q  3 

 12  1014 Purvis, Amber       10 Alex Van Dyke Tr,Sa      25.96q 10 

 13  1054 Atkins, Brianna     10 Atkins, Brianna,Ont      26.07q  8 

 14  1491 Kiper, Kristabell   11 D A T A C,Denver CO      26.27q 26 

 15  2663 Cooper, Angele      10 Teekay Track Clu,Co      26.35q  6 

 16  2526 Stewart, Nachelle   10 Spanish Fork Tra,Sp      26.45q  7 

 17  1323 Nelson, Maria       12 Cheetahs Storm T,Mo      26.55q 18 

 18  2063 Hunter, Amanda      10 Marlborough Must,Lo      26.56q  5 

 19  1583 Ward, Brittany      12 Donnelley Track,Twi      26.56  16 

 20  1494 Martin, Desiree     11 D A T A C,Denver CO      26.56  25 

 21  1617 Johnson, Tanesha    12 Eaglecrest E T C,Ce      26.62  27 

 22  2669 Johnson, Kiana      10 Teekay Track Clu,Co      26.64   8 

 23  1018 Williams, Zakia     10 Alex Van Dyke Tr,Sa      26.70   1 

 24  2793 Lewis, Danielle     12 Tracy Flyers Tra,Tr      26.74   7 

 25  2795 Reed, Leslie         9 Tracy Flyers Tra,Tr      27.13  20 

 26  1377 Reaser, Alisha      10 Cody Track Club,Cod      27.14  20 

 27  2789 Bumanlag, Breanne   12 Tracy Flyers Tra,Tr      27.26   5 

 28  1121 Baker, Chelsea      11 Bingham Track Cl,So      27.31  25 

 29  1319 Doran, Rachel       12 Cheetahs Storm T,Mo      27.34  13 

 30  1633 Lindskoog, Dayna    11 Edmonton Thunder,Ed      27.40   7 

 31  1016 VanHoye, Ashley     12 Alex Van Dyke Tr,Sa      27.42   8 

 31  2442 Wortley, Jessica    12 Skyline Eagles T,Sa      27.42  27 

 33  1496 McElroy, Breanna     9 D A T A C,Denver CO      27.43  19 

 34  1322 Mendeler, Marissa   11 Cheetahs Storm T,Mo      27.46  22 

 35  2218 Wahl, Elizabeth     12 Portneuf Track C,Po      27.52  18 

 36  2674 Whyte, Cherelle     12 Teekay Track Clu,Co      27.53  15 

 37  1004 Anderson, Shanea     9 Alex Van Dyke Tr,Sa      27.54  11 

 38  1680 Price, Sara         12 Fort Collins Tra,Wi      27.55  19 

 38  1973 Kaye, Lindsey       11 Kryptonite Speed,Ca      27.55   3 

 40  1699 Rehbein, Katie      12 Gillette Track,Gill      27.56  24 

 40  2523 Morse, Amanda       11 Spanish Fork Tra,Sp      27.56  10 

 42  2682 Williams, Michelle  12 Teeva Track,Colorad      27.59  22 

 43  2794 Matthews, Arianna   11 Tracy Flyers Tra,Tr      27.60   2 

 44  2796 Snyder, Alexis      12 Tracy Flyers Tra,Tr      27.63   1 

 45  2926 Zaugg, Madison      12 Wolfpack Track C,Pl      27.65   8 

 45  1712 Barnett, Nielah     12 Glenarm Track Cl,De      27.65  23 

 47  1838 Carter, Shi-nae     12 James Logan,Union C      27.83  21 

 48  1011 Lofton, Sherrina    12 Alex Van Dyke Tr,Sa      27.84   6 

 49  2636 Weedor, Abi         11 Team X C,Littleton       27.86  26 

 50  2699 Emig, Deanne        11 Thunder Ridge Tr,Hi      27.88  17 

 51  1007 Duarte, Jasmine      9 Alex Van Dyke Tr,Sa      28.30  17 

 52  1324 Padua, Ilyssa       11 Cheetahs Storm T,Mo      28.39  19 

 53  2831 West, Chalese       10 Trojan Track Clu,Ri      28.41  23 

 54  1028 Harrington, Rachae  10 Aspen Mountain T,Ro      28.42   8 

 55  1485 Campbell, Andrea    11 D A T A C,Denver CO      28.48  15 

 56  1129 Hill, Chay          12 Bingham Track Cl,So      28.53  22 

 57  2677 Bingham, Dominque   12 Teeva Track,Colorad      28.56  26 

 58  2514 Jackson, Charity    12 Sophisticated La,Lo      28.57  15 

 59  2701 Theurer, Michelle   11 Thunder Ridge Tr,Hi      28.67  18 

 60  1765 Lattimore, Kelsey   10 Highland Track C,Po      28.87   7 

 61  2277 Cummings, Nicole    10 Rangeview Track,Aur      28.88  12 

 62  1265 Oniah, Chinwe       10 C A T C,Oakland CA       28.89  23 

 63  1668 Smith, Sammie          Flying A J's Tra,Fe      28.90  10 

 64  1030 Kline, Chelsey      11 Aspen Mountain T,Ro      28.94  25 

 65  1060 Paul, Asha          10 Awesome Power Tr,La      28.96  16 

 66  1077 Warren, Maggie      10 Beaverhead Track,Di      29.10  16 

 67  1040 Strom, Nicole       11 Aspen Mountain T,Ro      29.15   3 

 68  2585 Caccamo, Montse     12 Summit Track Clu,Be      29.16  22 

 69  1628 Brown, Markayla     11 Edmonton Thunder,Ed      29.17  24 

 70  1675 Harding, Samantha   12 Fort Collins Tra,Wi      29.20  26 

 71  1015 Sykes, Dayna         9 Alex Van Dyke Tr,Sa      29.27   4 

 72  1639 Sommerville, Susan  11 Edmonton Thunder,Ed      29.28  14 

 73  2842 Bowcutt, Abby       11 Utah Acceleratio,Pr      29.31  10 

 74  1667 Smith, Madison         Flying A J's Tra,Fe      29.34  11 

 75  1191 Hatcher, Megan       9 Bozeman Track Cl,Bo      29.38  27 

 76  2186 Ferwerda, Elsha     10 Pleasant Grove V,Pl      29.45   6 

 77  2628 Casey, Hollis       11 Team X C,Littleton       29.52  17 

 78  1887 Burger, Elise       11 Judge Memorial,Salt      29.59  26 

 79  2520 Denning, Mallory    10 Spanish Fork Tra,Sp      29.71  25 

 80  1495 Mathews, Nina       12 D A T A C,Denver CO      29.74  27 

 81  2323 Mueller, Katie      12 Rock Back,Oceanside      29.81  20 

 82  2561 Gates, Britney      12 Sport of the God,Re      29.94  21 

 83  2412 Steir, Alicea        9 Sheridan Track,Sher      29.96  21 

 84  1899 Samlowski, Erika    11 Judge Memorial,Salt      30.07  21 

 85  2402 Brown, Stephanie     9 Sheridan Track,Sher      30.08   4 

 86  1239 Chavez, Isle        12 Bruin Track Club,Or      30.09   5 

 86  2631 Hinojosa, Cynthia   12 Team X C,Littleton       30.09   2 

 88  2884 Thomas, Jordan      10 Wildcat Track Cl,Wo      30.11  12 

 89  1023 Albertini, Kendra   12 Aspen Mountain T,Ro      30.29  14 

 90  1721 Legeratta, Cassie    9 Gooding Track Cl,Go      30.32  13 

 91  1596 Miller, Whitney     12 Durango Track Cl,Du      30.47  25 

 92  1281 Hammond, Katie      12 Capital Track Cl,He      30.50  24 

 93  2433 Neugebauer, Kendra  11 Sky View Track,Smit      30.54   7 

 94  1109 Traughber, Jamie    11 Big Piney Track,Big      30.62  15 

 95  1103 Drick, Amy          10 Big Piney Track,Big      30.85  21 

 96  1133 Shepherd, Leianne   12 Bingham Track Cl,So      30.90  18 

 97  2324 Schmidt, Molly      10 Rock Back,Oceanside      30.91  18 

 98  1513 Campbell, Katie     11 Davis Track Club,Cl      31.06  17 

 99  1288 Anderson, Ashley    12 Carbon Track,Price       31.08  11 

100  1720 Gill, Kayla         10 Gooding Track Cl,Go      31.18  19 

101  1499 Tewolde, Beth       11 D A T A C,Denver CO      31.43  20 

102  2601 Caughey, Natalie    11 Team Caughey,West J      31.82  19 

103  1127 Fleming, Seantay    10 Bingham Track Cl,So      31.97  26 

104  1032 McCarthy, Mellissa  12 Aspen Mountain T,Ro      31.99   9 

105  2978 Wellard, Tanisha    10 YMCA Team Idaho,Boi      32.24   3 

106  1777 Phifer, Kristin     11 Homedale Track C,Ca      32.34   9 

106  1592 Creech, Laura       10 Durango Track Cl,Du      32.34  25 

108  2678 Buellers, Britney   10 Teeva Track,Colorad      32.43  11 

109  1497 Robinson, Brittany  11 D A T A C,Denver CO      32.63  12 

110  1564 Haile, Bridgett     11 Dixie Dashers,Leeds      32.82  18 

111  1888 Hicks, Katie        11 Judge Memorial,Salt      32.92  23 

112  1486 Collier, Salynthia  11 D A T A C,Denver CO      32.99  15 

113  2634 Shotwell, Dani      12 Team X C,Littleton       33.07  20 

114  2262 Passalaqua, Jaylee  12 Pueblo South Col,Pu      33.32  10 

115  1723 Poole, Lani          9 Gooding Track Cl,Go      33.52  27 

116  1498 Slay, Jenel         10 D A T A C,Denver CO      33.71  16 

117  2245 Moore, Rachel       10 Provo Track,Provo        34.13   6 

118  1228 Garner, Jane        11 Brighton Track C,Sa      34.68   4 

119  1120 Aston, Miranda      11 Bingham Track Cl,So      35.11  14 

120  1901 Schwarz, Maria       9 Judge Memorial,Salt      35.23  23 

121  2194 Salisbury, Kayla    10 Pleasant Grove V,Pl      36.07   7 

122  1131 Park, Phallon       10 Bingham Track Cl,So      38.64  13 

123  2630 Harvey, Cami        12 Team X C,Littleton       41.09  21 

124  2192 Johansson, Katie    12 Pleasant Grove V,Pl      52.27   8 





Event 8  Women 400 Meter Run

===================================================================

    Name                    Year School                 Prelims  H#

===================================================================

Preliminaries

  1  2907 Williams, Sade      11 Williams, Sade,Onta      55.55q  1 

  2  2526 Stewart, Nachelle   10 Spanish Fork Tra,Sp      56.78q  6 

  3  3021 Hilaire, Elan       10 Zzyzx Metropolis,Ne      58.02q  4 

  4  1059 Griffith, Makalia   12 Awesome Power Tr,La      58.24q 11 

  5  1402 Able, Caitlin       12 Colorado Flyers,Den      58.28q 12 

  6  2583 Sullivan, Deanna    12 Sullivan, Deanna,St      58.81q  3 

  7  1969 Gove, Alex          12 Kryptonite Speed,Ca      58.83q  8 

  8  2527 Stewart, Natalie    10 Spanish Fork Tra,Sp      59.90q  7 

  9  1164 Dean, Ally          12 Bonneville Track,Og    1:00.07q 11 

 10  1406 Green, Monique      11 Colorado Flyers,Den    1:00.71q  6 

 11  2117 Skordas, Annie      12 Murray Track Clu,We    1:00.85q  1 

 12  1054 Atkins, Brianna     10 Atkins, Brianna,Ont    1:00.89q  5 

 13  1405 Green, Monica       11 Colorado Flyers,Den    1:00.92q 14 

 14  2062 Davis, Carlyle       9 Marlborough Must,Lo    1:01.17q 13 

 15  1974 LeFerrara, Tara     11 Kryptonite Speed,Ca    1:01.24q  4 

 16  1407 Hageman, Shannon    11 Colorado Flyers,Den    1:01.25q 14 

 17  1326 Rambo, Sade         12 Cheetahs Storm T,Mo    1:01.54q  3 

 18  1631 Hudson, Katie       12 Edmonton Thunder,Ed    1:02.27q  6 

 19  1979 Shae, Jackie        11 Kryptonite Speed,Ca    1:02.41   3 

 20  1768 Thayne, Samantha    10 Highland Track C,Po    1:02.45   6 

 21  2881 Rogers, Jana        12 Wildcat Track Cl,Wo    1:02.67   1 

 22  2023 Cassel, Suzanne     10 Lethbridge Track,Le    1:02.89   1 

 23  1512 Brown, Hailey       12 Davis Track Club,Cl    1:02.92  10 

 24  2663 Cooper, Angele      10 Teekay Track Clu,Co    1:02.98   9 

 25  1437 Folley, Anissa      12 Columbia High Sc,Ma    1:03.06   5 

 26  1327 Stetknovick, Anna   12 Cheetahs Storm T,Mo    1:03.33  10 

 27  2435 Aghdassi, Nahzanee  11 Skyline Eagles T,Sa    1:03.46  12 

 28  1676 Lester, Ashley       9 Fort Collins Tra,Wi    1:03.48   5 

 29  2664 Couser, Nyjah        9 Teekay Track Clu,Co    1:03.57  15 

 30  2353 Best, Sydney        11 Rustler Nation,Grea    1:03.58  14 

 31  2845 Knight, Jodi        11 Utah Acceleratio,Pr    1:03.78  13 

 32  1419 Rollins, Jasmine    12 Colorado Springs,Co    1:03.91   5 

 32  1902 Wallace, Rachael    12 Judge Memorial,Salt    1:03.91  12 

 34  1436 Duncan, Ariel       10 Columbia High Sc,Ma    1:03.93   9 

 34  2115 Larkin, Abbey       12 Murray Track Clu,We    1:03.93  15 

 36  1640 Terlerki, Amelia     9 Edmonton Thunder,Ed    1:04.07   4 

 37  2010 Carter, Breanne     12 Leduc Track Club,Ca    1:04.33   2 

 38  1417 Mangan, Christina   12 Colorado Springs,Co    1:04.73   5 

 39  1515 Christensen, Erica  11 Davis Track Club,Cl    1:05.16  11 

 40  2322 Kawabe, Dana        10 Rock Back,Oceanside    1:05.24   8 

 41  2584 Berg, Marissa       10 Summit Track Clu,Be    1:05.40   1 

 42  1416 Kulow, Keli         10 Colorado Springs,Co    1:05.47   8 

 43  1266 Treadwell, Asha      9 C A T C,Oakland CA     1:05.82   7 

 44  2955 Connolly, Tina      11 YMCA Team Idaho,Boi    1:05.89   6 

 45  1300 Pettigrue, Diedre   11 Cardinal Track C,Sa    1:05.97  15 

 46  2670 Malcolm, Savanna    11 Teekay Track Clu,Co    1:06.13   8 

 47  2509 Collins, Ebonye     12 Sophisticated La,Lo    1:06.23   7 

 48  2413 Townsend, Chali     10 Sheridan Track,Sher    1:06.91   7 

 49  1748 Nystrom, Mandy      12 Havre Track Club,Ha    1:07.02   9 

 50  1479 Raffa, Lindsey      11 Crown Hill Track,Go    1:07.08   8 

 51  2349 Carter, Jessica     10 Roy Track,Roy UT       1:07.42   2 

 52  2720 Hawkins, Terra      10 Timpanogos Track,Or    1:07.43   3 

 53  2792 Lewis, Brittany     11 Tracy Flyers Tra,Tr    1:07.73  13 

 54  1612 Scroggs, Emily      12 E O Y D C,Oakland C    1:07.79   3 

 55  2046 Goldberg, Janelle   12 Lodi Track Club,Lod    1:07.96   2 

 56  1376 Pollock, Jonelle    10 Cody Track Club,Cod    1:08.04   4 

 57  2347 Andersen, Leina     10 Roy Track,Roy UT       1:08.24   9 

 58  2348 Berenyi, Shantel    10 Roy Track,Roy UT       1:08.32  11 

 59  1196 Stucky, Lean           Bozeman Track Cl,Bo    1:08.86  12 

 60  1106 Nessan, Jamie       12 Big Piney Track,Big    1:09.27  10 

 61  2047 Rodriguez, Jordan    9 Lodi Track Club,Lod    1:09.59   9 

 62  2961 Holt, Madison          YMCA Team Idaho,Boi    1:09.66   3 

 62  1531 Terry, Melissa      10 Davis Track Club,Cl    1:09.66  15 

 64  2722 Riddle, Jessie      10 Timpanogos Track,Or    1:09.68  14 

 65  2258 Cisneros, Amanda    12 Pueblo South Col,Pu    1:09.81  11 

 66  2401 Brown, Kearstin     10 Sheridan Track,Sher    1:10.45  14 

 67  2870 Peterson, Cristal    9 West Side Track,Day    1:10.75  12 

 68  1025 Burstad, Emily      12 Aspen Mountain T,Ro    1:11.19  15 

 69  1532 Wallace, Marcie     10 Davis Track Club,Cl    1:11.97   5 

 70  2213 Knighton, Britney   11 Portneuf Track C,Po    1:12.38  13 

 71  2752 Kuhlmann, Kimberly  10 Timpview Thunder,Pr    1:12.41   8 

 72  2242 Carlile, Lauren     12 Provo Track,Provo      1:12.87   7 

 73  2188 Frenzel, Emmelina   10 Pleasant Grove V,Pl    1:14.14   4 

 74  1130 Nielsen, Jessie     12 Bingham Track Cl,So    1:16.82   4 

 75  1211 Dobben, Jerri       11 Brave Running Cl,Af    1:19.42   6 





Event 10  Women 800 Meter Run

================================================================

    Name                    Year School                 Prelims 

================================================================

Preliminaries

  1  1608 Magana, Rosa        12 E O Y D C,Oakland C    2:18.10q 

  2  1379 Slight, Stacy       12 Cody Track Club,Cod    2:18.30q 

  3  1894 McMillan, Samantha  11 Judge Memorial,Salt    2:18.41q 

  4  1641 Vos, Kim            12 Edmonton Thunder,Ed    2:19.29q 

  5  1679 Ogan, Tatiana        9 Fort Collins Tra,Wi    2:21.58q 

  6  2913 Chugg, Jessie       10 Wolfpack Track C,Pl    2:21.80q 

  7  1412 Abdouch, Allie      11 Colorado Springs,Co    2:21.86q 

  8  1968 Ganzar, Leigh Ann   11 Kryptonite Speed,Ca    2:22.38q 

  9  1637 Soderberg, Nicole    9 Edmonton Thunder,Ed    2:22.91q 

 10  3026 Williams, Century   10 Zzyzx Metropolis,Ne    2:22.98q 

 11  2717 Bringhurst, Kimber  10 Timpanogos Track,Or    2:24.00q 

 12  1370 Blankenship, Carli  10 Cody Track Club,Cod    2:24.44q 

 13  1999 Fleming, Rosie      10 Lane 5 Productio,Th    2:24.51q 

 14  1977 Rodriguez, Dani     12 Kryptonite Speed,Ca    2:25.88q 

 15  2759 Troutner, Amelia    11 Timpview Thunder,Pr    2:25.90q 

 16  1270 Kendall, Danielle   10 Calgary Spartans,Ca    2:26.03q 

 17  1761 Diaz, Jordan         8 Heritage Track C,Sa    2:26.71q 

 18  1361 Mitchell, Bridgett  12 Chino Pumas,Chino C    2:26.88q 

 19  2114 Ross, Shannon       11 Montana Dorymate,Bi    2:27.92q 

 20  1320 English, Jeanell    12 Cheetahs Storm T,Mo    2:28.09q 

 21  2480 Blakely, Adriana    12 So. Cal Cheetahs,We    2:28.10q 

 22  1238 Benson, Emily       12 Bruin Track Club,Or    2:28.32q 

 23  1493 Lomax, Jacqueline   11 D A T A C,Denver CO    2:28.50q 

 24  1031 Lovato, Melissa     11 Aspen Mountain T,Ro    2:28.83q 

 25  2292 Cocco, Sarah        11 Ric Rojas Runnin,Bo    2:29.25q 

 26  1517 Dixon, Jami         11 Davis Track Club,Cl    2:29.47q 

 27  1978 Schaefer, Lindsay   10 Kryptonite Speed,Ca    2:29.53q 

 28  2026 Hurdle, Valerie     12 Lethbridge Track,Le    2:30.37  

 29  1125 Ellsworth, Jessica  12 Bingham Track Cl,So    2:30.42  

 30  2958 Gallagher, Kathari  12 YMCA Team Idaho,Boi    2:30.70  

 31  1240 Houle, Ashley       12 Bruin Track Club,Or    2:30.79  

 32  2756 Peavler, Samantha   11 Timpview Thunder,Pr    2:30.81  

 33  1636 Soderberg, Alana    10 Edmonton Thunder,Ed    2:31.02  

 34  2671 Parker, Paula       12 Teekay Track Clu,Co    2:32.25  

 35  1630 Hudson, Amy          9 Edmonton Thunder,Ed    2:32.42  

 36  2964 Mering, Ellen        9 YMCA Team Idaho,Boi    2:32.96  

 37  1582 Sanchez, Marissa    10 Donnelley Track,Twi    2:32.97  

 38  1272 Nhukwete, Veronica  12 Calgary Spartans,Ca    2:33.87  

 39  1469 Crabb, Brittnay     10 Crabb, Brittnay,Fon    2:34.20  

 40  2009 Leake, Tia           9 Leake, Tia,Corona C    2:34.84  

 41  2012 Morton, Alanna      10 Leduc Track Club,Ca    2:35.13  

 42  1701 Weber, Amanda       11 Gillette Track,Gill    2:35.23  

 43  1024 Alias, Jenna        10 Aspen Mountain T,Ro    2:35.40  

 44  1063 Barnes, Rebecca      9 Barnes, Rebecca,Wes    2:36.53  

 45  1560 Davis, Chelsea      11 Davis, Chelsea B,Ne    2:36.55  

 46  1181 Spartas, Elizabeth  10 Bozeman Distance,Bo    2:36.56  

 47  2744 Crosby, Jessica     12 Timpview Thunder,Pr    2:36.70  

 48  2378 Kidman, Stephanie   12 S. I. Track Club,Id    2:36.77  

 48  1241 Judd, Jackie        11 Bruin Track Club,Or    2:36.77  

 50  1230 Zufelt, Kalina      11 Brighton Track C,Sa    2:36.94  

 51  2014 Oswald, Erika       10 Leduc Track Club,Ca    2:37.17  

 52  1180 Goodrich, Gillian   12 Bozeman Distance,Bo    2:38.52  

 53  1043 Zancanella, Annie   11 Aspen Mountain T,Ro    2:38.74  

 54  1697 Hollenbeck, Cassa   11 Gillette Track,Gill    2:38.94  

 55  2195 Shelton, Madeline   10 Pleasant Grove V,Pl    2:38.96  

 56  1972 Jackson, Sydney     11 Kryptonite Speed,Ca    2:39.15  

 57  1378 Rosechandler, Roby  11 Cody Track Club,Cod    2:40.26  

 58  1251 Jaynes, April       11 Buhl Track Club,Buh    2:40.34  

 59  2319 Frontera, Allison   10 Rock Back,Oceanside    2:40.43  

 60  1006 Crisp, Catherine     9 Alex Van Dyke Tr,Sa    2:40.50  

 61  2858 Sorensen, McKell    12 Weber Track Club,Pl    2:40.52  

 62  2320 Frontera, Samantha  10 Rock Back,Oceanside    2:40.83  

 63  2562 Redmond, Brittnay   11 Sport of the God,Re    2:41.15  

 64  1012 Motor, Alison        9 Alex Van Dyke Tr,Sa    2:41.67  

 65  2048 Woznick, Laura      11 Lodi Track Club,Lod    2:41.81  

 66  2635 Sweeney, Maddie     10 Team X C,Littleton     2:41.92  

 67  2314 Batiz, Isabel       11 Rock Back,Oceanside    2:41.97  

 68  1286 Smith, Sabrina       9 Capital Track Cl,He    2:42.13  

 69  2857 Hillstrom, Camille  12 Weber Track Club,Pl    2:42.26  

 70  2746 Freeman, Christina  11 Timpview Thunder,Pr    2:42.42  

 71  2243 Chipman, Katherine  10 Provo Track,Provo      2:42.50  

 72  2207 Pleasant, Brianna   12 Pleasant, Briann,On    2:42.56  

 73  1599 Shepard, Erin       10 Durango Track Cl,Du    2:44.24  

 74  2751 Johnson, Julia      10 Timpview Thunder,Pr    2:44.52  

 75  2259 Herron, Shelby      11 Pueblo South Col,Pu    2:44.86  

 76  2144 Krekoski, Brianna   10 Northeast Albert,St    2:45.27  

 77  2918 Pluim, Katie        12 Wolfpack Track C,Pl    2:45.66  

 78  1036 Rawson, Darci       11 Aspen Mountain T,Ro    2:45.86  

 79  1242 Judd, Janni         11 Bruin Track Club,Or    2:45.89  

 80  1516 Clark, Angela       10 Davis Track Club,Cl    2:46.10  

 81  2975 Smith, Elynn           YMCA Team Idaho,Boi    2:46.40  

 82  2185 Eldredge, Haley      9 Pleasant Grove V,Pl    2:47.68  

 83  2757 Simonsen, Faith     10 Timpview Thunder,Pr    2:48.59  

 84  2408 George, Chelsea     10 Sheridan Track,Sher    2:48.70  

 85  1595 Kotlar, Elise       10 Durango Track Cl,Du    2:49.38  

 86  2971 Robinson, Melissa   11 YMCA Team Idaho,Boi    2:49.86  

 87  2013 Myatt, Heather      10 Leduc Track Club,Ca    2:50.07  

 88  2217 Rittenhouse, Emily  10 Portneuf Track C,Po    2:50.11  

 89  1022 Abulahvilli, Katya  11 Aspen Mountain T,Ro    2:50.16  

 90  2679 DelPardo, Alicia    12 Teeva Track,Colorad    2:50.71  

 91  2829 Anderson, Mckinzie   9 Trojan Track Clu,Ri    2:51.51  

 92  2719 Hart, Amber         10 Timpanogos Track,Or    2:53.57  

 93  1480 Ross, Marie         11 Crown Hill Track,Go    2:53.72  

 94  2265 Vallejos, Allysa     9 Pueblo South Col,Pu    2:54.86  

 95  2184 Cook, Lauresa        9 Pleasant Grove V,Pl    2:55.29  

 96  1076 Stoddard, Whitney   11 Beaverhead Track,Di    2:57.51  

 97  1122 Bracken, Meagan     10 Bingham Track Cl,So    2:57.93  

 98  2879 Edminster, Liz      12 Wildcat Track Cl,Wo    3:03.22  

 99  2878 Cook, Stephanie      9 Wildcat Track Cl,Wo    3:12.04  

100  1510 Andrus, Amy          9 Davis Track Club,Cl    3:12.53  

101  1844 Jefferson, Alyssa   10 James Logan,Union C    3:13.14  

102  1256 Bunton, Jennifer    12 Bunton, Jennifer,Ca    3:16.12  

103  2745 Franklin, Jaycee     9 Timpview Thunder,Pr    3:21.10  









Event 4  Women 60 Meter Hurdles

===================================================================

    Name                    Year School                 Prelims  H#

===================================================================

Preliminaries

  1  1610 Purvis, Julian      10 E O Y D C,Oakland C       8.89q 13 

  2  1611 Richardson, Ke'Nyi  11 E O Y D C,Oakland C       8.90q  7 

  3  1302 Thomas, Vashti      10 Cardinal Track C,Sa       8.92q  4 

  4  1853 Ward, Teirra        12 James Logan,Union C       9.00q  9 

  5  1409 Owens, Talaya       12 Colorado Flyers,Den       9.01q  3 

  6  2661 Carson, De Ana      12 Teekay Track Clu,Co       9.25q 11 

  7  3018 Abdue-Rashed, Sale  11 Zzyzx Metropolis,Ne       9.25q  8 

  8  1967 Eades, Nikita       12 Kryptonite Speed,Ca       9.28q  5 

  9  1019 Youngblood, Jamesh  11 Alex Van Dyke Tr,Sa       9.32q 16 

 10  1514 Cannon, Ashlee      12 Davis Track Club,Cl       9.33q 13 

 11  1850 Stewart, Briana     10 James Logan,Union C       9.43q 12 

 12  2061 Baltimore, Ashtyn    9 Marlborough Must,Lo       9.49q 11 

 13  1262 Hudson, Dantia      11 C A T C,Oakland CA        9.64q 10 

 14  2483 Stone, Allison      12 So. Cal Cheetahs,We       9.72q  5 

 15  1678 Markham, Kimberly   12 Fort Collins Tra,Wi       9.77q  6 

 16  1990 Matherson, Heather  12 Lady Warriors,Denve       9.78q  6 

 17  2951 Brunel, Kaycee       9 YMCA Team Idaho,Boi       9.83q 15 

 18  2590 Zimmerman, Lindsay  12 Summit Track Clu,Be       9.86q  9 

 19  1965 Burgeson, Brittany  11 Kryptonite Speed,Ca       9.91   3 

 20  1694 Ebner, Kylie        11 Gillette Track,Gill      10.04  12 

 20  1762 Evans, Symone        8 Heritage Track C,Sa      10.04   7 

 22  1298 Dugall, Stella      11 Cardinal Track C,Sa      10.07  15 

 23  3024 Staley, Alexa       11 Zzyzx Metropolis,Ne      10.08  11 

 24  2280 MacLeay, Anna       11 Rangeview Track,Aur      10.14   2 

 25  2841 Simpson, Lauren      9 University of Al,Ed      10.20   2 

 26  1527 Lott, Camille       11 Davis Track Club,Cl      10.22   8 

 27  1980 Walker, Jo          11 Kryptonite Speed,Ca      10.24  15 

 27  1970 Gruber, Nikole      12 Kryptonite Speed,Ca      10.24  12 

 29  2966 O'Toole, Kelsey     12 YMCA Team Idaho,Boi      10.27   3 

 30  2407 Freeman, Jami       12 Sheridan Track,Sher      10.33   2 

 31  2356 Perry, Brianna      12 Rustler Nation,Grea      10.35  16 

 32  2586 Kumar, Suni         11 Summit Track Clu,Be      10.38   2 

 33  2482 McGrail, Melissa    12 So. Cal Cheetahs,We      10.50   6 

 34  1520 Evans, Jackie       12 Davis Track Club,Cl      10.60   8 

 35  1193 Kaelberer, Brittne  11 Bozeman Track Cl,Bo      10.61   6 

 35  2261 Murrey, Ally        10 Pueblo South Col,Pu      10.61  13 

 37  1632 Kornelsen, Alana    11 Edmonton Thunder,Ed      10.75   4 

 38  1489 Honeycutt, Makayla  11 D A T A C,Denver CO      10.83   4 

 39  2915 Dimick, Kiera       11 Wolfpack Track C,Pl      10.95  11 

 40  1530 Seymour, Tess       11 Davis Track Club,Cl      10.97   7 

 41  2954 Clark, Amber           YMCA Team Idaho,Boi      11.12   3 

 42  1359 Holmes, Debra       12 Chino Pumas,Chino C      11.14   9 

 43  1128 Hadley, Lacey       12 Bingham Track Cl,So      11.22  14 

 44  1190 Elhard, Fallon      11 Bozeman Track Cl,Bo      11.23  16 

 45  1041 Uranker, Kayla      11 Aspen Mountain T,Ro      11.27   7 

 46  1730 Core, Heather          Green River Trac,Gr      11.30   5 

 46  1790 Dalley, Jara         9 Indian Track Tea,Po      11.30  10 

 48  1897 Randazzo, Trisha    11 Judge Memorial,Salt      11.38   8 

 49  2087 Crawford, Kaitlin   11 McCall DonnellyT,Mc      11.42   7 

 50  1584 Warner, Ginifer     11 Donnelley Track,Twi      11.47   9 

 50  1525 Johnson, Lauren     12 Davis Track Club,Cl      11.47  14 

 52  2458 Murdoch, Allie       9 Snake River Rapi,Bl      11.48   4 

 53  1165 Taylor, Shawney     10 Bonneville Track,Og      11.53   4 

 54  2498 Gentry, Anna        11 Soda Track Club,Sod      11.55   7 

 55  2844 Gambles, Ashley     12 Utah Acceleratio,Pr      11.60  11 

 56  1976 Prentice, Megan     11 Kryptonite Speed,Ca      11.64  12 

 57  2241 Camp, Tristan       12 Provo Track,Provo        11.65  12 

 57  2281 Richie, Alyssa      11 Rangeview Track,Aur      11.65  15 

 59  2193 Kernan, Jessica     12 Pleasant Grove V,Pl      11.66  13 

 60  1786 Armijo, Alyssa      10 Indian Track Tea,Po      11.70  12 

 61  1263 Nazel, Whitney      11 C A T C,Oakland CA       11.79  10 

 62  2295 TenEyck, Ailsa      10 Ric Rojas Runnin,Bo      11.93  16 

 63  2883 Tanner, Sasha       11 Wildcat Track Cl,Wo      12.07  13 

 64  2321 Jellison, Nicole    12 Rock Back,Oceanside      12.40  13 

 65  1934 Overman, Misty      10 Kearns Track Clu,Ke      12.47  14 

 66  1297 Douglas, Aziah      10 Cardinal Track C,Sa      12.54   5 

 66  1237 Pearson, Michayla   12 Bronco Hurdles,Blac      12.54  11 

 68  1524 Hill, Kaylee        12 Davis Track Club,Cl      13.96   3 

 69  2862 Webster, Tracy      12 Webster, Tracy,Seba      17.13  14 

 --  1733 Simpson, Ashley      9 Green River Trac,Gr         NT   1 

 --  1945 Lensert, Stephanie  11 Kelly Walsh Trac,Ca         NT   1 

 --  2073 Klotz, Rachel       12 Max Trax Track C,Lo         NT   1 

 --  2467 Dunn, Karyn          9 So. Cal Cheetahs,Di         NT   1 

 --  2589 Zimmerman, Kelsey    8 Summit Track Clu,Be         NT   1 

   





Event 21  Women 4x200 Meter Relay

===================================================================

    School                                              Prelims  H#

===================================================================

Preliminaries

  1 Teekay Track Club  'A'                              1:42.04q  1 

  2 James Logan  'A'                                    1:42.12q  9 

  3 Alex Van Dyke Track Club  'A'                       1:43.92q  3 

  4 Teekay Track Club  'B'                              1:45.70q  8 

  5 Awesome Power Track Club  'A'                       1:45.78q 10 

  6 D A T A C  'A'                                      1:46.61q  2 

  7 Davis Track Club  'A'                               1:46.65q  6 

  8 Kryptonite Speed Team  'A'                          1:46.83q  4 

  9 Cardinal Track Club  'A'                            1:47.76q  6 

 10 Cheetahs Storm Track Club  'A'                      1:48.08q 10 

 11 C A T C  'A'                                        1:48.65q  3 

 12 Fort Collins Track Club  'A'                        1:48.95q  7 

 13 So. Cal Cheetahs Women  'A'                         1:49.08   8 

 14 Tracy Flyers Track Club  'A'                        1:49.14   7 

 15 Columbia High School  'A'                           1:49.58   1 

 16 YMCA Team Idaho  'A'                                1:49.66   7 

 17 Tracy Flyers Track Club  'B'                        1:49.78   6 

 18 Zzyzx Metropolis Track Club  'A'                    1:49.85   9 

 19 Teekay Track Club  'C'                              1:50.30  11 

 20 Alex Van Dyke Track Club  'B'                       1:50.46   8 

 21 Edmonton Thunder  'A'                               1:50.82  11 

 22 Eaglecrest E T C  'A'                               1:51.07   4 

 23 Portneuf Track Club  'A'                            1:51.32   2 

 24 Colorado Springs Striders  'A'                      1:51.63   5 

 25 Cheetahs Storm Track Club  'B'                      1:51.74   9 

 26 Donnelley Track Club  'A'                           1:51.82   8 

 27 Kryptonite Speed Team  'B'                          1:52.44   9 

 28 Utah Acceleration  'A'                              1:52.54   3 

 29 Lethbridge Track & Field Club  'A'                  1:52.91   6 

 30 Aspen Mountain Track Club  'A'                      1:53.56  10 

 31 Spanish Fork Track Club  'A'                        1:53.61   5 

 32 Gillette Track  'A'                                 1:53.75   2 

 33 Sophisticated Ladies TC  'B'                        1:54.77  10 

 34 Rock Back  'A'                                      1:55.13   1 

 35 Summit Track Club  'A'                              1:55.36   9 

 36 Wildcat Track Club  'A'                             1:55.57   3 

 37 D A T A C  'B'                                      1:56.08   2 

 38 Capital Track Club  'A'                             1:58.29   6 

 39 Davis Track Club  'B'                               1:58.33   5 

 40 Big Piney Track Club  'A'                           1:58.34  10 

 41 YMCA Team Idaho  'B'                                1:58.77   8 

 42 Beaverhead Track Club  'A'                          2:01.63  11 

 43 Havre Track Club  'A'                               2:02.37   7 

 44 Pueblo South Colts  'A'                             2:02.59  11 

 45 Indian Track Team  'A'                              2:03.05   4 

 46 Judge Memorial  'A'                                 2:05.08   3 

 47 Brighton Track Club  'A'                            2:05.53  10 

 48 Provo Track  'A'                                    2:06.87   9 

 49 Timpview Thunderbirds  'B'                          2:08.78   8 

 50 Timpview Thunderbirds  'A'                          2:10.52   7 

 51 D A T A C  'C'                                      2:16.16  11 

 -- Bingham Track Club  'A'                                  DQ   4 









Event 23  Women 4x400 Meter Relay

===================================================================

    School                                              Prelims  H#

===================================================================

Preliminaries

  1 Kryptonite Speed Team  'A'                          4:03.25q  2 

  2 Cheetahs Storm Track Club  'A'                      4:05.96q  2 

  3 James Logan  'A'                                    4:06.93q  6 

  4 Teekay Track Club  'A'                              4:07.10q  1 

  5 Kryptonite Speed Team  'B'                          4:08.83q  5 

  6 Marlborough Mustangs  'A'                           4:11.02q  5 

  7 Alex Van Dyke Track Club  'A'                       4:11.14q  3 

  8 Cody Track Club  'A'                                4:12.24q  4 

  9 Davis Track Club  'A'                               4:17.25q  3 

 10 Utah Acceleration  'A'                              4:18.15q  4 

 11 Sophisticated Ladies TC  'A'                        4:18.92q  3 

 12 Teekay Track Club  'B'                              4:20.03q  6 

 13 Rangeview Track Club  'A'                           4:20.98   6 

 14 Pleasant Grove Vikings  'A'                         4:21.68   5 

 15 Wildcat Track Club  'A'                             4:21.75   1 

 16 Spanish Fork Track Club  'A'                        4:22.35   3 

 17 Wolfpack Track Club  'A'                            4:26.94   1 

 18 Cheetahs Storm Track Club  'B'                      4:29.55   4 

 19 Timpview Thunderbirds  'A'                          4:31.17   6 

 20 Lodi Track Club  'A'                                4:33.47   2 

 21 Durango Track Club  'A'                             4:35.77   2 

 22 Sheridan Track  'A'                                 4:37.07   2 

 23 Indian Track Team  'A'                              4:41.05   5 

 24 Wildcat Track Club  'B'                             4:44.62   1 

 25 Timpanogos Track  'A'                               4:48.44   5 

 26 Payson Track  'A'                                   4:54.41   3 

 27 Gooding Track Club  'A'                             4:55.23   4 

 28 Provo Track  'A'                                    4:58.84   4 







Event 19  Women 1600 Sprint Medley

===================================================================

    School                                              Prelims  H#

===================================================================

Preliminaries

  1 Zzyzx Metropolis Track Club  'A'                    4:11.71q  5 

  2 Spanish Fork Track Club  'A'                        4:18.16q  6 

  3 James Logan  'A'                                    4:19.49q  8 

  4 Davis Track Club  'A'                               4:20.08q  9 

  5 Fort Collins Track Club  'A'                        4:22.05q  3 

  6 Kryptonite Speed Team  'A'                          4:22.34q  1 

  7 Judge Memorial  'A'                                 4:25.00q  5 

  8 Portneuf Track Club  'A'                            4:25.74q  3 

  9 Columbia High School  'A'                           4:29.98q  9 

 10 Lethbridge Track & Field Club  'A'                  4:30.94q  9 

 11 Timpview Thunderbirds  'A'                          4:31.35q  2 

 12 Edmonton Thunder  'A'                               4:31.75q  7 

 13 Marlborough Mustangs  'A'                           4:31.75   7 

 14 Kryptonite Speed Team  'B'                          4:32.59   4 

 15 YMCA Team Idaho  'A'                                4:33.06   1 

 16 Colorado Springs Striders  'A'                      4:34.08   7 

 17 Team X C  'A'                                       4:34.68   8 

 18 Skyline Eagles Track Club  'A'                      4:34.96   9 

 19 Rangeview Track Club  'A'                           4:35.17   5 

 20 Timpanogos Track  'A'                               4:37.54   7 

 21 Sophisticated Ladies TC  'A'                        4:40.05   5 

 22 Pleasant Grove Vikings  'A'                         4:41.20   4 

 23 Davis Track Club  'B'                               4:42.47   6 

 24 Rock Back  'A'                                      4:45.47   1 

 25 Team X C  'B'                                       4:45.51   3 

 26 YMCA Team Idaho  'C'                                4:46.63   8 

 27 Cardinal Track Club  'A'                            4:48.08   6 

 28 YMCA Team Idaho  'B'                                4:48.88   8 

 29 Sheridan Track  'A'                                 4:53.31   2 

 30 Judge Memorial  'B'                                 4:53.99   6 

 31 Provo Track  'A'                                    4:54.78   7 

 32 Lodi Track Club  'A'                                4:55.35   4 

 33 Timpview Thunderbirds  'B'                          4:56.94   9 

 34 Teeva Track  'A'                                    4:57.38   9 

 35 Tiger Track OR  'A'                                 4:58.47   1 

 36 Wildcat Track Club  'A'                             5:03.02   3 

 37 Durango Track Club  'A'                             5:04.37   5 

 38 Timpview Thunderbirds  'C'                          5:05.48   2 

 39 Big Piney Track Club  'A'                           5:05.67   1 

 40 Sheridan Track  'B'                                 5:06.78   6 

 41 Durango Track Club  'B'                             5:38.30   8 


 Simplot meet home page