Donna on the Side at Simplot
by Donna Dye
Part 1 - intro, waves, potpourri, ceremonies
Part 2 - sprints and hurdles
Part 3 - distance
Part 4 - relays
Part 5 - field events
This is the 28th year for the Simplot Games. It's a meet run almost entirely by volunteers who are dedicated to providing a positive experience for all participants. Their dedication results in a well organized and officiated meet that presents a friendly atmosphere for athletes, coaches and fans. The Simplot Games provide a high level of competition for the West that is rare during the indoor season. But it's attraction is not limited to the West. This year 2,022 athletes from 22 states and Canada came to fulfill the competitive spirit.
Rolling Mountains provide the background to Pocatello and the Simplot Games.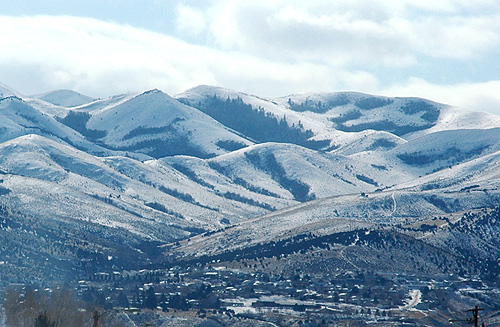 Getting to the 28th Simplot Games took some doing for many. A snowstorm with blowing snow, low visibility and icy conditions left roads very dangerous. But the teams kept coming. The New York teams were particularly determined to get to the Simplot Games on time. They came by airplane from Newark, New Jersey. Then they traveled by bus from Salt Lake City for 14 hours. Along the way the bus broke down for a time until a couple of multi-talented coaches fixed the problem long enough to get to Pocatello. Other teams coming from surrounding areas took longer than usual to get to Pocatello. Fortunately all made it safely and on time.
The Simplot Games has seen national records and athletes that have gone on to be Olympians. This year is no exception with all time ranking performances by Bianca Knight, Wilson Long Beach CA girls, Karjuan Williams, and Spencer McCorkel.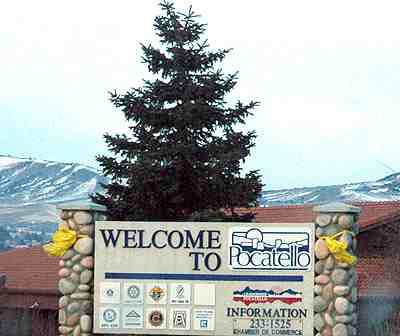 Pocatello, home of the Simplot Games.
Pocatello is 150 miles north of Salt Lake City, Utah, 4,448 feet above sea level, nestled in the western foothills of the Rocky Mountains. Less than 15 inches of precipitation falls in a year which gives a desert look to the terrain. The name Pocatello comes from an Indian chief of the Shoshone tribe who granted the railroad a right-of-way through the Fort Hall Indian Reservation.
Through the years, Pocatello has transitioned from a stop on the 1860's gold rush to an agricultural community to the regional center for shopping, education, medical care, and cultural and social activities that it is today.
Let the Games Begin
Simplot Theme for 2006
"Every Lane is a Passing Lane"
The Simplot Games are held at Holt Arena on the campus of Idaho State University.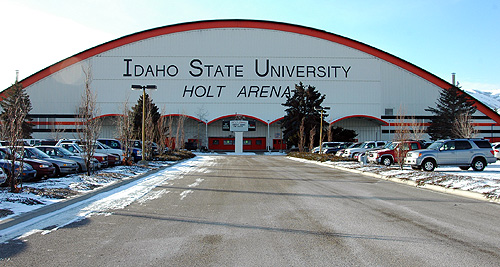 Mr. Simplot greets the athletes.
J.R. Simplot, patriarch of the Simplot company, founded the meet in 1979.
J.R. Simplot, 97, built the Simplot business from scratch. Today Simplot is an agribusiness company that says it's one of the world's largest frozen-potato processors, turning out 3 billion pounds of French fries and other potato products. It also does agricultural fertilizers and a host of other farm products. J.R. Simplot became a sponsor of the games out of a love for track and field.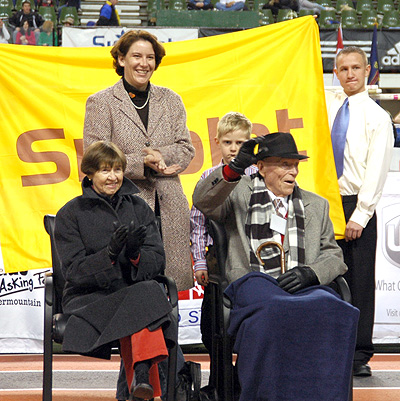 Holt Arena is actually an indoor football stadium that is transformed into a track and field facility by volunteers who assemble a wooden banked track on the field.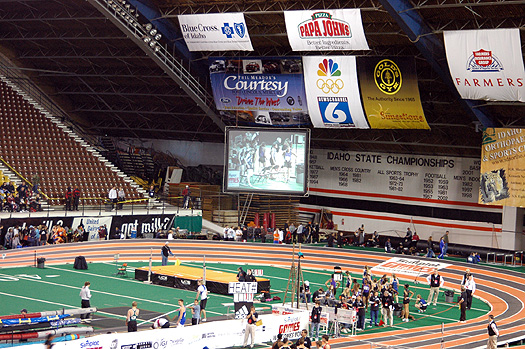 Simplot 2006 All Stars
Trenton Guy
Doubled--60 and 200

Bianca Knight
Doubled--60 and 200

Karjuan Williams
Set a new meet record and ran a 4th best ever in the US in the 800 meters.
Teekay Track Club 'A'

( Long Beach Wilson CA)
Doubled 4x200 meters and 4x400 meters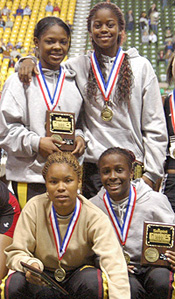 Faces of the Sidelines
The Wave
Greg Armstrong NY comes to the Simplot Games wearing many hats: photographer, coach, and dad. His son, Mathew runs for Transit Tech.
Mathew Armstrong NY
Mathew won gold for his part in the Transit Tech 4 x 200 and finished 3rd in the 400 meters.
Newburgh NY

Maplewood NJ (Columbia HS) 4x200
(from left) Ariel Duncan, Aasha Anderson, Anissa Folley, Tenestia Simpson

St. Mary's Panthers-Berkeley CA

Pueblo Colorado made it to Simplot after a 15 hour bus trip that usually took 12 hours.

Logan CA
Mt. View UT: (from left) Ilse Chavez, Ashley Houle, David Dorema, Sarah Yingling
Ashley is following in the footsteps of her sister Heidi, now in college, who won the 800m at Simplot last year.

Teeva CO: (from left) Christina, Domonique and Brittney
Potpourri
Simplot Volunteer Jill Jill Latimer with her sons Stanton (l) and Nathan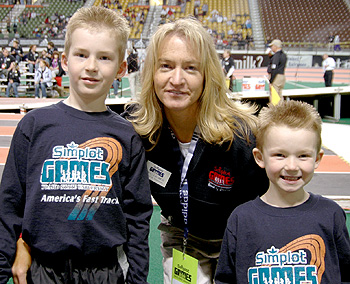 Simplot Employees and Volunteers: (from left)
Randy Harris, Kim Peterson,, Bryon Smith, Melissa Humphreys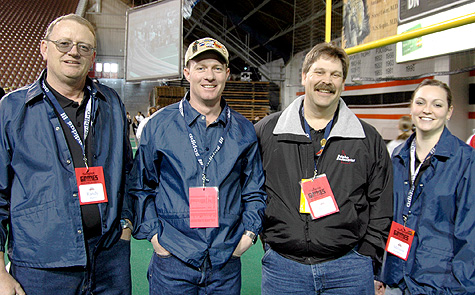 Ceremonies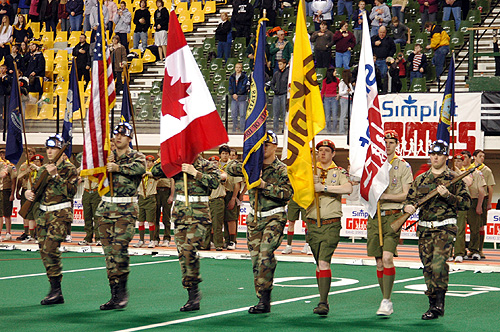 J.R. Simplot and Family wave to the Parade of Athletes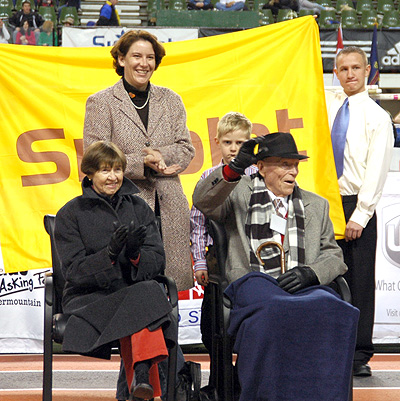 Olympians Dick Fosbury (r) and Andre Phillips
lead a Happy Birthday song to J.R. Simplot on his 97th birthday.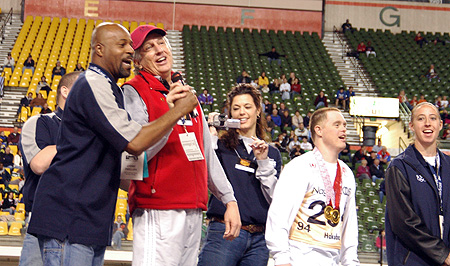 The Parade of Athletes
Top States: Utah-537; Idaho-320; California-318; Colorado-288; Montana-130; Canada-81 and coming long distance, New York-43; New Jersey 14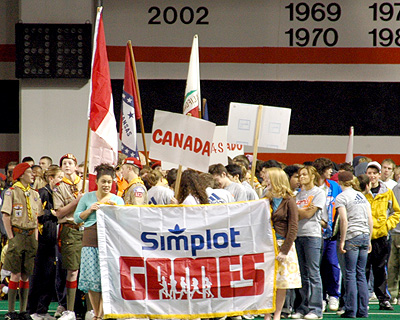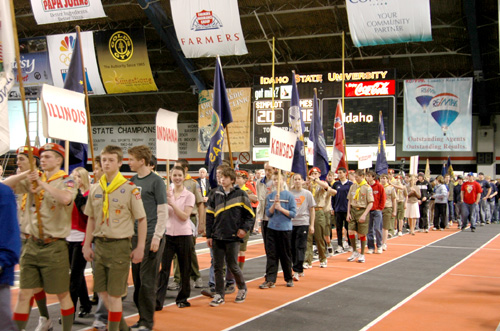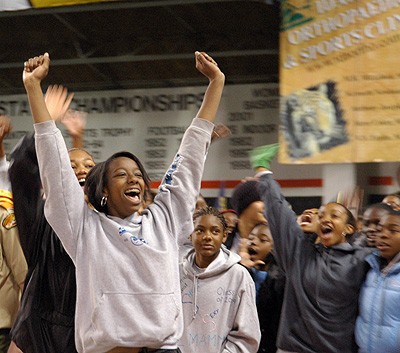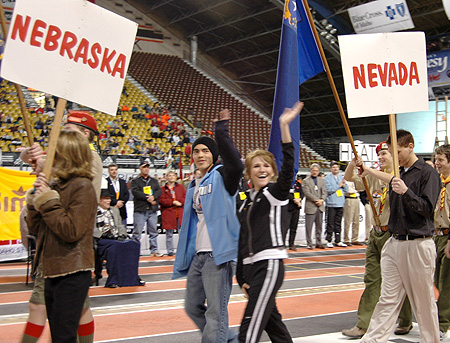 Newburgh and Transit Tech stop to greet J.R. Simplot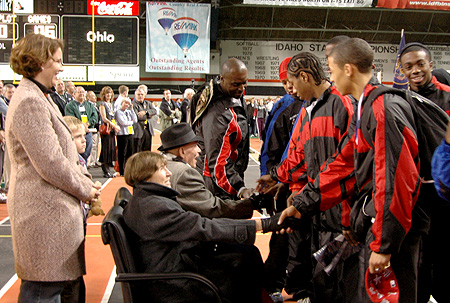 Donna on the Side at Simplot
by Donna Dye
Part 1 - intro, waves, potpourri, ceremonies
Part 2 - sprints and hurdles
Part 3 - distance
Part 4 - relays
Part 5 - field events