Donna on the Side
by Donna Dye
Part 1 - the scene - people tell why they come to the Armory
Part 2 - on the sidelines
Part 3 - the races
Part 4 - awards
the races . . . .
Mile - winners are off to the Milrose Games!
With a time of 4:13.17 Dan McManamon-Shenendehowa won the mile, got an invitation to the Milrose and set a new US#1. Dan poses with Dad, Dan.
Mile Winner, Liz Costello-Conestoga with Coach Ryan Comstock
Liz's mile was 04:56.09.
2nd Katie Doswell VA
2nd Charles White NY
Look out Duke, here come Tradelle Ward and Dan McManamon. Tradelle and Dan are longtime friends and will room together at Duke. Tradelle, a Foot Locker finalist, finished 5th in the mile.
Relays
800 Meter Relay
1st Camden NJ
(from left) Charles Waugh, Sherman Goree, Casey Pinckney, Robert McGriff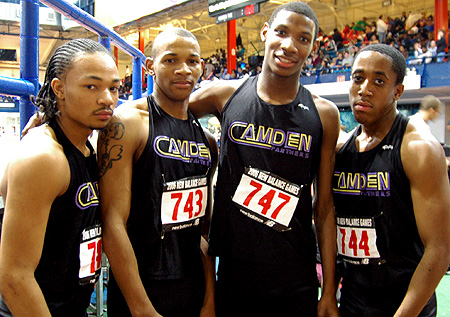 2nd DeWitt Clinton NY
(from left) George Nwankwo, Cevon Carver, Branden Feraly, Brian McManious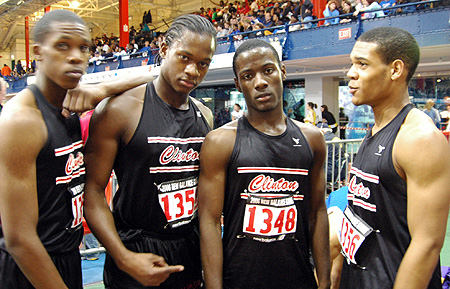 1st both 800 and 1600 and Hempstead NY
(from left) Racquel An derson, Rene Cousins, Fallon Wilks, Sayoka Daley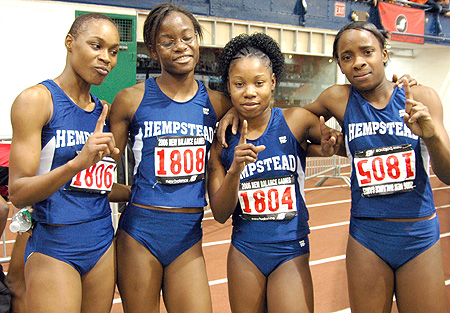 2nd Woodrow Wilson NJ
(from left) Tamara Jones, Samantha Sharper, Shquanda Meylor, Jasmine Stioo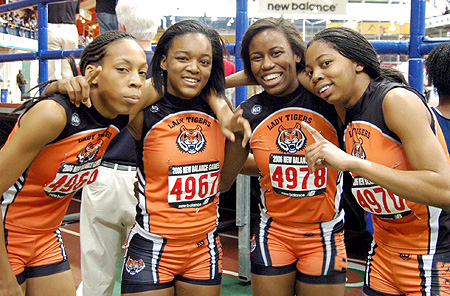 Freeport NY
(from left) Juaneita Byfield, Stacy Wilson, Adrina McCreary, Chelsea Lawyenc-Fulton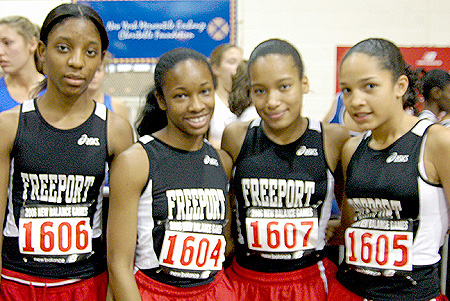 1600 Meter Relay
1st Simon Gratz PA
(from left) Gorunidh Corbin, Kenneth Talley, Markise King, Kevin Tally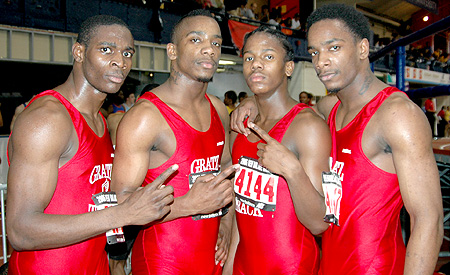 3rd DeWitt Clinton NY:
(from left) Daina Foster, Courtney Lawrence, Quanisha Simmons, Alba Knight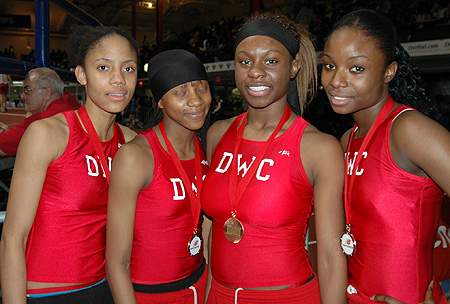 Strath Haven PA
(from left) Alisha McKiethan, Jacqui Logan, Niki King, Alix Williams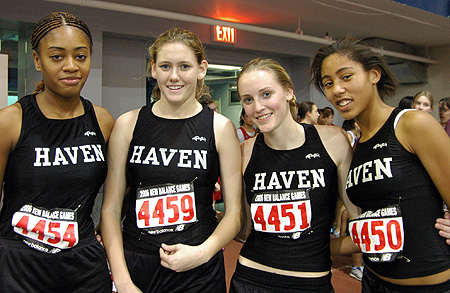 Jamaica NY 4x4 and 4x8
(from left) Keneshia Anderson, Shaquana Neils, Taneisha Renaub, Atoya Webb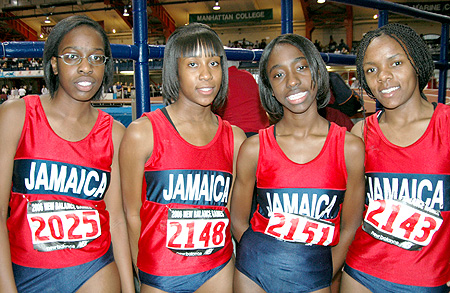 Grady NY
(from left) Corey Johnson, Elden Bennett, Reginald Raymond, Christopher Stephenson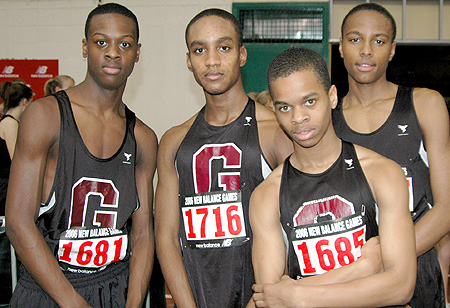 3200 Meter Relay
Girls
1st and setting a new US#1 Suffern NY
(from left) Caroline Heidt, Mary Consijlio, Shelby Greany, Kara McKenna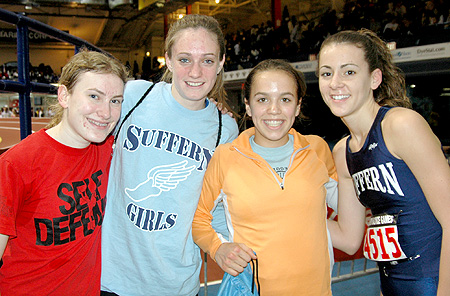 2nd at the Armory and setting a new state record-Ridgefield CT
(from left) Emily Heaslip, Katie Murdock, Elly Teitsworth, Leah Rosenfeld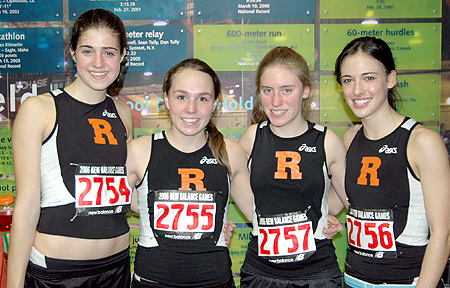 4th Conestoga
Ashley Niness, Katherine Fenwick, Liz Costello, Carly Niness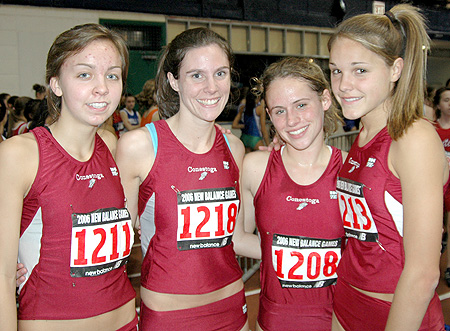 Archbishop Carroll PA
Catlin Storbeck, Cooie Rettew, Amanda Cosfol, Libbi Rettew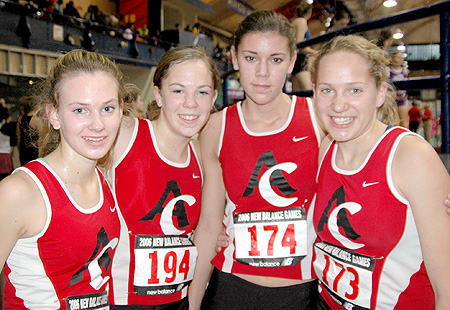 Longwood NY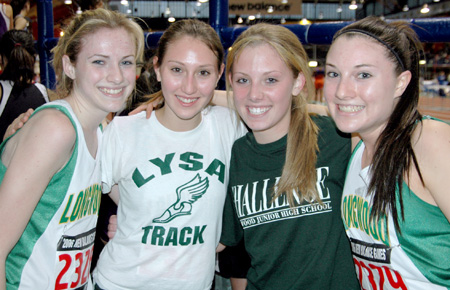 Boys
1st Warwick NY
(from left) Mike Segal, Mike Mark, Pat Gallagher, Brad Ackerman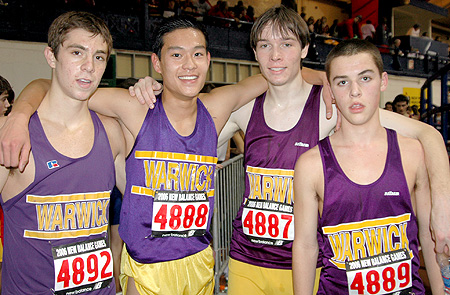 Freshman 1600 Meter Relay
1st and setting a new meet record, Sheepshead NY
(from left) Darryl Bradshaw, Ayo Isyona, Wayne Campbell, Lavaught Harris
Jumps
Winning the Pole Vault, Irvington NY
Casey and Scott DiCesare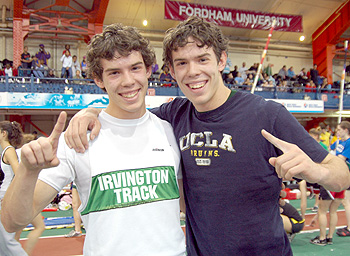 1st in the High Jump Cierco North Syracuse NY
Jasmine Thompson, Kerri Ann Borke, Courtney Hall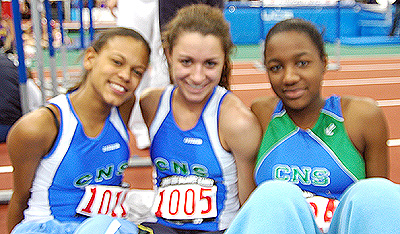 2nd in a 3-way tie Conestoga NY High Jumpers
Carly Niness and Emily Moles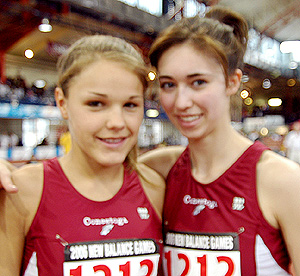 Jamaica NY Jumpers
(from left) Andrea Gibbs, Nefertiti Drummond, Dominique Burrus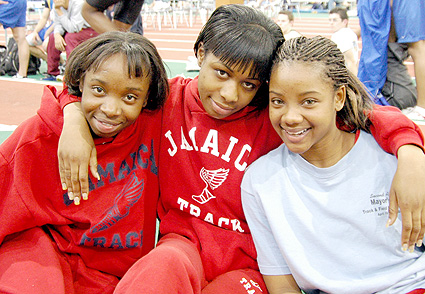 2nd in the High Jump Mt. St. Michael NY
Ronnie King and Nana Gemfi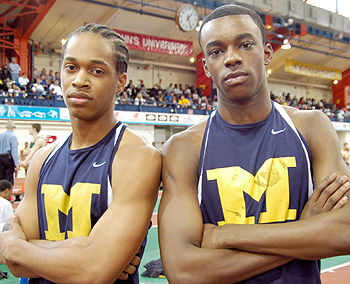 2nd in the High Jump
Enbane Moore-Suffern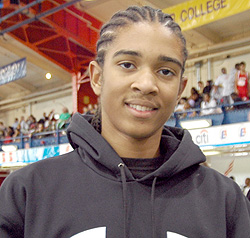 Troy NY Jumpers
(from left) Rashid Headspeth, Eugene Kennedy, Shafiya Gamble, Anthony Darnley
Eugene and Anthony won the High Jump for Troy.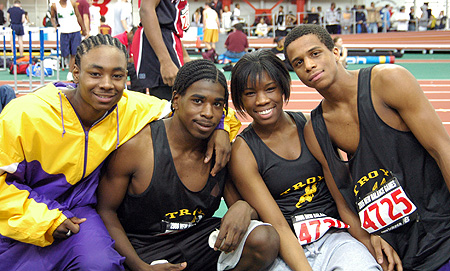 Sewanhaka NY Jumpers
Nathaniel King (l) and Scott McClendon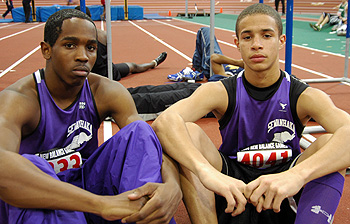 Throws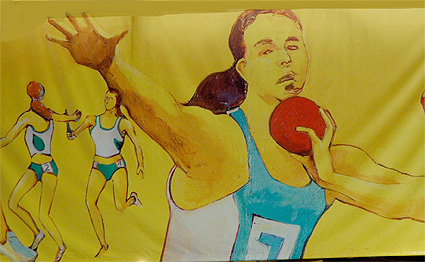 Thrower, Bethy Williams-Longwood NY with Coach Hanson
Longwood placed 3rd in the Throws.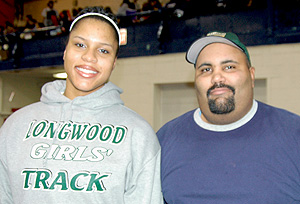 Donna on the Side at the New Balance Games
by Donna Dye
Part 1 - the scene - people tell why they come to the Armory
Part 2 - on the sidelines
Part 3 - the races
Part 4 - awards