Donna on the Side
by Donna Dye
Part 1 - the scene - people tell why they come to the Armory
Part 2 - on the sidelines
Part 3 - the races
Part 4 - awards
On The Side
Yeah Team!
Potpourri
Sachem's Bottleheads created out of boredom from being at a track meet too long. These updos start with a simple bottle and end with a new and different look.
(from left) Lindsay, Gena, Alyssa, Christina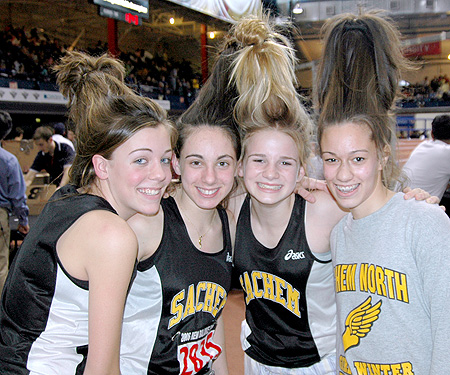 Two of the Armory's best friends and fans, Councilman Robert Jackson (l) from Washington Heights and Peter Walsh, House Manager at Coogan's Restaurant, around the corner from the Armory on Broadway.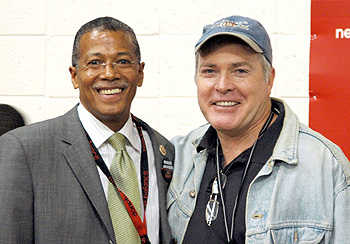 Tilden's Coach Sharon Mason with Sherril McFarlane.
Coach Mason says that Sherril is an up and comer to watch for.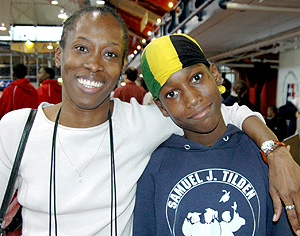 Heroes Wanted
They came to recruit at the New Balance because that's where you can find disciplined, talented and courageous young people.
"The New York City Fire Department is seeking qualified people from all communities to join the team of the bravest. Take the challenge and make a difference."
Get more information about a rewarding career.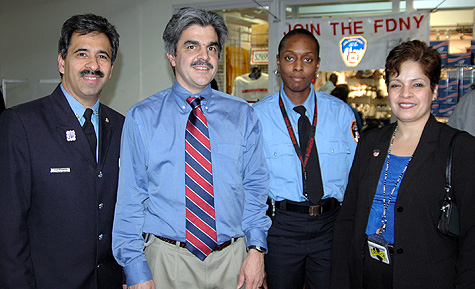 Donna on the Side at the New Balance Games
by Donna Dye
Part 1 - the scene - people tell why they come to the Armory
Part 2 - on the sidelines
Part 3 - the races
Part 4 - awards