Southern Regional NJ jr Danielle Tauro came from behind on the last lap to win a thrilling stretch duel over Colleen Wetherbee MA 4:52.78, Lindsey Ferguson NY 4:54.74 and Aislinn Ryan NY 4:55.60. Tauro ran the 2nd fastest winning time at Millrose and the third fastest overall (In the 1989 race, Sarah Schwald won in 4:49.64 and Cheri Goddard was second in 4:50.33.).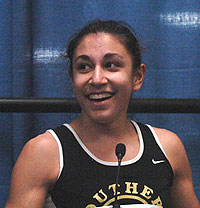 Tauro was ecstatic after the race. "I looked up at the tape and realized I was winning," Tauro told reporters with an ear to ear grin. "It seemed like I was dreaming. It STILL feels like I'm dreaming."
But Tauro was not an unknown commodity before the race. She was 3rd at Nike Outdoor Nationals last June in Greensboro in what is arguably the greatest high school girls mile race ever. Sarah Bowman won in 4:36.95 US#3 all time, Brie Felnagle was second in 4:39.71 US#5 all time and Tauro was third in 4:43.07. Then in December Tauro finished sixth in the Foot Locker Cross Country national finals in San Diego.
While Ferguson and Weatherbee set all the pace, the decisive battle was being played out in third and fourth place. When Ryan launched her patented mid-race surge, observors thought she would rush all the way to the lead like she did last year in beating Nicole Blood. But Tauro thought otherwise. In a series of surge and countersurge over laps 9 and 10, Tauro held off Ryan every time. At the bell, Ryan was beaten and Tauro was on the heels of Ferguson and Weatherbee.
As Tauro closed ground down the backstretch, announcer Ian Brooks shouted, "Can Danielle Tauro do it?" Tauro's response: "When I heard that, I said to myself, 'yes I can.' "
Tauro took the lead heading for the final turn about 60 yards from the finish and led a single file finish with a smile that lit up the highest row of the great arena. Her feelings as she approached the tape? "Disbelief . . . excitement . . . all mixed together."
Tauro said she didn't have a set plan, but had to react to the flow of the race. "I knew Lindsey likes to take it out hard, and I knew Aislinn likes to move about halfway." Her coach, Brian Zatorski, thought the race went exactly as planned, and his smile was almost as big as Danielle's. "She has a lot of wheels," Zatorski said. "I knew if she was in the race in the last quarter, she had as good a shot as anyone." Zatorski timed Tauro's four quarters in 71.8, 74.3, 75.4 and 70.4. New Jersey Star-Ledger writer Jim Lambert, who tabbed Tauro to win before the race, clocked her last lap in 23.4 seconds.
| | |
| --- | --- |
| Early in the 11th and final lap, Tauro (center) has put away Ryan and is on the heels of Ferguson and Wetherbee. | |
Event 17  Girls 1 Mile Run High School

===============================================================

    Name                    Year Team                    Finals

===============================================================

Finals                                                         

  1 Danielle Tauro               Southern Regional      4:51.89

  2 Colleen Wetherbee            Dennis-Yarmouth        4:52.78

  3 Lindsey Ferguson             Saratoga               4:54.74

  4 Aislinn Ryan                 Warwick Valley         4:55.60

  5 Bridget Franek               Crestwood              4:59.51

  6 Katie Doswell                St. Catherine's        5:02.17

  7 Kara McKenna                 Suffern                5:03.15

  8 Liz Costello                 Conestogo              5:03.95

  9 Shelby Greany                Suffern                5:12.02

 10 Sarah McCurdy                Bay Shore              5:20.03