Donna on the Side
by Donna Dye
The 99th Milrose Games.....
the oldest invitational track meet and Madison Square Garden's longest running sporting event......
taking place in the sophisticated glitter of New York City
The Millrose of Yesteryear
The Millrose in the 1910s. "The Millrose A.A., a recreational club of the employees of the John Wanamaker Department Store, conducts twilight meets on the roof of Wanamaker's warehouse. The Wanamaker Mile tradition started when Rodman Wanamaker gave the first trophy for the popular mile-and-one-half in 1916. In 1926, the race bacame known as the Wanamaker Mile and soon developed into the highlight of the Games.
(Photo and write up: Courtesy of the National Track and Field Hall of Fame--[Photo: Charmante Studio, Inc. courtesy Millrose Games])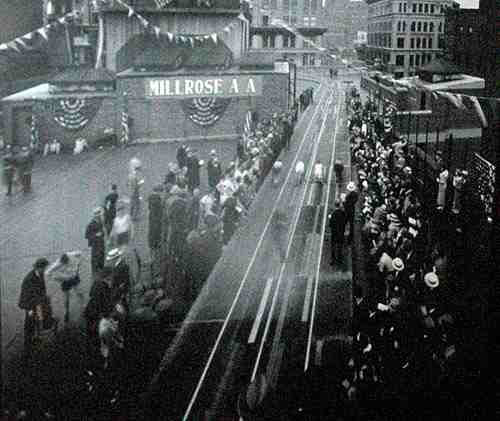 This year, 14,851 fans cheered for the feature events including sprints, hurdles, distance, pole vault, high jump, shot put and the famous Wanamaker Mile.
Now, on to the Sidelines
Warming Up
Bishop Loughlin NY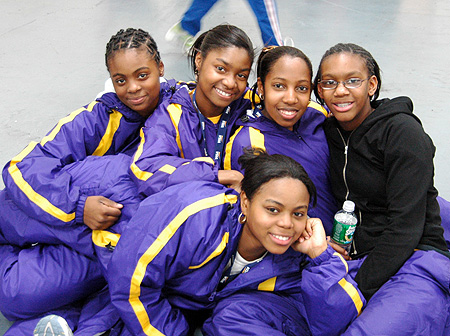 Benjamin Cardozo NY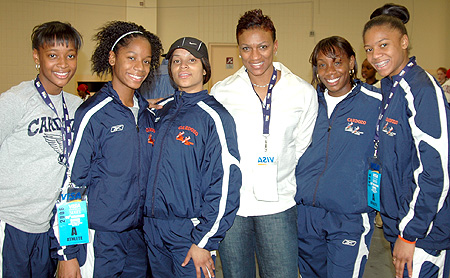 Freeport NY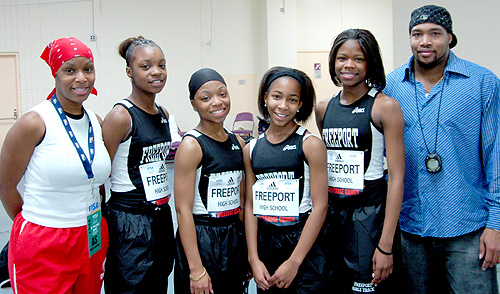 Bay Shore NY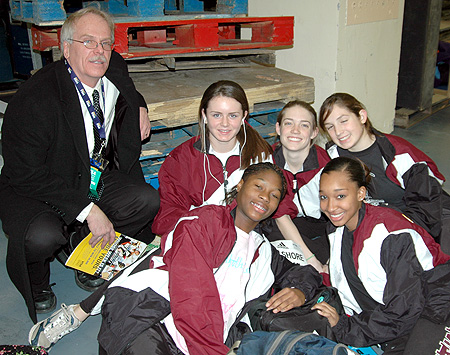 Ayo Isijola from Sheepshead with Coach Padula
Ayo, a freshman, was 3rd in the Boys 60 meter Fastest HS Boy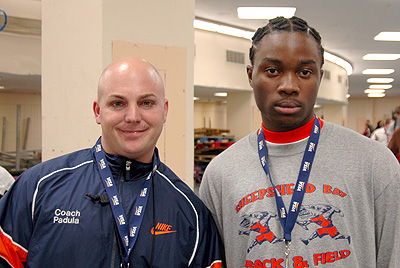 South Shore NY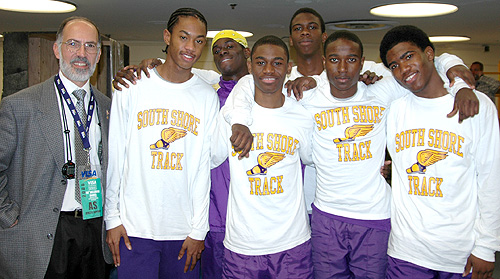 Woodrow Wilson NJ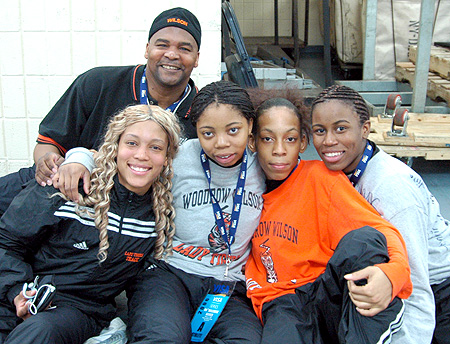 Hempstead NY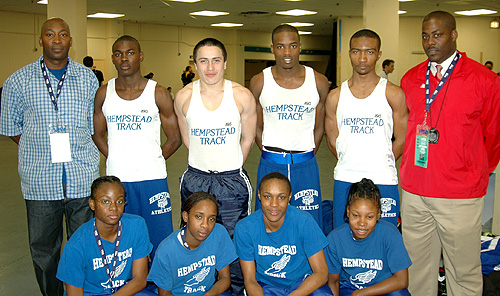 DeWitt Clinton NY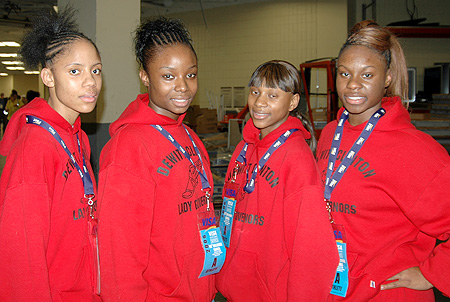 The Races
The Relays
Long Island 4 x 400 Relay
Bellport NY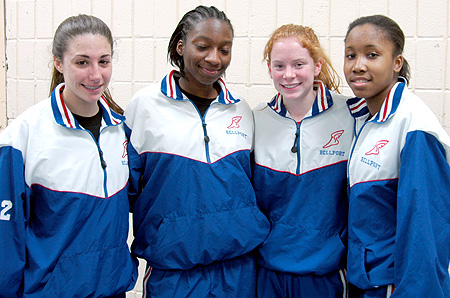 Suburban 4 x 400 Relay
1st East Orange Campus NJ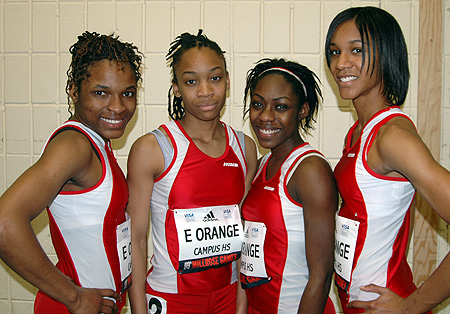 1st Seton Hall Prep NJ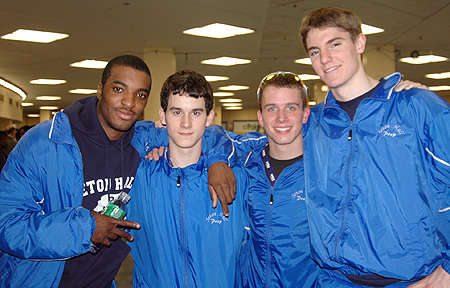 Catholic High School 4 x 400 Relay
1st St. Anthony NY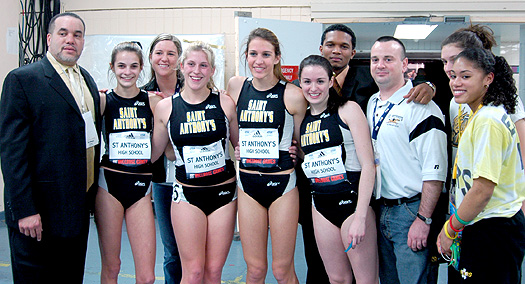 Public School Athletic League 4 x 400 Relay
1st Benjamin Cardozo NY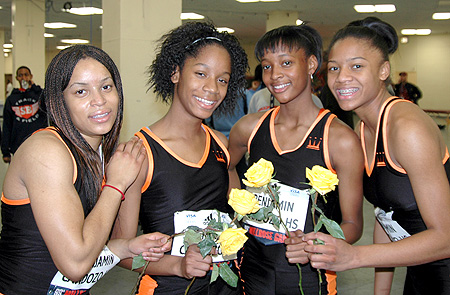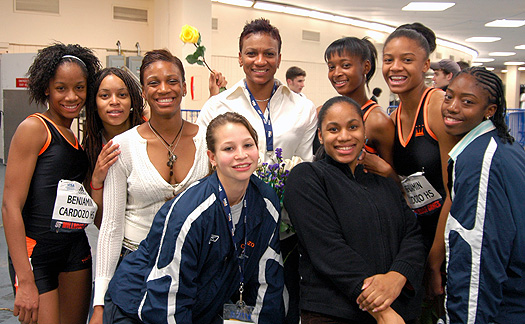 Cardozo Moms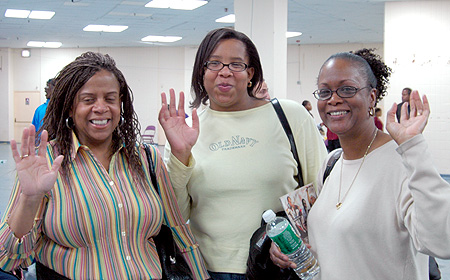 Catholic High School Athletic Association 4 x 800
1st Fordham Prep NY
This is their 5th year in a row winning this race!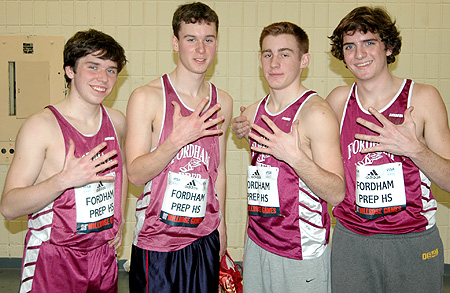 Coach George Febles joins the celebration.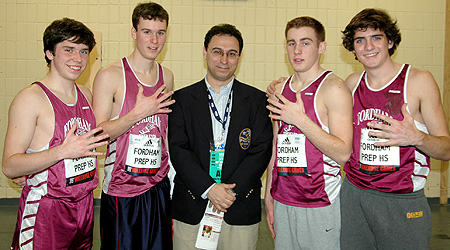 The Mile
Winner - Dan McManamon-Shenendehowa with Dad, Dan

Mom, Mary McManamon
Danielle Tauro, Southern Regional NJ with her parents, granddad and sister.
A big hug from Coach Zatorski

Danielle with her fan club
The girls all in a row
2nd Colleen Wetherbee, 4th Aislinn Ryan,

1st Danielle Tauro

, 6th Katie Doswell, 5th Bridget Franek, 10th Sarah McCurdy, 9th Shelby Greany, 8th Liz Costello, 7th Kara McKenna