High School Mile - Boys
text and photos by John Dye - Marc Davis video of the complete race
Dan McManamon 4:17.18 is solid winner
Mac lurks for 9 laps and then wins with authority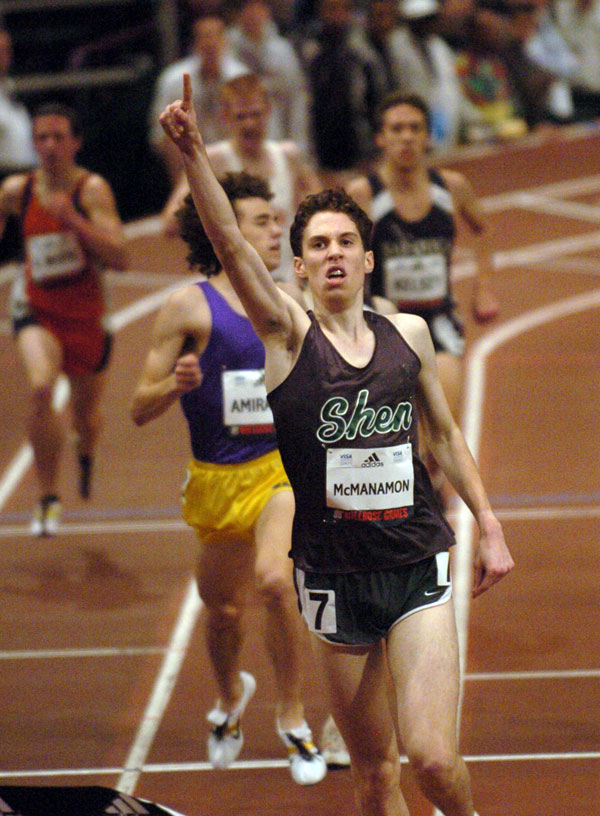 Following up on his 4:10.72 PR at Boston last week (third behind Michael Coe and A.J. Acosta), Shenendehowa NY sr Dan McManamon won handily in 4:17.18, with Xaverian MA jr Mark Amirault second in 4:18.10, followed by the Saratoga NY pair of Greg Kiley 4:18.42 and Greg Kelsey 4:19.26.
"Our plan was to run 2-3 most of the way," McManamon said afterward. "I think I followed that to a T."
Indeed he did. He settled into second behind Brian Rhodes-Devey for six laps, bided his time when Greg Kelsey surged in front for the next three laps, moved smoothly in front on the 10th lap, and was never threatened on the last lap.
There was a brief moment on the backstretch when big kicker Greg Kiley closed ground and looked as if he might take the lead. But Mac was not worried. "I have sub-50 400 meter speed, so I knew I could handle it," Mac said.
"I felt real confident after Boston," McManamon said. "I really wanted to do well this year after missing Boston and Millrose last year because of injury."
Mac said he feels healthy now for the first time in a year and looks forward to outdoor season with a goal of 4:06. Then it will be on to Duke for college.
Event 40  Boys 1 Mile Run High School

===============================================================

    Name                    Year Team                    Finals

===============================================================

Finals                                                         

  1 Dan McManamon                Shenendehowa           4:17.18

  2 Mark Amirault                Xaverian Brothers      4:18.10

  3 Greg Kiley                   Saratoga               4:18.42

  4 Greg Kelsey                  Saratoga               4:19.26

  5 Brian Rhodes-Devey           Guilderland            4:19.45

  6 Ben White                    Liverpool              4:19.47

  7 Alex Bean                    Somers                 4:22.79

  8 John Coghlan                 Castleknock/Ireland    4:28.76

  9 Charles White                Garden City            4:30.04