Girls Shot Put - Kamorean Hayes NC 50-8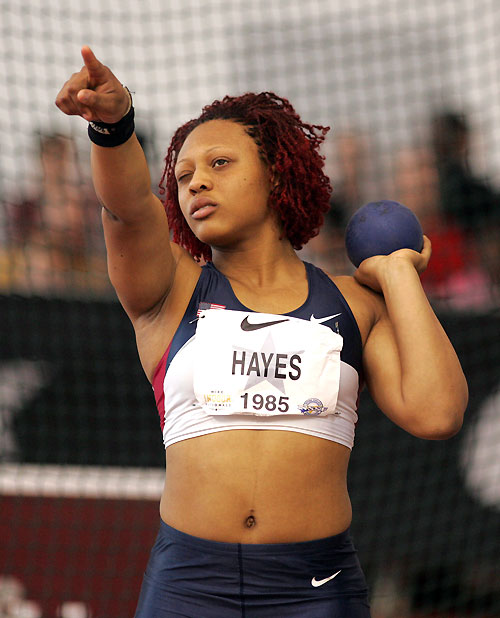 photo by Vic Sailer / PhotoRun
text by Elliott Denman
Kamorean Hayes left no doubt about her superiority, winning it all by a huge margin of four feet, four and a half inches.
The Harding High/Charlotte, NC junior had five throws better than the runner-up 46-3 ½ best for Stamford, Ct. senior Tynisha McMillian.
Hayes popped a 50-8 winner in round one, then went 50-3 ½, 48-6 ¾, 46-7 ½, 45-9 ¾ and 49-4 ¼ in a dominating series.
The bronze medal went to Allyn Laughlin of Monaca, Pa. over Landisville, Pa.'s Samantha Fetter, both with bests of 44-5 ¼, but Laughlin having the better second effort.
Hayes became just the third NIN winner to break 50 feet. With another year to improve, she may yet challenge the all-time meet standard of 54-9 ½ by Red Oak, Texas's Michelle Carter in 2003.
photos by Vic Sailer / PhotoRun
Licensed to C.F.P.I. Timing & Data                        Hy-Tek's Meet Manager

              2006 Nike Indoor Nationals - 3/11/2006 to 3/12/2006              

                   Prince Georges Sports & Learning Complex                    

                              Landover, Maryland                               

                                    Results                                    

 

Girls Shot Put

==========================================================================

    National: N 54-09.50  3/16/2003   Michelle Carter, Red Oak, TX             

        Meet: M 54-09.50  3/16/2003   Michelle Carter, Red Oak, TX             

    Freshman: ( 45-07.25  1991        Collinus Newsome, South, Denver, Co      

   Sophomore: R    48-11  3/13/2005   Kamorean Hayes, Harding, Charlotte, NC   

      Junior: J 52-05.75  2/8/1997    Heather Colyer, E Juniata,Cocolamus, PA  

      Senior: $ 54-09.50  3/16/2003   Michelle Carter, Red Oak, TX             

    Name                    Year School                  Finals           

==========================================================================

  1 Kodat, Aimee              06 Westfield HS,Chanti     12.04m   39-06.00 

  2 Halvorson, Aslynn         09 Butler-NC,Charlotte     11.99m   39-04.00 

  3 Smith, Brynn              07 Thornton Academy,Sa     11.80m   38-08.75 

  4 Marinacci, Jennifer       06 Manchester,Midlothi     11.61m   38-01.25 

  5 Fuller, Janelle           06 Lawrence HS,Robbins     11.50m   37-08.75 

  6 Baird, Natalie            08 Loudoun T+F Club,St     11.34m   37-02.50 

  7 Wright, Rachelle          07 Potomac Valley C,Ft     11.05m   36-03.00 

  8 Sohn, Nicole              06 Northeast TC,Pasade     10.88m   35-08.50 

  9 Berrio, Ingrid            06 Hillsborough HS,Hil     10.84m   35-06.75 

 10 Beraducci, Brooke         06 Knoxville TC,Knoxvi     10.31m   33-10.00 

Flight  2  

  1 Gray, Kaleena             08 Coatesville Stri,Co     12.42m   40-09.00 

  2 Howard, Kathy             06 Lee Davis HS,Mechan     12.30m   40-04.25 

  3 Hess, Heather             06 Unat-PA-Kane,Mt. Je     12.18m   39-11.50 

  4 Baker, Tiphanie           06 Leeds HS,Leeds, AL      12.04m   39-06.00 

  5 Karter-O'Brien, Bethany   08 Waterville HS,Water     12.00m   39-04.50 

  6 O'Connor, Taryn           07 Hillsborough HS,Hil     11.84m   38-10.25 

  7 Warren, Kim               06 Atlantic City HS,At     11.76m   38-07.00 

  8 Johnson, Iman             06 Columbia Hs-Nj,Mapl     11.68m   38-04.00 

  9 Rathburn, Alexandra       07 Austintown Commu,Ca     11.20m   36-09.00 

Flight  3  

  1 Hayes, Kamorean           07 Unat-NC-Charlott,Ch     15.44m   50-08.00 

  2 McMillian, Tynisha        06 Stamford HS,Stamfor     14.11m   46-03.50 

  3 Fetter, Samantha          06 Spartan F+T Club,Da     13.54m   44-05.25 

  3 Laughlin, Allyn           06 Unat-PA-Center,Mona     13.54m   44-05.25 

  5 O'Brien, Becky            08 Greely HS,Cumberlan     13.12m   43-00.50 

  5 Shump, Karen              08 Media Striders T,Me     13.12m   43-00.50 

  7 Haight, Danica            07 Runwest,Iowa City,      12.71m   41-08.50 

  8 Rollin, Amanda            06 Rock Springs HS,Roc     12.55m   41-02.25 

  9 Hicks, Mercedes           06 Atlantic City HS,At     12.01m   39-05.00 

 10 Palma, Norjai             06 Cary HS,Cary, NC        11.36m   37-03.25