Girls 200 - Lynn Layne NY 24.07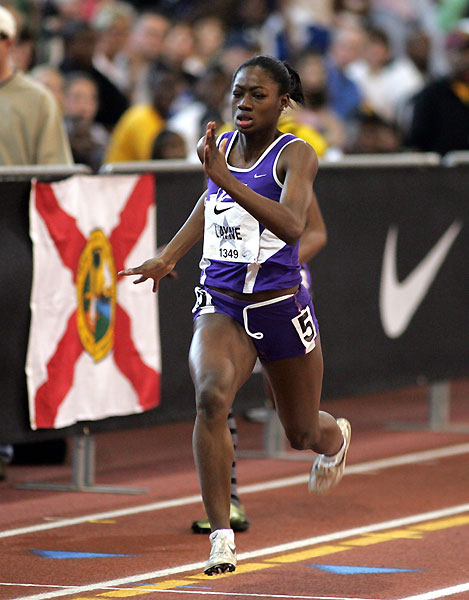 photo by Vic Sailer / PhotoRun
text by Elliott Denman
Lynne Layne's third-place finish in the 60-meter final was a terrific warmup.
Coming back an hour later, the New Rochelle, NY senior left no doubt she was the class of the field in this one-lapper, blazing around in 24.07, fourth best clocking in NIN annals and bested just twice in the meet since Erica Whipple's meet-record 23.78 2001 victory over IAAF World Outdoor champion-to-be Allyson Felix.
Rancho Cucamonga, California's Sa'de Williams, NIN 200-meter runner-up last year in 24.61, improved to 24.42 but was second again.
Uniontown, Pa.'s Breehana Jacobs came back from her second-place finish in the 60 to nab third in 24.66, with first-section victor DeAngela McDougald of Junction City fourth over-all in 25.06.
Layne, headed for Tennessee - where early childhood development or athletic training rank as her top major choices - was understandably delighted.
"I had a good start and accelerated the whole time," said Layne. "I was really happy with my race. It was really good.".

Finals
Girls 200 Meter Dash

================================================================

 Final of 8 fastest qualifers in 2 heats of 4

    National: N 23.14  3/2/2003    Allyson Felix, L.A. Baptist SepulvedaVA     

        Meet: M 23.78  2001        Erica Whipple, Palm Beach Lakes, WPB, F     

    Freshman: ( 24.26  2005        Clarenchell Tate, Gratz, Philadelphia, PA   

   Sophomore: R 23.64  3/12/2000   Sanya Richards, Ft. Lauderdale, FL          

      Junior: J 23.26  2/18/2006   Bianca Knight, Ridgeland, MS                

      Senior: $ 23.14  3/2/2003    Allyson Felix, L.A. Baptist SepulvedaCA     

    Name                    Year School                  Finals 

================================================================

Section  1 Finals

  1 McDougald, DeAngela       07 Junction City HS,Fo      25.06  

  2 Ferguson, Saryna          06 Withrow HS,Cincinna      25.19  

  3 Castronuova, Nicole       06 Jackson Memorial,Ja      25.26  

  4 Chapman, Robin            06 J-Elite TC,Upper Ma      25.56  

Section  2 Finals

  1 Layne, Lynne              06 New Rochelle HS,New      24.07( 

  2 Williams, Sa'de           07 Rancho Cucamonga,Fo      24.42  

  3 Jacobs, Breehana          07 Unat-PA-Uniontow,Un      24.66  

  4 Williams, Shelise         07 Woodrow Wilson-C,Lo      25.28  



 
Prelim
Two years after she the blazed National indoor 200 record of 23.14 in
2003, Allyson Felix of Los Angeles's Baptist High School was sprinting off with
the 200-meter gold medal in the IAAF World Outdoor Championships in Helsinki.
That's just the kind of performance Breehana Jacobs, Lynne Layne, Sa'de
Williams and Shelise Williams (no relation)
dream of somewhere down the line.
On this flat track, any serious challenge to Felix's U.S. mark seems most
unlikely, but these four top quaifiers won't put Erica Whipple's NIN
meet-record numbers - 23.78 for Palm Beach Lakes, Fla. High in 2001 - out of mind,
either.
Jacobs and Layne led qualifiers for the two-section final with identical
24.47's in separate heats. Sa'de Williams - NIN silver medalist in 2005-
advanced in 24.66, Shelise Williams in 24.92.
All but Layne, a New Rochelle, N.Y. junior, are seniors - Jacobs of
Uniontown, Pa., and Californians Sa'de Williams (Rancho Cucamonga) and Shelise
Williams (Long Beach Wilson.)
Event 4  Girls 200 Meter Dash

===================================================================

 Final of 8 fastest qualifers in 2 heats of 4

    National: N 23.14  3/2/2003    Allyson Felix, L.A. Baptist SepulvedaVA     

        Meet: M 23.78  2001        Erica Whipple, Palm Beach Lakes, WPB, F     

    Freshman: ( 24.26  2005        Clarenchell Tate, Gratz, Philadelphia, PA   

   Sophomore: R 23.64  3/12/2000   Sanya Richards, Ft. Lauderdale, FL          

      Junior: J 23.26  2/18/2006   Bianca Knight, Ridgeland, MS                

      Senior: $ 23.14  3/2/2003    Allyson Felix, L.A. Baptist SepulvedaCA     

    Name                    Year School                 Prelims  H#

===================================================================

Preliminaries

  1 Jacobs, Breehana          07 Unat-PA-Uniontow,Un      24.47q  6 

  1 Layne, Lynne              06 New Rochelle HS,New      24.47q  5 

  3 Williams, Sa'de           07 Rancho Cucamonga,Fo      24.66q  4 

  4 Williams, Shelise         07 Woodrow Wilson-C,Lo      24.92q  3 

  5 McDougald, DeAngela       07 Junction City HS,Fo      25.12q  1 

  6 Castronuova, Nicole       06 Jackson Memorial,Ja      25.33q  4 

  7 Ferguson, Saryna          06 Withrow HS,Cincinna      25.36q  7 

  8 Chapman, Robin            06 J-Elite TC,Upper Ma      25.42q  2 

  9 Lewis, D'Ambour           08 Unat-CA-Sherm O,She      25.43   2 

  9 Wernik, Sarah             06 Northampton HS,Flor      25.43   9 

 11 Jones, Christie           07 Cinco Ranch TC,Katy      25.47   5 

 12 Scott, Kristine           06 Florida Elite,Orlan      25.53   7 

 13 Wilbon, LaShondra         08 Colonial Heights,Co      25.60   6 

 14 Jones, LaTalia            06 Chaney HS,Youngstow      25.67   1 

 15 Jefferson, Lindsay        06 Blazin' Raiders,Gre      25.73   1